Subway Cave in beautiful Sedona, Arizona, doesn't really need any more attention. Well, it does and it doesn't. Because you've found this post, we'll give you some tips about how to best navigate this geological wonder safely and respectfully, when to go, where to park and what you shouldn't miss on your hike.
Boynton Canyon Trail Interactive Hiking Map
Download map GPX file
Boynton Canyon Trail map GPX file
Directions
Boynton Canyon Trail trailhead.
---
Cost
$5 Day Pass, $15 Week
Flora/fauna
Prickly pear cactus
---
Hiking Boynton Canyon Trail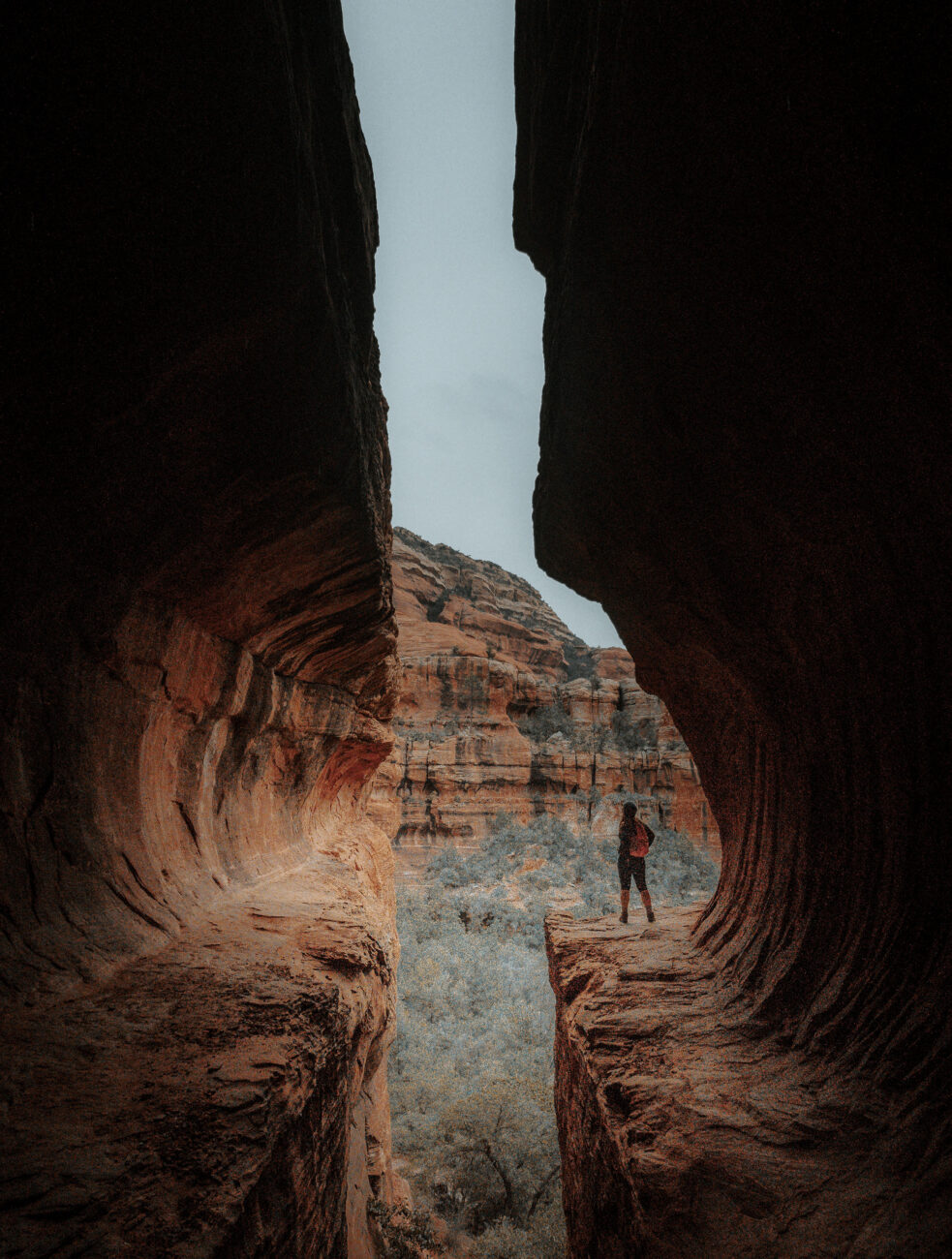 These days I'm more reluctant about posting "secret" hiking trails. But the cat is out of the bag for Subway Cave — man, is it ever — so my point in sharing this trail guide is to provide a GPS wayfinding map to help prevent trail spread.
As with most hikes in Sedona, the key is to get there early. I'm not just talking crack of dawn early. I mean before dawn. The first thing you should pack is a headlamp. Use GPS and strike out on the trail a solid half hour before dawn if you can. This will also ensure that you'll get a parking spot.
Don't worry, the sun will be up by the time you reach the turn-off of Boynton Canyon Trail to Subway Cave, which is at just about 2.4 miles. Just mind your footsteps as parts can be a little rocky. Since it'll be dark, you'll want to blow past an offshoot trail (Boynton Vista Trail) that leads to a cool vortex. It's definitely worth visiting on your way back as long as you don't mind a small crowd.
The spur trail to Subway Cave is easy to miss. Some have said to look for a certain type of tree — an Alligator Juniper. This isn't particularly helpful if you don't know what one looks like. I even had a photo of it downloaded on my phone, and I still nearly missed it. What I did notice, however, what a small trail leading to the right with a conspicuous log dragged across it. Bingo.
Despite getting out onto the trail early, don't be surprised if you're still not the first to make it to the cave. We were sure we were going to be the first ones there, but when we arrived, two other hikers were already heading back. Good. That still meant we'd have it all to ourselves — at least for a while.
As the day wears on, a line begins to form at the mouth of the cave largely with people less interested in hiking but wanting to get the same photo they'd seen on social media (and the one at the top of this post – guilty as charged). You can easily spot the non-hikers by their poor choices of footwear, no packs, no water… You know the type. We've heard that it can take an hour to get into the cave later in the day. No thanks.
It's not easy getting up inside the cave. In fact, we almost turned around. Going up "the slide" is not for the faint of heart. Luckily, I'd scouted this trail the night before and found a blog post that provides an alternate route up to the top.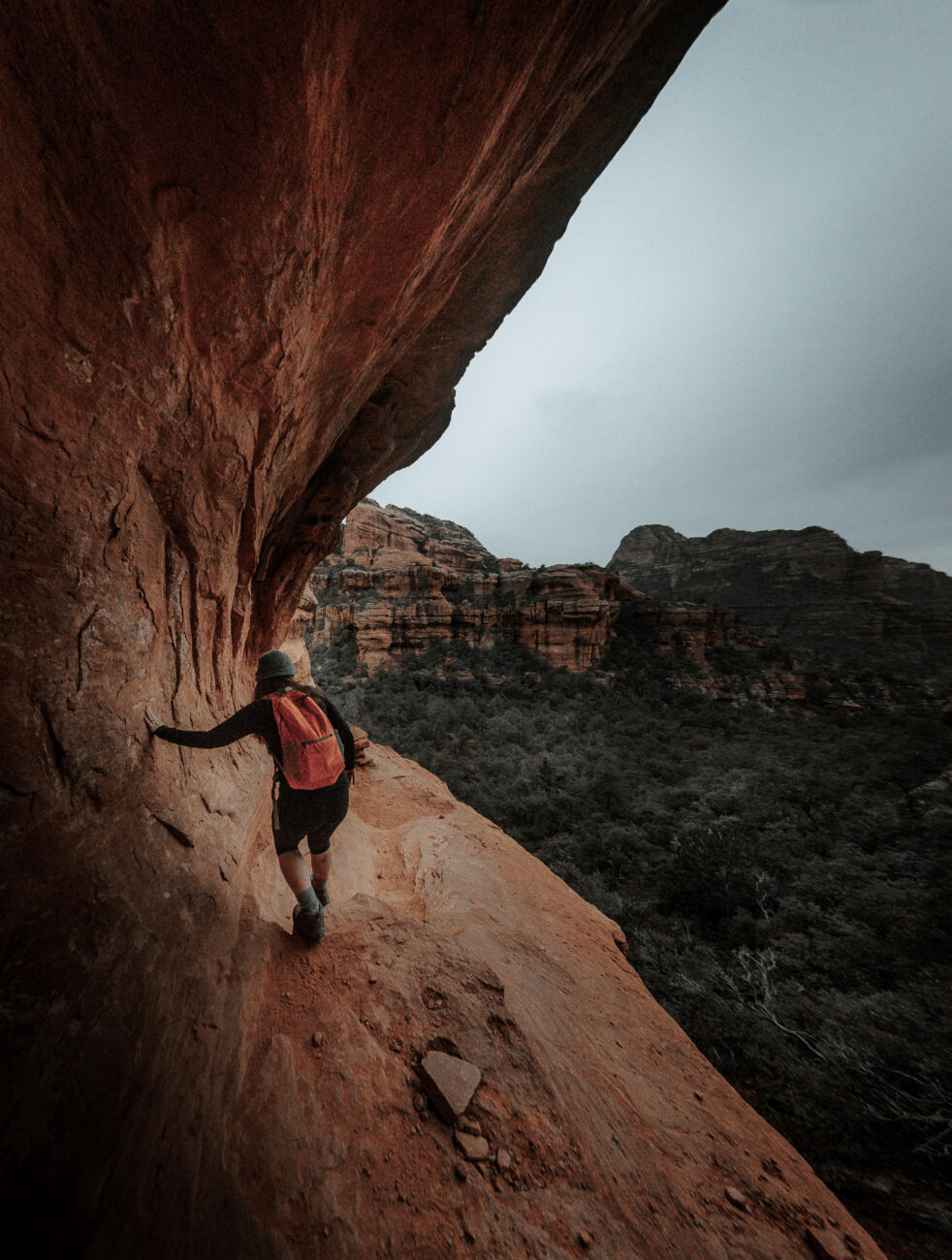 Look to the left and you'll see it. This route is a much safer scramble, but it will require you to enter the cave from the ledge outside it. If you're not into heights, then this route probably isn't for you. We felt safe though.
Once inside, getting to the back of the cave is a little tricky as well. Be careful and take your time as a fall here could really hurt. You need to trust your footwear. If the treads don't have very good grip, don't risk your life over a photo.
We hadn't explored long before we heard the voices of approaching hikers. We decided we'd seen enough and explored the primitive dwellings on the other side of the gap.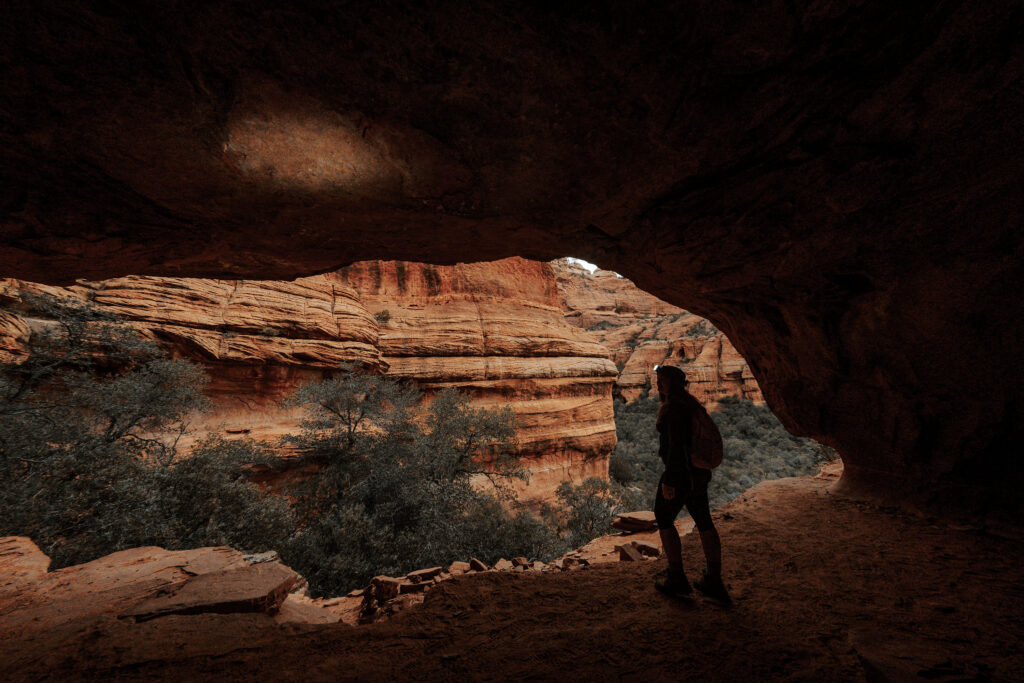 Heading back to the main trail, a line was already beginning to form. We wanted to explore the rest of Boynton Canyon trail, which it seems a lot of folks overlook.
It's a nice payoff at the end and a great place to relax in the shadow of Bear Mountain while enjoying this awe-inspiring place. Before our trip, Kat had told me she was pregnant with our first child. I chose this place to call out the name I wanted to give the baby if it was a boy. The name "Henry" echoed throughout the canyon as Kat smiled in agreement. Nine months later, we got our wish.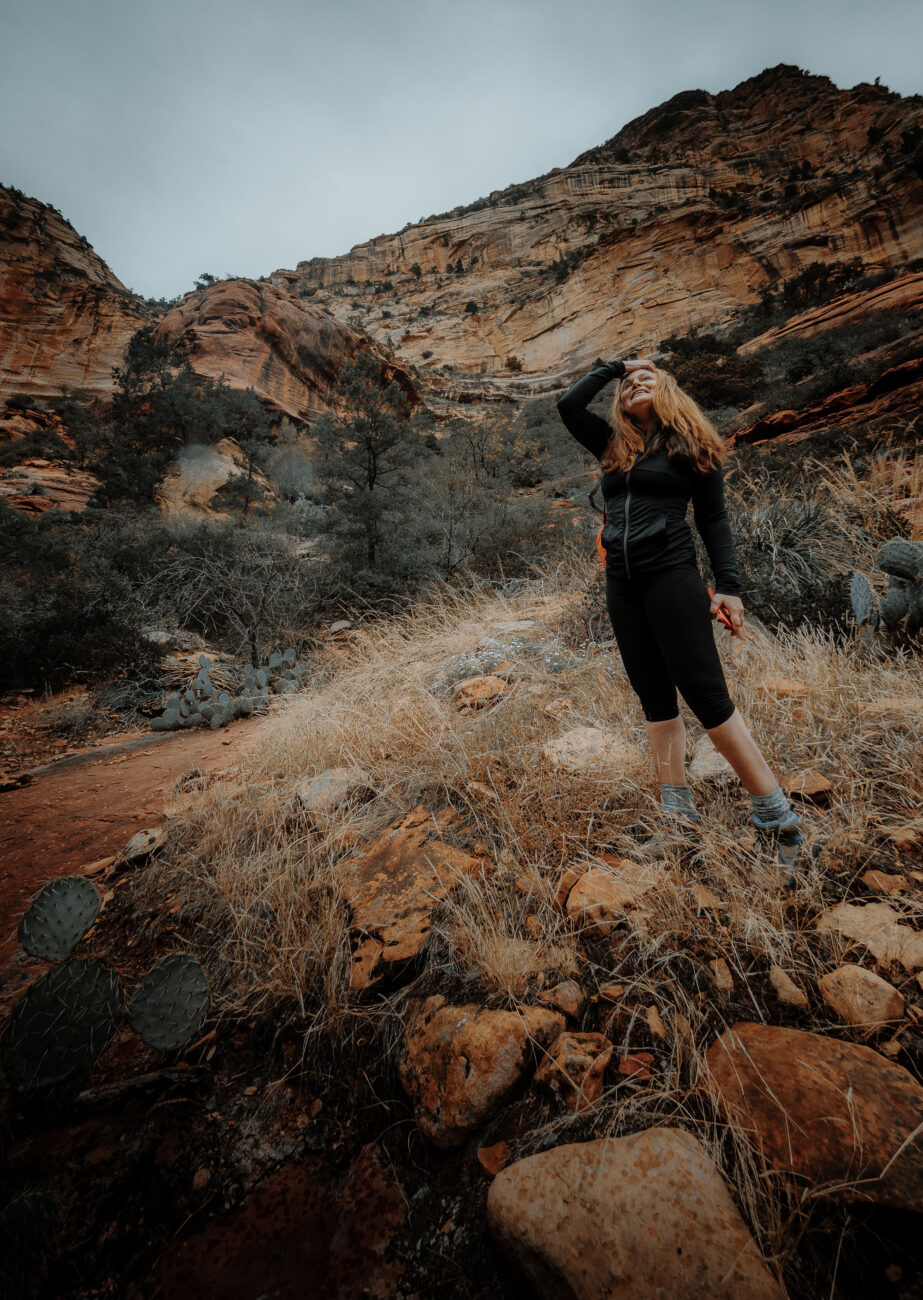 Use this map on your hike!
Load this web page on your phone while you still have service.
Then, tap the arrow icon on the map to show your current location and follow along.
Tap the layers icon to switch between topo, satellite and other helpful map layers.
To save battery life, put your device in airplane mode. GPS still works even without service!
PLEASE HELP US OUT!
If you enjoyed this free article on hikingillustrated.com, please consider
purchasing anything on Amazon via our affiliate link at no extra cost to you.