If you're not sure where to dive in to Kentucky's Red River Gorge, Double Arch Trail #201 is a great introduction to your day hiking getaway. Be advised that Double Arch is a popular destination, so if you want this incredible geological feature all to yourself, you're going to have to start out early. Also, don't literally dive into the gorge. That would end badly.
Double Arch Trail #201 Interactive Hiking Map
You can use this interactive map at the trail! Here's how
Download map GPX file
Double Arch Trail #201 map GPX file
Directions
Double Arch Trail #201 trailhead. From Slade, Kentucky, take KY-15 S for 3.3 miles. Turn north (left) onto Tunnel Ridge Road. Follow Tunnel Ridge Road for 3.7 miles until it dead ends into the Double Arch/Auxier Ridge trailhead parking lot.
---
Dogs
Allowed on 6-foot leash
Sun exposure
Partial tree cover
Flora/fauna
Copperheads, timber rattlers, ticks, bears, destroying angel mushroom
---
Hiking Double Arch Trail #201
From the parking lot be sure to take the westernmost trailhead as the eastern one will instead take you to Auxier Ridge, another awesome hike. You'll make a quick tenth of a mile jaunt through the woods before joining up with the now gated-off portion of Tunnel Ridge Road.
Some people are weird about this section of the hike and describe the roughly mile and a quarter gravel road as boring. That's crazy. Sure, this part is going to be flat and easy, but you're still surrounded by Kentucky awesomeness, and this piece goes by really fast.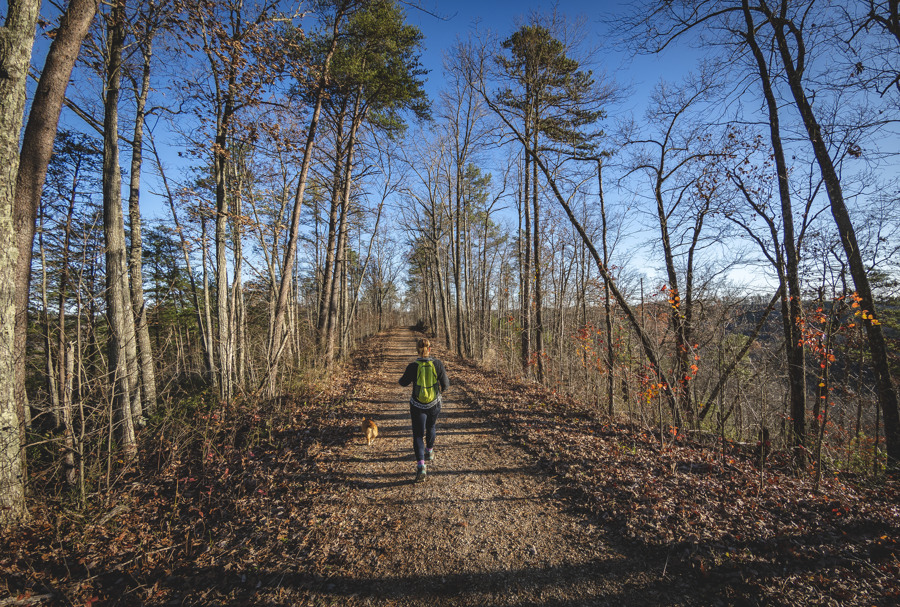 Double Arch Trail leads down into a valley at a turn off with a short fence. Before following the trail, first take a quick detour to the left where Tunnel Ridge Road continues. At the north end of the turnaround begins a short trail to an overlook of Rocky Branch that is well worth the effort.
This offshoot will add a little more than a half mile to your total distance.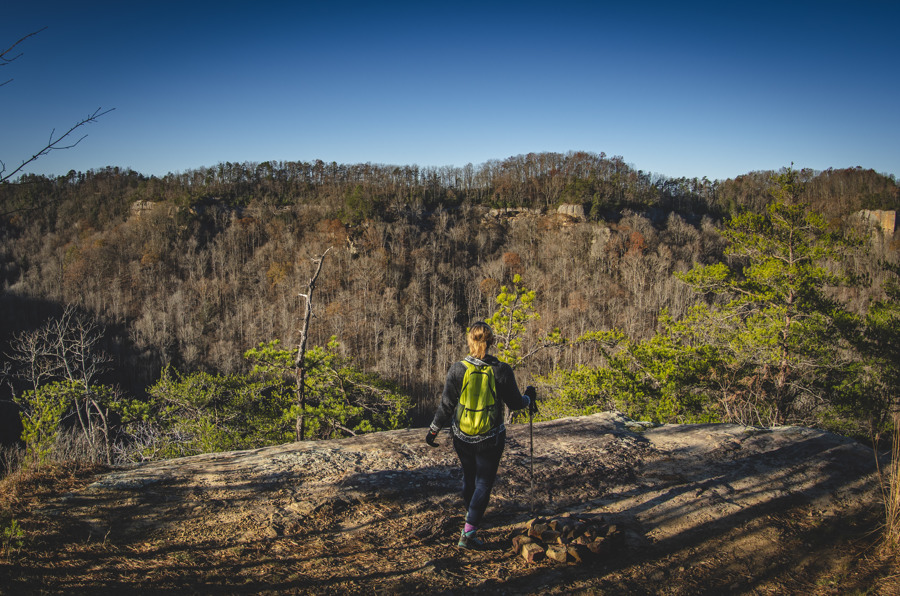 Back on the Double Arch Trail, it is just another mile to your reward. You'll plunge into the canyon 200 feet in short order, but the rest of the trip is mostly flat as you hike parallel along Tunnel Ridge to the west. (Again, don't actually plunge unless you really want an expensive helicopter ride.)
If leaves are still on the trees, you might miss your first view of Double Arch as you near the end of the ridge, but rest assured that it's up there. If you're able to see it, take note of how high up it rises above the valley floor and, well, how bad for your lifespan it would be to take a tumble from it.
Take a moment to make sure the leash is tight on your pooch (or on an unruly child, if you've decided to bring one, haha). From here you'll wind gradually around the northern terminus of the ridge before doubling back on the other side.
Soon, you'll be in the company of one fascinating geological wonder: the grand Double Arch. You won't see the second arch right away, but if you climb along the rocks just south of the opening, you'll have a high enough vantage point to observe a smaller arch spanning above the larger one.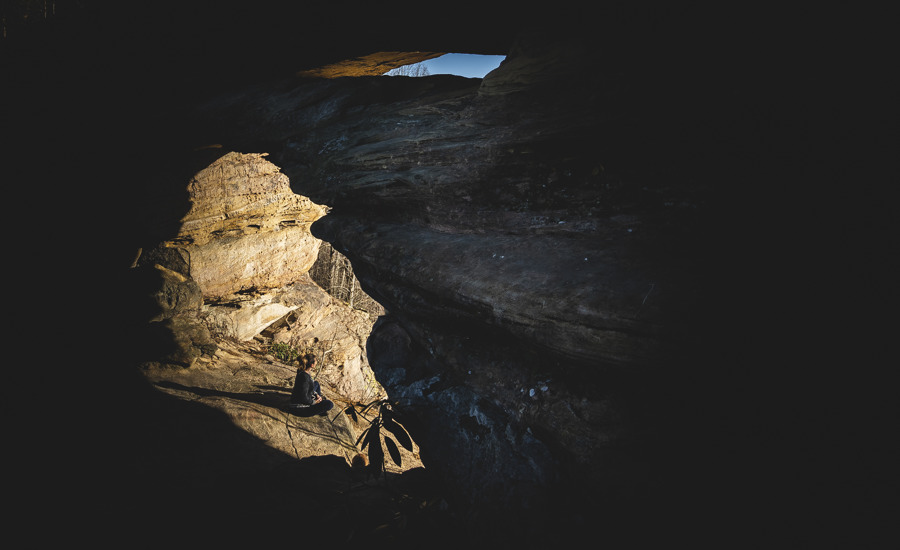 From this same high vantage point you'll also notice a staircase carved into the sandstone. The first step up is a doozy, but otherwise it's an easy climb to the top. At the summit, you can choose to go south where you'll soon be met with a rather sketchy-looking rock.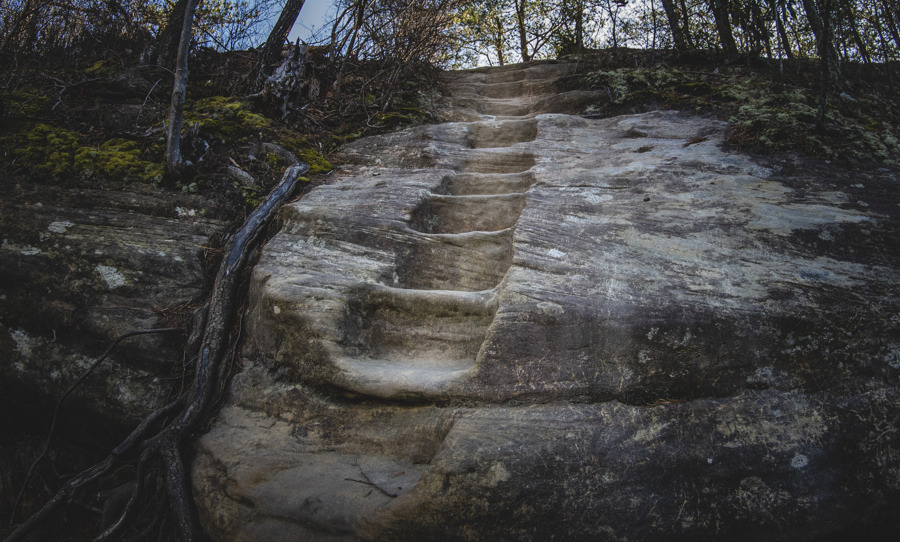 If you're not comfortable with higher class climbing maneuvers, don't even think about it. Turning back north, you can cross Double Arch and hike all the way to the end of the ridge for some excellent views of the Red River valley to the west and Auxier Branch to the east.
If you've still got plenty of gas in the ol' tank, instead of hiking immediately back to the trailhead, you might be interested in making the extended loop around the valley by hiking Auxier Branch to Auxier Ridge Trail #204 and the imposing Courthouse Rock.
Auxier Ridge is by far one of our favorite hikes in the Red River Gorge, and if you decide to not make the full loop, do make plans to come back and hike it separately. You won't be disappointed.
Use this map on your hike!
Load this web page on your phone while you still have service.
Then, tap the arrow icon on the map to show your current location and follow along.
Tap the layers icon to switch between topo, satellite and other helpful map layers.
To save battery life, put your device in airplane mode. GPS still works even without service!
Related Posts
PLEASE HELP US OUT!
If you enjoyed this free article on hikingillustrated.com, please consider
purchasing anything on Amazon via our affiliate link at no extra cost to you.