Hiking to the incredible Gray's Arch in Red River Gorge is a reasonably short out-and-back affair, but if you want to extend the hike and add a breathtaking overlook that is often bypassed, this four-mile loop is a must-do at the park.
Gray's Arch Trail Interactive Hiking Map
You can use this interactive map at the trail! Here's how
Download map GPX file
Gray's Arch Trail map GPX file
Directions
Gray's Arch Trail trailhead. From Slade, Kentucky, take KY-15 S for 3.3 miles. Turn north (left) onto Tunnel Ridge Road. Follow Tunnel Ridge Road for almost a mile. Turn right into the Gray's Arch Recreation Area parking lot. The trailhead can be found due north of the lot.
---
Dogs
Allowed on 6-foot leash
Sun Exposure
Dense tree canopy
Flora/Fauna
Copperheads, timber rattlers, ticks, destroying angel mushroom
---
Hiking Gray's Arch Trail
It is a short and mostly downhill one-mile trek to massive Gray's Arch. In late fall when all of the leaves have fallen off the trees, you'll see it along your descent and, if it's your first time, your mouth will likely gape in awe at the sheer size of it. It's difficult to do it justice in photos, but we've tried.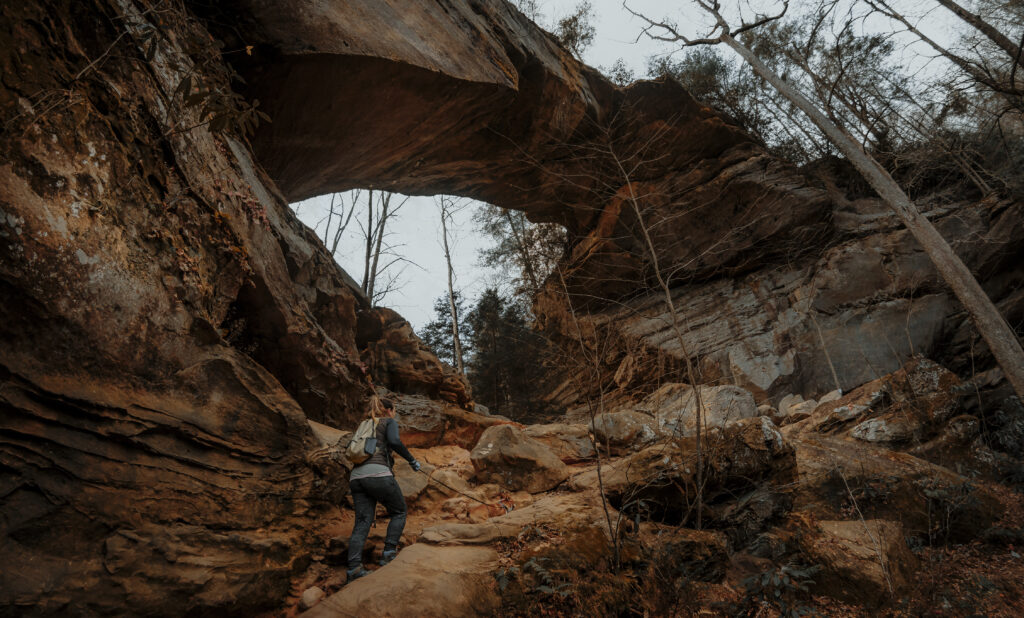 When Gray's Arch Trail joins Rough Trail, turn right (south) and make the short climb to this natural wonder. Give yourself plenty of time to explore the area and to view the structure from multiple vantage points.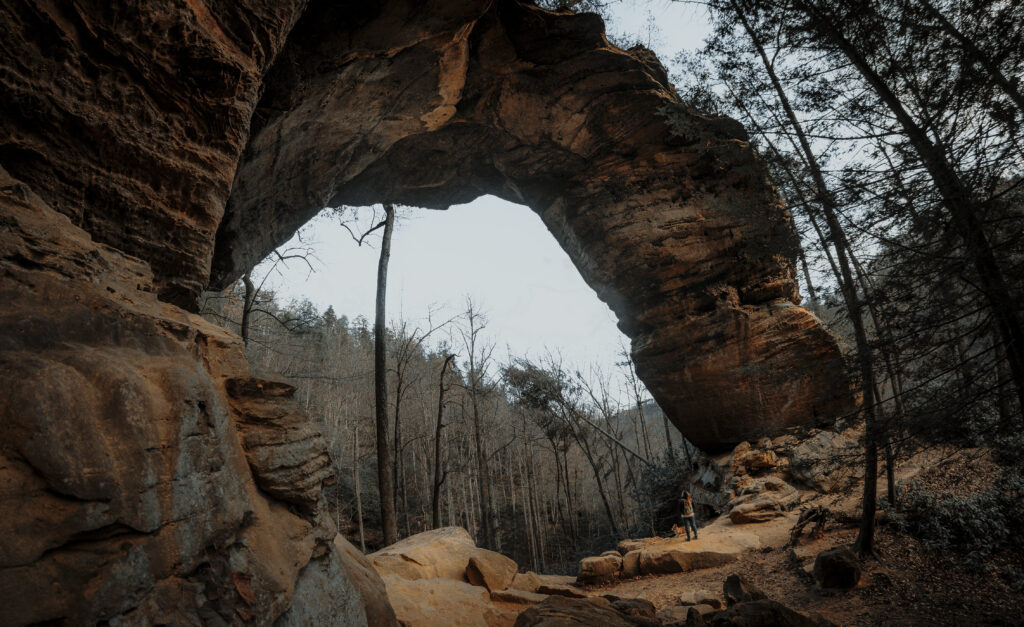 A brief word of warning: Keep a close eye on the kiddos and/or dogs as there are some life-shortening type drop-offs here along the trail. There is also a "hinterlands" route to the top of the arch, but it is hazardous in parts, and there's really nothing to see from that angle anyway.
Experts on unofficial trails in Red River Gorge advise the same, adding that the hidden cliffs are extremely dangerous for those not intimately familiar with the area. Stay safe and remain on the official trail. There are better places to wander, which we'll cover in a minute.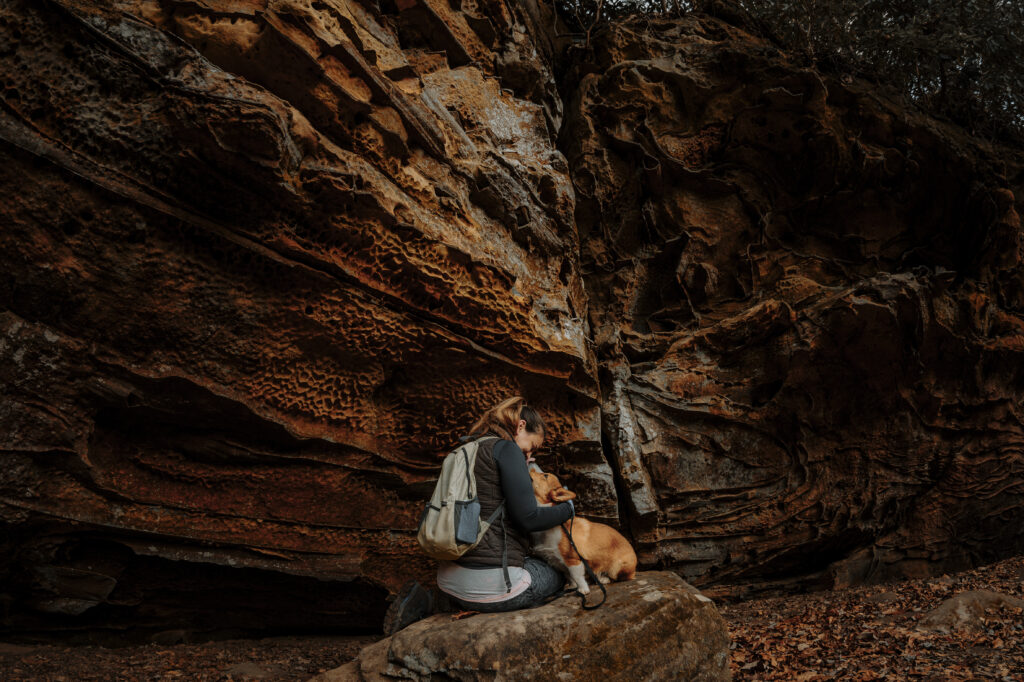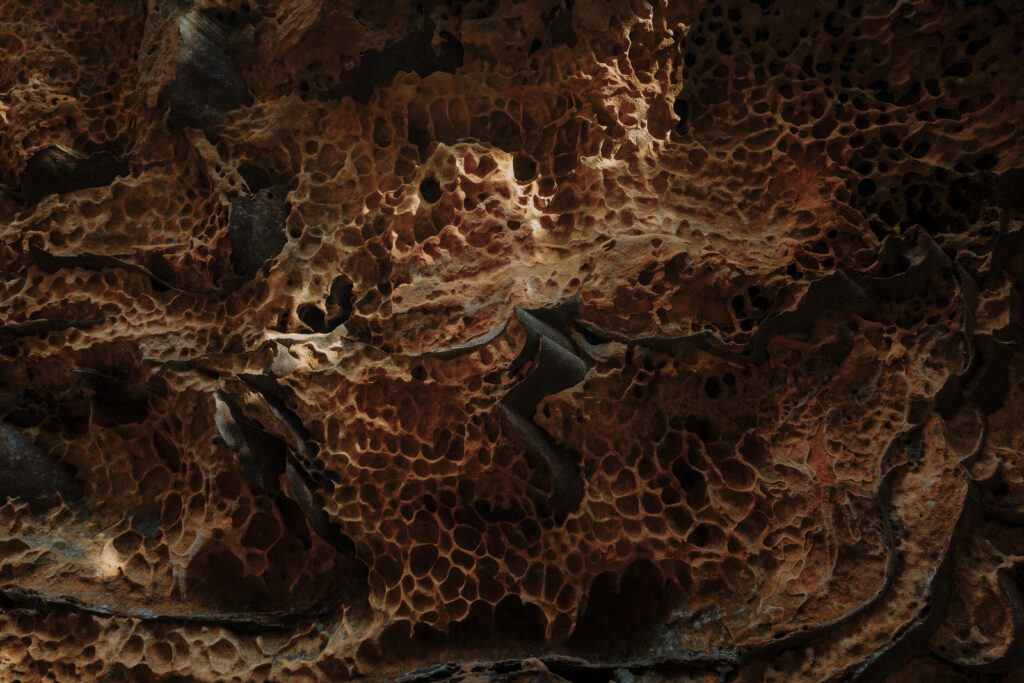 If you've got plenty of gas in the tank after exploring Gray's Arch and you're looking for an incredible hidden vista, continue another mile and a half for one of the best views in all of Kentucky. It won't be an easy hike, but the payoff is huge.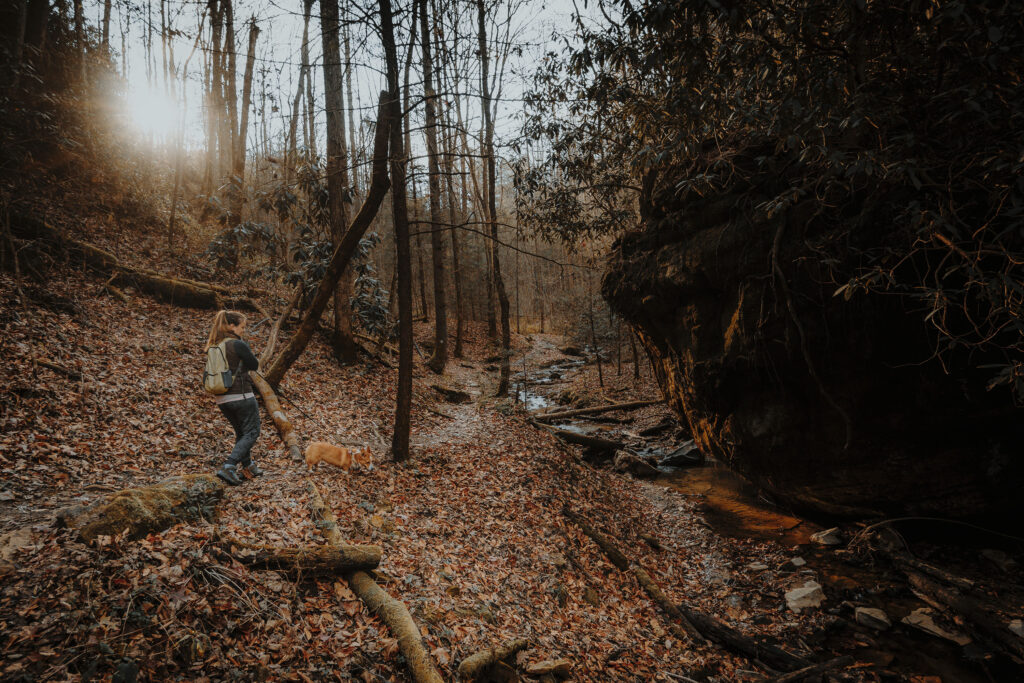 Once back on Rough Trail, continue a northern descent of 150 feet into a valley where you'll cross King Branch creek. Almost immediately, the trail begins a punishing 400-foot climb up Rush Ridge that will get your blood pumping.
Mercifully, this is the only major climb of the loop. If you happen to be hiking here in the spring, you'll be rewarded with the sweet scent of blooming rhododendrons that populate the hillside.
At nearly two and a quarter miles, Rough Trail intersects with Rush Ridge Trail. You'll eventually take Rush Ridge Trail on the return hike, but it's here where you'll want to continue on Rough Trail for a spectacular view.
Be advised that the next turn is easy to miss (see the red marker on our interactive hiking map). We happily but unwittingly continued along Rough Trail for about a third of a mile before we realized we missed the offshoot trail we had intended to take. If you happen to make the same mistake (or intentionally continue on Rough Trail), it's actually quite lovely as you'll wind past a huge rock shelter.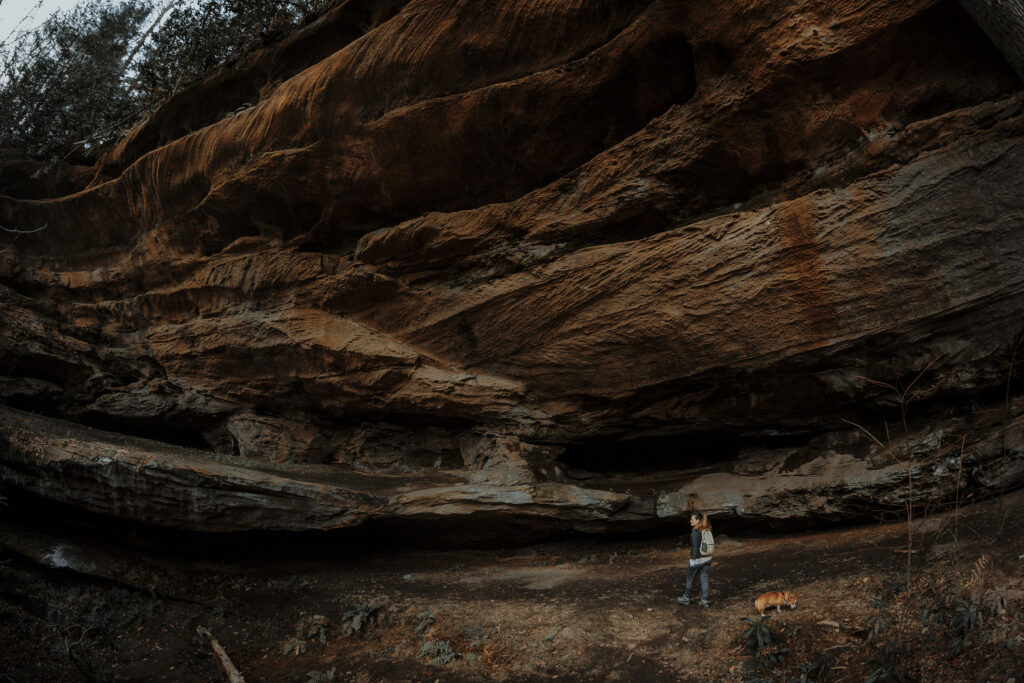 Once we made the climb back up to the top of Rush Ridge, we checked GPS and spotted where we'd gone off our intended route. There is a log blocking the offshoot trail that leads to a primitive camping area.
Continue on the trail for a quarter mile through the camping site to reach one of the best (and largely unknown) views in all of Red River Gorge.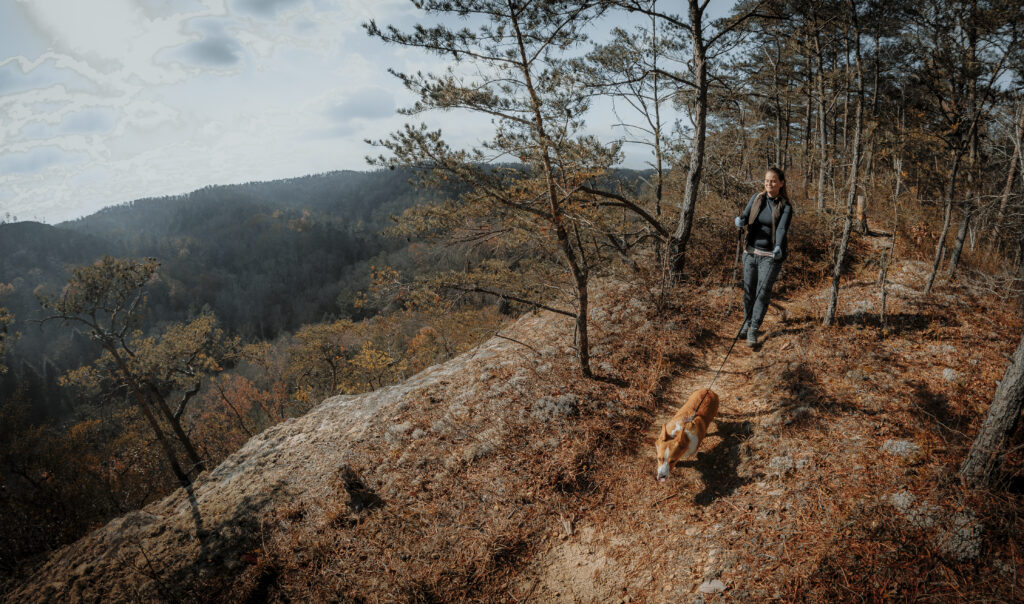 You'll soon be delivered to a clearing with a huge stone slab as its centerpiece – a perfect resting point to sit and absorb this breathtaking corner of the world.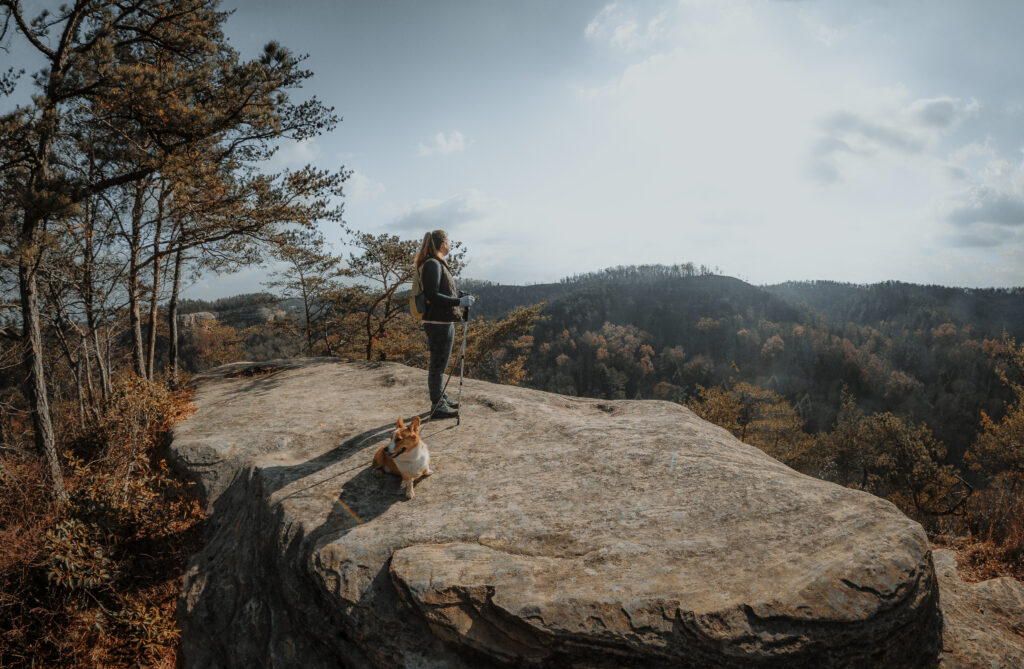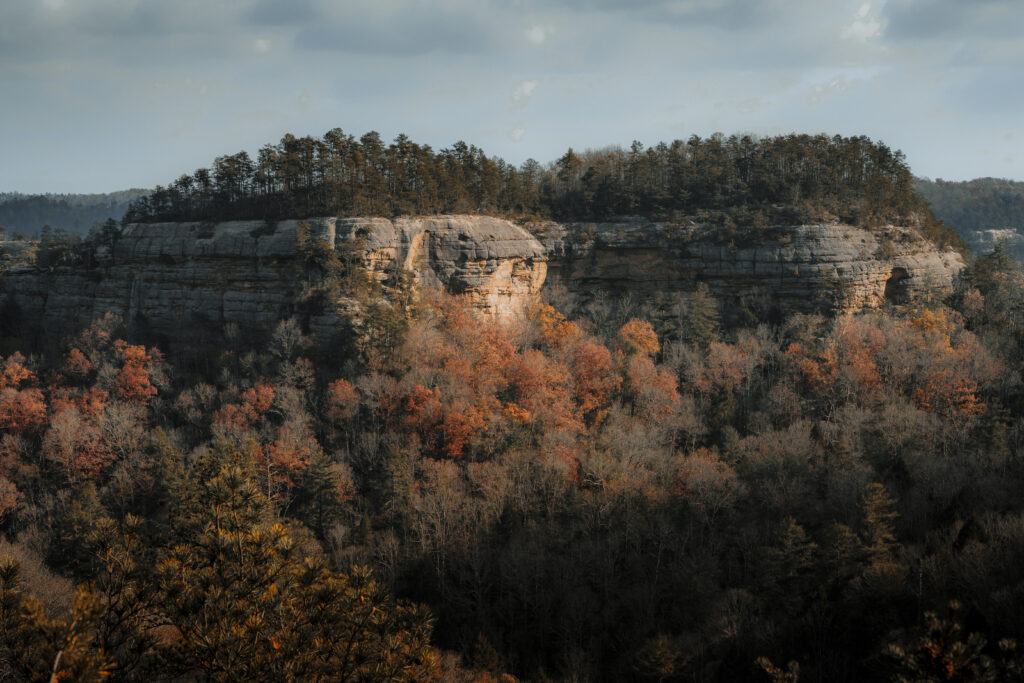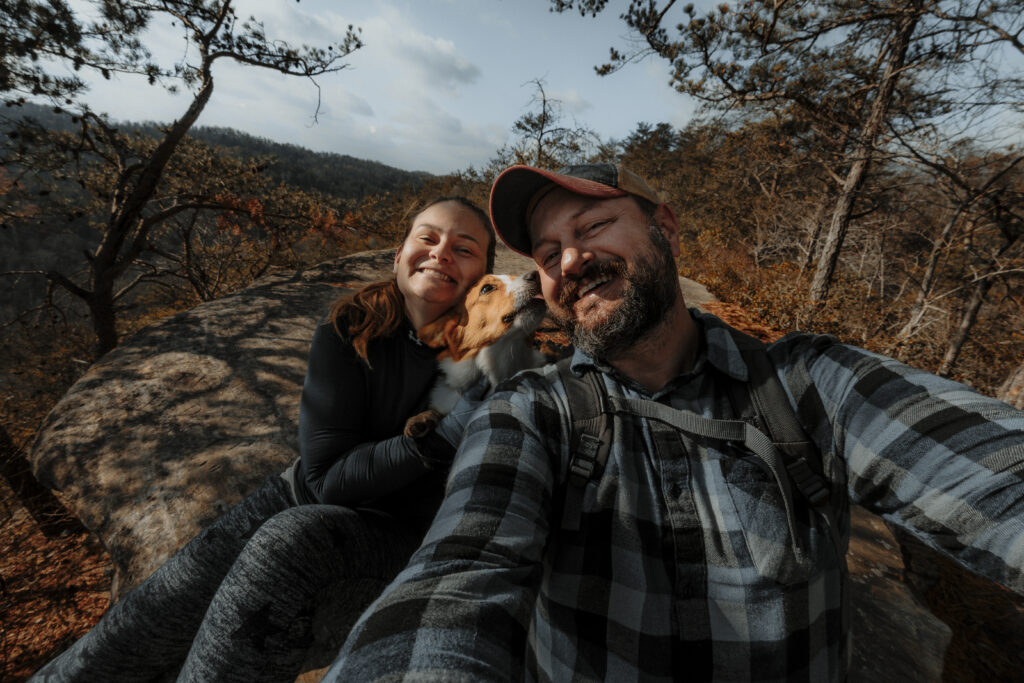 Heading back, be careful not to go the wrong way on Rough Trail once you emerge from the offshoot trail. Continue straight (west) to the intersection of Rough Trail and Rush Ridge Trail and then turn left (south).
Follow Rush Ridge Trail over fairly level terrain for a mile until it connects with Pinch-em Tight Trail, which also appears as Sheltowee Trace Trail on most maps. Turn right (west) on Pinch-em Tight Trail for roughly two tenths of a mile.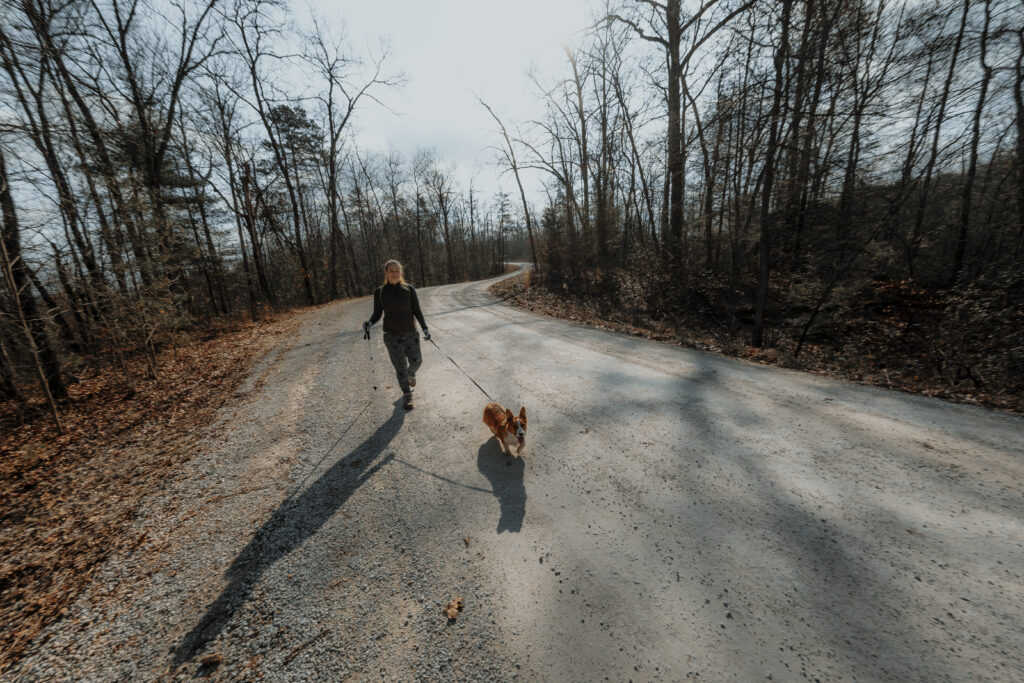 Once Pinch-em Tight Trail crosses Tunnel Ridge Road, head right (northwest) on the road for a tenth of a mile back to the Gray's Arch Recreation Area parking lot.
Use this map on your hike!
Load this web page on your phone while you still have service.
Then, tap the arrow icon on the map to show your current location and follow along.
Tap the layers icon to switch between topo, satellite and other helpful map layers.
To save battery life, put your device in airplane mode. GPS still works even without service!
PLEASE HELP US OUT!
If you enjoyed this free article on hikingillustrated.com, please consider
purchasing anything on Amazon via our affiliate link at no extra cost to you.
Related Posts