In the fall, Brown County State Park is inundated with leaf peepers who snarl traffic bumper-to-bumper from Nashville to Gnaw Bone and beyond.
At Trail D on the far southwest corner of the park, you'll avoid it all and find the hiking escape you're looking for. In fact, you probably won't see another soul.
RELATED: The Best Hiking Trails in Brown County State Park, with Maps and Rankings
Trail D Interactive Hiking Map
You can use this interactive map at the trail! Here's how
Download map GPX file
Directions
Trail D trailhead. From Story, continue straight from IN-135 to Elkinsville Road and follow for 2.6 miles. Turn right on Blue Creek Road and follow 2.3 miles to the dead end.
---
Dogs
Allowed on 6-foot leash
Sun exposure
Dense tree canopy
Flora/fauna
Thorns, copperheads, timber rattlers, ticks
---
Hiking Trail D
You may have learned the hard way that going to Brown County State Park at peak times can feel a little crowded, and maybe you've landed on this trail guide because you wanted to find a way around that mess. Well, Trail D might be one of my favorites to hike, and that's partially because it allows you to bypass the crowds. Heck, you might even hike for several miles and hours and never see another person.
Depending on how far you want to go on trail D, a.k.a. the Co-op Trail, it is possible that you will not ever enter Brown County State Park. However, the route we're sharing in this guide cuts through the southwest portion of the park on Trail 16, one of the minor horse trails, hence its inclusion in our list of Best Hiking Trails in Brown County State Park.
Note: Since writing this post we've learned that the park prohibits hiking on its official bridle trails, however the first half of the route described here is most definitely multi-use. With that in mind, you may want to hike an out-and-back route on Trail D that includes Ten O'Clock Line trail.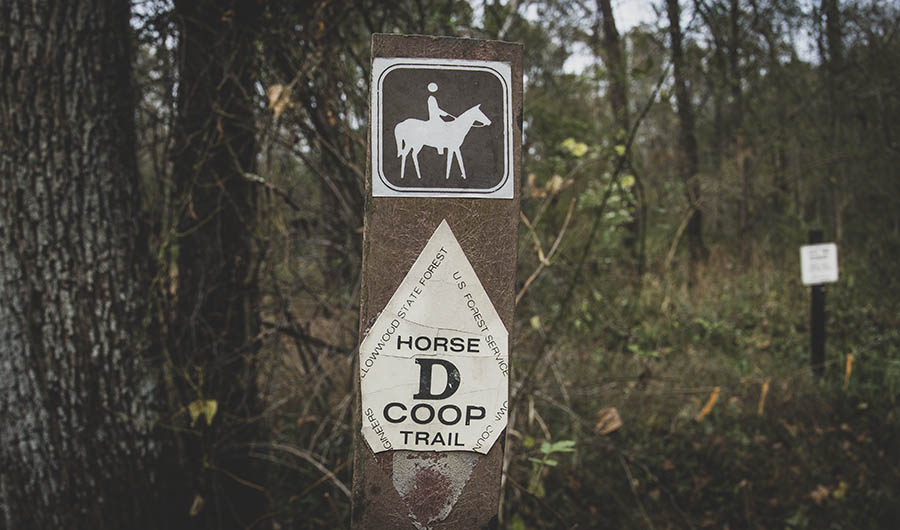 Originally a horse trail extension of the park's B and C loops, it is named the Co-op Trail because it is a cooperative effort between Department of Natural Resources, United States Forest Service and the Indiana Trail Riders Association.
After the southern portion of the trail was rehabilitated in recent years, it was opened to include mountain bikers. The trail is a gateway to Yellowwood State Forest to the west as well as rural areas of interest south of the state park.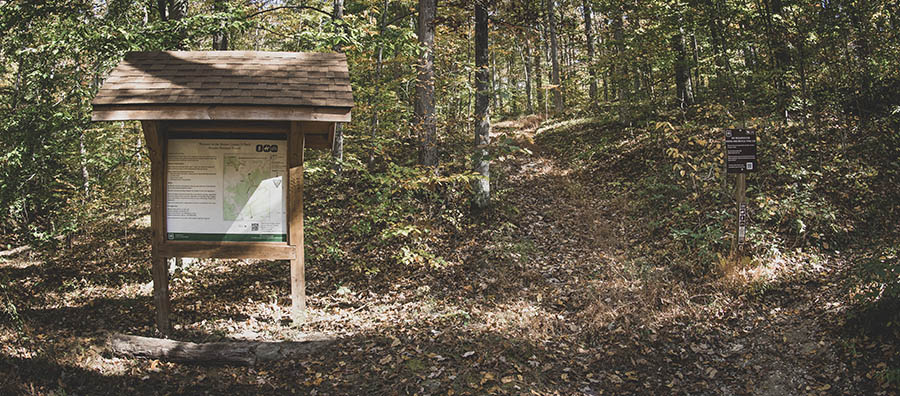 Trail D begins at the north side of the dead end on Blue Creek Road where it steadily climbs a ridge, bypassing evidence of an old road that had clearly seen heavy erosion. For the first two miles you'll be trekking through the Hoosier National Forest.
The elevation gained is very gradual and easy. As you make your way up the ridge, take time to look up at the trees and across the peaceful hollows.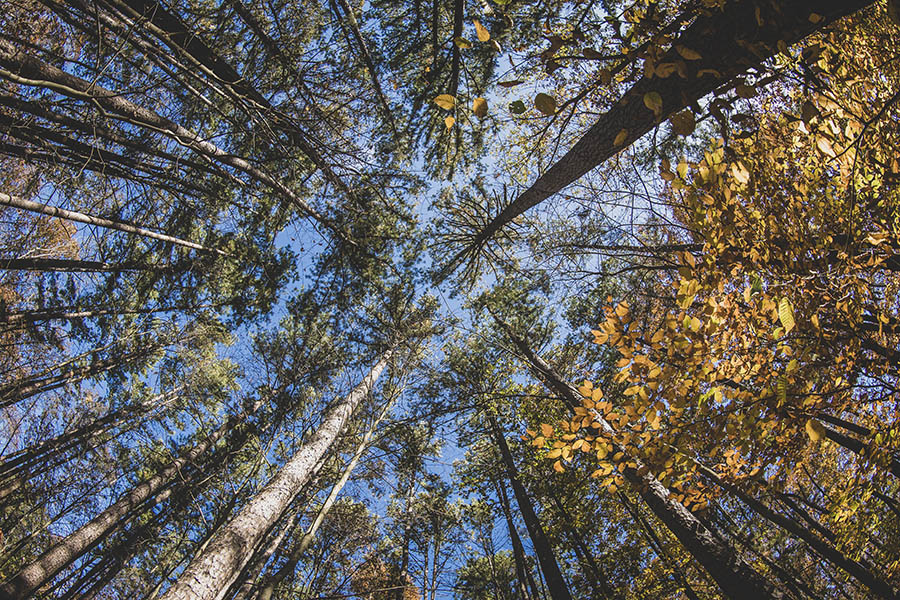 As I hiked deeper into the forest, I heard little more than the crunching of leaves beneath my feet and the trees swaying in the gentle breeze. I thought I'd surely encounter another hiker or rider, but there was no one.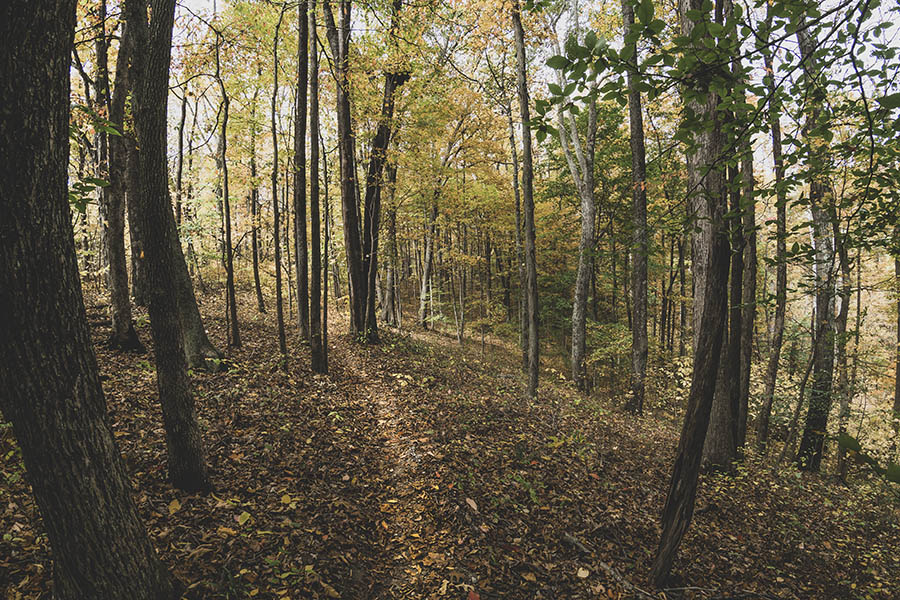 GPS still worked, of course, but there was no cell service. Be extra careful, I thought to myself. This would be a bad place to get hurt. It's not something to dwell on, but it's always good to keep that in the corner of your mind when you're in a place so remote.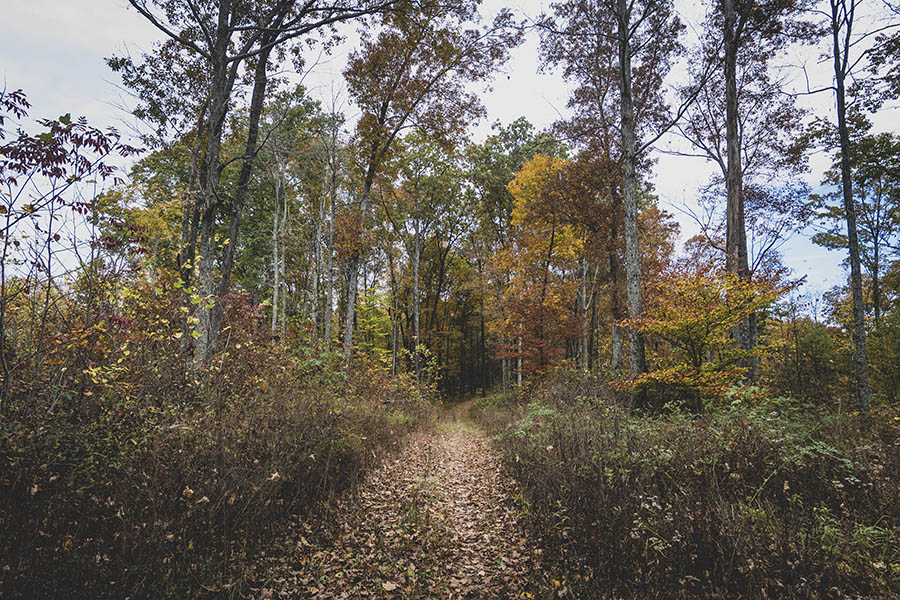 Trail D continues for a few miles more before connecting with Horse Trail C and the Ten O'Clock Line, and I wouldn't blame you if you decided to stay on its nice wide footpath for a while before turning back the way you came.
But if you'd like to turn your day hike into a loop and explore the deep back country of Brown County State Park, hang a right on Horse Trail 16 at roughly three quarters of a mile past the Hoosier National Forest boundary gate.
Horse Trail 16
You might walk right by the Trail 16 trailhead as it is not marked. There is a small footpath leading back into a stand of pine trees. It was here that I quickly lost the trail under a blanket of fallen needles. Things didn't look promising, so I backtracked to Trail D and worked my way north again to see if there was something that looked more official.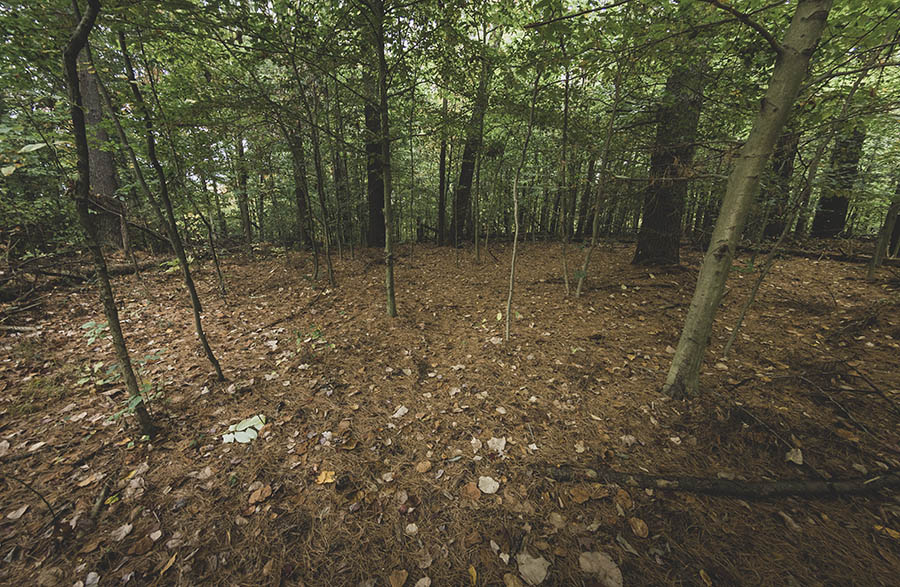 Unfortunately, I found a horse mounting block in a clearing not far up the trail, and this only added to my confusion. The clearing had been nearly swallowed by brush, and if there had once been a trail leading to it, it was no longer apparent. I took a seat and rehydrated while asking myself if it was worth continuing to look for the trail.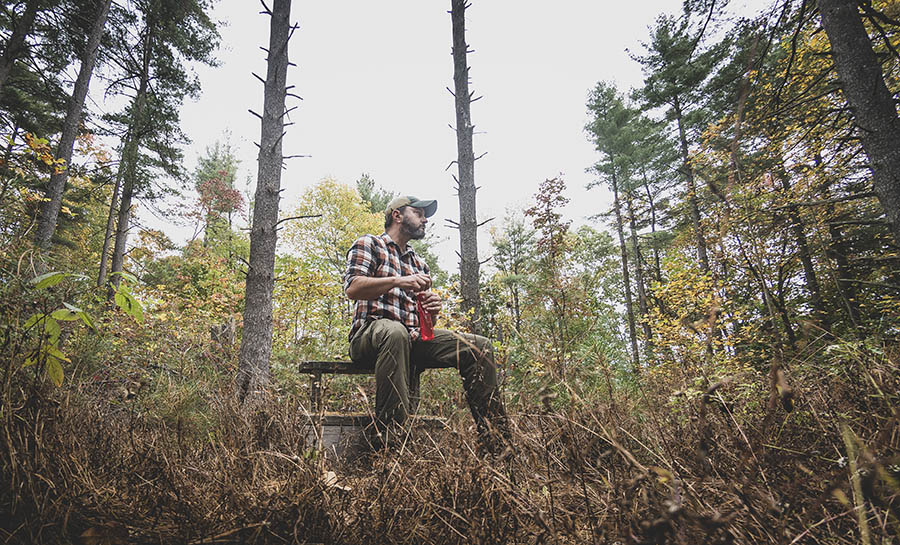 I decided to go back to the pine needle area and pulled up the interactive map at the top of this post (I had previously published it as a scouting trail without the GPX route). I knew the trail roughly followed a ridge to Little Blue Creek, so I figured if I continued along the ridge top I'd eventually find something that looked like a trail.
I wouldn't recommend doing that without a GPS map and a backup trail tracker device, but after a couple hundred yards I found myself on a trail and saw a marker for Trail 16. Curious, I decided to follow it back to Trail D to see where the trailhead actually was. It turns out the pine needle covered trail was correct, and it was more obvious coming back that way.
Confident once again of my whereabouts, I began the one and a half mile cut through to Petro Hollow and the Little Blue Creek valley. Upon crossing the Brown County State Park property line, I discovered an old bullet-riddled state park boundary marker being slowly eaten by the tree it had once been nailed to.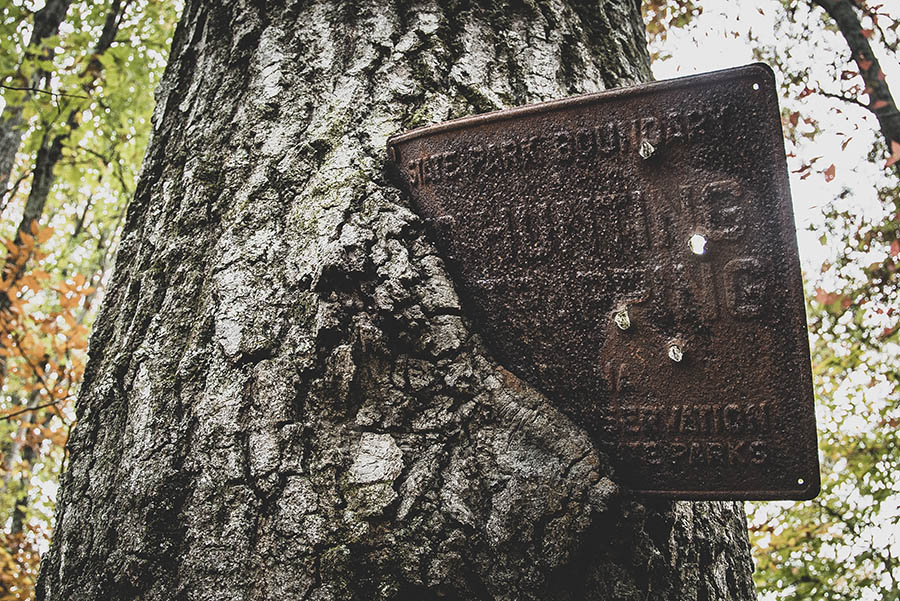 Something I hadn't anticipated on this trail was the abundance of thorns. They were everywhere, but luckily the material on my Columbia Ridge hiking pants worked perfectly at deflecting them. That's something to keep in mind if you're going to take this trail. I wouldn't want to be in shorts or any type of material that would catch – that would certainly make for one miserable hiking experience.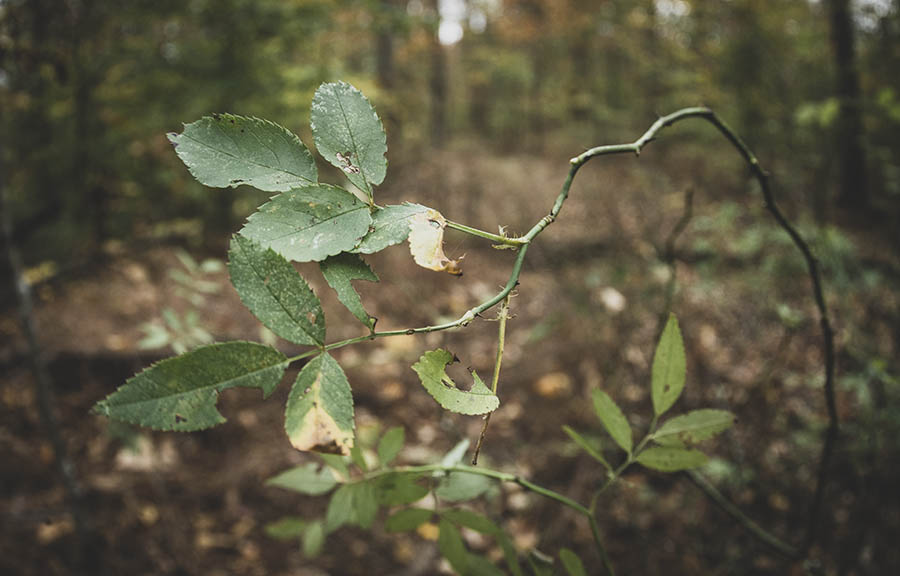 Trail 16 is less obvious in places, but there are occasional markers. Some portions have been rerouted due to fallen trees (you'll see pink ribbons tied to trees). At one point I was pretty sure I'd lost the trail, but I reminded myself that if I just stayed on top of the ridge I'd find the trail again. I was right.
Near the trail's intersection with the eastern Trail D loop in the park, it makes a quick descent to Petro Hollow and the Little Blue Creek Valley. Once back on Trail D you'll hike roughly another half mile to the one-lane bridge on Blue Creek Road.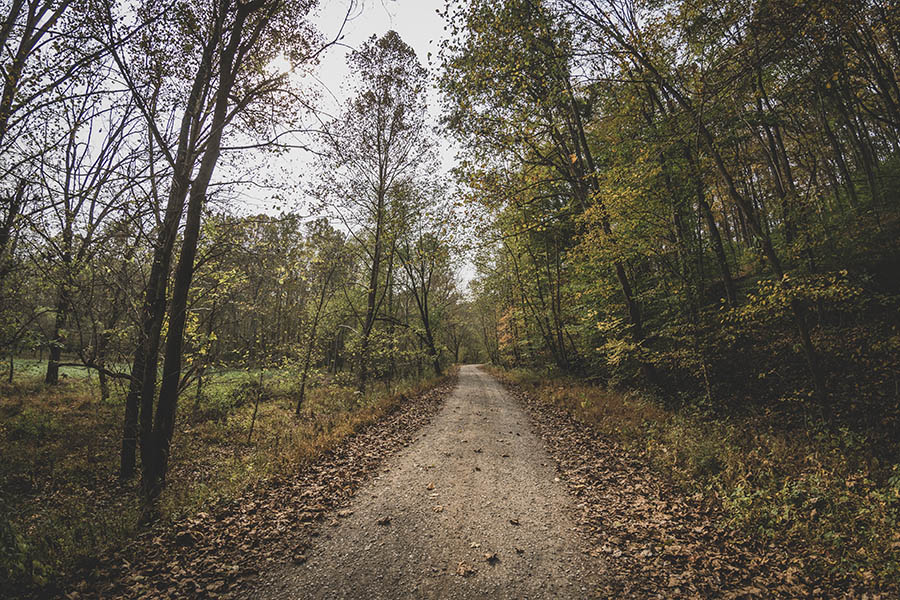 It is another mile on Blue Creek Road to get back to the trailhead, but the gravel road is nice and flat. Be mindful of vehicles, especially on the blind turns. You likely will not encounter many, and there is plenty of room to get over.
Use this map on your hike!
Load this web page on your phone while you still have service.
Then, tap the arrow icon on the map to show your current location and follow along.
Tap the layers icon to switch between topo, satellite and other helpful map layers.
To save battery life, put your device in airplane mode. GPS still works even without service!
PLEASE HELP US OUT!
If you enjoyed this free article on hikingillustrated.com, please consider
purchasing anything on Amazon via our affiliate link at no extra cost to you.
Related Posts