Want to save a few bucks and don't mind tacking on a bit more mileage to experience the incredible Grandfather Mountain? Then this is your trail.
For this trail report, we're combining the last half mile section of Grandfather Trail to Watauga View and Calloway Peak, because there's no way you're simply going to turn back at the end of Profile Trail after you've put in so much work. And work you will, but it's totally worth the payoff.
Profile Trail Interactive Hiking Map
Download map GPX file
Directions
Profile Trail trailhead. From the intersection of NC-105N and NC-184S, go a third of a mile east on NC-105N. Enter the drive on the south side of the road, across from the Pedalin' Pig restaurant. Continue to the parking lot and trailhead.
---
Sun exposure
Dense tree canopy
Flora/fauna
Black bears possible
---
Hiking Profile Trail
First things first – let's talk about the distance of this trail: 1) You're not going to just do the 3.8 mile Profile Trail and turn back once it meets up with Grandfather Trail, 2) some of the mile markers on the trail are flat out wrong by a half mile or more due to a change in the trailhead's location, and 3) you are going to do some exploring at the top.
After we did this hike, which included the jaunt up to Watauga View (a must see!) and Calloway Peak, my Garmin Instinct GPS watch read 8.7 miles. And, let me tell you, the way up gets more punishing as you ascend. Be prepared for a good 5 and a half hour hike.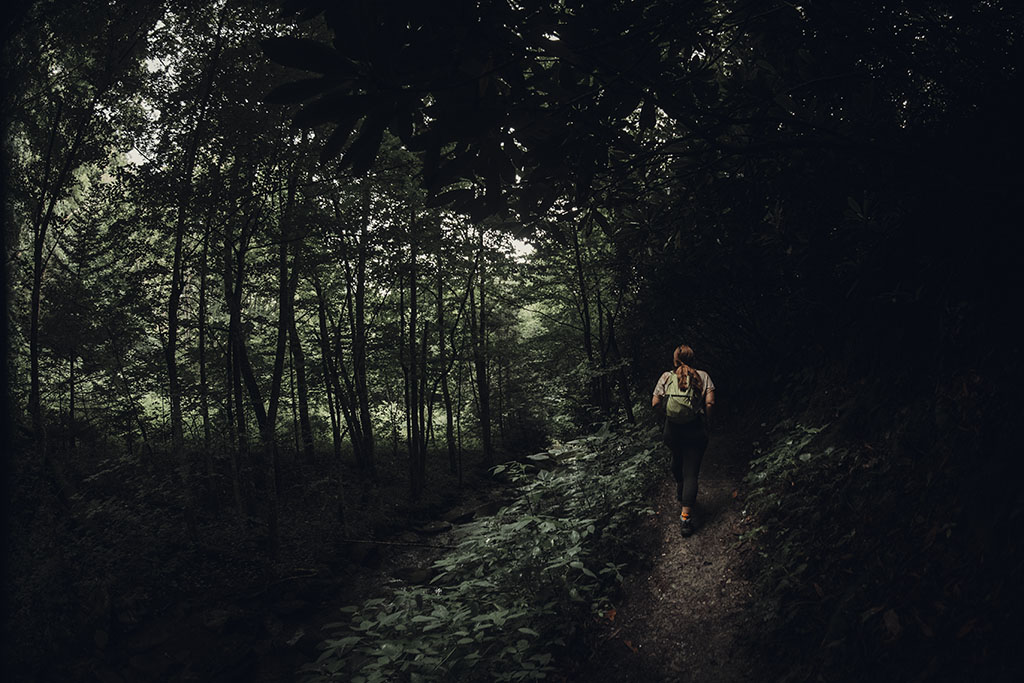 There are other ways to get to Calloway Peak, sure. But if you're looking to avoid the $22 per person entry fee (as of 2021) for the Grandfather Trail, then this is the shortest free way to get there.
Profile Trail is also a much safer ascent when compared to the paid entry Grandfather Trail, which includes several ladders, cables, and some Class 3 exposure. You won't encounter any of that on Profile Trail, although there are a couple small ladders near Calloway Peak. These are far less scary to navigate than those on Grandfather Trail approaching MacRae Peak, but keep in mind that if your intention is to reach Calloway Peak, dogs and small children may not be able to make the final quarter mile.
Mind you, there are also easier ways to see those iconic rolling vistas familiar to the Blue Ridge Mountains. This trail is heavily forested, and you won't see much more than tree canopy until Foscoe View, which is a little over 2 miles in. If you're just looking for good views, check out Rough Ridge on the other side of the mountain.
Use this map on your hike!
Load this web page on your phone while you still have service.
Then, tap the arrow icon on the map to show your current location and follow along.
Tap the layers icon to switch between topo, satellite and other helpful map layers.
To save battery life, put your device in airplane mode. GPS still works even without service!
PLEASE HELP US OUT!
If you enjoyed this free article on hikingillustrated.com, please consider
purchasing anything on Amazon via our affiliate link at no extra cost to you.