Auxier Ridge Trail #204 in the beautiful Red River Gorge Geological Area of Kentucky is an unforgettable hike featuring narrow exposed ridges overlooking sweeping Appalachian vistas of the Daniel Boone National Forest.
Auxier Ridge Trail Interactive Map
You can use this interactive map at the trail! Here's how
HikingIllustrated.com user rating
Directions
Auxier Ridge trailhead. From Slade, Kentucky, take KY-15 S for 3.3 miles. Turn north (left) onto Tunnel Ridge Road. Follow Tunnel Ridge Road for 3.7 miles until it dead ends into the Auxier Ridge trailhead parking lot.
---
Hiking Time
Approximately 3 hours
Dogs
Allowed on 6-foot leash
Exposure to sun
Partial tree cover
---
3D map video flyover
Tour Auxier Ridge Trail from a bird's eye view in this 3D flyover simulation with Andrew's sparkling commentary. 🙂
Hiking Auxier Ridge Trail
Sometimes words fail to accurately describe a place, so we'll just let the pictures do most of the talking.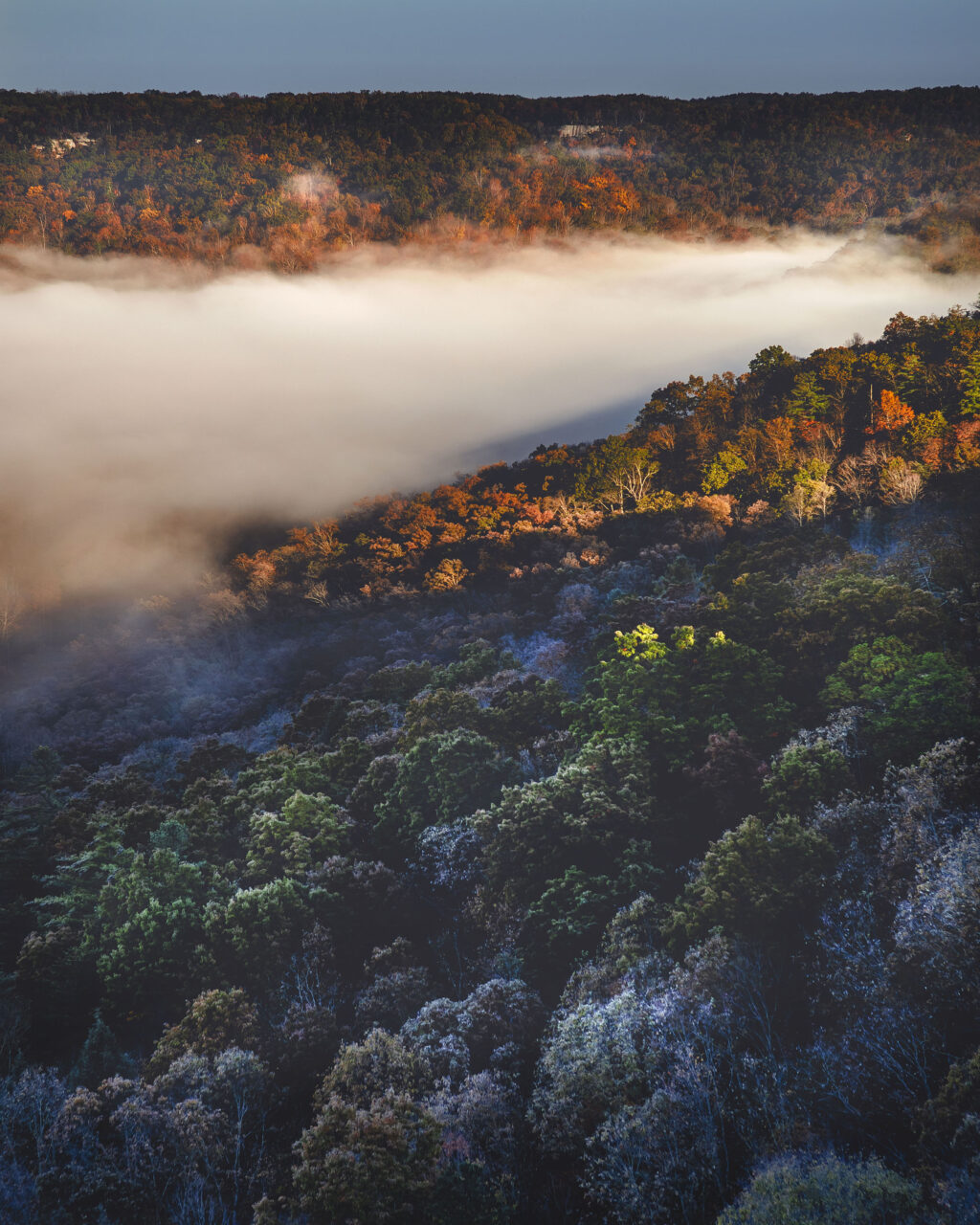 Beginning the trail at daybreak may reward early risers with lakes of dense fog pooled on the valley floor.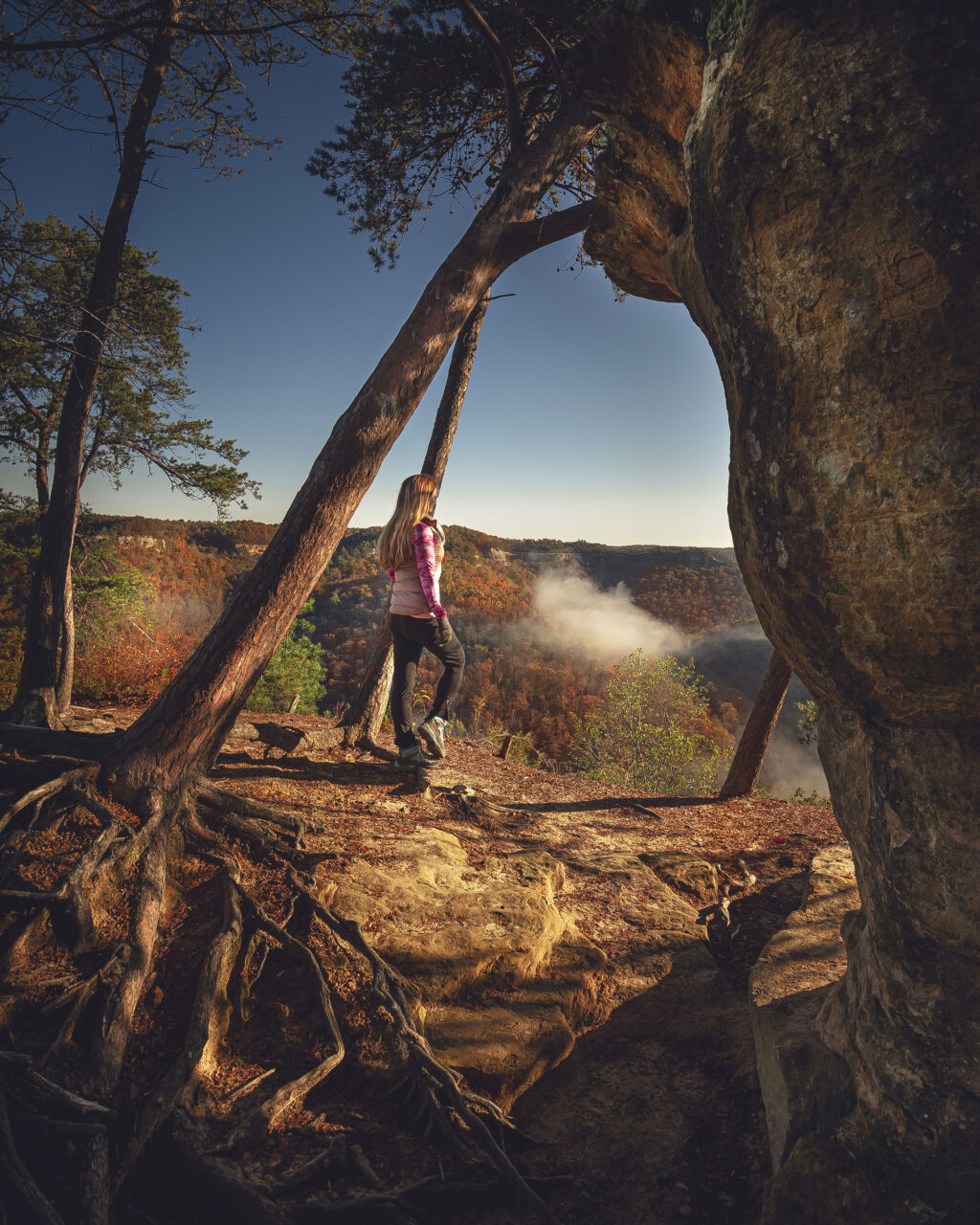 The first two weekends in November are likely your best bet to see peak fall colors, although some say hiking in winter when the trees are bare offers the most spectacular views..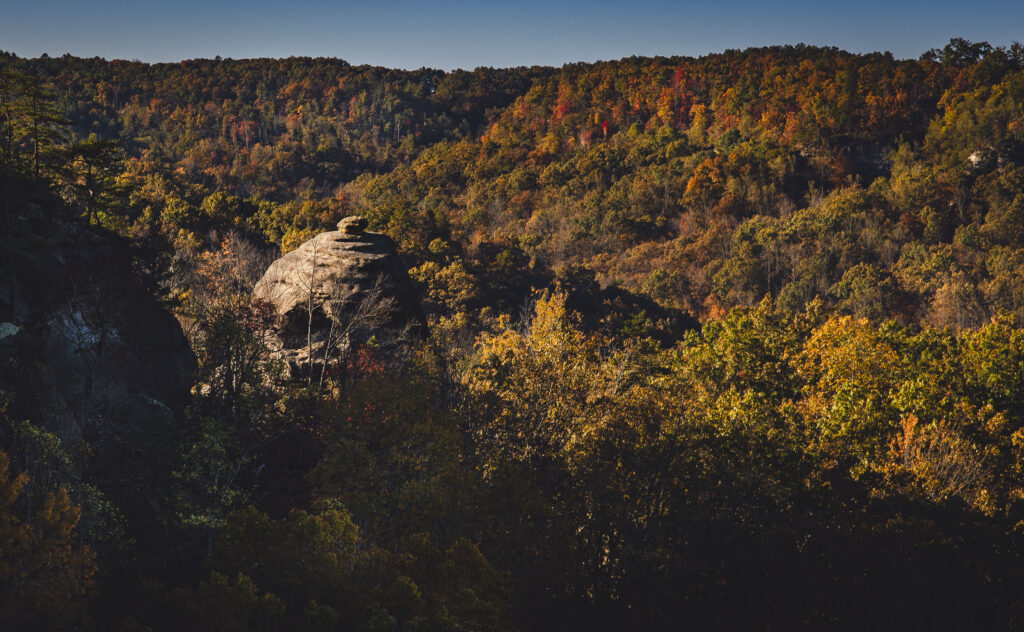 As with most popular destinations, get to the trailhead early as parking is limited and fills up quickly. Think sunrise as opposed to mid-day.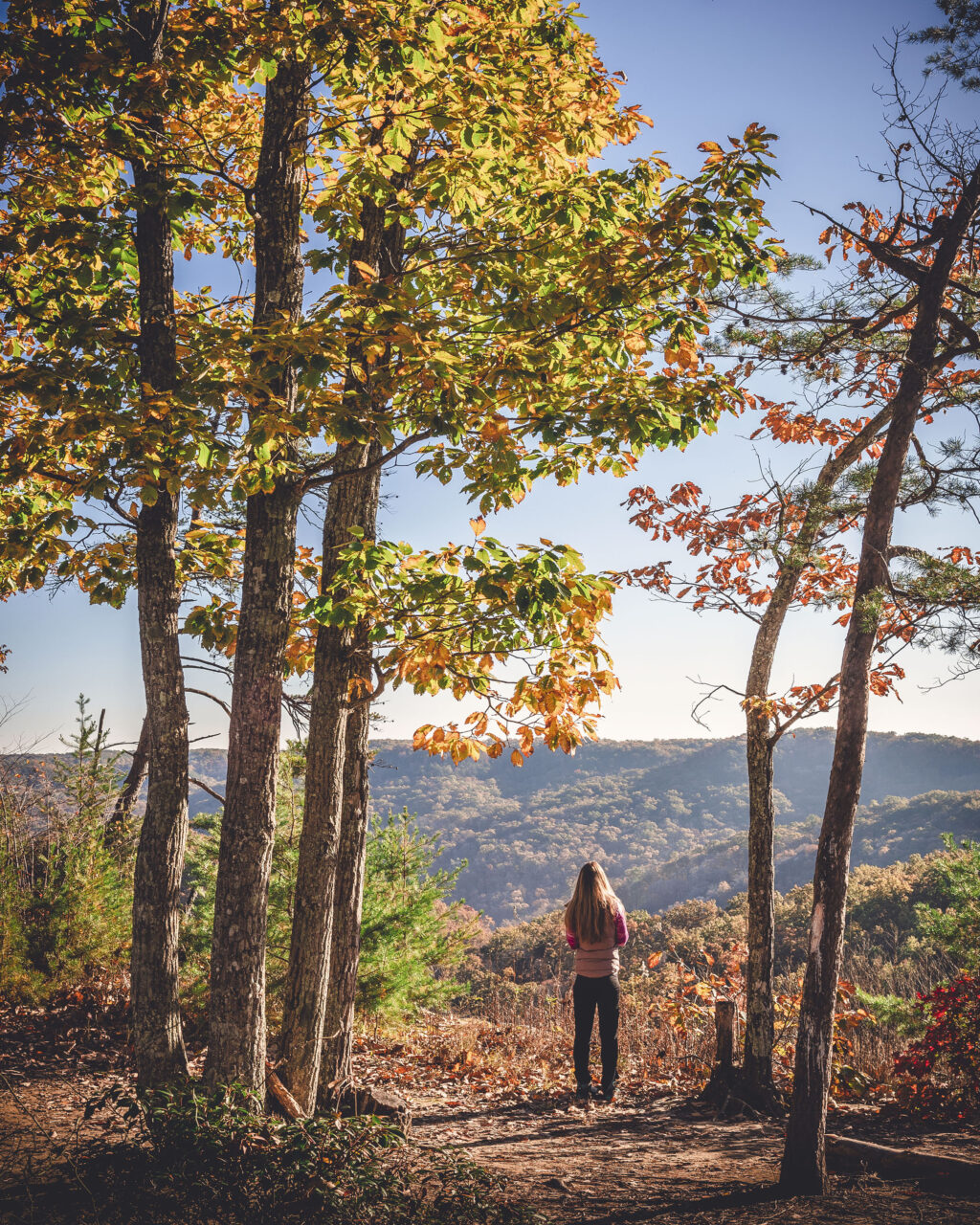 At about one mile in, the trail makes a 90-degree turn to the right (east), but another trail continues due north (see exclamation point marker on interactive map).
This section can be confusing as both trails look well-defined. Instinct may tell you to continue straight ahead, but the correct way is east. Pay close attention to trail blazes on the trees.
View the heatmap overlay on the interactive trail map to better understand this somewhat confusing trail offshoot, or else you may end up backtracking (like us).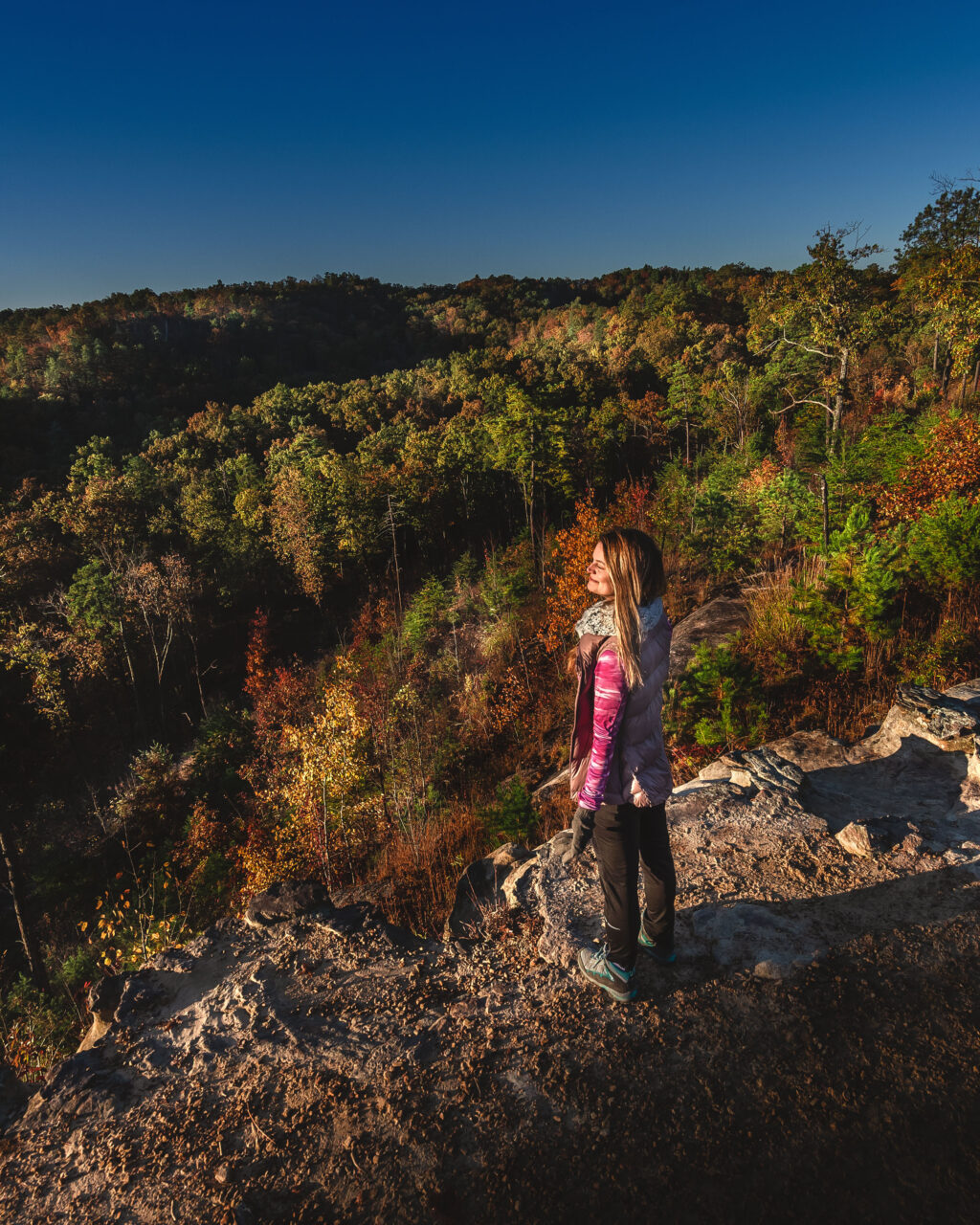 With about a quarter mile before the northernmost portion of the trail, Auxier Ridge narrows to cliff views on both sides known as the Wizard's Backbone — perhaps the most striking feature on this hike (see main image at the top of this post).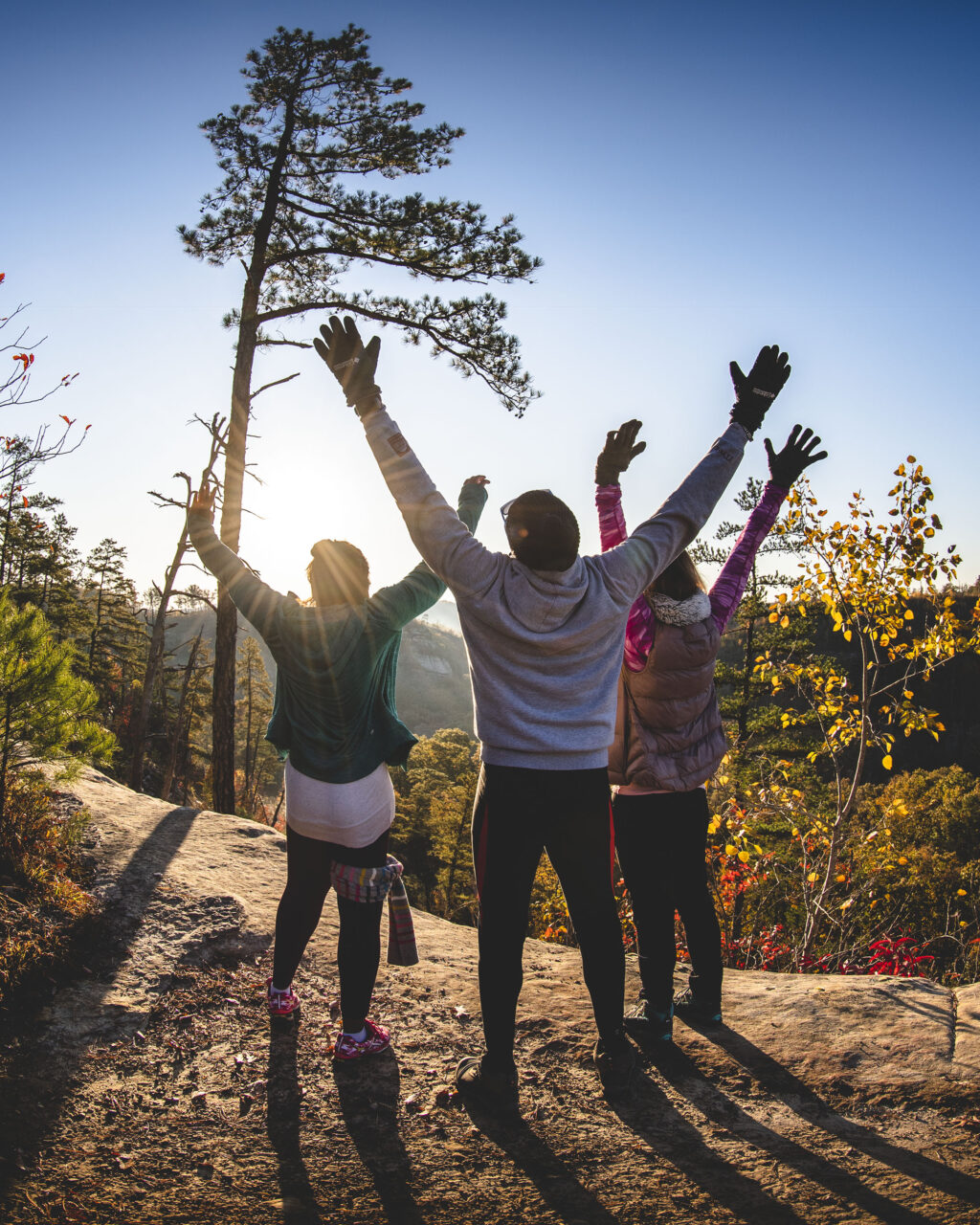 At the far north terminus to Auxier Ridge Trail is stoic Courthouse Rock. Everyone in the town of Slade will tell you that you can climb this beast, but this isn't an effort suitable for the casual hiker. Leave that to the legit climbers.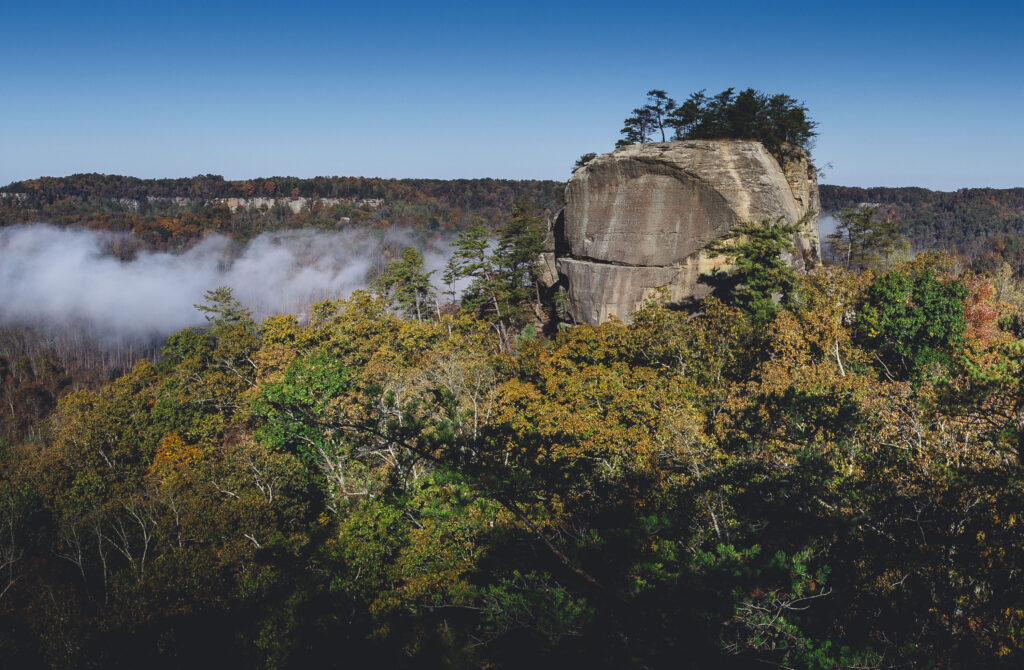 From here, you may take the steps built by the Forest Service down to Courthouse Rock Trail and loop back, or simply go back the same way you came. Although it looks like a shortcut, Courthouse Rock Trail actually adds about a mile to the return trip, so choose your route accordingly.
Auxier Ridge Trail FAQ
When is the best time of year to hike Auxier Ridge Trail?
You're going to get amazing views no matter the season, but we love going in autumn for sweeping views of fall foliage. Although you can hike Auxier Ridge in the winter, much of the Red River Gorge area in Slade, Kentucky, shuts down for the season in mid-November and does not reopen until March.
When is the best time of day to hike the trail?
Get to the Auxier Ridge trailhead at first light to not only beat the crowds and secure a parking spot, but to also witness beautiful blankets of fog resting in the canyon bottoms illuminated by morning sunlight.
Is this trail dangerous?
For much of the hike there will be cliff drop-offs on both sides, so use extreme caution. However the trail is wide throughout and should not be cause for alarm.
Are there bathrooms?
Yes, there are permanent bathrooms at the trailhead.
Are dogs allowed?
Yes, dogs are allowed on a 6-foot leash.
Wouldn't it be quicker to take KY-77 to Tunnel Ridge Road?
No. Tunnel Ridge Road actually crosses over the Nada Tunnel on KY-77, and there is no access. The only way to enter Tunnel Ridge Road is from Campton Road (KY-15).
Use this map on your hike!
Load this web page on your phone while you still have service.
Then, tap the arrow icon on the map to show your current location and follow along.
Tap the layers icon to switch between topo, satellite and other helpful map layers.
To save battery life, put your device in airplane mode. GPS still works even without service!
Related Posts