Traveling light. Too light.
Before I met Andrew, I'd gotten comfortable taking long day hikes solo — partly to enjoy the peace and quiet of my own experience and partly because I had a hard time finding others who were willing to hike more than 2 miles at a time (thank you German thighs). I'd head off on my own for hours, typically sending my friend Foz a "127 Hours text" saying where I was heading off to hike — a couple bread crumbs in case something went wrong. Other than that text, my preparation was extremely minimal. I'd bring my cell phone and PERHAPS a bottle of water.
Once Andrew became my hiking partner, these solo-hikes primarily happened when I was traveling for work. Customer visits brought me all over the country several times a month, and to make that enjoyable I'd usually tack it on to a weekend to explore a new area. Mixing business with pleasure is always a good idea, right? Unfortunately my minimalist solo hiking lifestyle eventually caught up with me in the Blue Ridge Mountains near Asheville, North Carolina.
Know what you're getting into
It wasn't the trail's fault. Craggy Gardens Trail is a delightful moderate hike appropriate for solo or family hiking near Asheville. Getting to the trailhead gives you a chance to drive the winding Blue Ridge Parkway, which is enjoyable on its own (just watch out for the cyclists coming around blind corners).
Andrew
And the crazy drivers trying to pass them at mach five.
The visitor center is at Mile 364. I was excited for a hike in the Appalachians in October as the temperature felt crisp and the leaves were just starting to show a tinge of color. Unluckily, the weather happened to be a little moody that day. As I climbed in elevation (the visitor center is just over 1 mile high at 5,497 ft), I entered a cloud with strong winds, limited sun, and a cool mist.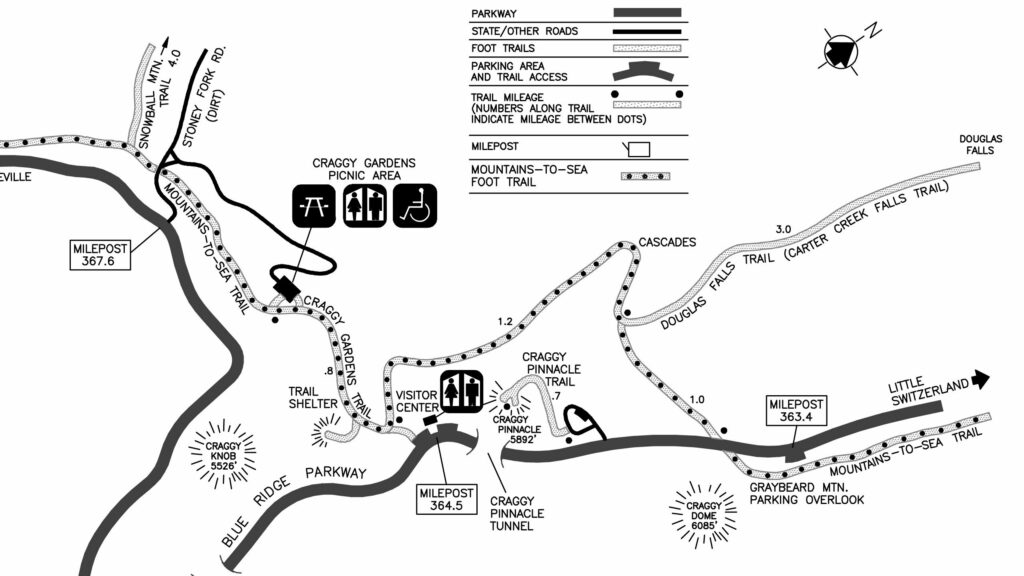 It's worth noting Craggy Gardens is fantastic in the summer as well since the elevation brings a refreshing breeze as you reach the views, and the plentiful wildflowers along the way keep you smiling. Ashevilletrails.com has a wonderful writeup which I won't try to copy. Check out this trail — I fully recommend it if you're near Asheville. It is open from March to October.
I never said I was a role model
Nope — this wasn't a bad trail. This was all my own poor judgment. I made 3 major mistakes beyond my lack of preparation and precaution.
I switched my "127 Hours text" to Andrew, even though I failed to inform him what this text was or why it was important. Sometimes love makes you a little stupid. I didn't proof read my text either. I thought I texted that I was hiking Craggy Gardens trail "in the middle of a cloud!" but what Andrew received was "[I'm] in the middle of a crowd!". Assuming falsely I had safety in numbers, Andrew cheerfully replied "OK have fun!" not realizing it might be a bad sign if I don't text him later to let him know I'm back safe at my hotel. Yes, autocorrect almost killed me.
A totally stupid optimistic time miscalculation. I forgot how much longer it takes to hike a mile on a rugged mountain trail vs. my usual Indiana "hills" pace. I tried to fit too much exploring into one day (Biltmore Estate first, then hiking) meaning I started my hike around 3pm. Also the sun sets a little bit earlier in the fall vs. the summer … yeah my lack of judgement here is making me cringe as I type.
I improvised. Instead of just doing the Craggy Gardens Hike which I had researched, I completely ignored that song from the '90s that warned us "Don't go chasing waterfalls". About 0.1 miles from the Craggy Garden Trailhead is a wooden sign pointing down the mountain — "Douglas Falls: 4 miles". I love waterfalls! What fun! Four miles is nothing! Yeah, no — a quick Google reveals that it's four miles down and four miles returning UP the mountain on a rugged trail. It is expected to take a very experienced hiker 5.5 hours. WOMP WOMP!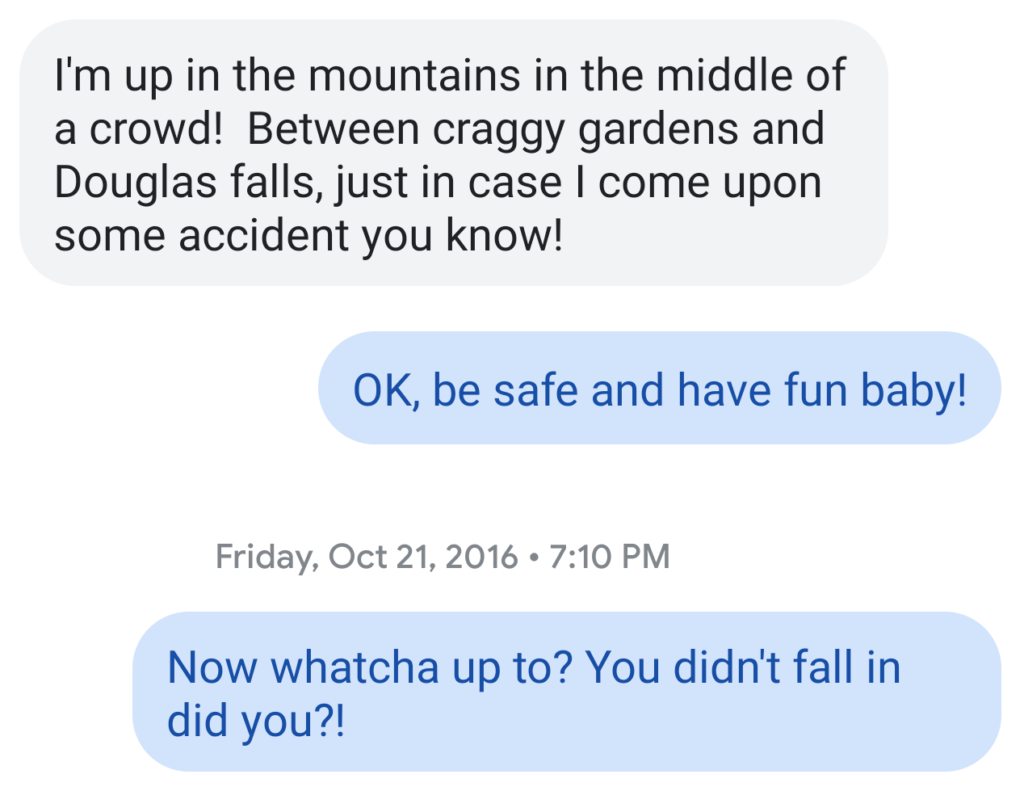 We all live and learn, and I definitely learned from this terrible situation I put myself in. I never made it to Douglas Falls at all. Thankfully I did realize soon enough that I needed to abandon the Douglas Falls Trail and head back as fast as I could … or I'd get stuck in the dark. I remember my heart pounding from fear and exertion as twilight fell. I was torn between being careful with my steps to avoid an injury and being as fast as possible to keep from being stuck in a cloud on a dark mountain. Did I mention that the cool rainy mist was starting to become snow?
By the grace of God
I prayed and hike/jogged as darkness fell. It was my first life experience where I realized this might be my last night and that it was all my own fault. Looking back now, I honestly am not even sure how I made it back safely. The only thing that makes sense is divine intervention. My shoes hit pavement at last. I'd made it to the road. I knew I was going to live!
Dude, where's my car?
Only I'd gotten turned around in the dark, and where I emerged from the woods was not where I had entered. After a bit of recalculating, I realized my car was parked farther down the mountain on the other side of a tunnel. As I approached, the wind ripped through the tunnel and roared in my ears. My totally frayed nerves simply couldn't handle it. What does one do in that situation? I started flagging down the few cars driving in the now-icy conditions. The first car had two young men who apparently found me very suspicious and declined to give me a ride.
Andrew
Yes, you can't be too careful with these young beautiful women in distress.
The second car that came fifteen minutes later was a kind middle-aged couple from Saint Louis. The woman clearly went into mother-mode and couldn't have been sweeter. They drove me back to my car, got my phone charged up enough to function, and let me follow their car back down the mountain, caravan style. God bless Saint Louis. Midwesterners helping Midwesterners when the weather gets dicey is honestly one of my most favorite things on this planet.
An understanding ear
Alright, so picture this — I'm totally soaked and frozen to the bone, hungry, and exhausted in the way only a life-and-death experience can make you. On my drive back to the hotel, I picked up a LOT of Mexican food to refuel.
I also called Andrew, a little annoyed about the 127 hours text fail (again, darn you autocorrect).
But this is where the story becomes a happy one, because this is when I realized Andrew was the one for me. There I was, soaked and miserable, fully beating myself up for my own stupidity, and he just understood. He related a miscalculation he made once kayaking across a lake (but that's his story).
I was sure he was going to be mad that I did something so stupid and that my days of solo-hiking were over. However, he suggested we pick out a lightweight backpack and fill it with a flashlight, an emergency blanket and some other survival items that I could take with me the next time I go out hiking. That way I'd feel a little bit better prepared on my next adventure.
And that's how I wound up with my little neon yellow backpack, a realization that Andrew is my guy for life, and a healthier sense of preparedness. The picture at the top of this post? That's from my second visit to Craggy Gardens, this time with Andrew. And we still didn't make it to Douglas Falls. Maybe the third time will be the charm, someday.
Andrew
I've got German thighs too.
Kat
Yes, I'm sure our children will be powerful Olympic speed skaters.
Andrew
They'll never fit into a pair of Levis. Do they still make Huskies?
Kat
Too old of a reference for me, dear.
Andrew
Ah, gotcha. So what's "127 Hours" anyway?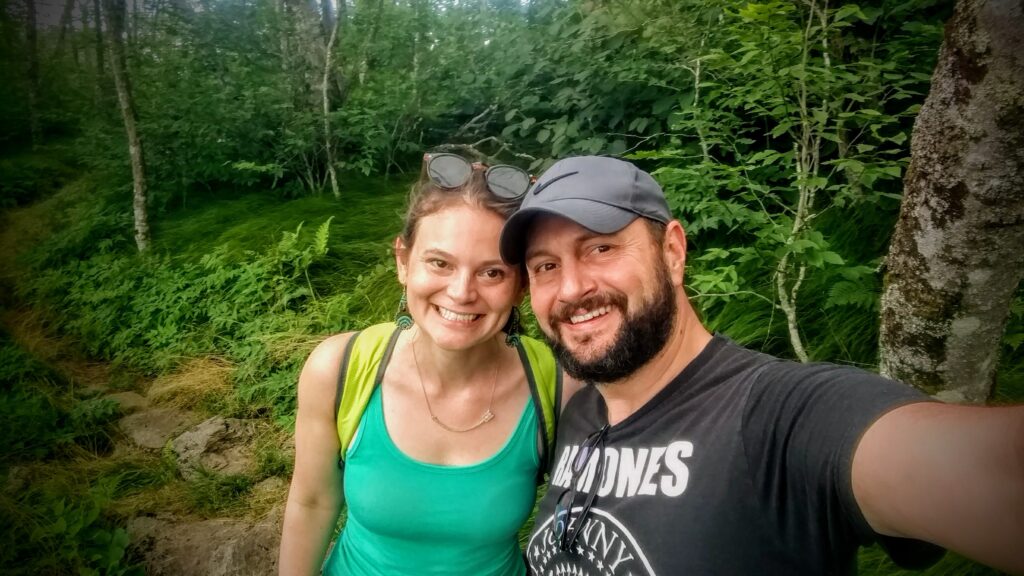 Promo time
This post isn't about selling something, but in case anyone is interested in looking at reasonably-priced lightweight backpacks for day hikes, the one I went with is the Zomake Ultra Lightweight Travel Backpack. I like it because it does well as both a travel backpack and something to take with me on the trail, and it seems to really take all the punishment I give it.
PLEASE HELP US OUT!
If you enjoyed this free article on hikingillustrated.com, please consider
purchasing anything on Amazon via our affiliate link at no extra cost to you.
Like us on Facebook!