Driving nonstop from Paia Town to Hana in Maui can take two and a half hours one way. After diverting on short detours for Auntie Sandy's divine banana bread, crawling through funky lava tubes and posing for photos next to glorious rainbow trees, there's hardly enough time left in the day to do a proper hike at Waiʻānapanapa State Park. That is, if you intend to turn around and head back the same day. Some people might like that breakneck pace. We had other plans in mind.

Kat had a feeling we weren't going to be able to experience everything we wanted to on the Road to Hana in a single day, so she concocted a brilliant idea to spend the night in the quaint little town on Maui's east shore. This way, she figured, we'd be able to explore Hana itself at our leisure, as well as beyond the town en route to the Kipahulu region of Haleakala National Park. It turned out to be the perfect plan.

Kat
Thanks, it was rather brilliant.
The day begins
The previous day, after a long meandering morning and afternoon spent exploring the wonders along Hana Highway, we checked in to a bed and breakfast in Hana. We grabbed dinner at Travaasa's Preserve Kitchen, purchased a few beers (Pineapple Mana, yum!) from the Hasegawa General Store and then settled in for the night. Our location positioned us for an ideal start to the next day's packed itinerary.

We'd set our alarms the night before to be up before dawn. It wasn't hard to get up early with our six-hour Midwest jet lag (hello wide awake at 3 a.m.!), and we easily made the five-minute walk down the hill to Hana Bay to watch the sun rise. We were awed by not only the beauty of this black volcanic sand beach, but also by the fact that we were the only ones there. As we sat in the sand and marveled while the sun began to crest over the horizon, Kat giggled and pointed to my side. There, snuggled up beside me was a friendly neighborhood dog who must have pegged me for someone who would oblige her with a tummy rub. And she was correct. After a few belly scratches and chin rubs, we checked her tag for a name: Ali'i, which translates to "Chief."

Kat
I'll back that up. It was a girl chief. Kinda like a boy named Sue.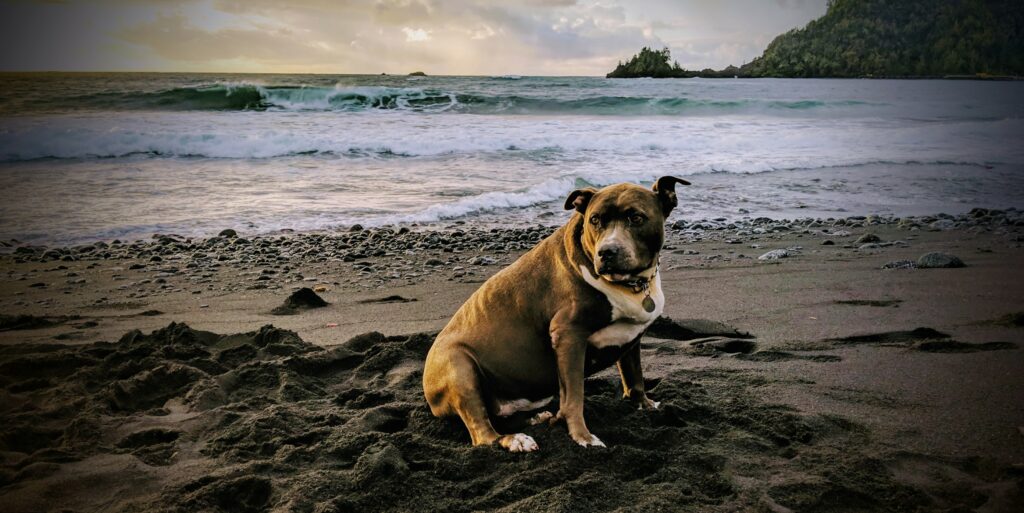 As the sun made its dazzling display, Kat was inspired to do a little beach yoga. Ali'i watched curiously as I took photos of my lovely wife framed by an exalted sunrise in paradise. To Ali'i, it was probably just another day, and what about those tummy rubs, hooman? To us, it was Mother Nature in all her majesty. I believe we could have spent all day there, but after an hour (and still no one in sight), we packed up and headed back.

Next item on the agenda, horseback riding
Back at our loft, we ate a light breakfast before returning to town for an hour-long horseback ride through a heavenly pasture along the beach. These were perhaps the most spoiled horses on the planet. Next, we stopped at Thai Food by Pranee to fill our bellies properly before heading south for more adventures.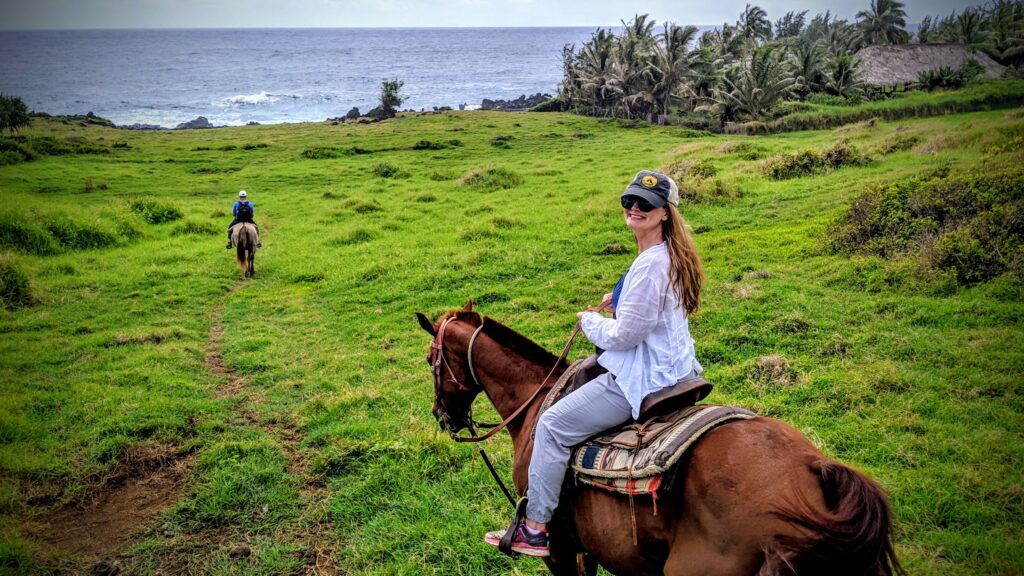 We were tempted to hit Kaihalulu Beach, better known as Red Sand Beach, as we were within walking distance, but both our B&B host and our horseback guide had warned us that erosion around Ka'uiki Head in recent years had made the short hike to the beach a treacherous one, and that tourists were now being hurt or killed there on a regular basis. Just five days prior to our visit, a woman had slid 30 feet down a slope and landed on rocks, sustaining injuries that required her to be airlifted out. We decided that all we were interested in was seeing red sand, and a beach a few minutes down the road had exactly that and more to offer. We'd also promised each other before our trip that we weren't going to do anything that might risk an injury, so we passed.

Kat
Andrew, don't bum people out!
On a side note, it is also well-known that Red Sand Beach in Hana is considered by some to be clothing-optional. This sounds kind of charming and sweet, but I later heard from a friend of a friend that when he had taken his daughter on a hike there, they both ended up with eye-fulls of much more than just nudity. Charming was not the word that properly described what they saw. So just be prepared if you decide to go — if the hike doesn't kill you, you might get to witness some good old beach debauchery! Hey, and I won't judge if that's your thing.
The other red sand beach
Anyway, on to Koki Beach, which also has red sand. First, if you need gas and supplies such as bottled water and snacks, be aware that Hana is the last stop. As you drive out of Hana, the once well-maintained highway turns into a less manicured road, but it still isn't bad compared to some of the pothole-laden county roads I'm used to back home. It's a little bumpy in places is all. About a mile and a half south of town is Haneoo Road. Turn left and follow the road to Koki Beach Park.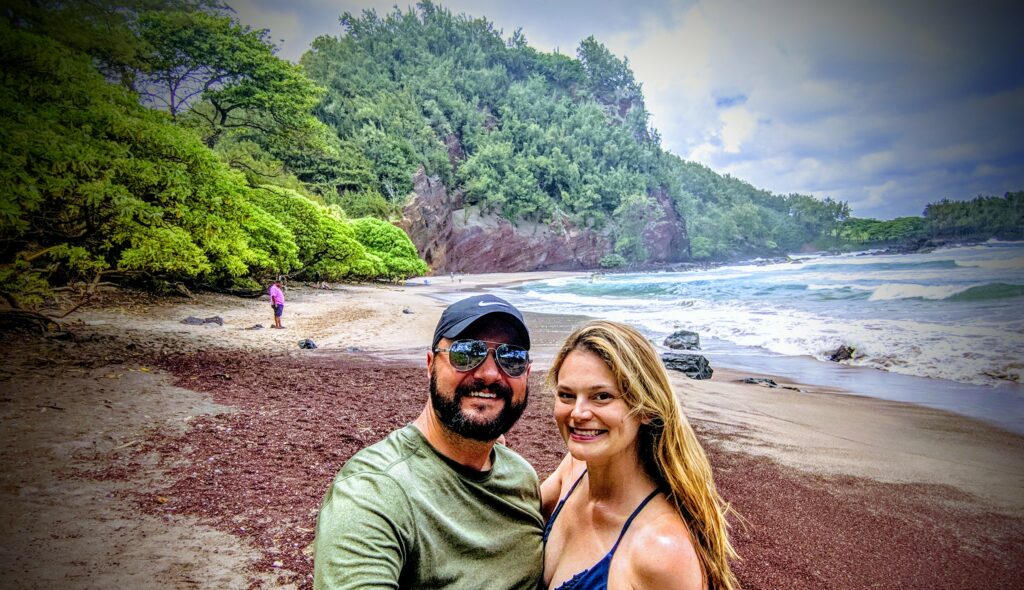 The beach is a beautiful red and white sand mixture, and there were only a handful of visitors in late April. Overlooking the beach on the left are the "Bones of Pele.".

Lovely Hamoa Beach
Less than a mile down Haneoo Road is Hamoa Beach, another popular location that is also definitely worth a stop. There you'll find quite possibly the softest sand you've ever felt on your feet and yet another postcard-perfect Hawaiian vista. This is utopia. The weather was perfect that day, so we stayed and swam for a while, both with smiles as wide as surfboards.

Kat
Couldn't think of a better analogy there, huh?
Andrew
With smiles as wide as … Mustang convertibles on the Hana Highway.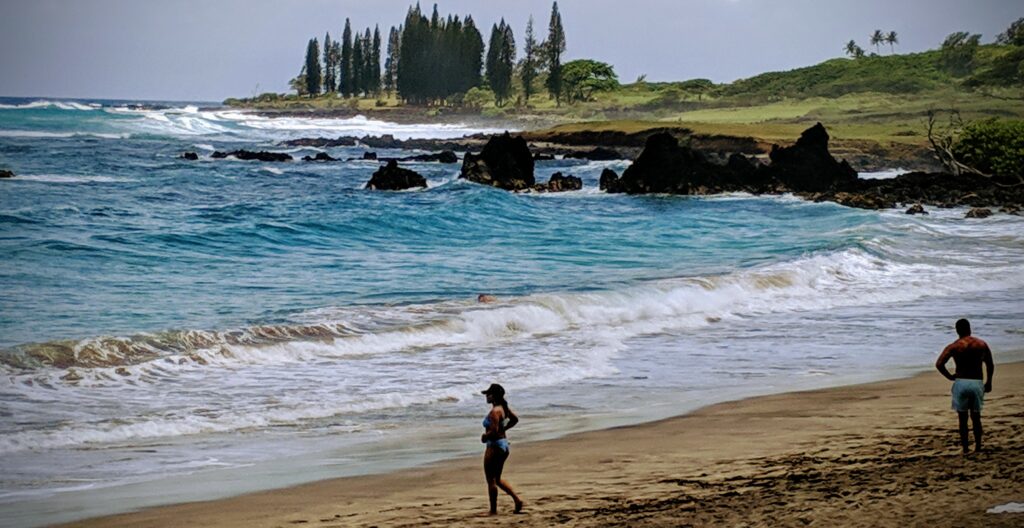 We could have stayed much longer, but we didn't want the day to get away from us. The last part of our journey included plans to hike the Pipiwai Trail to Waimoku Falls in the Kipahulu region of Haleakala National Park, and we knew we had to get there with enough daylight to complete the roughly four-mile round-trip trek.

Nature calls
Heads up: It costs $25 per vehicle to enter the park, but the ticket is good for three days (which we used a couple days later for a hike at the Haleakala summit). As we waited in line at the entrance, we couldn't believe how many vehicles pulled in, got in line behind us, and then turned around and left. How could you come all the way to this side of Maui and turn around over $25?

Once inside, we checked out the visitors center, and I stamped my National Parks passport, which Kat thinks is a cute but dorky thing I do.

Andrew
Let me tell the story, dear.

Hiking Pipiwai Trail
A quick overview of the info signs at the trailhead, and we were on our way. The trail's initial incline is easily manageable, and it isn't long to the Falls of Makahiku overlook, a popular turnaround spot for the less adventurous.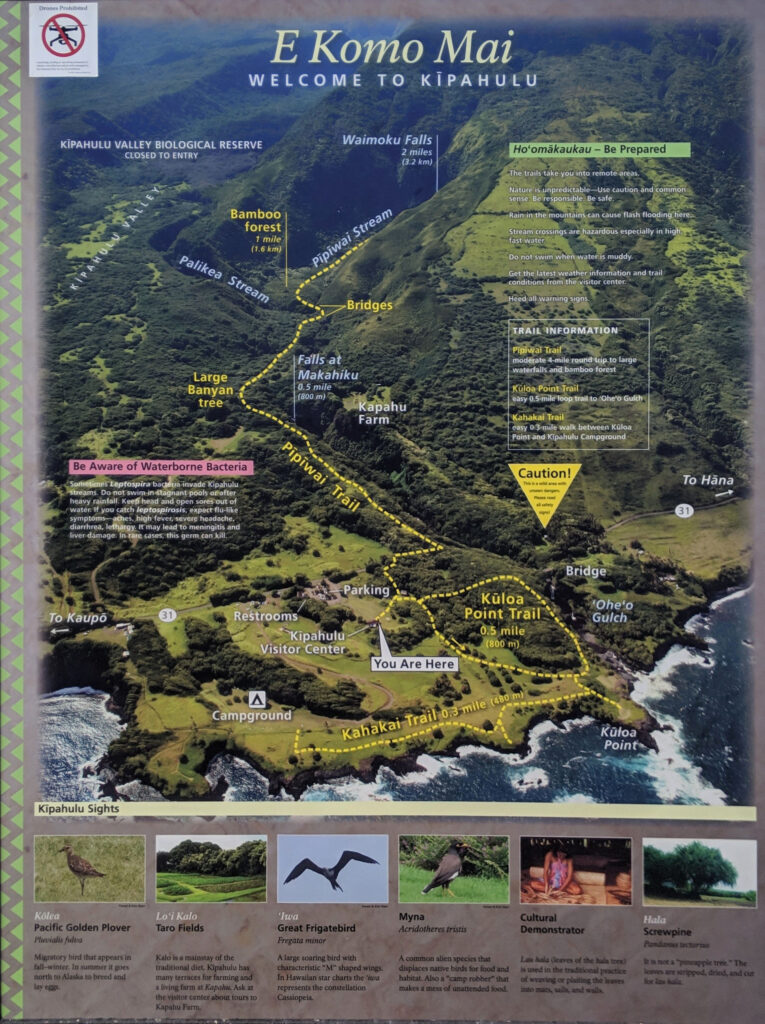 We pressed on and saw a huge Banyan tree and walked through a giant Bamboo Forest that swayed and clacked in the breeze. At last, there from a distance we could see Waimoku Falls. As me made our final approach, two hikers greeted us coming the other way, one of them a man with a wet head. He had a thick New Jersey accent and, judging by the excitement in his voice, had just had something of a religious experience. "There's going to be a sign up there," he said, "and whatever you do, don't do what it says. Keep going on the trail past it to the waterfall." We thanked him and continued on.

Breakin' the law
Kat knows I'm a bit of a rule follower.

Kat
You are SUCH a rule-follower.
But another pact we had made before our trip was that I would try to not let my rule-following ways ruin our fun. At the trail's official end, there is a sign warning visitors to go no farther or risk a fine. And, for added measure, it shows a scary before and after flash flood picture of the falls.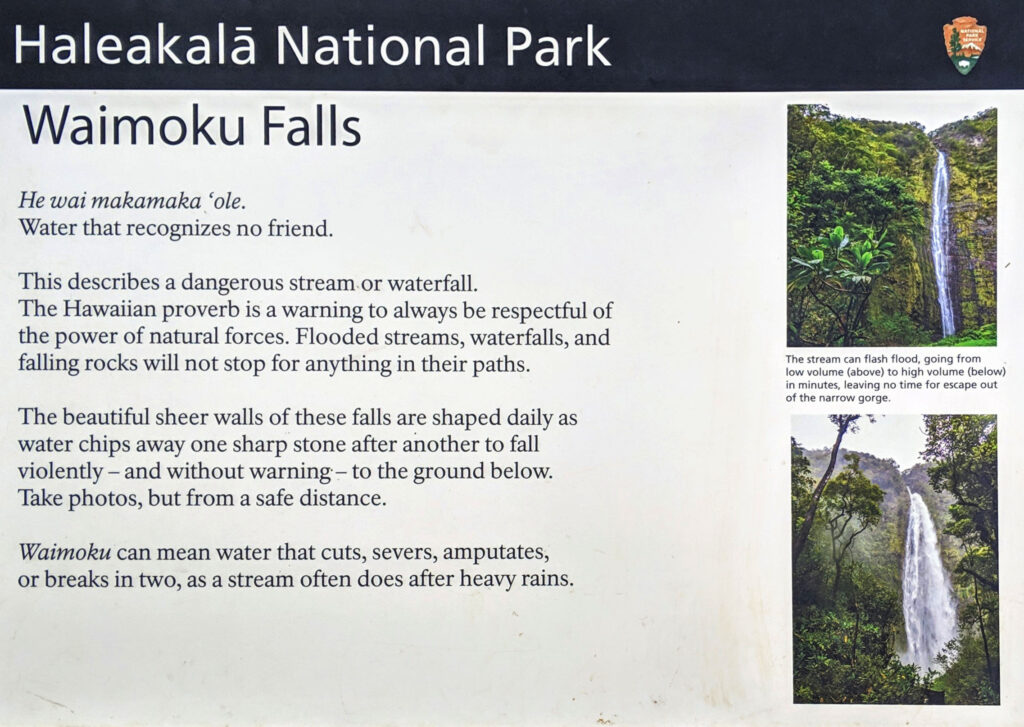 I thought about Jersey Mike, which I've just now decided to call him, and the sheer joy with which he had regaled his experience to us. It had not been raining higher up in the jungle that day, so it seemed a flash flood wasn't going to be likely. We made the calculated decision to-
Kat
-follow the rules and PhotoShop ourselves in front of the waterfall later.
Andrew
Er, yes, that's … that's exactly what we did. In fact, that's what everyone we saw there did. So if you don't know PhotoShop, I guess you've gotta go risk your life and get real photos. But ours are totally fake because we didn't break the rules, and you shouldn't either. Totally.
Kat
Laying it on too thick, man. Cool it!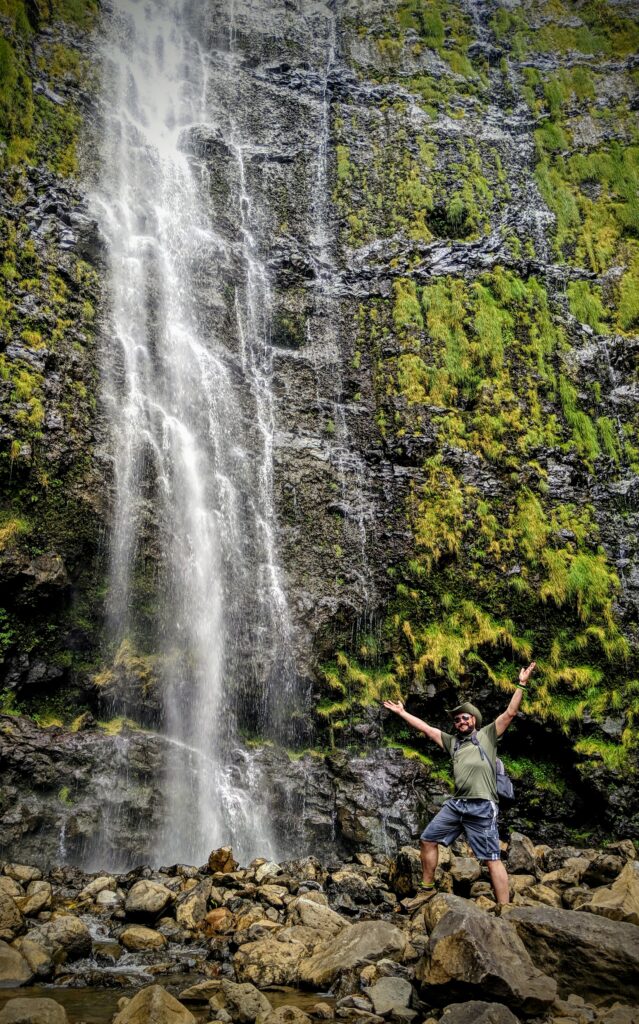 Dark tales
Since there was time when we got back to the trailhead, we added the short trail loop down to the Pools of Ohe'o to our hike, but honestly the best view is probably from the bridge that spans the feature. Of course, be careful if you choose that particular vantage on foot because it is a one-lane bridge not really meant for pedestrians. And this should go without mentioning, but don't jump off the bridge. Not to keep harping on safety, but it seems to me there are myriad exotic ways to die in Hawaii. A month after our trip, we saw a news article that said a man had died after he jumped off the-

Kat
Andrew, STOP BEING SUCH A DOWNER!
Andrew
But I didn't even mention the family who got washed away over the-
The return
By the time we were ready to leave, the once-full parking lot was empty save for our rental car. We made the drive back to Hana and stopped at Hasegawa General Store again for a few more supplies.

Oh, and the store closes daily at 7, as does the only other store in town.

We then sat down for dinner at Travaasa's Preserve Kitchen, and the hostess who seated us was simply amazing. She asked about our day, and when we told her everything we had done, she replied, "Oh my, you did all of that and you're still smiling?" She was incredibly sweet and genuine, and it felt good to have such a warm greeting. The Preserve was a bit on the pricey end (but then again everything is pricey in Maui), but the food and service was excellent, and no one said a thing about our sweaty faces and jungle-stained attire. We didn't stay at the Travaasa resort, but Kat and I agreed that the next time we go to Hana (and there will be a next time), we're going to look into their packages. And no, no one is paying us to say that (we're new at this, lol).

Kat
Shout out to anyone who wants to give us money though. Holla!
We returned to our little Hana B&B exhausted but happy. Ali'i, Jersey Mike and Lady Travaasa all made the day in Maui unforgettable, and with my lovely wife as my traveling companion, I think it just might have been one of the most perfect days of my life.

*smooch*
PLEASE HELP US OUT!
If you enjoyed this free article on hikingillustrated.com, please consider
purchasing anything on Amazon via our affiliate link at no extra cost to you.
Like us on Facebook!
Related Posts