Trail 3 is a popular and easy 1.25 mile loop through the northern section of Brown County State Park that holds a couple of interesting surprises. When paired with the 2-mile-long Trail 2, this hiking trail makes for a perfect day hike through the enchanting forest of south central Indiana.
RELATED: The Best Hiking Trails in Brown County State Park, with Maps and Rankings
Trail 3 (Saddle Barn Loop) Interactive Hiking Map
You can use this interactive map at the trail! Here's how
Download map GPX file
Trail 3 (Saddle Barn Loop) map GPX file
Directions
Trail 3 (Saddle Barn Loop) trailhead. From the north entrance of the park, head south on Brown County State Park Road for 1.4 miles. Turn left at the sign for Abe Martin Lodge and follow the drive .8 miles. The trailhead is behind the lodge, but to get to it you must pass through the parking lot on the right and loop around on the one-way drive to the back. There is less parking behind the lodge but the spaces are usually not full.
---
Cost
$7/vehicle (in-state), $9/vehicle (out-of-state)
Dogs
Allowed on 6-foot leash
Sun exposure
Dense tree canopy
Flora/fauna
Copperheads, timber rattlers, ticks
---
Hiking Trail 3 (Saddle Barn Loop)
Being this close to the usually busy Abe Martin Lodge, we were surprised to have Trail 3 all to ourselves on a late summer weekend. Taking the trail in a counterclockwise loop, we started out from the southern trailhead which is also the primary access point for Trail 2.
We passed small cabins dotting the perimeter of the lodge as we descended 100 feet into a ravine and crossed a popular horse trail.
Following the trail along a dry creek bed and moving deeper into the forest, we felt the temperature drop – a welcome respite from the hot August sun.
After half a mile we changed direction from southeast to the north and climbed back out of the ravine before plunging down into another.
At one mile into the trail, we found ourselves at the Saddle Barn – a depression-era structure constructed by the Civilian Conservation Corps. – and overheard a guide on horseback telling a well-rehearsed story to a group of riders behind him.
Approaching the Saddle Barn, the trail became unclear. After wandering for just a couple minutes, we decided to follow a sign for Trail 2. This was actually where Trail 3 continued back to Abe Martin Lodge, but we would not realize that until later (Trail 2 had been redirected due to storm damage).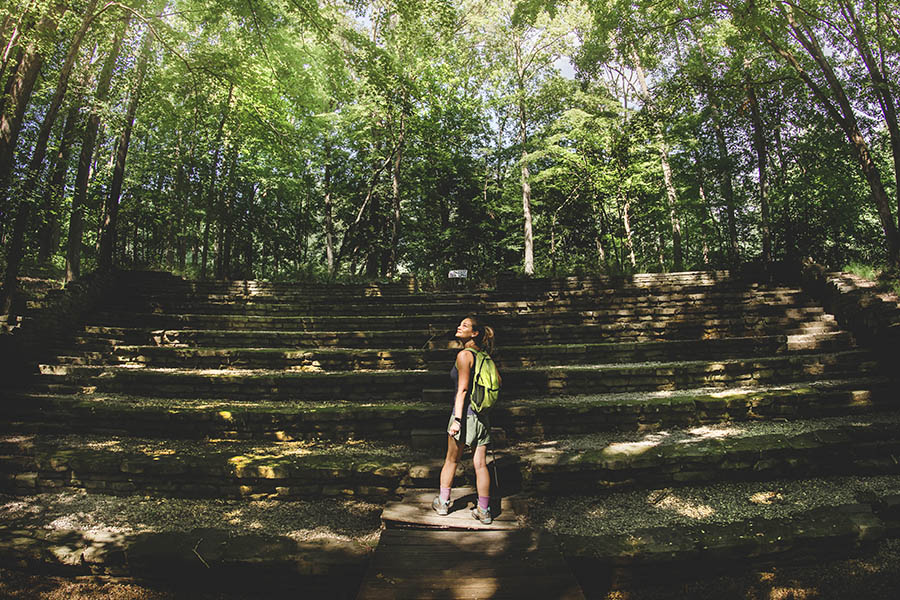 Before reaching the lodge, we were surprised to find an amphitheater constructed of stone that has likely been the setting for numerous outdoor weddings and other festive gatherings. The lodge and parking lot are only about a tenth of a mile farther from this point.
Although short, Trail 3 has some lovely scenery and interesting waypoints, and with Trail 2 right there as well, you can soon be off on your next hike.
Use this map on your hike!
Load this web page on your phone while you still have service.
Then, tap the arrow icon on the map to show your current location and follow along.
Tap the layers icon to switch between topo, satellite and other helpful map layers.
To save battery life, put your device in airplane mode. GPS still works even without service!
PLEASE HELP US OUT!
If you enjoyed this free article on hikingillustrated.com, please consider
purchasing anything on Amazon via our affiliate link at no extra cost to you.
Related Posts