A nearly private beach and stunning views of Lake Michigan and the Chicago Skyline await on this 4.5 mile hike through the charming forested dunelands in one of the United States' youngest national parks.
Cowles Bog at Indiana Dunes National Park features diverse habitats and was one of the sites used in botanist Henry Chandler Cowles' study of ecological succession — one of the driving factors behind efforts to save the dunes from commercial development.
Cowles Bog Interactive Trail Map
You can use this interactive map at the trail! Here's how
HikingIllustrated.com user rating
Directions
Cowles Bog trailhead. From Highway 12, head north on Mineral Springs Road. At the Town of Dunes Acres Security Office, take a right on the short one-lane gravel road to a small parking lot. Although entrance to the national park is free, this lot may be full by mid-day. There really aren't any other parking options, so arrive early to ensure a place to park or plan for alternatives. Alternatively, there is a south parking lot on Mineral Springs Road near the railroad tracks. From here, Calumet Trail feeds into Cowles Bog Trail.
---
Dogs
Allowed on 6-foot leash
Exposure to sun
Shady except for beaches
Restrooms
Porta-potties available at trailhead
---
Hiking Cowles Bog Trail
Head west from the parking lot, crossing Mineral Springs Road and passing the security office to pick up Cowles Bog Trail.
Here begins a lovely two-mile lollipop loop trek to the secluded Bailly Beach (4.5 miles round trip), which is only accessible by this trail or via boat.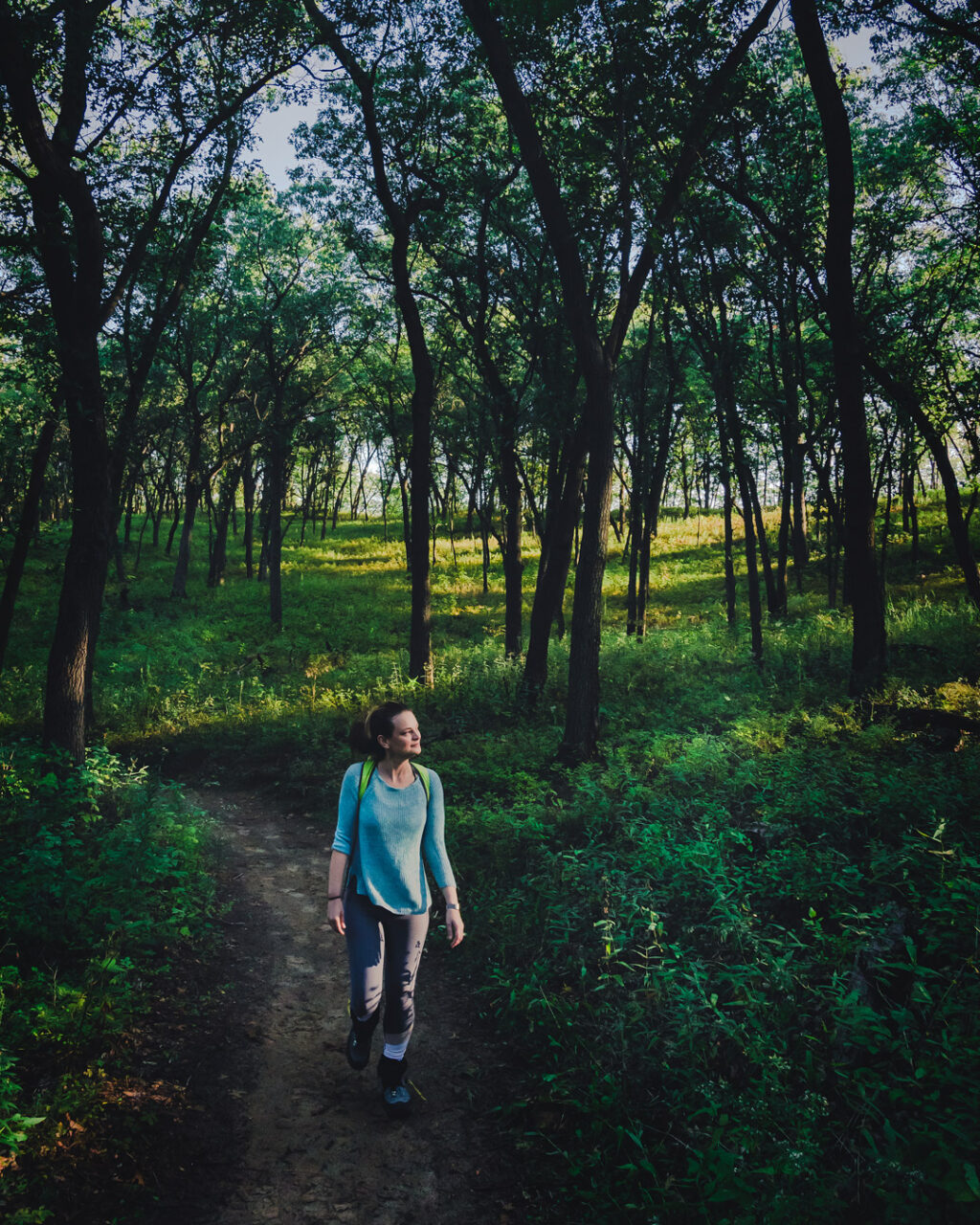 From the trailhead kiosk: "Cowles Bog Trail highlights an area of such outstanding plant diversity that it was designated as a National Natural Landmark in 1965, a year before the national lakeshore was established … The area remains an important focus for scientific study."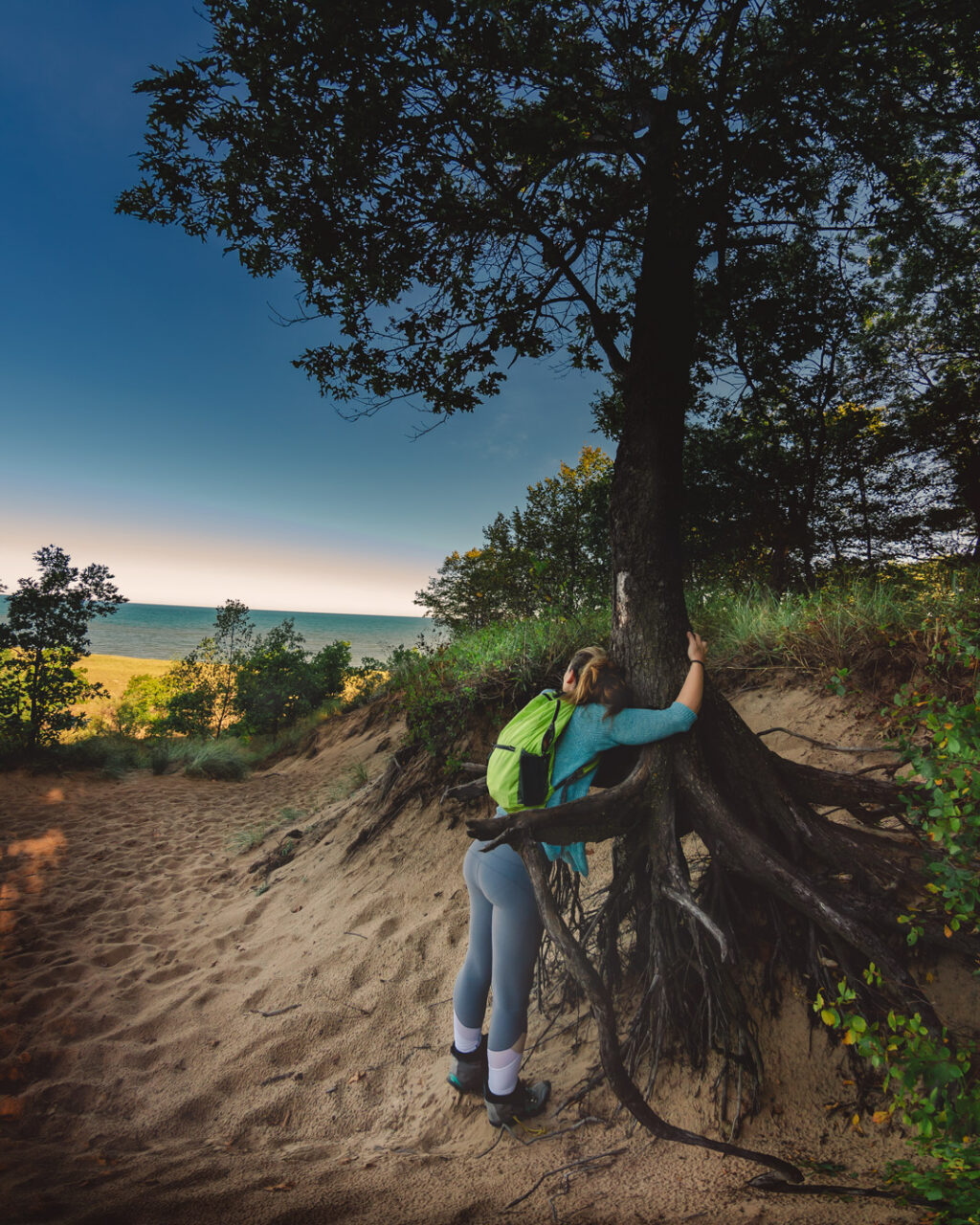 The beach to yourself
We love photography, and of course we love hiking, so with the prospect of having a stretch of beach all to ourselves, we decided to have a fun little fashion shoot with a nice dress I recently bought.
During our stay at the beach, we saw just four people pass through. This was on a weekend, so it's probable that on a weekday you'd never see anyone for hours.
The huge and curious-looking Burns Harbor is nearby, but even this doesn't take away from the experience. After all, this is just 30 miles from Chicago in a heavily-populated and developed area, so although not pristine it is impressive to find such serene natural majesty here.
It's easy to see why so many people fought to preserve the dunes.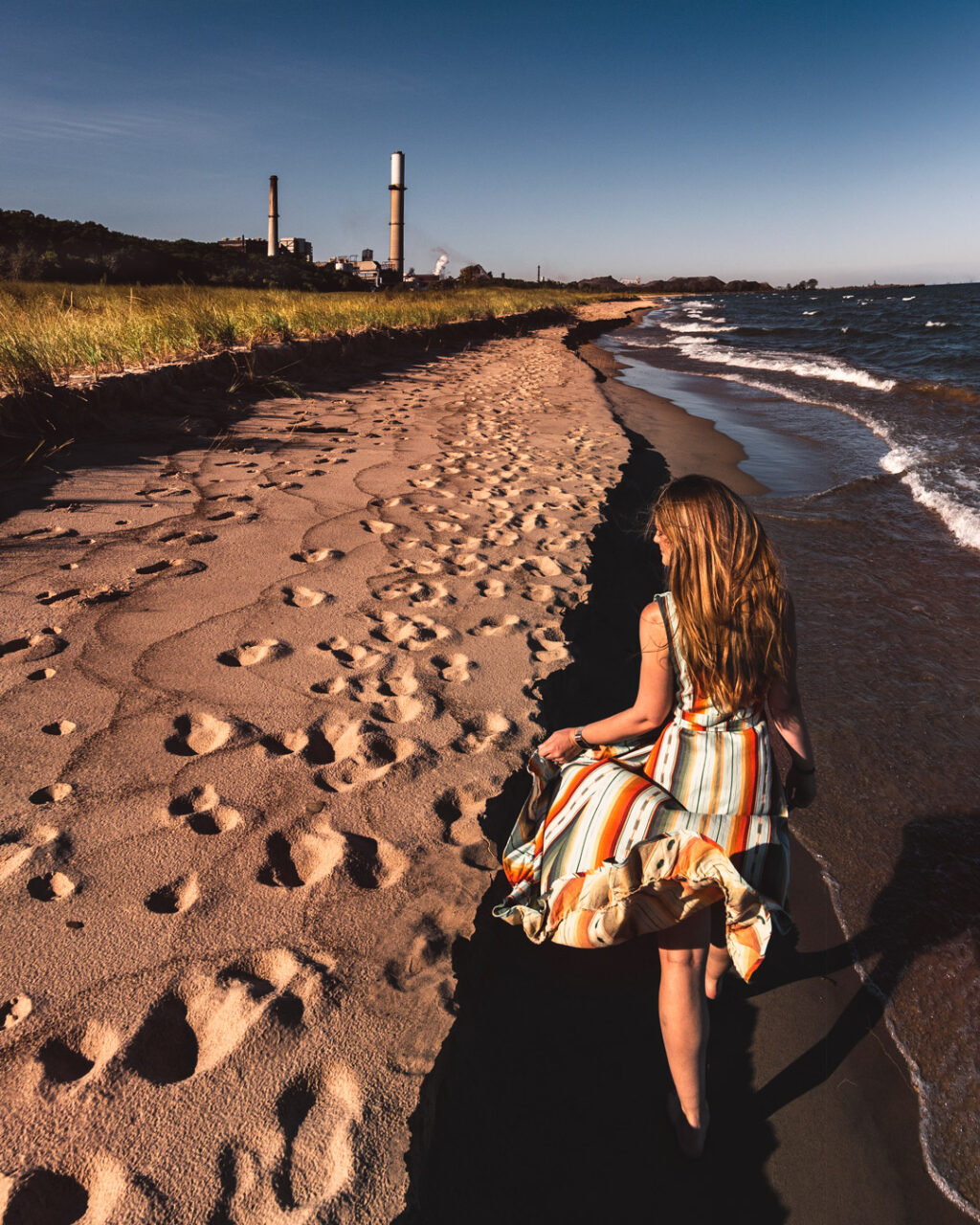 Cowles Bog Trail FAQ
What is the cost to enter Cowles Bog Trail?
There is no entry fee. Parking is also free but is first-come first-served.
Are dogs allowed?
Yes, dogs are allowed on a six-foot leash.
What are the hours?
Cowles Bog Trail is open from 6am to 11pm.
Are there bathrooms?
Yes, there are porta-potties available in both north and south parking lots.
Is there water available?
No potable water is available.
How long does it take to hike the trail?
It will take two to three hours to hike Cowles Bog, depending on how much you dilly dally and how many dresses (or man-kinis) you're going to model at the beach 🙂
Should I bring hiking poles?
This trail is flat for the most part, but you might like having one for the 125-foot return climb from the beach up Mount Tuthill. We usually have a couple aluminum hiking poles stowed in Andrew's backpack for such occasions.
Should I wear gaiters at Cowles Bog?
Wearing gaiters at Cowles Bog is great idea. These inexpensive and lightweight boot covers work nicely to prevent sand getting in your shoes, especially at Indiana Dunes National Park. On a previous hike at the dunes, I initially started the trail without them. It didn't take long for little sand dunes to form inside my boots. Andrew wore them from the beginning and had no issues. After dumping out my boots and donning the gaiters, I didn't have any more trouble either. For the price, these are definitely worth it.
Use this map on your hike!
Load this web page on your phone while you still have service.
Then, tap the arrow icon on the map to show your current location and follow along.
Tap the layers icon to switch between topo, satellite and other helpful map layers.
To save battery life, put your device in airplane mode. GPS still works even without service!
PLEASE HELP US OUT!
If you enjoyed this free article on hikingillustrated.com, please consider
purchasing anything on Amazon via our affiliate link at no extra cost to you.
Like us on Facebook!
Related Posts