If you're visiting Indiana Dunes, you probably already know about the 3-Dune Challenge, but did you also know that the less-trekked Trail 9 (pictured above) was named best hiking trail in Indiana by USA Today? (Well, kind of — more on that later)
Our curated hiking route combines both experiences as well as the gorgeous shoreline with an easily-customized map for those wanting to hike shorter or longer distances.
Interactive Trail Map
You can use this interactive map at the trail! Here's how
HikingIllustrated.com user rating
Directions
Trail 10 trailhead. Enter Indiana Dunes State Park via North 25 East and continue straight to the far north parking lot.
---
Hiking Time
Approximately 6 hours
Cost
$7 for in-state vehicles; $12 for out-of-state
Dogs
Allowed on 6-foot leash
Exposure to sun
Shady except for beaches
---
3D map video flyover
Hiking Indiana Dunes State Park
Trail 10 begins at the old pavilion and beach house. We're starting you here because other routes don't include the incredible beach, which is one of the most amazing features of this area.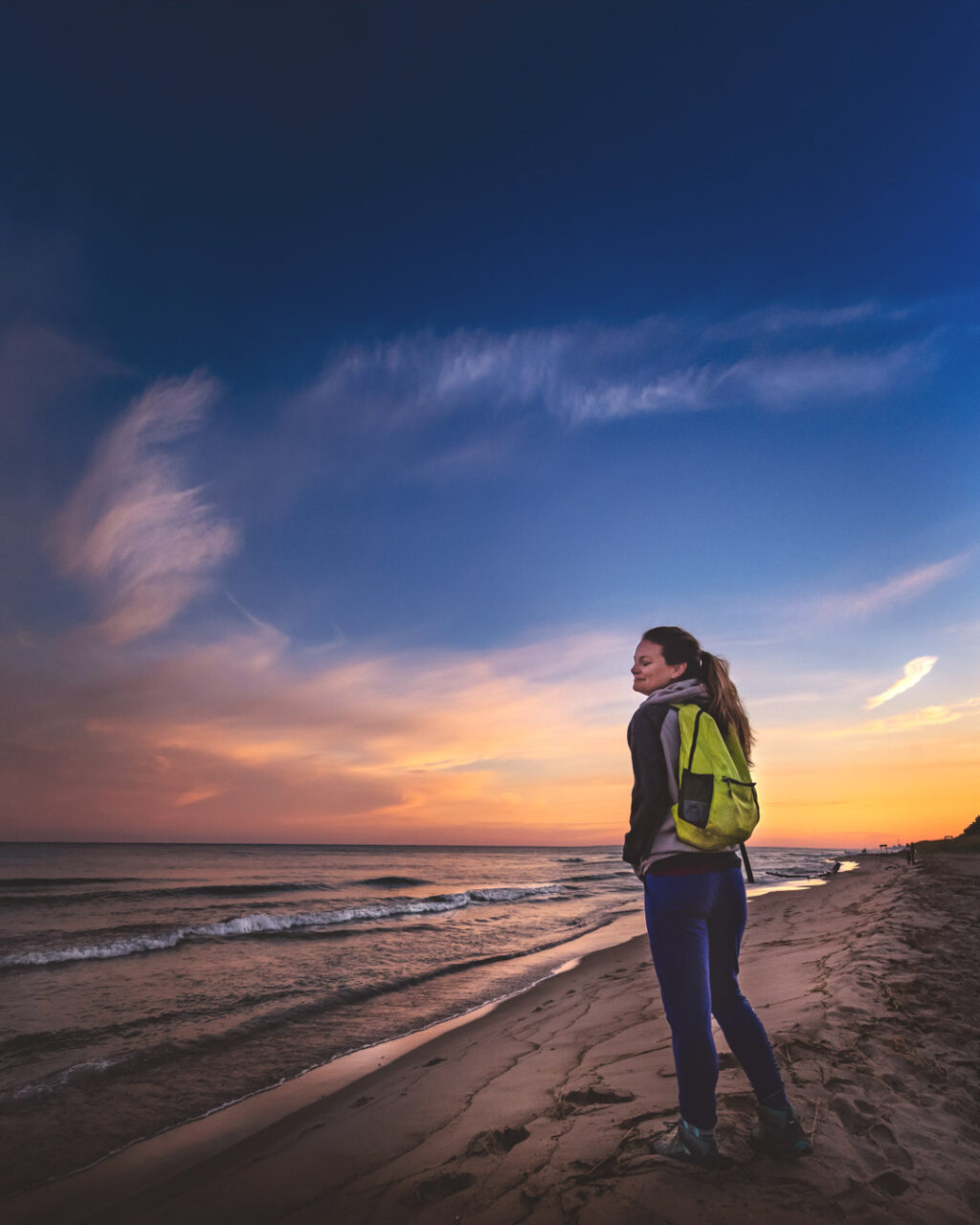 Heading east on the beach, you will soon see Trail 8. This begins your ascent to Mount Tom for the 3-Dune Challenge, which we're going to do "in reverse."
Backwards 3-Dune Challenge
At the top of Mount Tom, signs for the 3-Dune Challenge point west down the long staircase, but this is not the direction you want to go. That's actually for if you are doing only the 3-Dune Challenge in a counter-clockwise manner starting from the Nature Center.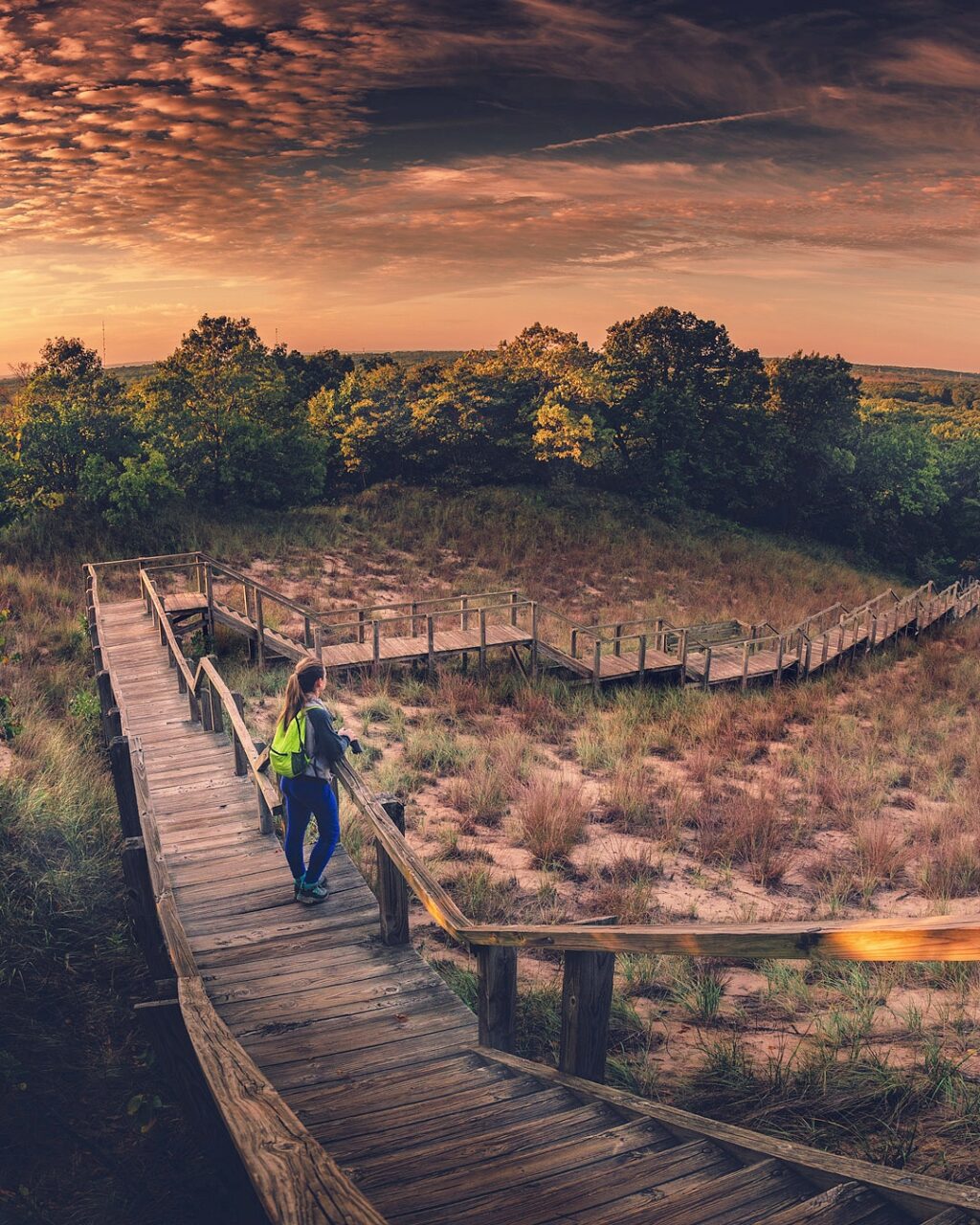 Instead, head east towards Trail 8 to Mount Holden, and then south to Mount Jackson. Hiking up the three tallest sand dunes in the park is strenuous, but definitely doable. Depending on how much energy you have left, the rest of the route can be lengthened or shortened accordingly.
Continue on Trail 8 until you see signs for the Nature Center. Here, you'll go in the opposite direction toward Trail 10. Trail 10 is not marked, but you will hike east for about 1/10th of a mile to the Trail 9/Trail 10 split.
From here you'll take Trail 9, which will split again before Beach House Blowout.
From here, the trail seems to grow more beautiful with every step. At the Furnesville Blowout, we originally planned to make the return loop on Trail 9, but we felt we had enough energy still in our tanks to include the Trail 10 loop.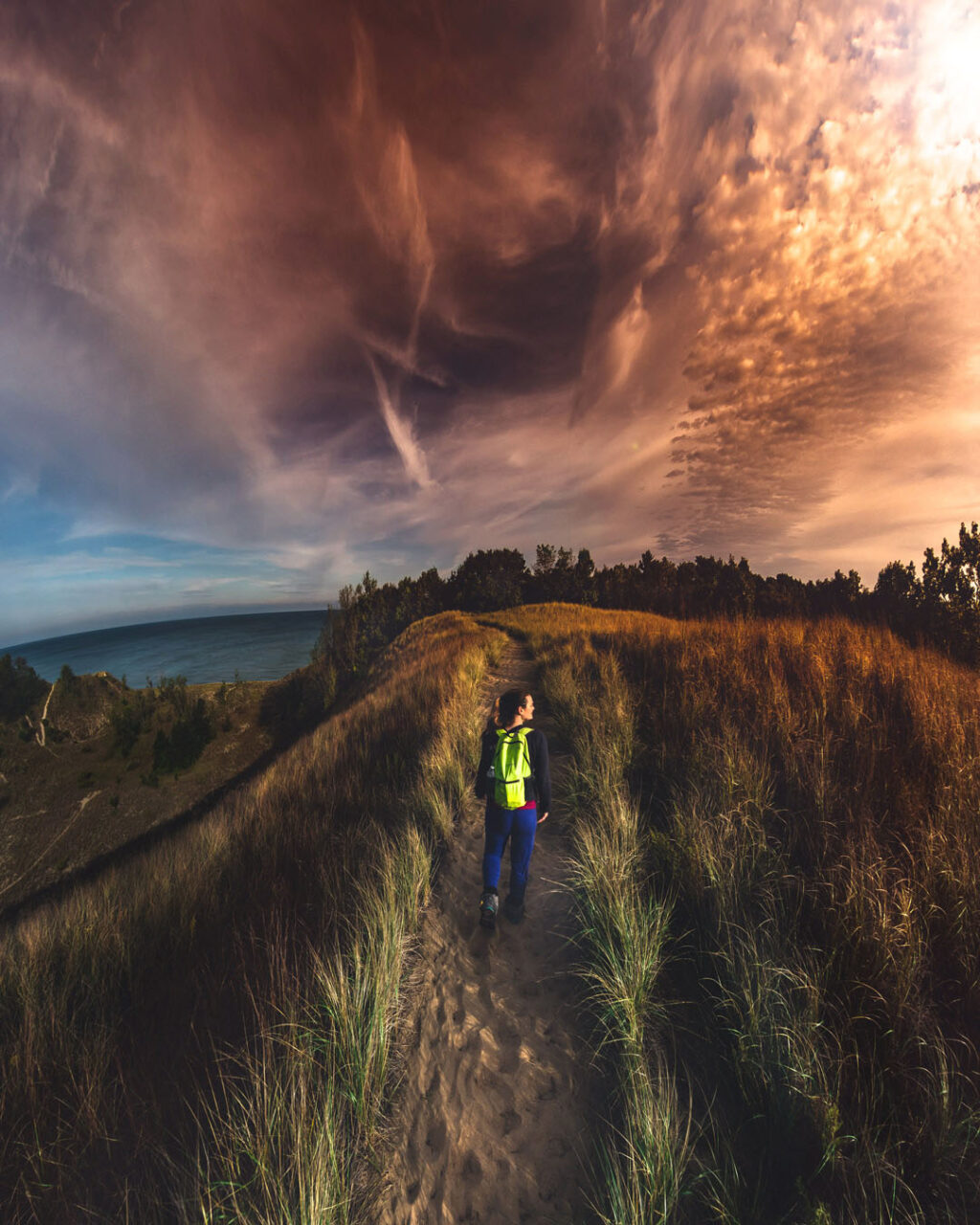 Even if you plan to shorten your hike, we highly recommend the view from Beach House Blowout.
Add distance or shorten the route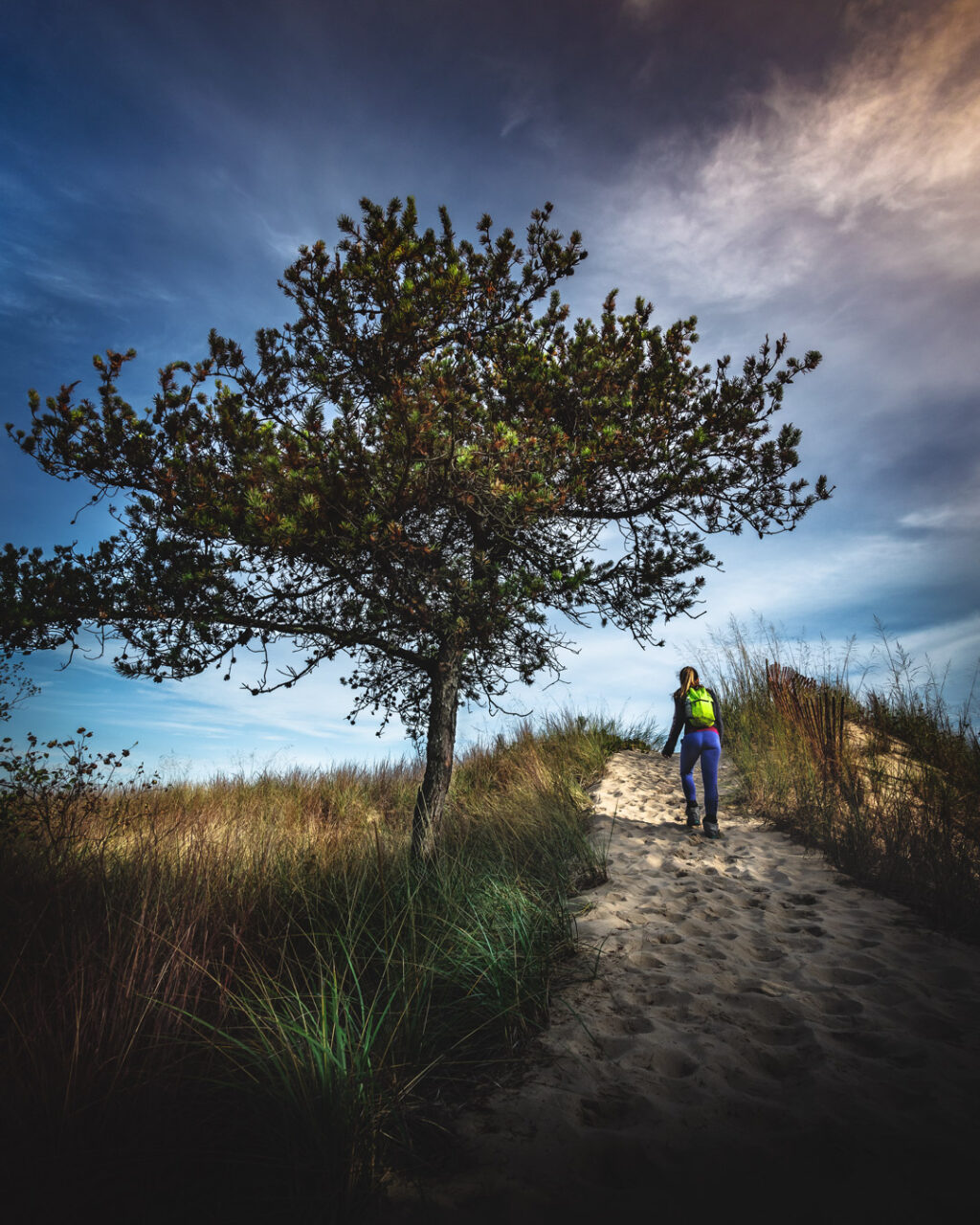 Be aware that this will add roughly 2.25 miles to your total hike. What it also includes is the beautiful scenery of Paradise Valley, The Pinery and Great Marsh.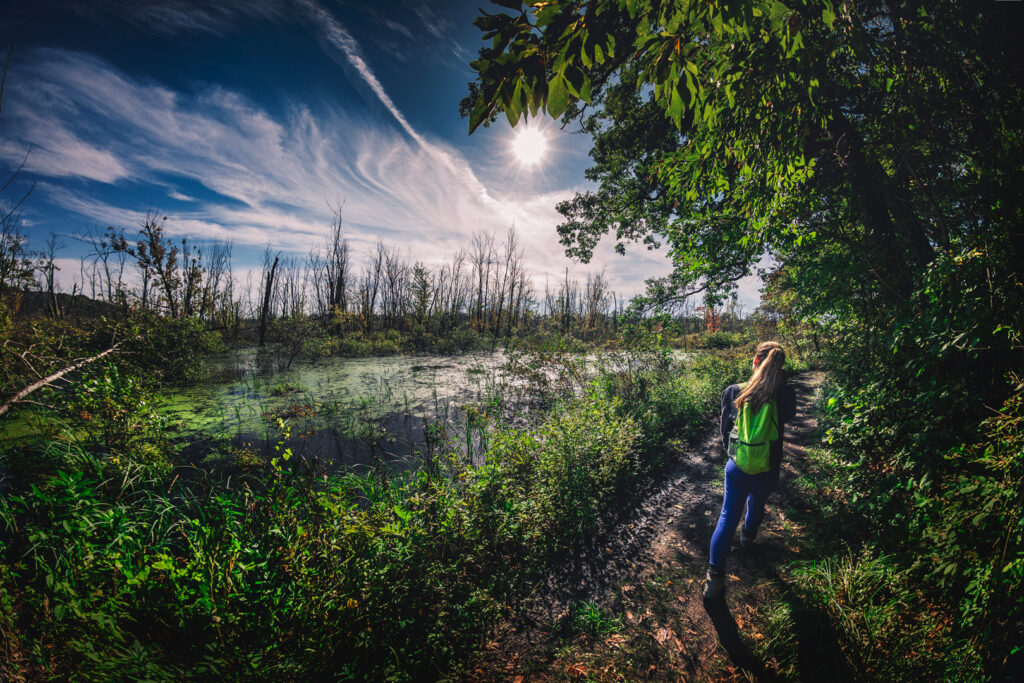 If you'd like to add even more mileage, Trail 2 is accessible from Trail 10. Unfortunately the trail was closed for maintenance during our visit, but we were getting tired and likely wouldn't have done it anyway.
Capping off an awesome hike
Trail 10 takes you back to the Nature Center, and from there you will cut through the campground area before picking up the Beach Trail behind the bathrooms at the northwest corner of the grounds.
The lovely boardwalk Beach Trail adds yet another scenic element to this hike before delivering you back to your starting point.
Hiking Indiana Dunes State Park FAQ
Did USA Today really name Trail 9 the best hiking trail in Indiana?
Technically the June 24, 2011 article "51 Great Hikes" asked local experts to name one great place to hike in each state, and Hiking Indiana author Salley McKinney offered the following:

"East of the Nature Center, choose the wide, sandy path to Indiana Dunes Nature Preserve. Enter black oak and maple forest and find dramatic dune country blowouts amid shifting sand hills. Green grasses and sedge poke up between matted, dry leaves; moss forms a natural carpet. From the crest of high dunes, look out over vast Lake Michigan."

Although McKinney didn't mention Trail 9 specifically, it is trail 9 that leads through the nature preserve and across the crest of the dunes.
Should I wear gaiters at Indiana Dunes?
You will not regret wearing gaiters at Indiana Dunes. These inexpensive and lightweight boot covers work nicely to prevent sand getting in your shoes. I initially started the trail without them, but it didn't take long for little sand dunes to form inside my boots. Andrew wore them from the beginning of our hike and had no issues. After dumping out my shoes and putting on the gaiters, I didn't have any more trouble either. For the price, these are well worth having.
Are dogs allowed?
Yes, dogs are allowed on a 6-foot leash.
Are there bathrooms?
Yes, facilities are located throughout the park.
What is the entry fee?
The cost is $7 for in-state vehicles and $12 for out-of-state vehicles, however gates are often unmanned before the official opening of 7am.
What are the park hours?
The park is open daily from 7am to 11pm.
Is Indiana Dunes State Park the same as Indiana Dunes National Park?
No, but it's complicated. The national park, which up until recently was a national lakeshore, flanks the state park. Both are beautiful and have their own unique features.
Use this map on your hike!
Load this web page on your phone while you still have service.
Then, tap the arrow icon on the map to show your current location and follow along.
Tap the layers icon to switch between topo, satellite and other helpful map layers.
To save battery life, put your device in airplane mode. GPS still works even without service!
PLEASE HELP US OUT!
If you enjoyed this free article on hikingillustrated.com, please consider
purchasing anything on Amazon via our affiliate link at no extra cost to you.
Like us on Facebook!
Related Posts