Remember that episode of The Brady Bunch where the boys were held captive by a crazy doctor (Vincent Price) in an ancient Hawaiian burial cave? Well, this isn't that exactly, but there is a doctor in a historic Hawaiian cave.
Maha'ulepu Heritage Trail Interactive Hiking Map
You can use this interactive map at the trail! Here's how
Hiking Maha'ulepu Heritage Trail
Sure, there's the famous Kalalau Trail on Kauai's northern shore, but if you're looking for an equally awe-inspiring but less challenging hike that is suitable for everyone, the Maha'ulepu Heritage Trail near Poipu will not disappoint.
Heading out
We shortened the trail a little by parking closer to Shipwreck's Beach because parking was tight mid-day. From the beach, multiple trail routes fan out through the sand and trees of Makawehi Bluff, but they all eventually converge into one trail that follows the coast.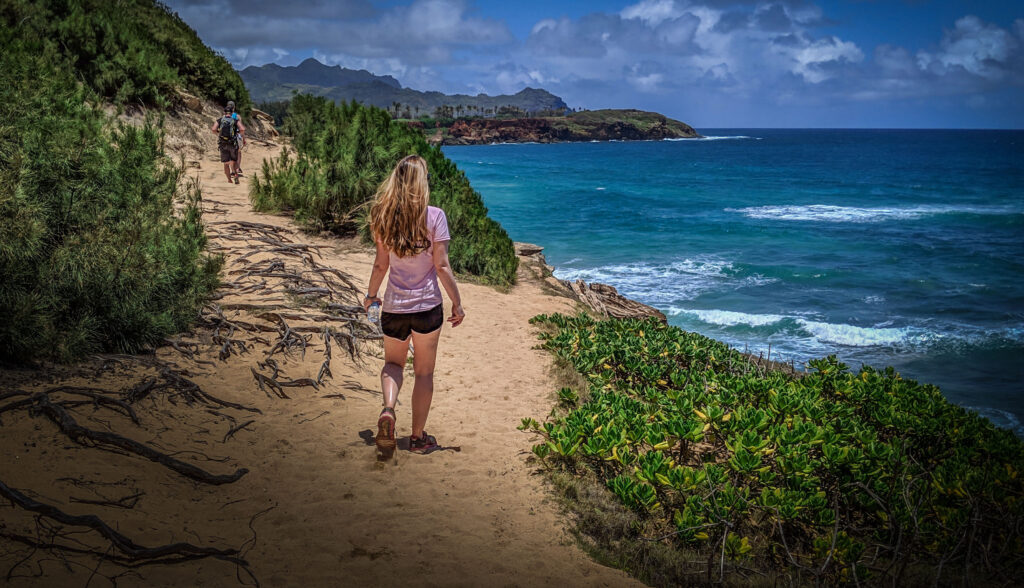 The views are stunning at every step with water so blue, you might ask yourself if you've ever really seen blue before.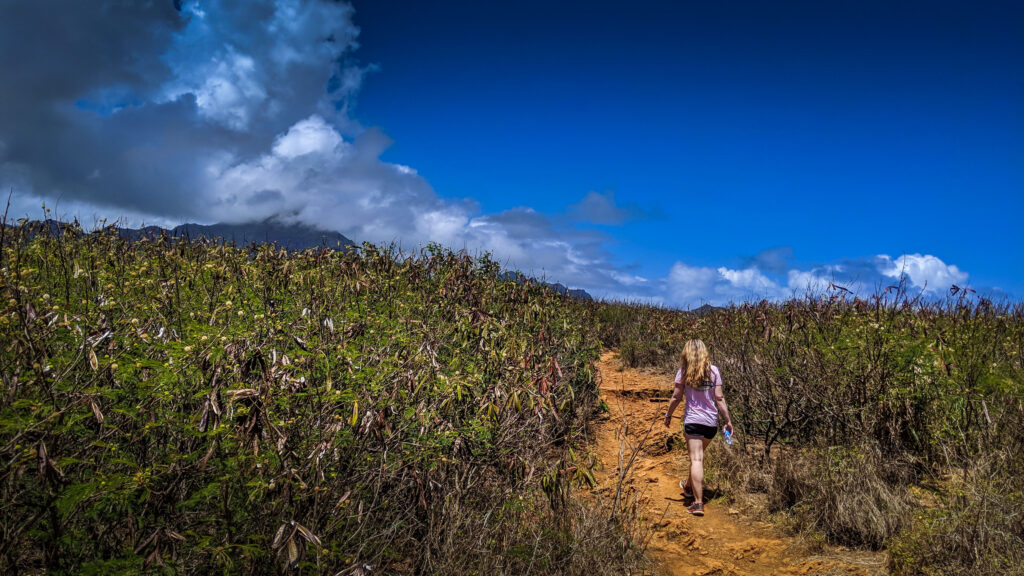 Many trail maps do not show the Maha'ulepu Heritage Trail connecting to Makauwahi Cave, and we wouldn't have been aware of the cave's existence if we hadn't bumped into a group of friendly German hikers heading in the opposite direction.
"Zer eez a cave, und vee saw a turtle at zee beach," one of them said. We shared trail information before departing with smiles — they were headed to Shipwreck's Beach, and we were off to find the mysterious cave.
Following along the Poipu Bay Golf Course to a gorgeous red bluff known as Punahoa Point, we kept our pace slow and relaxing to really absorb the beauty before us.
Roughly a half mile from Punahoa Point is Makauwahi Cave Reserve, Hawaii's largest limestone cave. The historic site, which is open every day from 10am to 4pm, requires visitors to crawl through a hole to gain entry.
Although the cave offered a unique experience and respite from the sun, an obnoxious visitor was testing the patience of the good Dr. David Burney, the resident paleoecologist who has led excavation and preservation efforts of the cave for two decades.
Kat
He did resemble Vincent Price a little.
We felt a little uncomfortable, so we dropped a five-spot in the donation box and ended our visit early.
More to see
We didn't learn until months later that there was more to the trail beyond the cave. According to our Open Street Map (see above), the trail actually extends another mile and a half across Gillin's Beach, around Pao'o Point and up to Ha'ula Beach and beyond.
Although we didn't make that trek ourselves, other sites on the web seem to suggest the trail is open to the public. We'd gotten a late start to the day, so we may not have ventured beyond the cave anyway.
Hiking on vacation is supposed to be fun, after all.
Andrew
Yah, vee did see a turtle!
Use this map on your hike!
Load this web page on your phone while you still have service.
Then, tap the arrow icon on the map to show your current location and follow along.
Tap the layers icon to switch between topo, satellite and other helpful map layers.
To save battery life, put your device in airplane mode. GPS still works even without service!
PLEASE HELP US OUT!
If you enjoyed this free article on hikingillustrated.com, please consider
purchasing anything on Amazon via our affiliate link at no extra cost to you.
Like us on Facebook!