If you don't have a lot of time to explore Hocking Hills in Ohio, I'm going to get right to the point: There is one place that outshines all the others.
That place is Conkles Hollow Nature Preserve.
To Old Man's Cave lovers, those might be fighting words. Believe me, I get it and I agonized over it. Allow me to explain.
#1 Conkles Hollow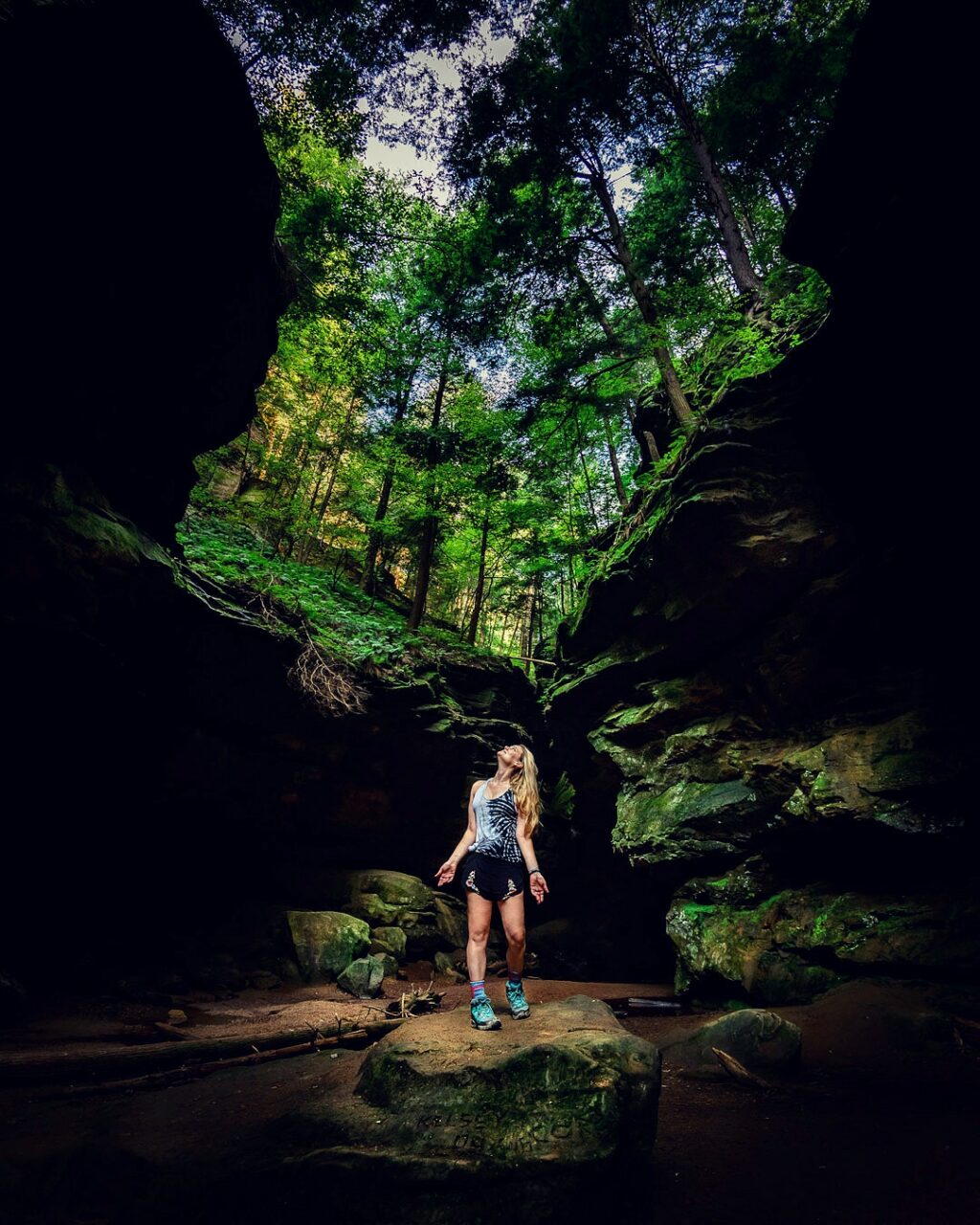 Not only is the gorge trail in Conkle's Hollow largely accessible for all ranges of abilities, it also has perhaps the most surprising features. (Note that the rim trail around the canyon, however, is the exact opposite of accessible and is probably not for children or anyone with a fear of heights.)
The gorge trail begins with a mostly typical Midwest wooded setting, but as one wanders deeper into the hollow, the walls creep slowly inward building drama for an incredible ending.
Near the terminus of the paved walkway is a large moss-covered slump rock, and on approach you'll become aware of a massive cliff face looming to the left.
It's hard to accurately describe the feeling of continuing along the trail at this point. You keep looking up … and up … and up … and you still don't see the top. How is this Ohio?
Only when you reach the slump rock will you get a sense of just how far the ridge is above you. There may be nothing else like it in the Midwest.
Beyond this point where the paved trail ends, if you are able you absolutely must continue to the end of the hollow for its incredible otherworldly conclusion. Don't be surprised if you find yourself thinking you've just entered a movie set for a Jurassic Park sequel.
Combined Conkle's Hollow Interactive Trail Map
#2 Old Man's Cave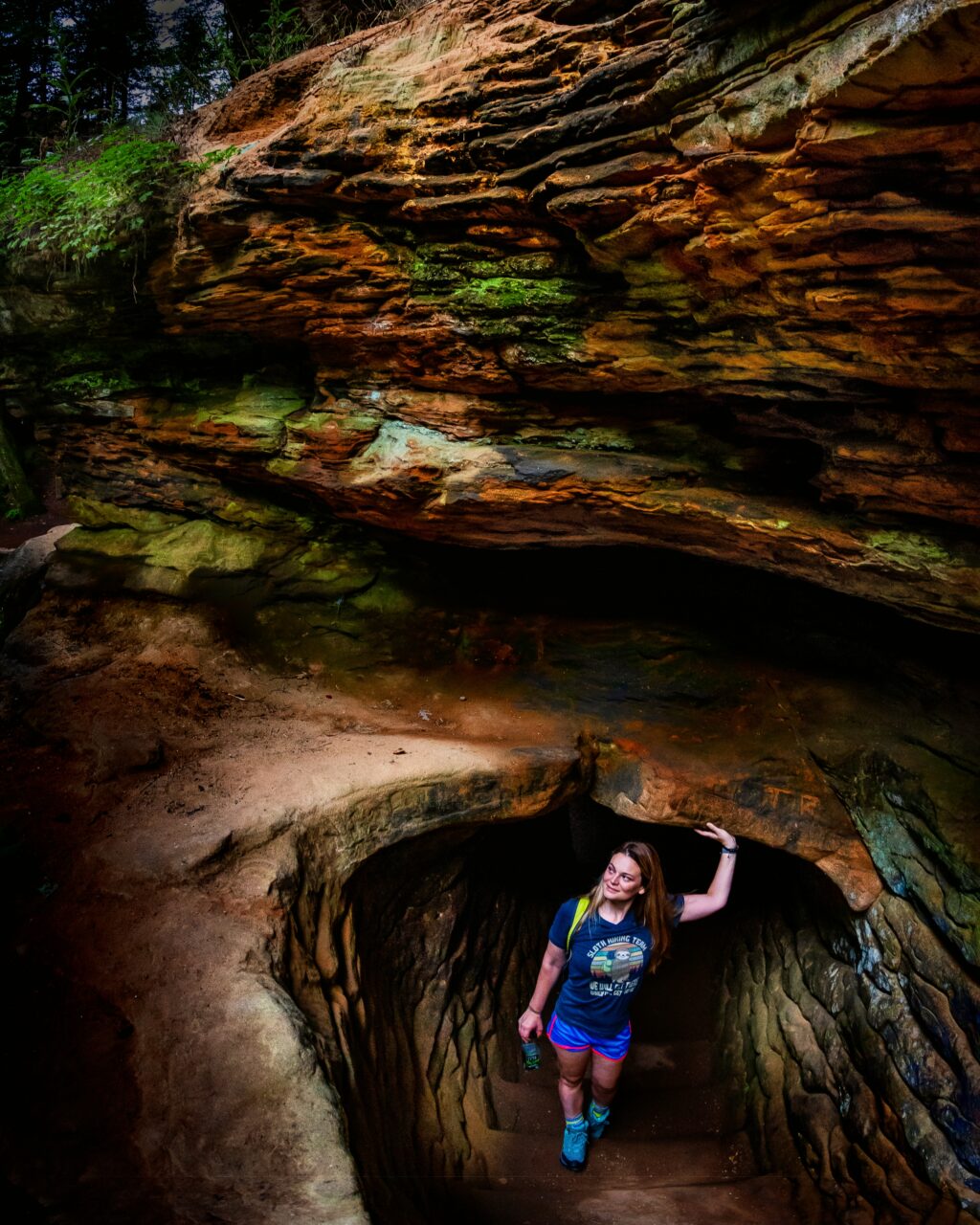 I'll admit that it was not easy to choose Conkle's Hollow over Old Man's Cave. There is a reason this location is swarming with visitors by mid-day — it is absolutely breathtaking.
The best word of advice we can relay is to get there early. We arrived at 7am to a completely empty parking lot and had Old Man's Cave almost entirely to ourselves.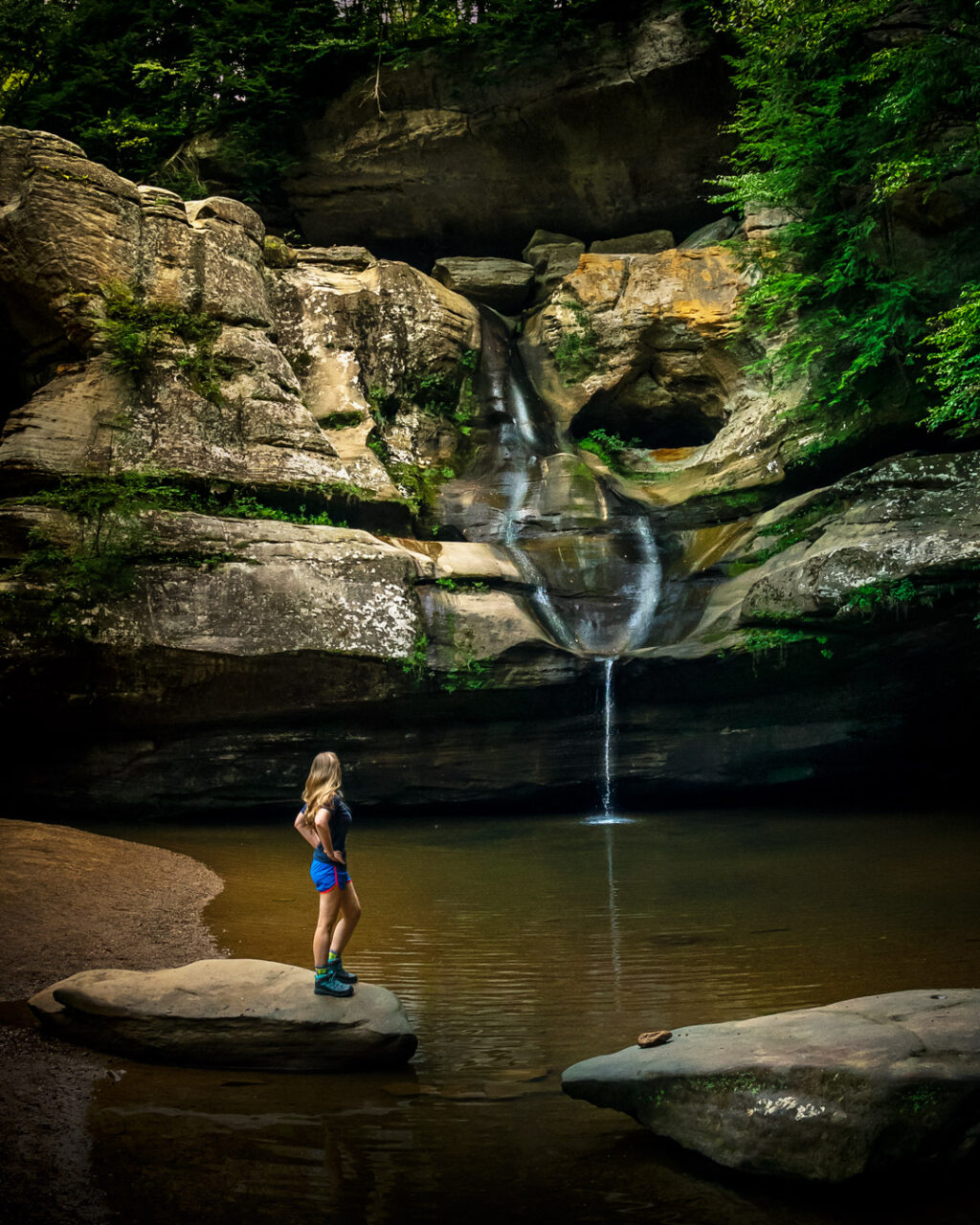 When we returned five hours later after an amazing hike that covered Cedar Falls and Whispering Cave, visitors had begun inventing parking spots because the lot (which holds hundreds of vehicles) was overflowing.
Get. There. Early.
You will love it.
Combined Old Man's Cave Interactive Trail Map
#3 Rock House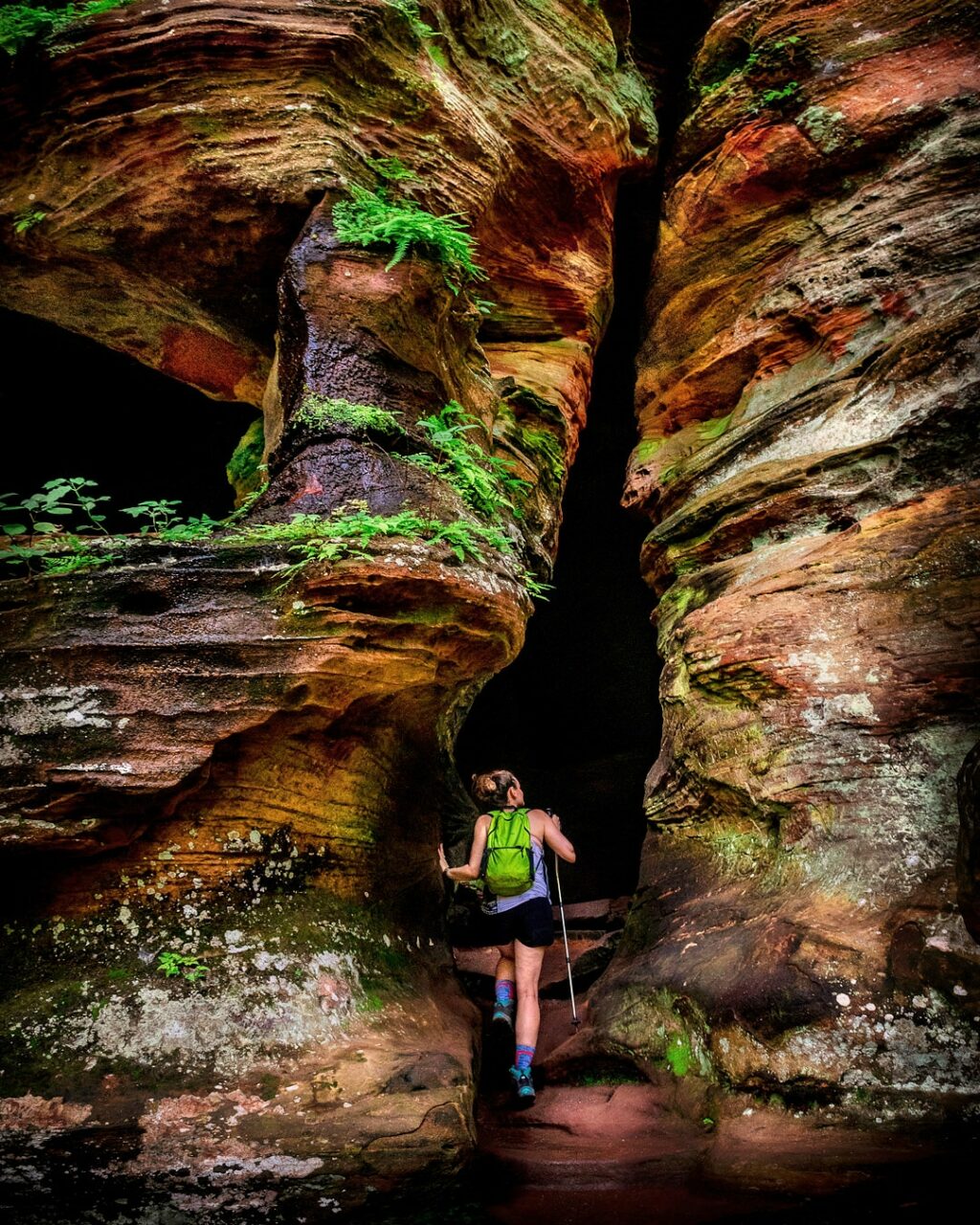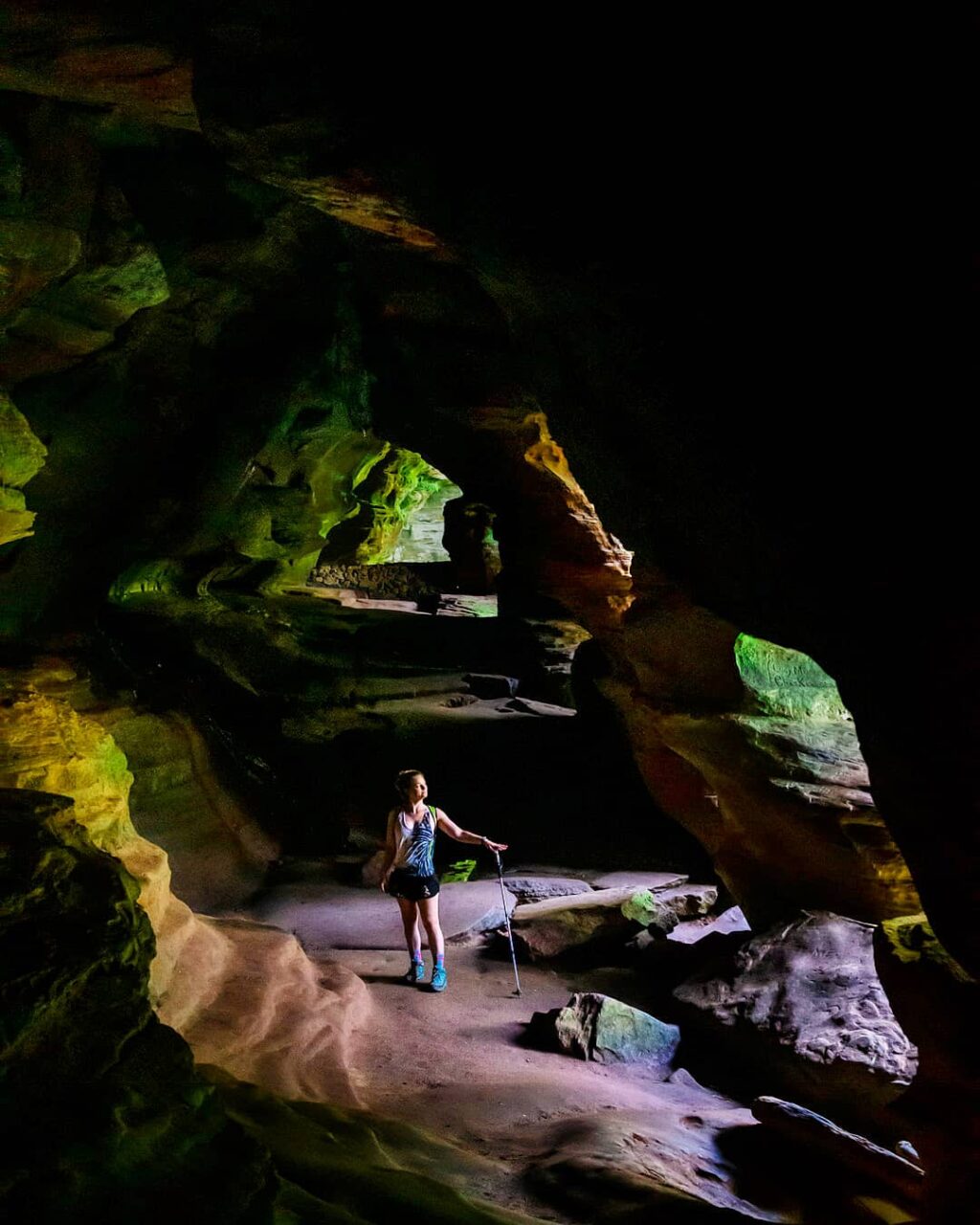 Rock House is a comparatively short trail at less than a mile round-trip, but it's a must-see. This is the only true cave in Hocking Hills State Park (the others qualify as recess caves and tunnels), and it actually does resemble a house with windows.
It's been said that Rock House was once a hideout for thieves. Closer inspection of the inside of the cave reveals not just etchings from the 1800s, but evidence of primitive cultures as well.
Rock House Interactive Trail Map
#4 Recess caves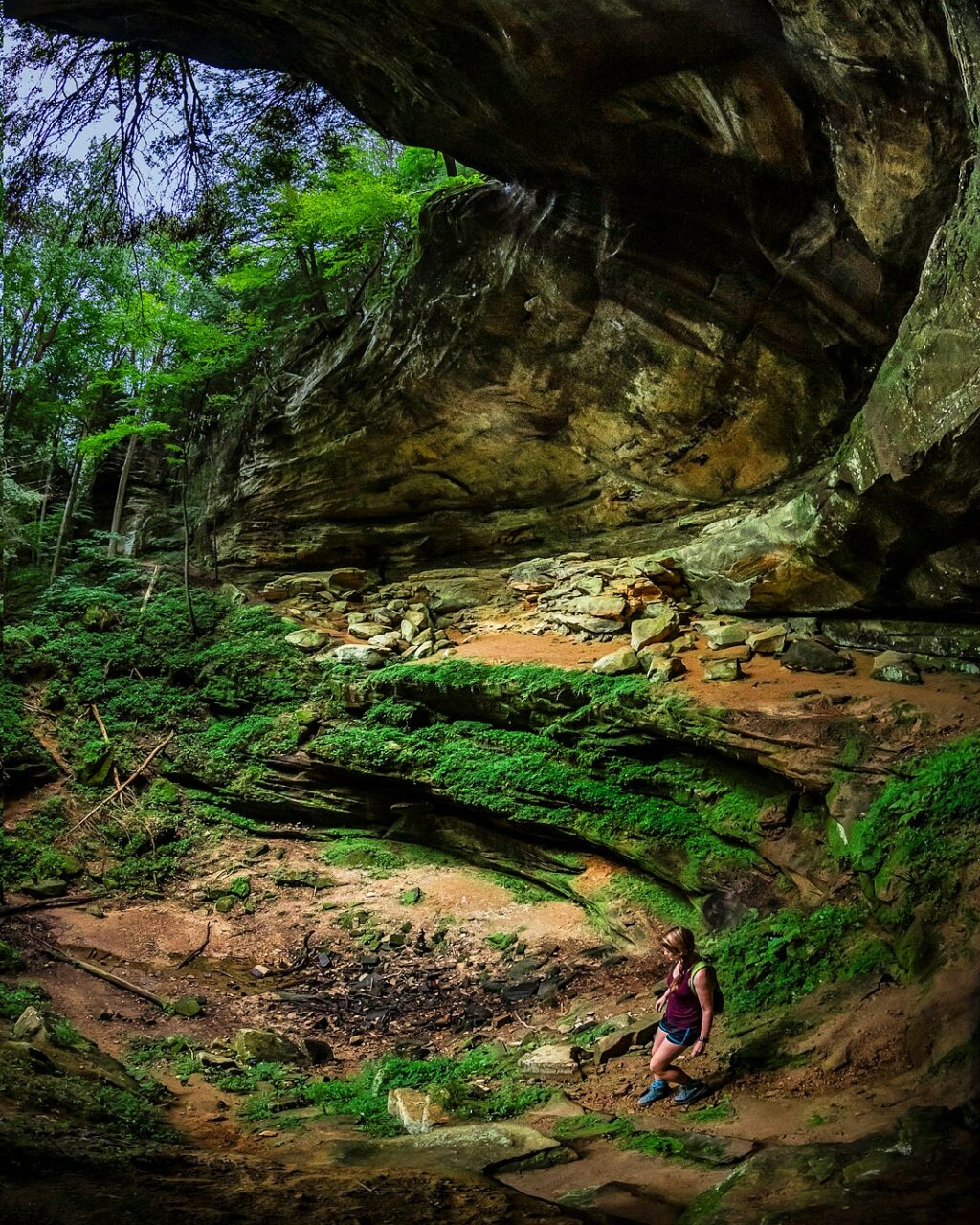 Although in very different areas of Hocking Hills State Park, Ash Cave, Cantwell Cliffs and Whispering Cave are known for their phenomenal recess caves.
Some of you are probably like us and would love to explore each and every recess cave in Hocking Hills, but for those of you limited on time, visiting one of these gems will give you a solid grasp of the majesty of a recess cave and the sapping process that created them over thousands of years.
I'm probably setting myself up for more dispute here, but they are also very similar from a photographic standpoint. They're each unique and I love them all, but we were particularly fond of Cantwell Cliffs.
The Cantwell Cliffs are in one of the most remote locations of Hocking Hills, and despite the busy weekend we were among just a handful of visitors.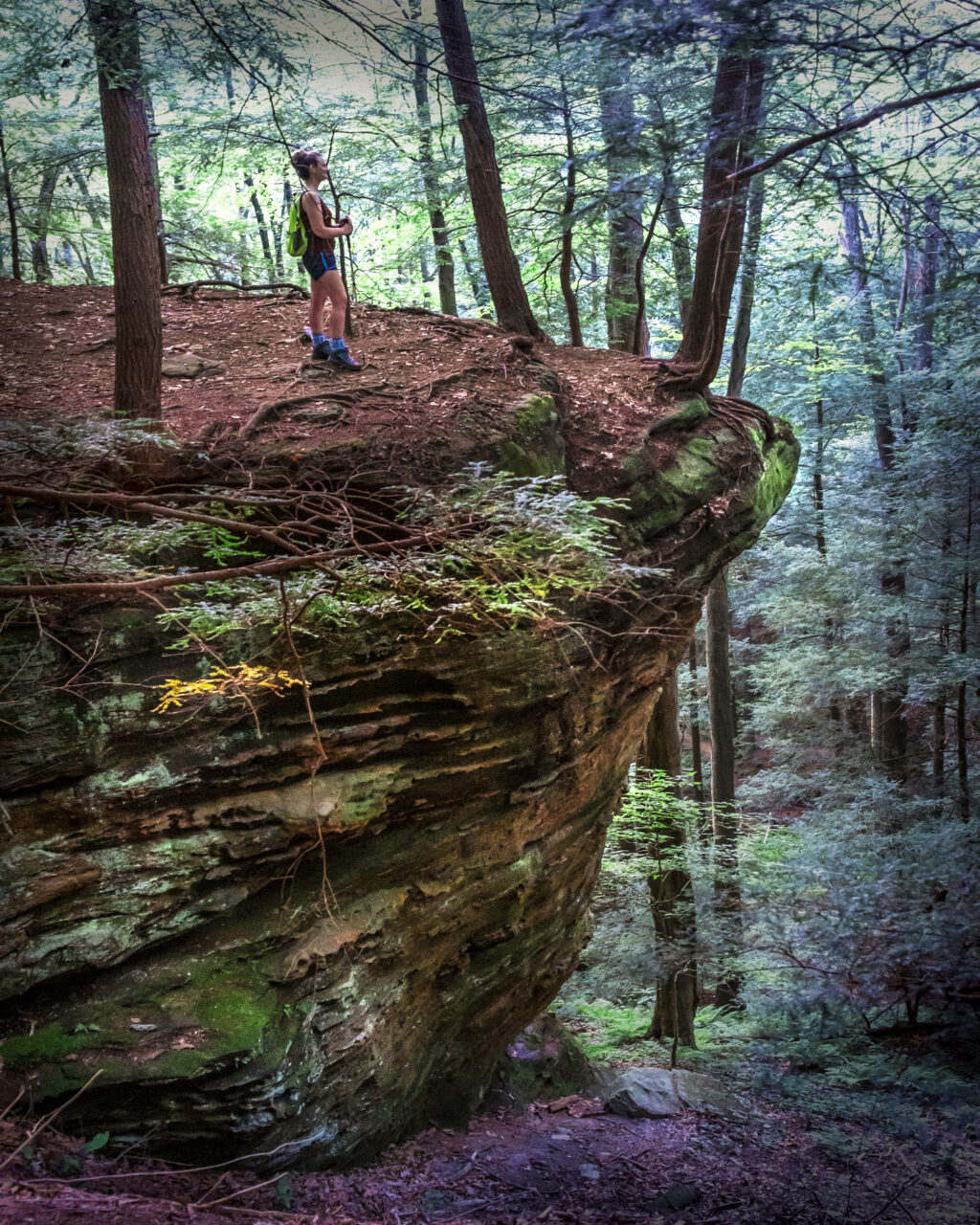 Ash Cave is magnificent, and you couldn't go wrong with stopping there either, but you might have to deal with the crowds.
Whispering Cave was also quite lovely — except for the rowdy group of adults we met upon our arrival who had decided to climb to the off-limits creek bottom. We waited as they hooted and hollered and said dumb things to each other, and at last they wandered off and we could hear the peaceful whispering waterfall.
Cantwell Cliffs Combined Interactive Trail Map
And so much more!
If you're a planner, you can contact the Ohio Department of Natural Resources to gain access to other nature preserves adjacent to Conkle's Hollow. Passes are free of charge but require a request in writing to enter Scheick Hollow and Little Rocky Hollow State Nature Preserves.
Other lesser-known wonders include Balanced Rock, Chapel Cave, Boch Hollow, Saltpetre Caves and Crane Hollow. We haven't been to any of these destinations yet, but you can bet they're on our list for next time!
Have you been to Hocking Hills? Let us know your vote for best Hocking Hills trails in the comments below.
Use this map on your hike!
Load this web page on your phone while you still have service.
Then, tap the arrow icon on the map to show your current location and follow along.
Tap the layers icon to switch between topo, satellite and other helpful map layers.
To save battery life, put your device in airplane mode. GPS still works even without service!
PLEASE HELP US OUT!
If you enjoyed this free article on hikingillustrated.com, please consider
purchasing anything on Amazon via our affiliate link at no extra cost to you.
Like us on Facebook!