Yeah, this is a hiking website, but you've gotta eat too, right? Ever heard of a culinary trail? Think of it as a trail you hike with your face.
The best fried chicken restaurants in the United States are all conveniently clumped together in one little artery-clogging corner of Southeastern Indiana. Here, fried chicken is lifeblood, and we've assembled a comprehensive list of establishments on (and off) the famed "Chicken Trail."
Behold, fried fanatics! I present to you the ultimate chicken trail interactive map.
(Click or tap the icons for location information.)
Scroll for details
2022 Chicken Trail updates
There were also some restaurants we felt were overlooked in the latest challenge and listed them under "Butch's Extended Trail." This extended trail began as a simple list of locations, but we're working to expand our content (and waistlines) on these can't-miss destinations.
The Chicken Trail rundown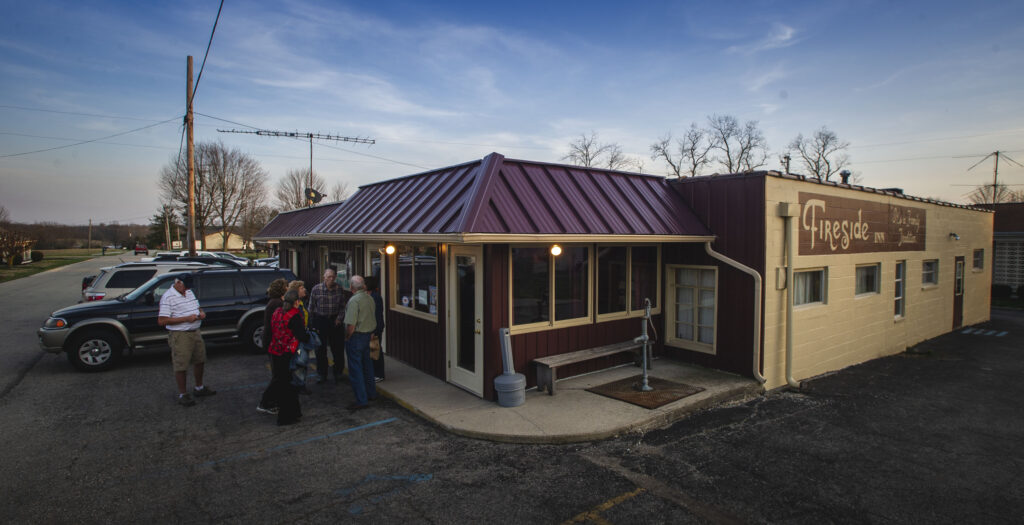 Simply put, this place does fried chicken right. What started out as a tavern for a veteran and his war buddies in 1950, the Fireside Inn later began its legacy of fried chicken perfection in the 1960s and has spanned three generations of owners in the Kinker family.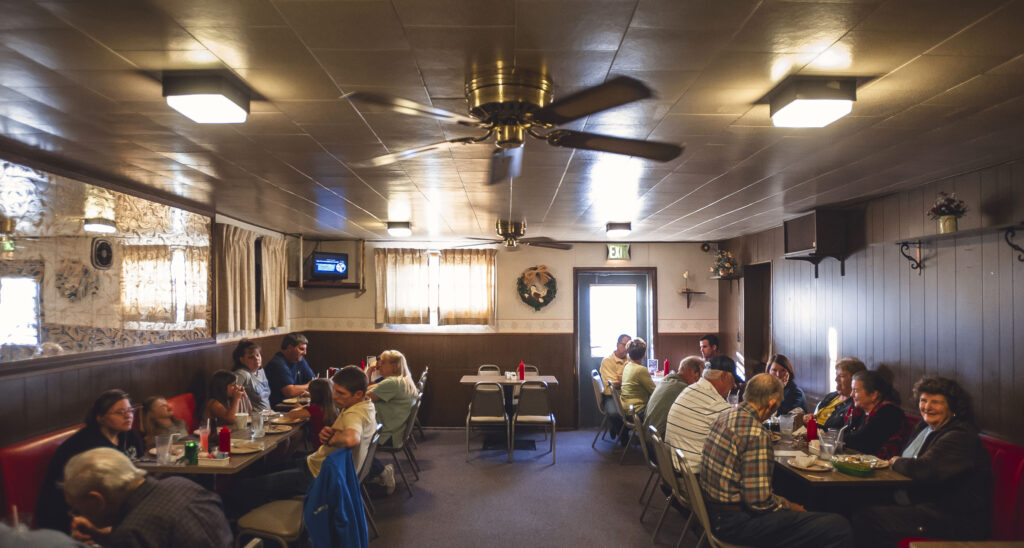 If you love their addictive "crisp chic" chicken batter, you might be interested to know that they use it for other menu fare as well. For something different, try Wednesday night's all-you-can-eat whole-fried catfish, or get some gizzards on Thursday night. You will not be disappointed. Unless of course you choke on a catfish bone — then maybe.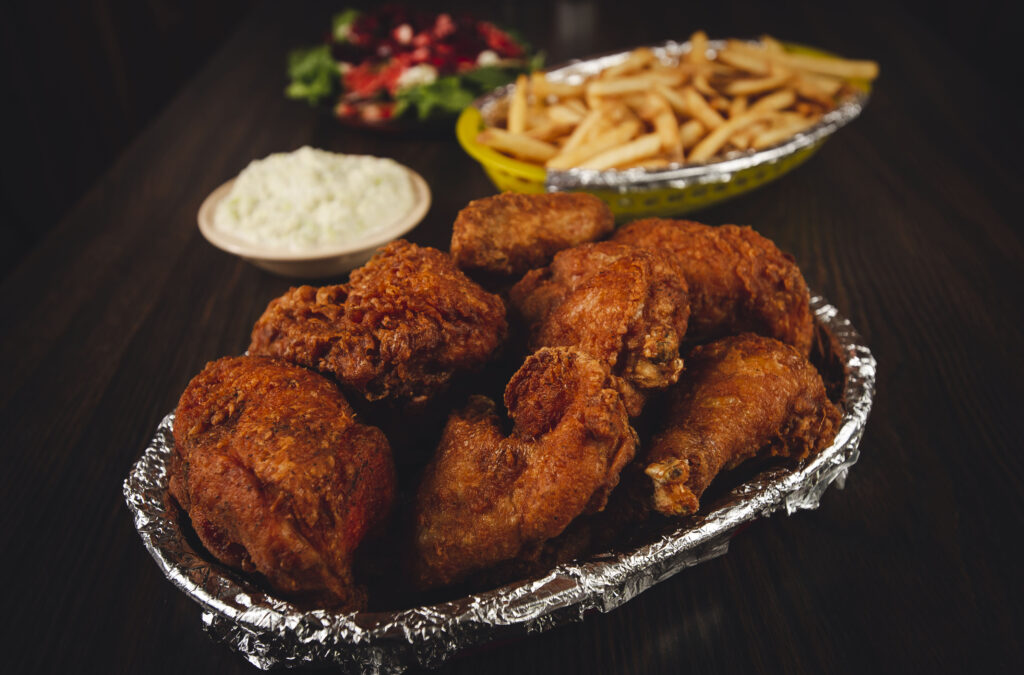 The Fireside used to have taco night on Tuesdays, however during the pandemic the restaurant decided to close on Tuesdays. I'm still trying to convince the owner to offer a fried chicken and coleslaw taco, but maybe Enochsburg isn't ready for that.
If you're a fan of Indiana University basketball, walking into the Fireside is like stepping back in time to the 1980s when Bobby Knight was throwing chairs and the Hoosiers won the NCAA men's basketball championship. The irony of ironies, however, is that the owners are both Purdue grads. They decided it's best not to rock the boat — their customers will decide who to root for, thank you very much.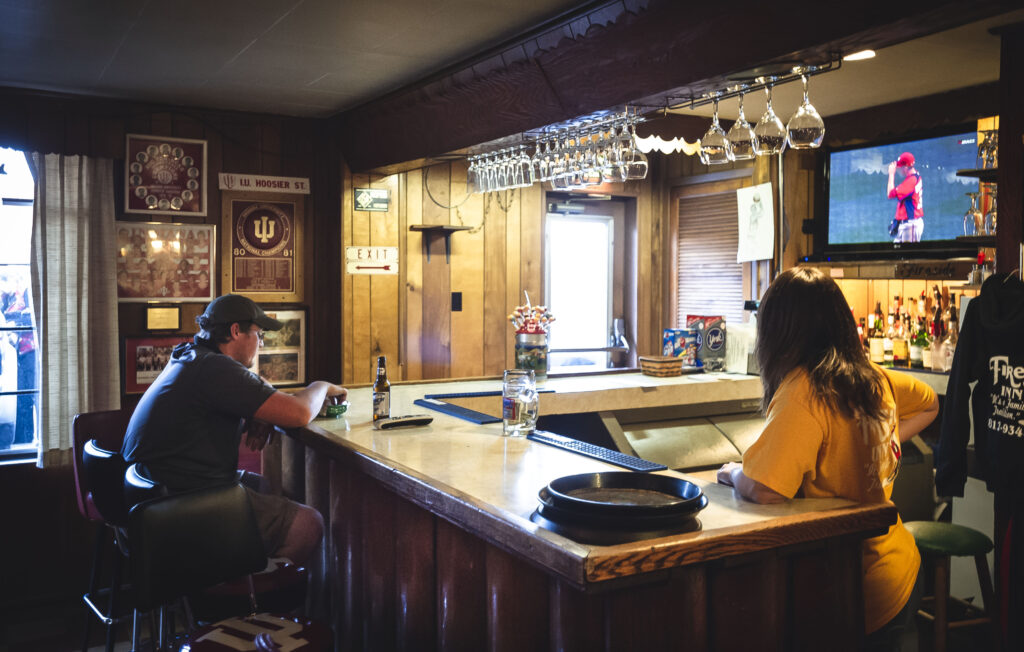 (Full disclosure: I am an Enochsburg native, practically everyone in my family has worked at the Fireside at some point, and I've known the current owner since kindergarten. I've eaten my body weight in this chicken many, many times over and, yeah, I might be the sliiiightest bit biased when I say that I think the Fireside Inn has the best chicken on the face of planet Earth.)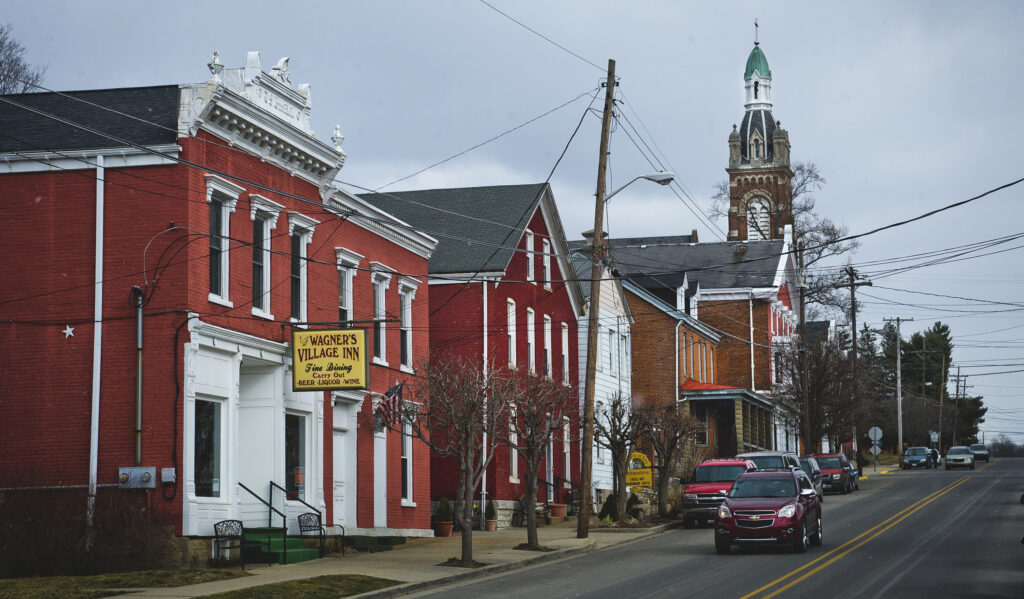 The pepperiest pepper chicken there ever was, experiencing this pan-fried delicacy is a must for any chicken aficionado. Of course, since Wagner's chicken is seasoned to order, you can actually request them to hold the pepper. But why in the world would you do that?!!!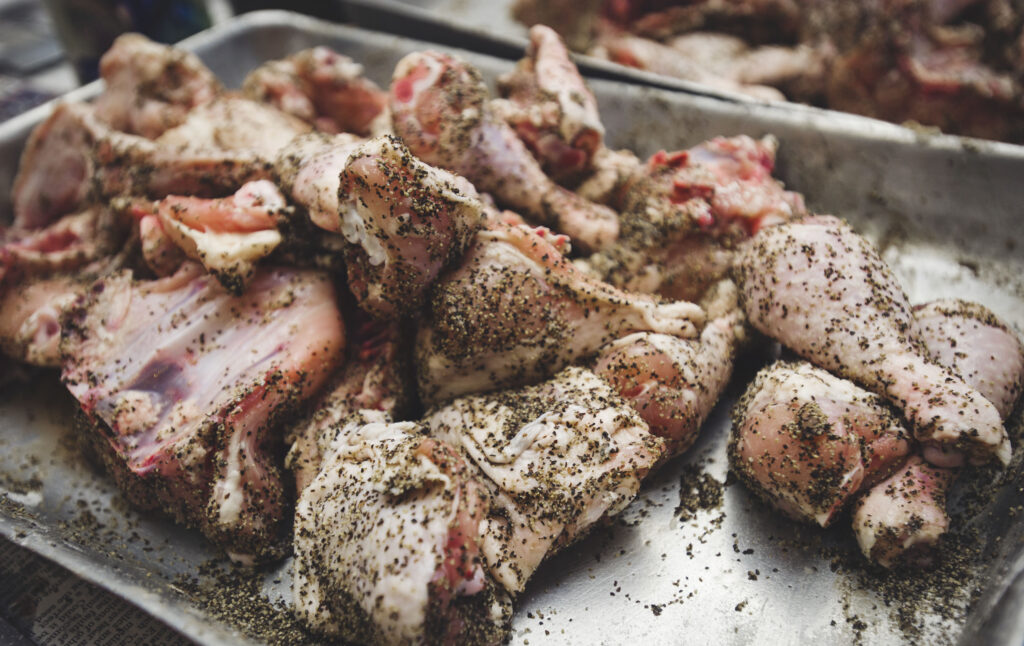 Pro tip: You can also request EXTRA pepper. This is a thing you must do, and you will be glad. The New York Times recently bestowed the honor of "best of the best" upon Wagner's chicken, and most won't disagree with that statement. Chicken is a territorial thing in these parts, though, so don't be surprised if your opinion opens up a full-on chicken-fried debate.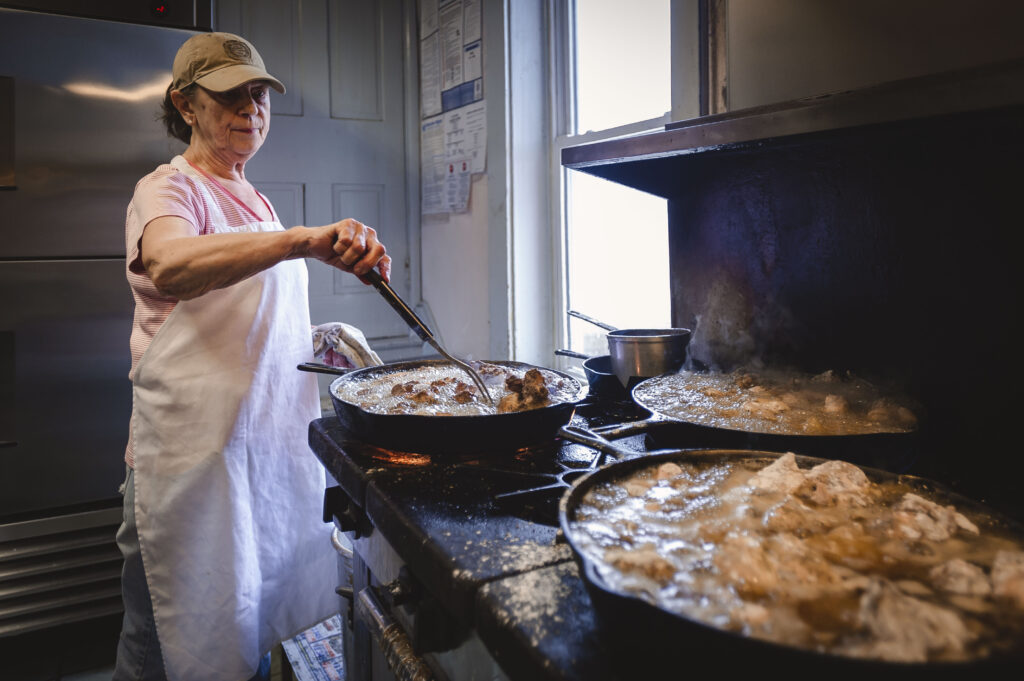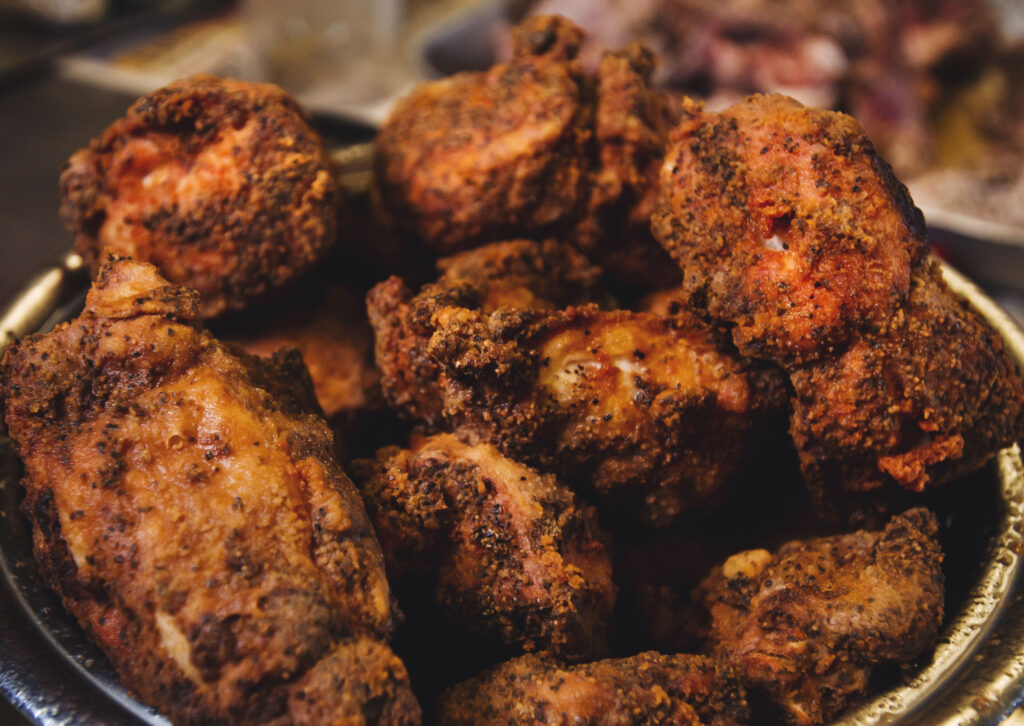 Wagner's is open on Sundays whereas the Fireside is not, so score one for Wagner's in this friendly battle for chicken superiority.
This is neither here nor there, but the restaurant also has a creepy ass clown painting in the corner. Request the table next to it and eat silently in terror. Just you and your loved ones, a basket of chicken, and the cold deadly gaze of a deranged clown — the perfect atmosphere for any get-together. (Just teasing guys — we love you.)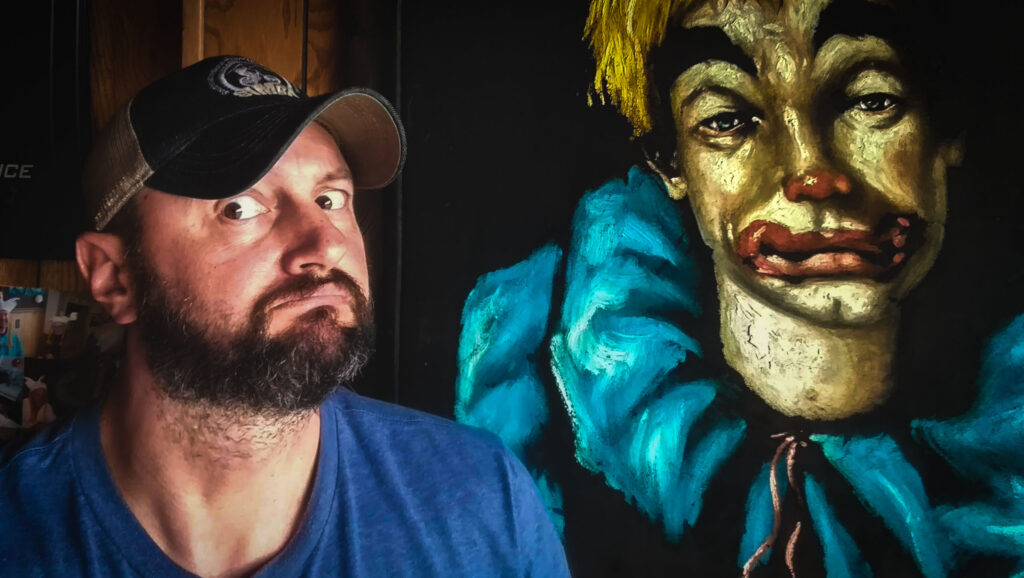 Wagner's has Warsteiner Beer on tap as well, a favorite consumed in mass quantities during Oldenburg's summer Freudenfest. It goes great with chicken, so be sure to pair a dunkel (or two!) with your meal. Prost!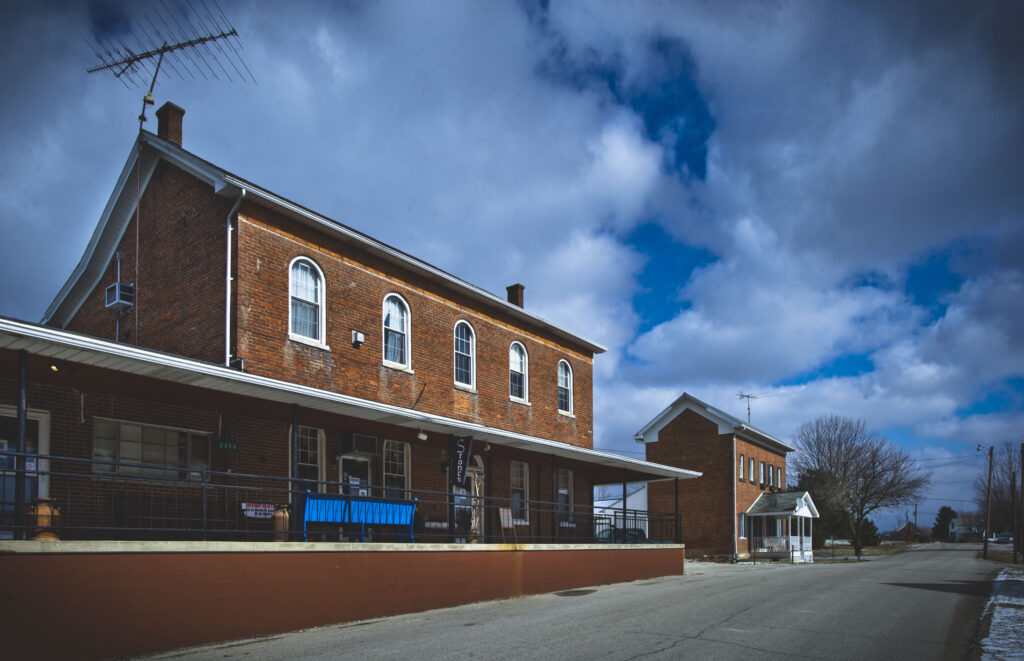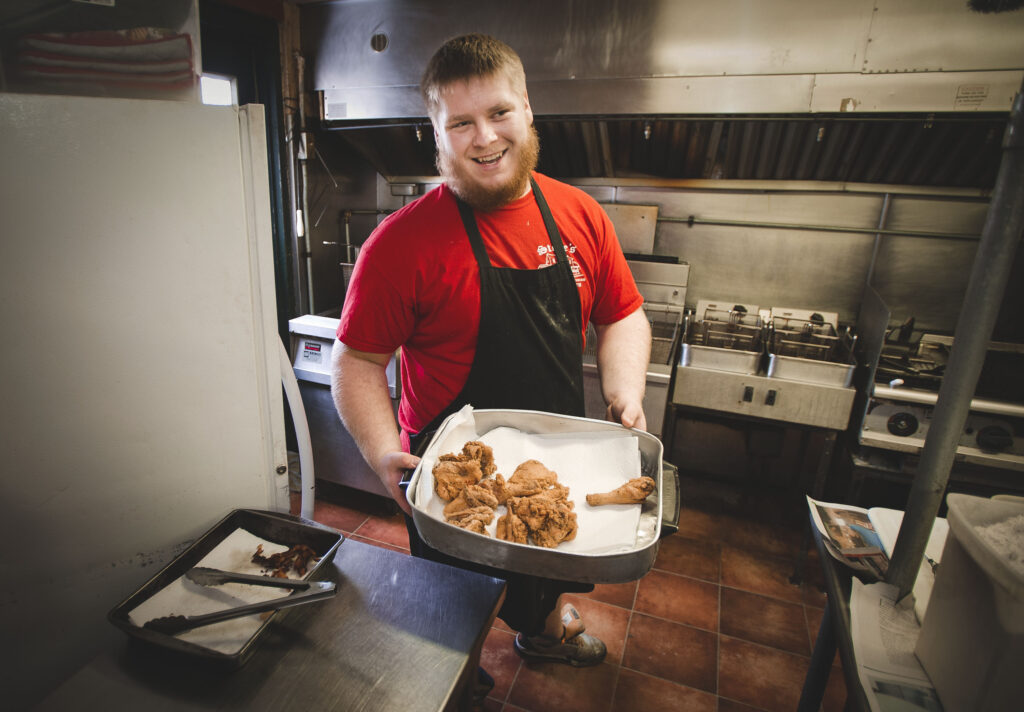 Stone's Family Restaurant in Millhousen is one of the more out-of-the-way locations in relation to the "central" Chicken Trail, but the list wouldn't be complete without this Decatur County icon. The fact that it's the only Decatur County restaurant on the official trail shows a certain level of respect. It's worth the trip.
Not only is the fried chicken yummy as heck, Stone's also wins the unofficial prize for the most photogenic bird. Don't ask me why — this chicken just photographs well (see the image below as well as the main photo at the top of this article). If there's such a thing as Instagram-ready chicken, this is it.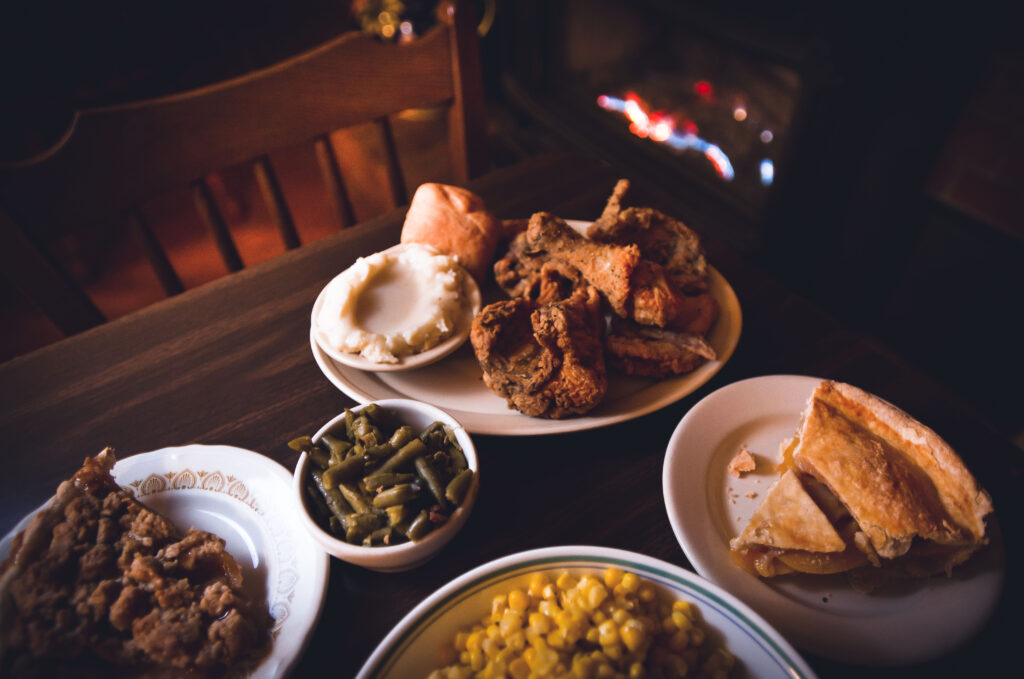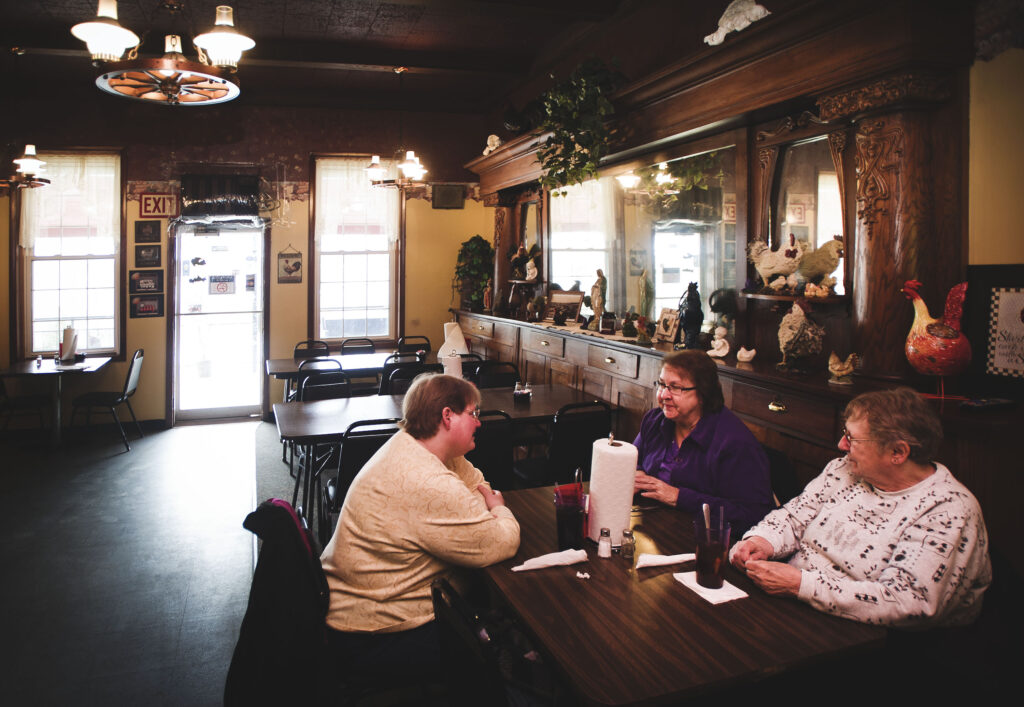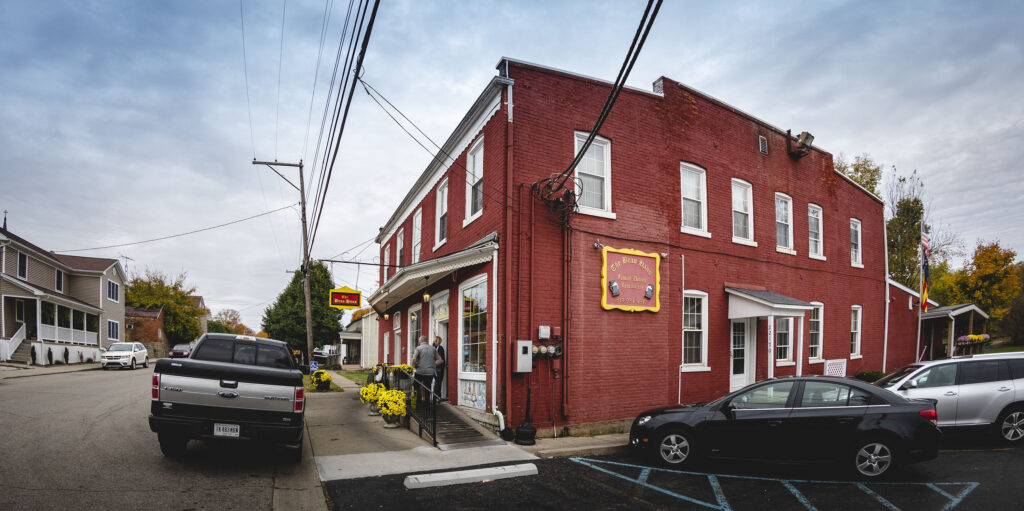 If you find yourself eating fried chicken in Oldenburg and you're not doing so at Wagner's, it can only mean that you've heard the Brau Haus serves up a mean bird in this town as well. And it does. Really mean.
In fact, although it might be sacrilege for an Enochsburg Fireside die-hard to say so — *gasp* — the last time I ate at the Brau Haus the chicken rivaled anything I've ever had. Kudos to the cook frying that day, because it couldn't have been any better.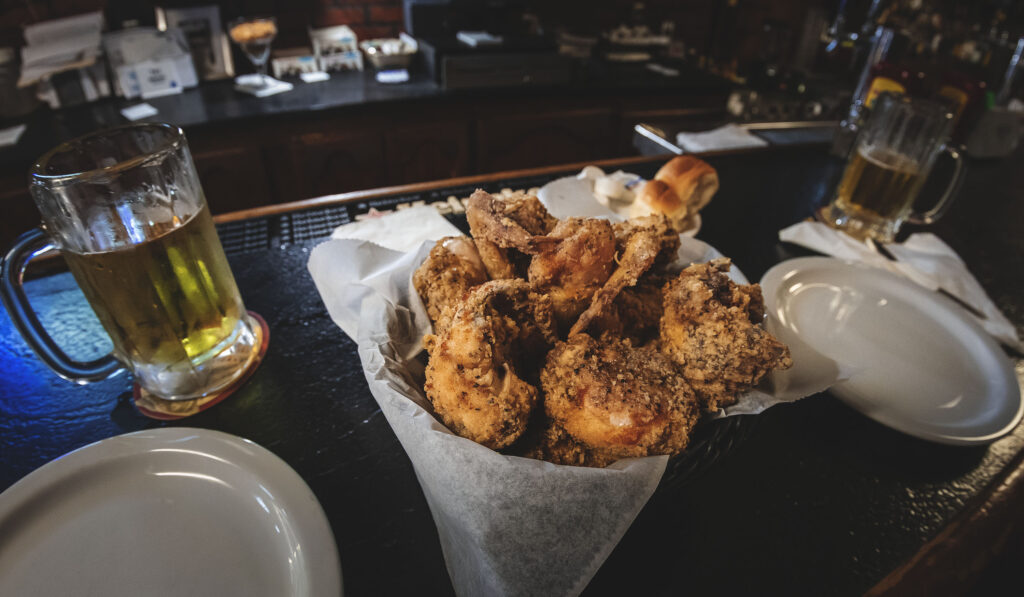 You'd be remiss if you didn't try the pork schnitzel dinner as well. Alas, that's a different trail though.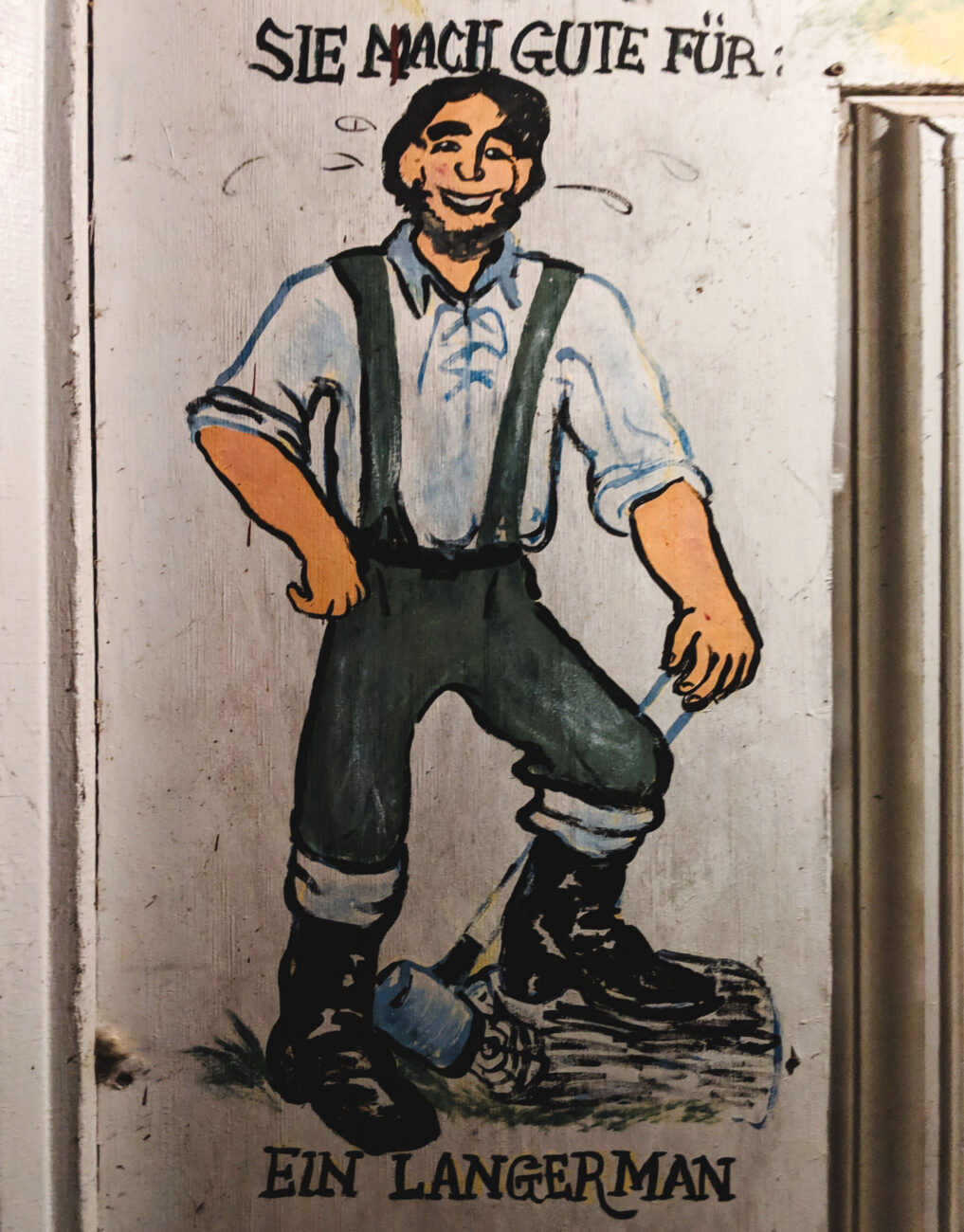 Bonus points: Spaten Beer is on tap. Drink a few and have your picture taken next to the dicke Frau painting outside for the win!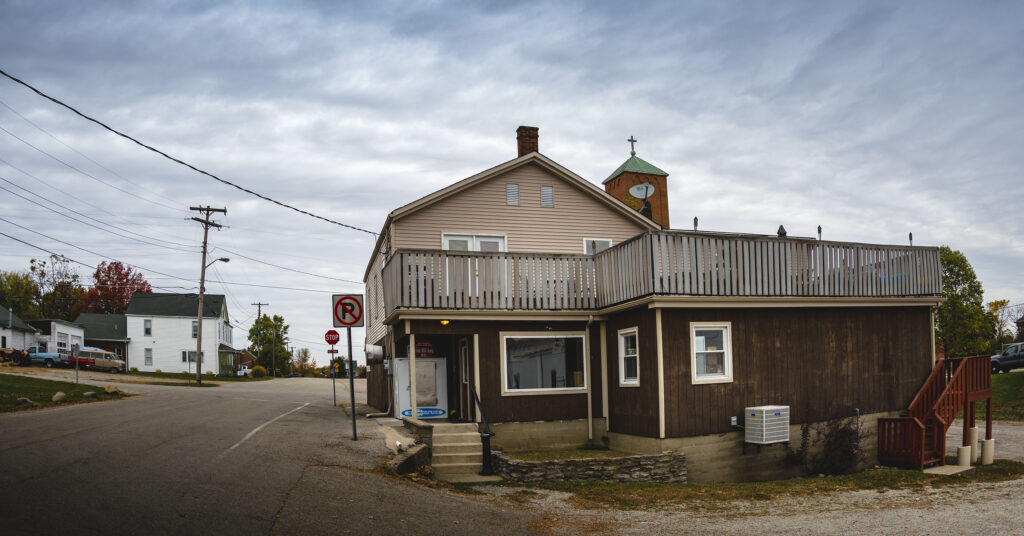 When the New York Times mentions your restaurant's chicken in the same sentence as the words "some of the best I've tasted," it's cause for celebration.
Such high praise on a national level wasn't just a boon for St. Leon Tavern, it shone a well-deserved spotlight on something we Hoosiers in the southeastern part of the state have known all along — the chicken isn't just good around here, it is its own culture.
The NYT article was vindication for this culinary heritage at last. Folks in St. Leon stand a little taller these days, and new customers continue to flow into the establishment on a daily basis seeking the holy grail of piquant peppered poultry.
The only thing the New York Times sort of missed in its article was the headline: 'If It's Sunday in Southeastern Indiana, Order the Fried Chicken.' That was probably the fault of a careless copy editor, because I'm positive the author knew that about half of the places in his article are actually closed on Sunday, including St. Leon Tavern.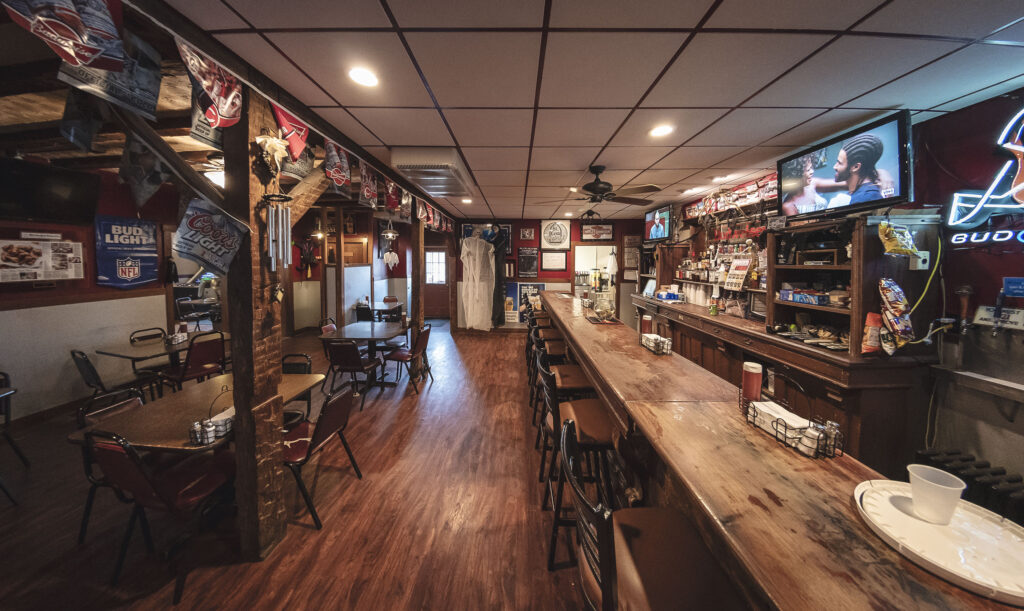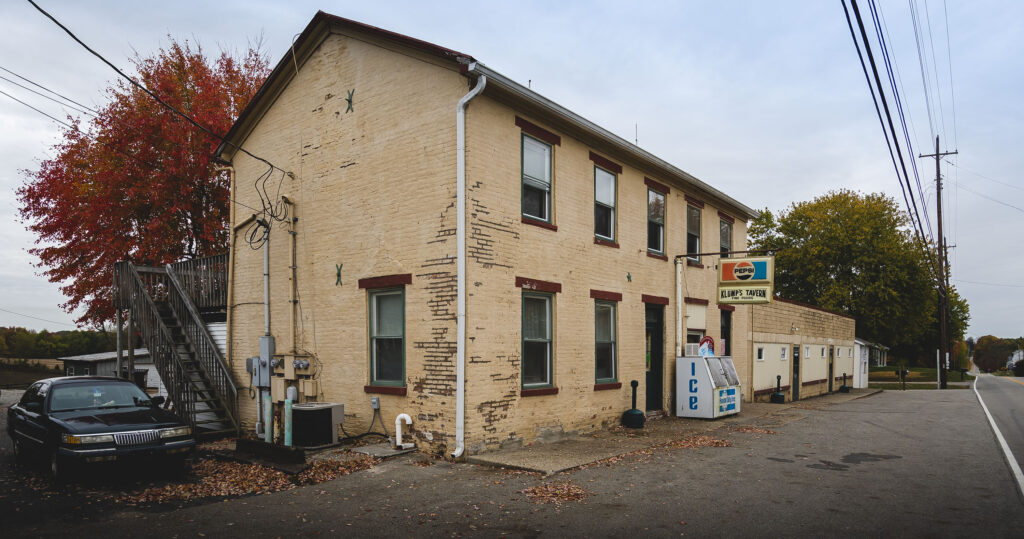 The historic Klump's Tavern in charming New Alsace serves up a wide variety of tasty concoctions including a half-pound "Dale Burger," deep fried pickles and a chicken hoagie known as a "choagie." But on Friday, Saturday and Sunday, it's the fried chicken you need to set your sights on.
Here, you can order your chicken by the piece or by the bird, so dinner is easily customized for members of your party who might prefer more drumsticks and thighs than white meat, or vice versa.
When we arrived at 2:30 on a Friday afternoon, the tavern was about to close for the night due to a funeral. Only in a small close-knit town will you find a business that closes on one of its busiest nights, and although we were a little disappointed, we understood.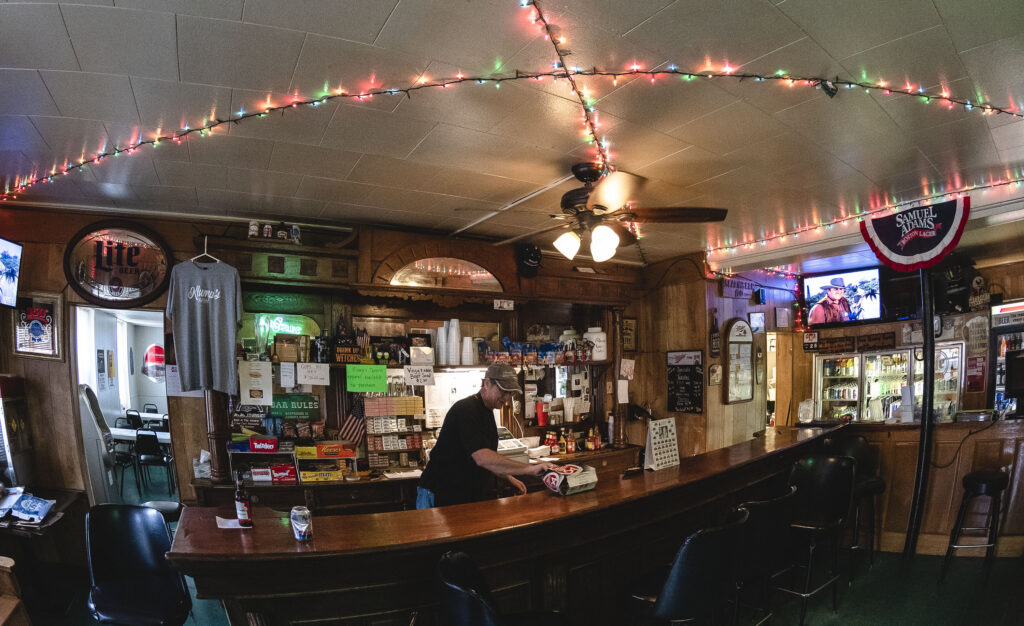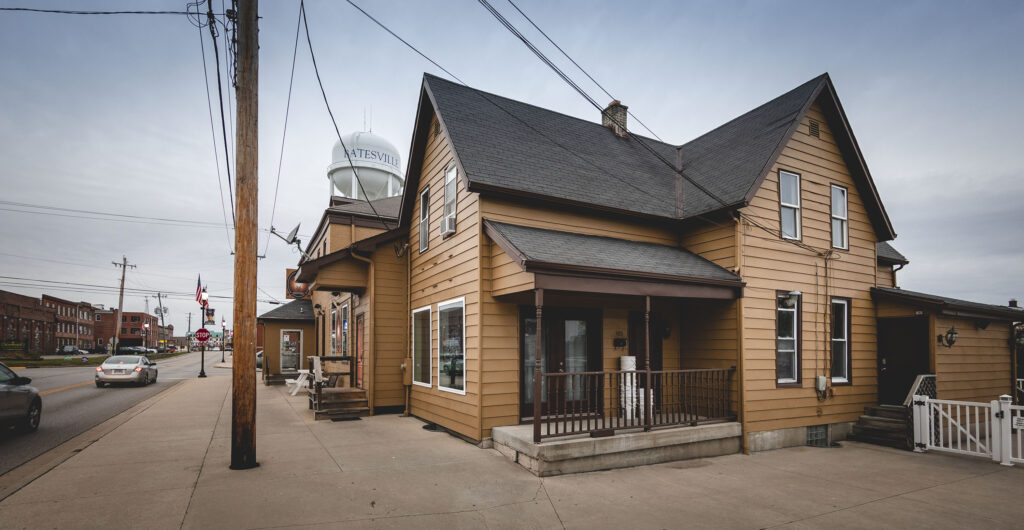 Lil' Charlies Restaurant & Brewery in Batesville has built itself a fine reputation for some of the best steak around — so much so that it might overshadow the fact that they also fry up a tasty half chicken coated in course black pepper.
Since the chicken is made to order, the restaurant asks that you be patient as it does take "a little extra time for this hometown favorite." Also, it might not go with a chicken dinner, but the warm soft baked pretzels and bier cheese appetizer is too good to pass up.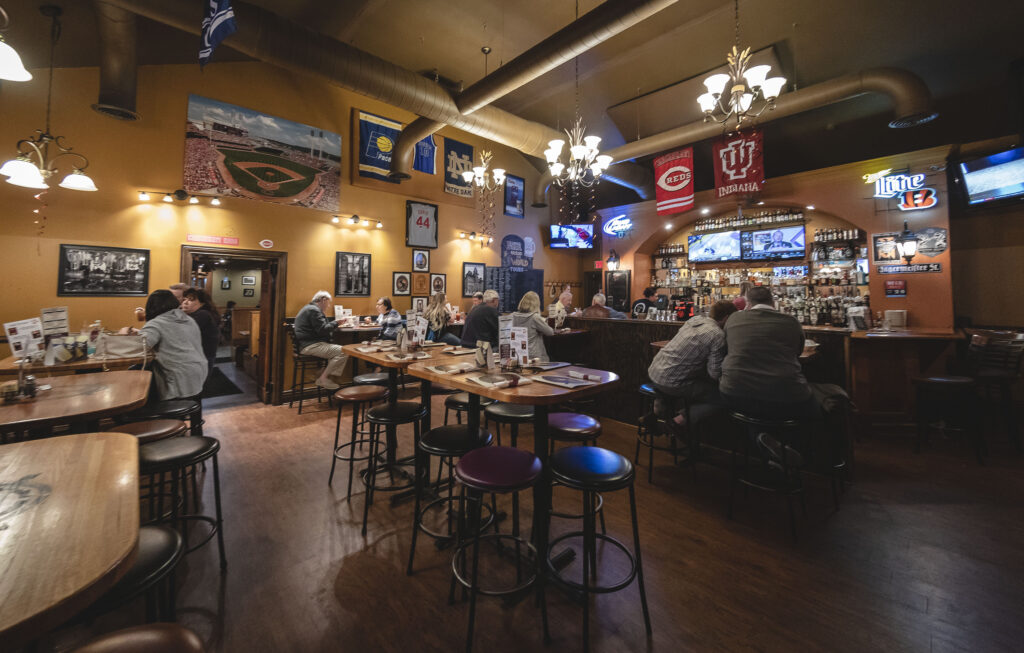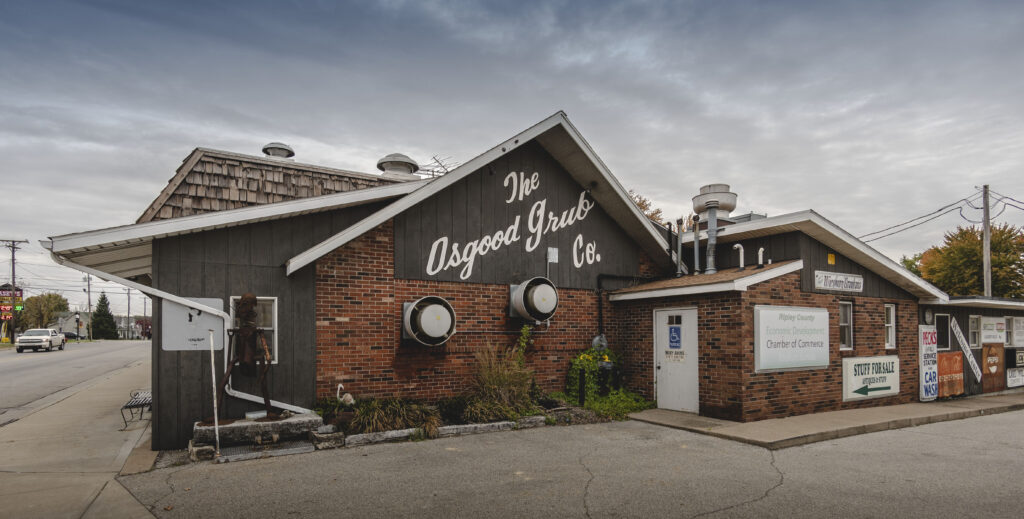 The Osgood Grub Co. has been family owned and operated since 1977 and features a fun atmosphere with whimsical iron sculptures by artist Dale Loughery. Fried chicken dinners are served with rolls and one side (get the slaw or fries) and come in half orders for $8 or whole for $14.
Since a whole chicken is going to be split by two or three people, you'll want to add an à la carte side or two to your order.
For something out of the ordinary, go for the twice fried wings. The Grub Co. also offers what looked to be a decent buffet.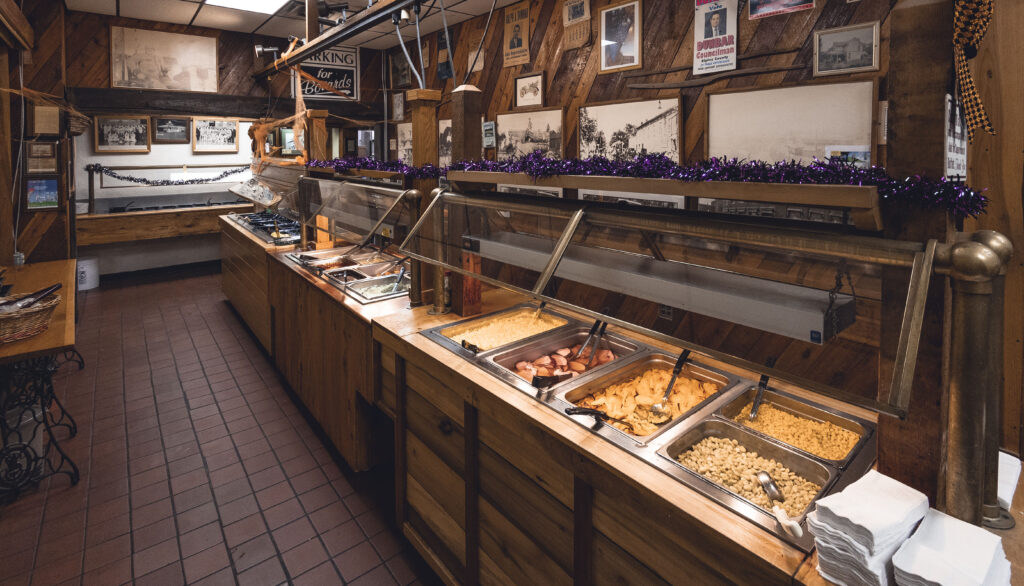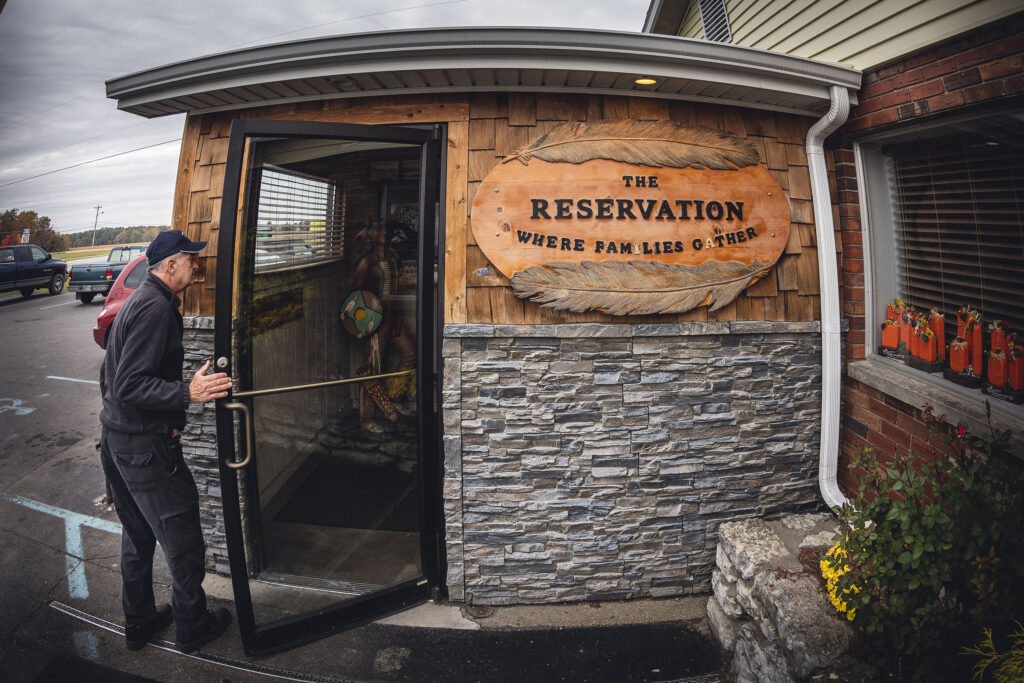 The Holt family has operated The Reservation since 1985, and during that time they've built a strong tradition in Milan and an impressive menu. The fried chicken is not served every day, so be sure to visit on Wednesday or Friday if you want to see for yourself how their bird stacks up against the others.
If you happen to find yourself at the restaurant on a day that their chicken isn't the daily special, they do offer a chicken & waffles sandwich topped with hardwood smoked bacon. Yum! Other favorites include bacon cheese fries, grilled chicken alfredo and the "Big Chief" — a full one pound Angus hamburger.
If you have any room for dessert after all that, The Reservation has homemade cobbler and an "ultimate chocolate chip cookie skillet."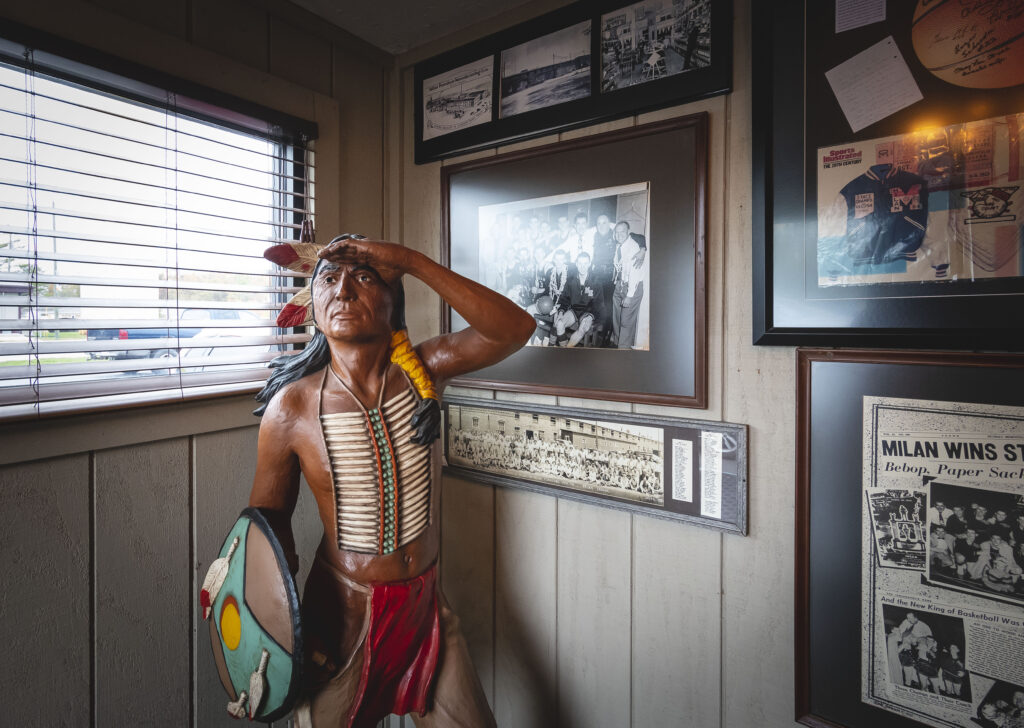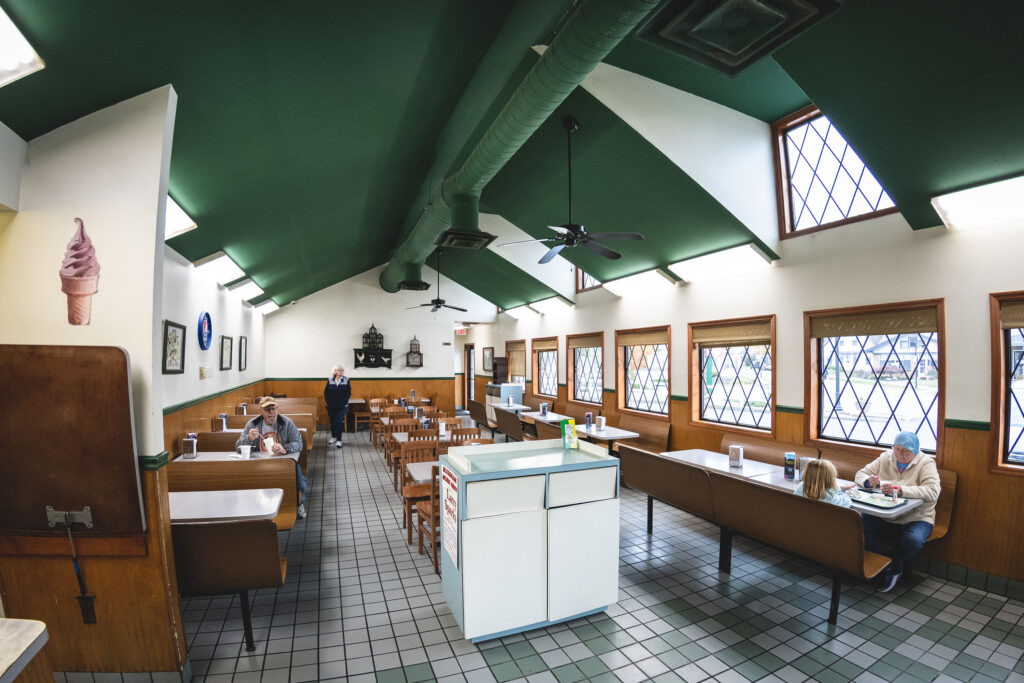 People in Brookville often wax poetic about the Dairy Cottage. "Have you tried their (such and such)?" That's how a lot of conversations begin in this town. And if your answer is no, any proud Brookville-ian will likely offer to drive you there. Immediately.
The Dairy Cottage is that good, and their "flavor-rich fried chicken" is the highlight of the menu. This may be the only place on the trail that offers chicken buckets and party packs with a "deluxe" option — no backs.
Side note: Backs? If you're not already familiar with the fried chicken in these parts, you may be surprised to find 10 pieces of chicken in your bucket or basket instead of 8 due to the different way the bird is butchered. I was told years ago this was done to ensure more even cooking in the fryer.
The list of pieces in a ten-piece "country cut" chicken can be rambled off as such: Leg-leg, wing-wing, white-white, bony-bony, thigh-thigh. The faster you can say it, the better. Remember it. This knowledge may one day save your life.
The sparkling interior of Dairy Cottage makes it one of the brightest and most inviting stops on the Chicken Trail as well.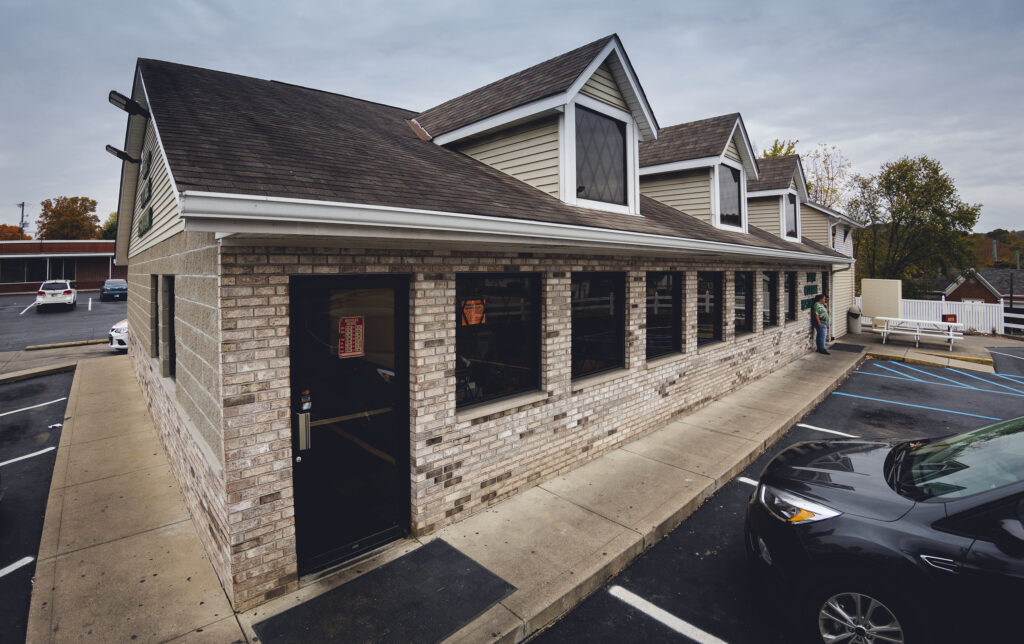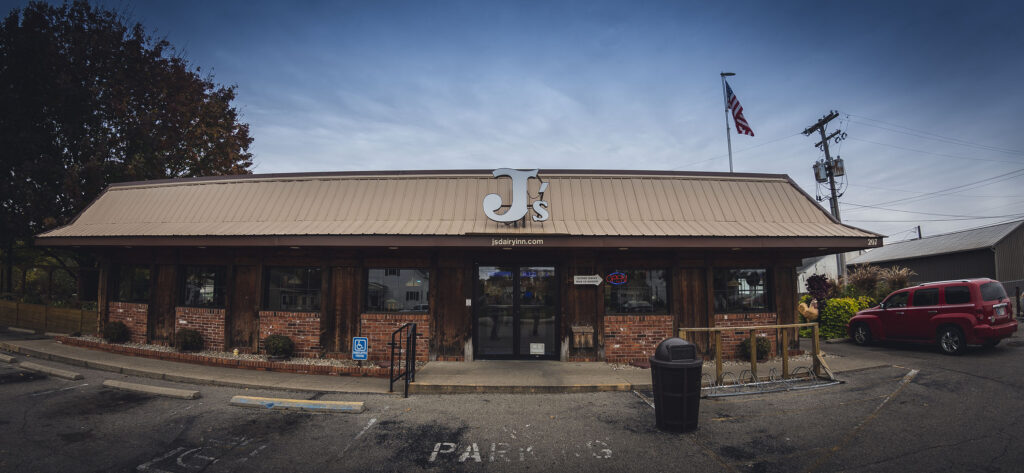 The folks at J's Dairy Inn are some of the nicest people you'll ever meet, and this family restaurant offers good eats at wallet-friendly prices. Chicken is sold in a 3-piece basket and includes "Jo Jo's" (potato wedges) or regular fries, two rolls and their heavenly cole slaw. For an extra twenty cents, J's will turn your Jo Jo's into "Chuck" Fries with their special season salt.
A smart addition to the menu is the chicken bits — small bites the kiddos will love. For those with bigger appetites who aren't in the mood for chicken (what's wrong with you?), there is the Jumbo J-Boy, the restaurant's half-pound version of their signature double-decker burger.
An interesting fried chicken footnote to the J's story is that Col. Harland Sanders approached the restaurant owners in 1957 looking to sell a franchise of his recipe. J's politely declined.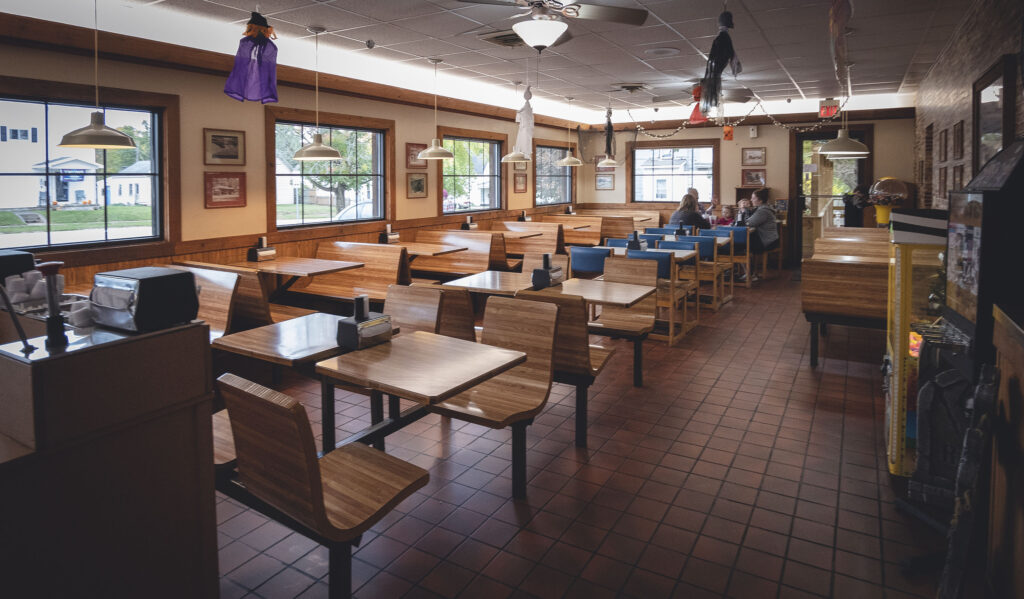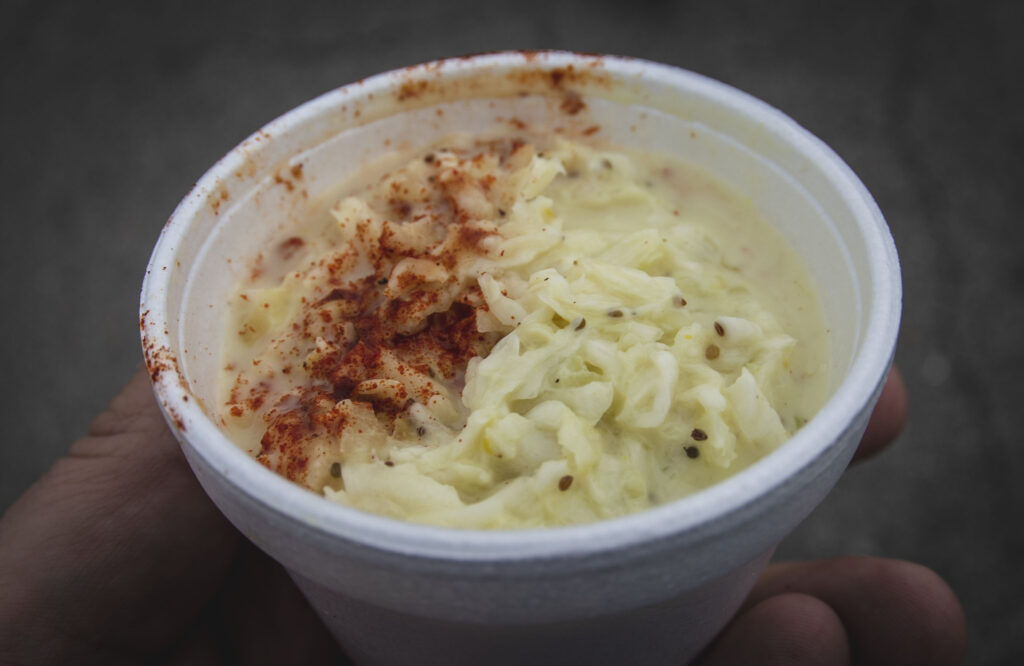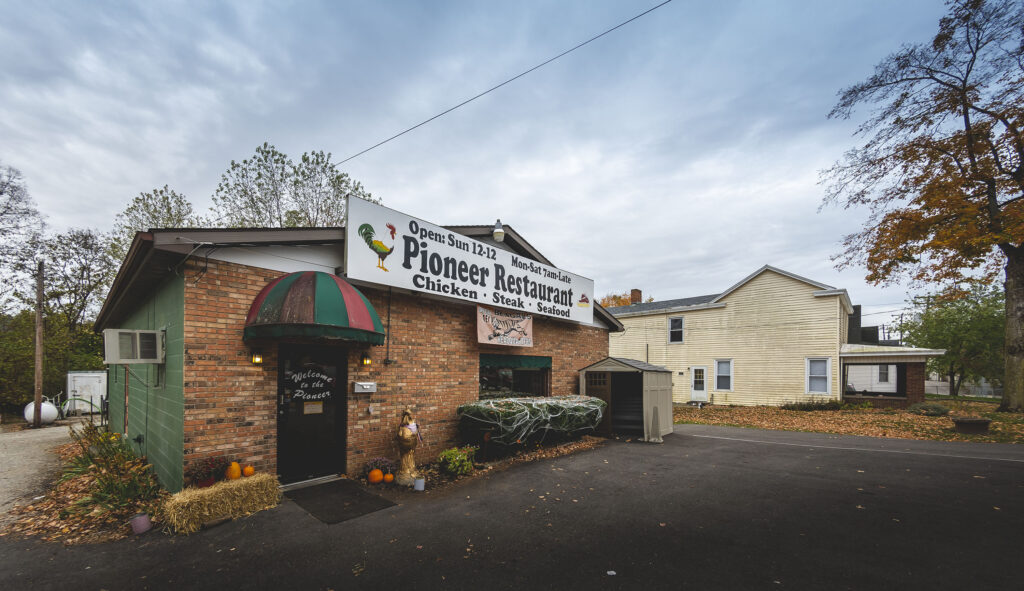 Pioneer Restaurant and Lounge sits directly behind the beautiful Franklin County Courthouse in Brookville. The restaurant's "Saturday Nite Special" is a heckin' deal that includes a 3-piece chicken dinner with mashed potatoes and gravy, green beans, cole slaw and a hot roll — all for $8.95.
The Pioneer also serves gizzards, which makes them near and dear to my heart. The livers on the other hand you can keep, hahaha. Nothing against the Pioneer, I just couldn't ever get my taste buds to agree with livers. If you're feeling wild and want to expand your chicken horizons, go for the "Chunky Chic'n Cheese" sandwich.
Note: The closest parking requires paying a meter during daytime hours, so be sure to break your piggy bank before heading out.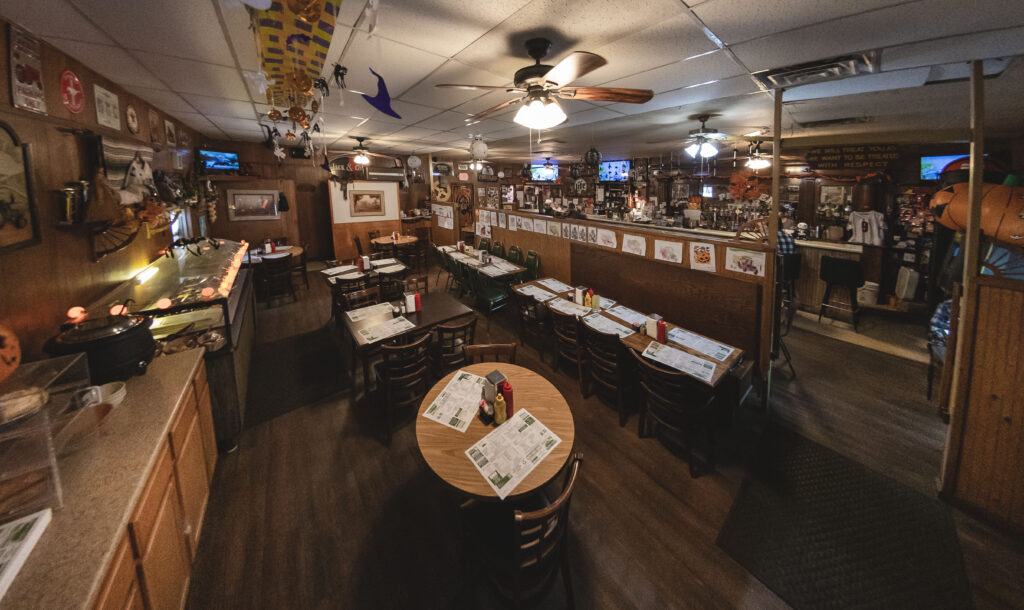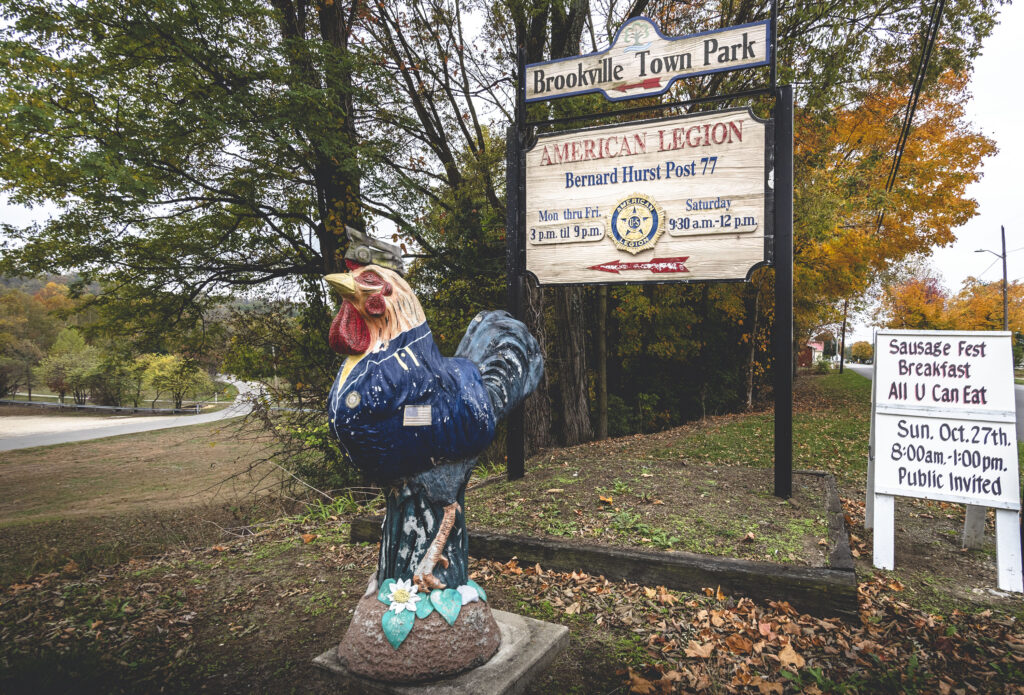 Even the local American Legion post in Brookville gets in on the fried chicken fun, and these vets know their way around a fryer. The Bernard Hurst Post 77 often has a "fried chicken drive-thru" among its monthly public events, and you can't beat the price at $10 per bird ($6 for half). Call (765) 647-4613 to find out when their next fry is scheduled.
In past years, the Brookville VFW Post 2014 participated in the Chicken Trail as well, and some locals say both camps make the best bird in town. Of course, those might be fightin' words depending on who you talk to.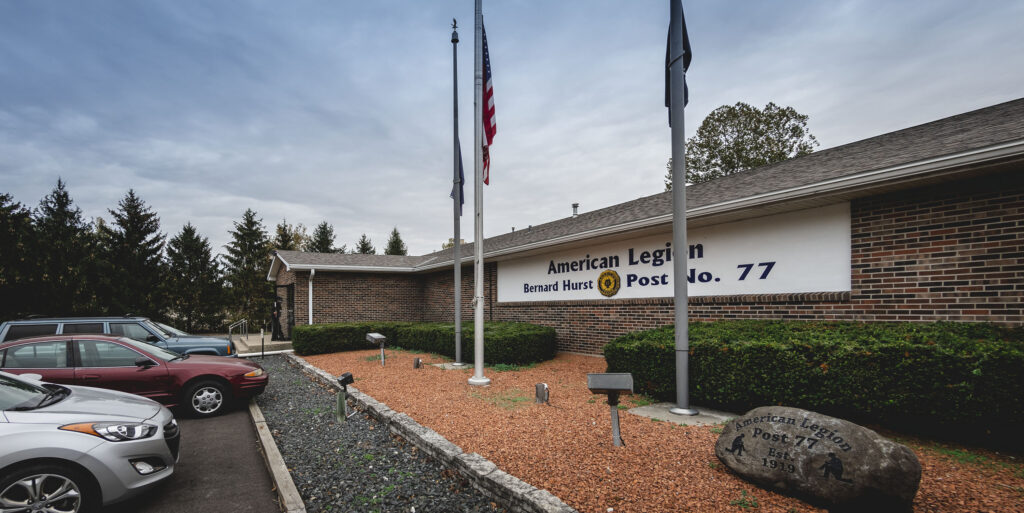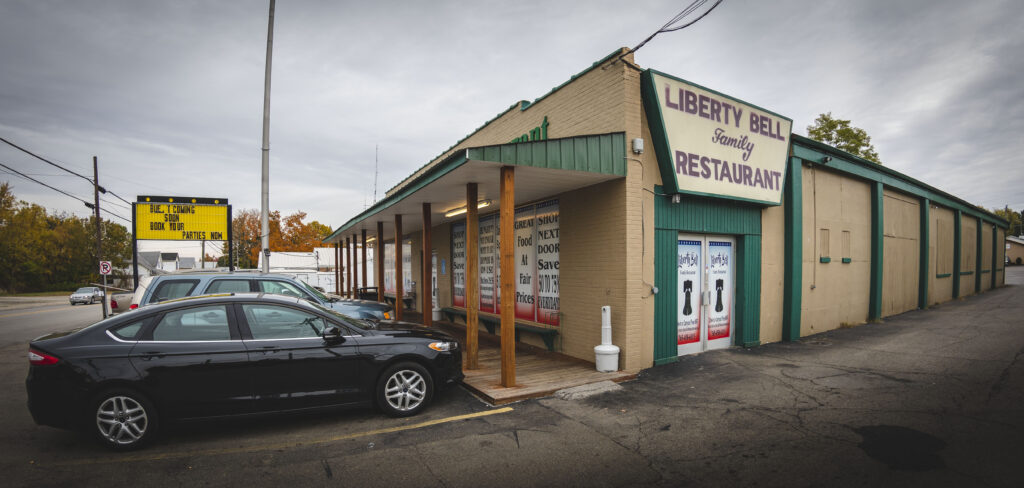 Liberty Bell Family Restaurant has an unapologetic red-state vibe that smacks you right in the face the moment you walk in the door. If you like your chicken with a side of politics (and your politics are on the same side as theirs), then you're going to feel right at home.
Otherwise, the mannequins with Trump 2020 hats might spook you just a little — in which case you should probably get your chicken to go. Democrats still gotta eat, after all, and a Republican chicken tastes the same as a regular one — it just has different beliefs about its eggs.
On Saturdays, Liberty Bell lets you gobble as much of their famous pressure-fried chicken as your poor belly can handle, thus helping make America great again one type 2 diabetic at a time.
To ensure this is a bipartisan ribbing, Democrats should know prior to visiting that there is no free government fried chicken program, so they will have to pay just like everyone else.
Now that I've offended everyone (except for Libertarians who don't count), let's get back to the trail.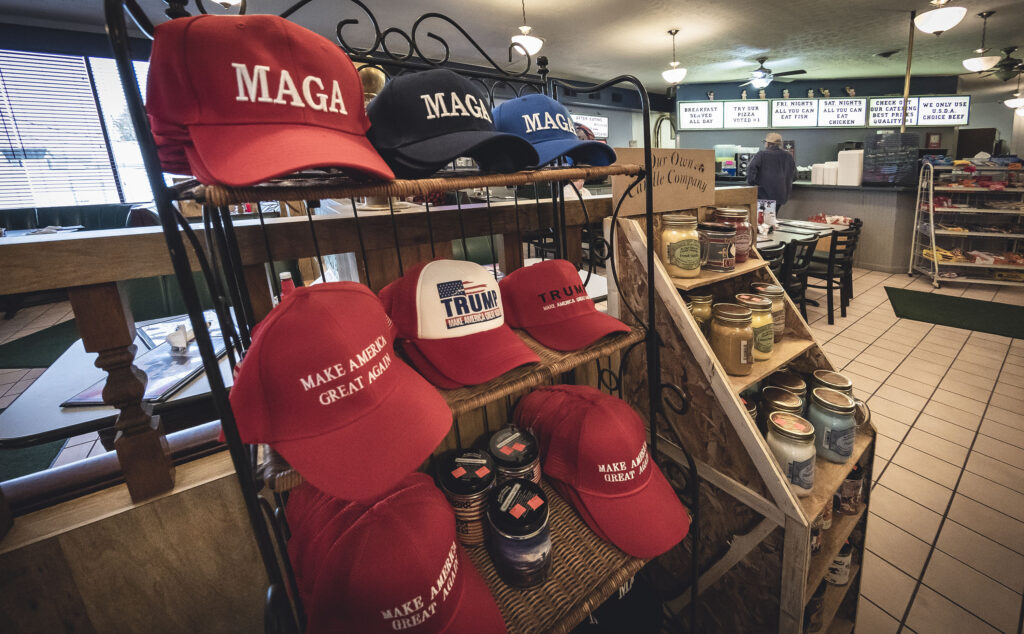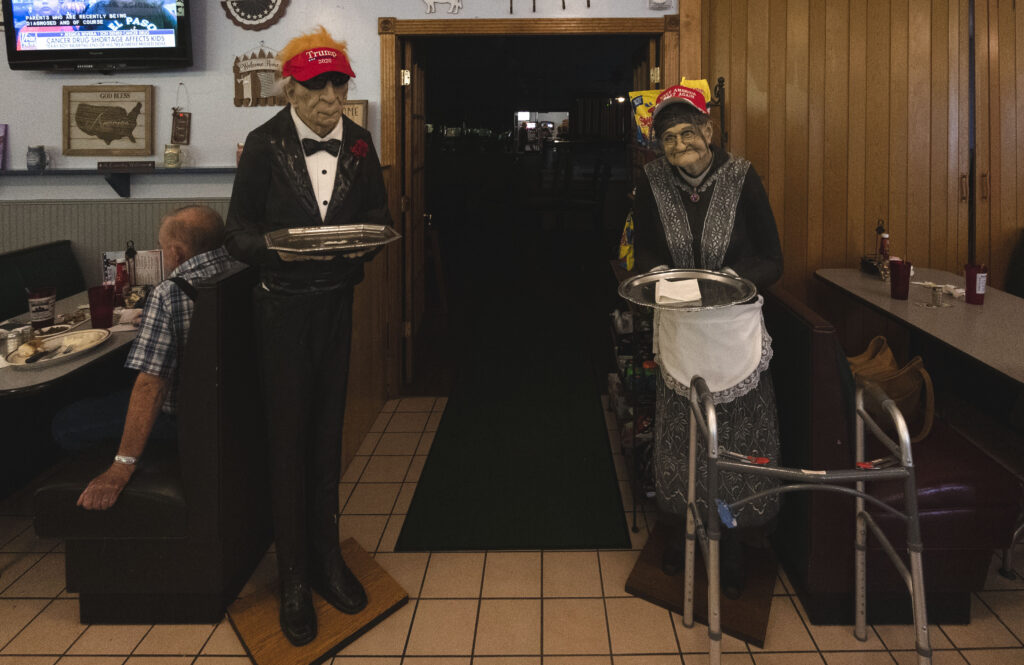 UPDATE: We all know what happened in the 2020 presidential election. We haven't been back to this restaurant since then, but with Trump gearing up for another run at the White House in 2024, you can bet there are still dummies wearing MAGA hats at Liberty Bell. There are probably mannequins wearing them too.
---
Off the beaten meat trail
After my dad and I drove to each stop on the Chicken Trail circuit one day, Dad asked why some of the places we'd passed or knew of were not on the trail. These thoughts prompted him that night to have a dream about adding our own stops to the trail.
Here are his thoughts encapsulated in a voicemail he sent me the next day that had me in tears.
So adding more stops is exactly what I've done. I'll need to think more about how to repackage Dad's "shit your pants" ratings system for the general public, and I'm not sure if I'm ready for my own reality TV series, but he had some solid ideas. It's worth noting that in Dad's eyes if you don't serve beer, you're immediately disqualified, haha. I told him those are the places he'll just have to get his chicken via carry-out.
You won't get passport stamps for these places, but the deposits they'll leave in your ventricles will surely be memorable for years to come. And although they aren't part of the most recent official trail — who knows — maybe they'll be invited to participate in future years.
So without further ado …
Butch's Extended Chicken Trail
Is fear of missing out on every single amazing morsel of fried chicken giving you the meat sweats? Fear no more! Below are some excellent outliers on what we're calling "Butch's Extended Chicken Trail" that are steeped in the same Southeastern Indiana fried chicken tradition.
Cedar Grove Tavern
405 4th St., Cedar Grove, Indiana
(765) 647-6240
Hours: Sun 12pm-12am, Mon-Sat 11am-2am
Homeboyz Fried Chicken and Fish
1451 Washington St., Columbus, IN 47201
(812) 657-7977
Hours: Sun-Wed CLOSED; Thurs 10am-5pm, Fri 10am-7pm, Sat 10am-5pm
Laurel Hotel
200 Pearl St., Laurel, IN 47024
(765) 698-2912
Hours: Sun 11am-8pm, Mon-Wed CLOSED, Thurs 11am-9pm, Fri-Sat 11am-10pm
Menu
Napoleon Tavern
US 421 & 229, Napoleon, Indiana
(812) 852-4404
Hours: Sun 6:30am-2pm, Mon-Sat 6:30am-9pm
Fry's A&W Drive In
1501 N. Lincoln St., Greensburg, IN 47240
(812)663-2772
Hours: 10:30am-9pm, CLOSED December-January
The Chicken Inn
541 E Hendricks St, Shelbyville, IN 46176
(317)392-6088
Hours: Sun 11am-2pm, Mon CLOSED, Tues-Thurs 11am-8:30pm, Fri-Sat 11am-9pm
Storie's Restaurant
109 E. Main St., Greensburg, IN 47240
(812) 663-9948
Hours: Sun-Mon CLOSED, 7am-8pm, Tues-Saturday
Have a suggestion for the extended trail? Let us know!
Or heck, why not make your own?
I asked my brother-in-law over at Brookville Butcher what went into making a great fried chicken, and he came back with this dead simple recipe:
In exchange for this recipe that I probably could have Googled I'm supposed to tell you that the Brookville Butcher has fresh chicken delivered three times a week and you should visit their Facebook page. They don't sell Busch Light though — that's a couple blocks down at Tebbe's.
Forever in our aortas
Restaurants previously participating in the Chicken Trail that sadly are no longer open include:
Bayshore, Lake Santee (although we've heard it's now called Bryants and serves chicken — something to investigate)
Bonaparte's Retreat, Napoleon
Farmhouse, Metamora
Goldfinch Restaurant, Brookville
Grote Trading Post, Bright
Hearthstone, Metamora
Lincoln Street Grill, Greensburg
Mousie's, Connersville
Old Brick Tavern, Penntown
Ye Old Shack, Brookville
Cricket Ridge, Batesville
What is YOUR favorite?
We'd love to hear about your own chicken-fried experiences. Have you ranked this list? Think we've missed a place? Let us know!
Send us a message via our contact form!
Now take a hike!
If you've gone on a 10-mile hike, you've earned yourself a half chicken dinner basket. Alternatively, if you've just eaten a half-chicken dinner basket, you now need to go hike 10 miles just to burn off those calories.
See how we tied this all back to hiking? You're welcome.
Like us on Facebook!
Pin this post!