What gift do you get for the hiker in your life who has everything?
Well … nothing I guess. I mean, if they have everything already, maybe they should be buying things for you.
But for those with hiking friends and loved ones who don't have everything, this hiking gifts guide is perfect for the holidays and special occasions!
So what are the best gifts for hikers? Here are our field-tested favorites we use ourselves.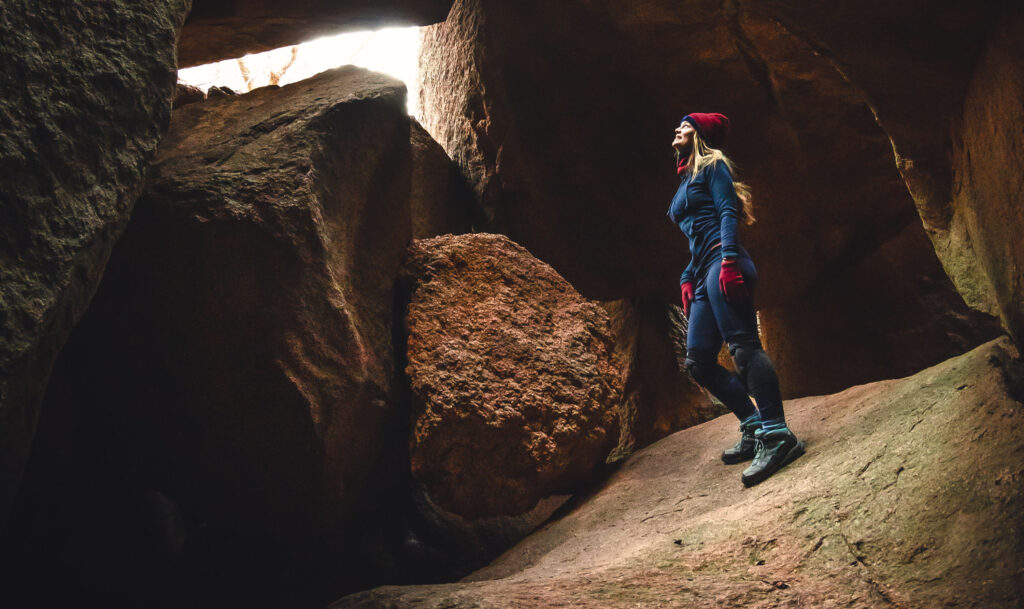 Best affordable hiking boots for men and women
If you want to get into a pretentious discussion on social media, just ask a hiking group what the best boots are, ugh. Look, there are great brands out there like Merrell, Danner, Lowa, Vasque — the list goes on. But they also come with a hefty price tag.
We'll be the first to admit that we are not terribly fancy when it comes to hiking boots and believe that comfortable boots can be found without breaking the bank. These are our personal battle-worn boots that we've been very happy with. What's more, we don't mind giving these boots a beating, which is the way a good pair of hiking shoes should be. We're hiking, after all, not turning on the catwalk.
When we decided it was time for new trekking footwear, I went with the oddly-named "Clorts" waterproof "lady hiker shoes" (it's a Chinese brand if you hadn't guessed), while Andrew opted for a pair of Columbia Newton Ridge Plus II hiking boots. The Columbia Newton Ridge is consistently ranked among the best shoes for hiking, and they're a bargain at around $80.
Now don't go giving me a hard time about the Clorts — I know, I know. I was used to trail runners and was looking for an affordable and waterproof hiking shoe, and when I saw the cute colors Clorts offered I decided to give them a shot. And, you know what? These things feel great! Don't you love it when that happens?
Click/touch images to shop
Want to compare our choices for best hiking boots against others? Check out these saved searches for hiking boots for men and hiking boots for women on Amazon.
Best hiking pants and leggings
Leggings (especially the fleece-lined option in colder months) are often the top choice for not only women hikers, but lately men as well when out on the trail. I really like my RBX Active Fleece Lined Full Length Athletic Hiking Leggings for Women and have them in both navy and burgundy. Andrew feels more comfortable in Columbia Silver Ridge Cargo Men's Hiking Pants and likes the pockets for his various camera accessories.
Click/touch images to shop
Best hiking jackets
Hiking for any length of time often requires dressing in layers, so we often find that a lightweight jacket is about the heaviest piece of clothing we'll wear on the trail. We add layers underneath according to that day's low temperature and make sure we have enough room in our backpacks to stow our layers as the weather changes. Only if we know we're in for serious cold all day will we wear heavier winter coats.
I really like the Ollie Arnes thermal long hoodie zip up jacket Andrew bought for me before a recent trip, and he likes the CQR Men's Tactical Softshell Detachable Hoodie.
Click/touch images to shop
Best hiking hat and gloves
Andrew has a rule about hats and gloves for hiking — buy them cheap so you're not mad when you inevitably lose them. And lose them he does. The price is right in his wheelhouse with this DG Hill winter hat and gloves set.
My HINDAWI hat, scarf and gloves set is also very affordable, and I liked that the glove tips are touch-screen friendly.
Click/touch images to shop
Best hiking socks
There is no shame in giving socks to a hiker. In fact, since hikers are often on their feet for hours at a time, this just might be one of their favorite gifts. We love Yuedge as our selection for best hiking socks for the quirky designs and comfort.
Click/touch images to shop
Best day hiking backpacks
A good hiking backpack is a must for any outing, and I especially like my Zomake Ultra Lightweight Travel Backpack. It comes in a rainbow of snazzy colors, it's super affordable and it weighs next to nothing at half a pound. The product image you see on Amazon is slightly off — I'm sporting the actual Zomake backpack in the image below.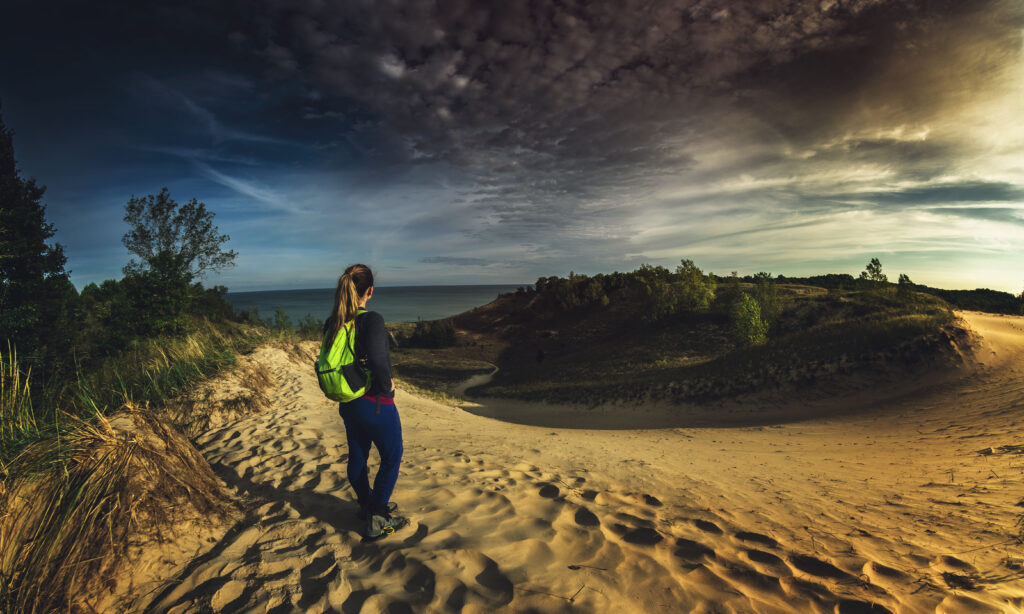 Since Andrew is hauling all of the camera gear plus his water, stowed hiking poles, etc., he needs something a bit more robust that has secure compartments for delicate lenses. He uses the Manfrotto Advanced Active Backpack as a carry-on for flights as well to safeguard his gear from punishing baggage handlers. The Manfrotto backpack has two slots on either side that are perfect for stowing hiking poles.
Click/touch images to shop
Looking for something else? Check out our saved search for best hiking backpacks.
Best trekking poles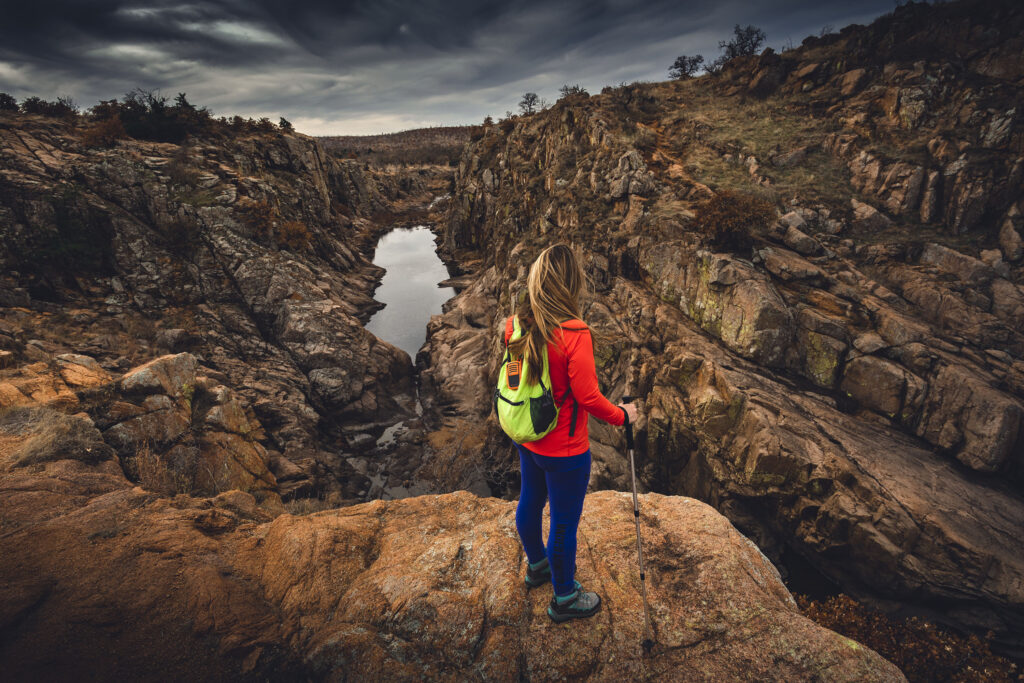 If you're like us, you might think of trekking poles as kind of a silly necessity. We get that, and it wasn't until we booked a trip to hike into the volcano at Haleakala National Park in Maui that we decided we might like a little extra support during the long climb out of the crater.
Again, weight is key here. We usually only pack two BAFX aluminum trekking poles — one for each of us. We normally don't use two trekking poles at once, but some people like the extra stability two hiking poles provides.
Don't tell Andrew, but for Christmas I'm getting him what I think is a super cool invention and kind of a no-brainer — it's a trekking pole that doubles as a camera monopod! The MBC Carbon Fiber Trekking Pole looks cool with its oak head that detaches to expose a universal camera mount thread. Unless your friend shoots in medium format, a camera will almost certainly attach to this pole.
UPDATE: Andrew loves his trekking pole monopod!
Click/touch images to shop
Best hiking gear for safety
Observing safe habits while out on the trail and having the right hiking equipment may not be the sexiest topic, but it is tantamount to having a positive experience. It doesn't take much for something to go wrong quickly. Thankfully, it also doesn't take much effort to be prepared for those times.
We carry a good compass — a must for the trail. Of course, it's also a must to know how to use a compass. We also pack emergency sleeping bags (this one comes with a survival whistle!), as well as a light first aid kit and a GPS off grid communicator in case we make a wrong turn.
Click/touch images to shop
The Power Talkie is an interesting newcomer to the outdoor GPS off grid communicator arena. We had a chance to test these devices during our trip to the Wichita Mountains Wildlife Refuge in Oklahoma, and we were pleasantly surprised.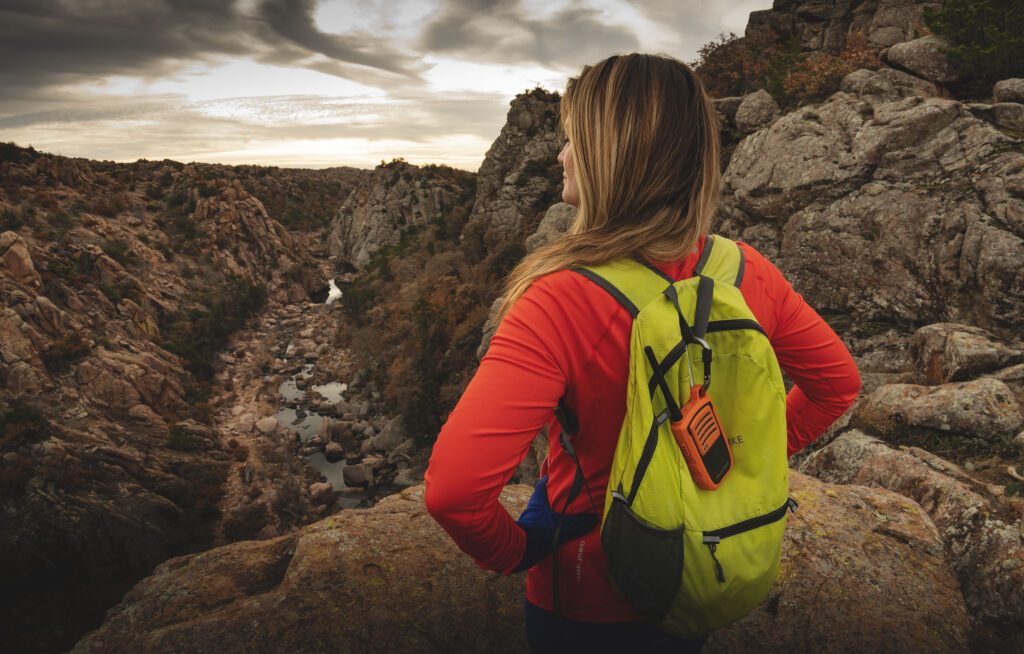 What separates the Power Talkie from other GPS devices is that it works with your smartphone via BlueTooth. What is so great and unique about this concept is that if/when Power Talkie pushes new updates to its app, you won't be stuck holding an obsolete device — you'll get the update for free.
Also, there's no monthly subscription, so giving it as a gift doesn't come with the awkwardness of expecting your friend or loved one to pay a recurring fee to use it. It's free to use, which means the recipient will likely be more prone to keep it in their backpack.
We used the Power Talkie not only as a safety backup on our adventures in Oklahoma, we were also able to use it to communicate via the messaging portion of the Power Talkie app when I decided to take a rest while Andrew hiked ahead to explore the farthest reaches of The Narrows canyon where no cell phone service existed.
Pro tip: The antennas are removable, so you can purchase longer after market antennas if you need to increase your range. The out-of-the-box range should be sufficient for most users, but you won't find this feature on other devices which gives it a huge leg up on the competition.
More for safety
As mentioned earlier, having a basic first aid kit is a good idea for any type of traveling. Keeping it lightweight on the hiking trail is especially key, but having at least one person as a designated kit carrier is a smart practice.
We also like having headlamps handy in case something goes wrong and we find ourselves unintentionally hiking in the dark again. Our Elmchee headlamps are rechargeable — a huge plus.
Click/touch images to shop
Best survival tools for hiking
There is safety, and then there's survival. There's not necessarily a huge difference between the two, but we felt it was important to shine a spotlight on these items in particular for being indispensable items for the trail.
A Portable Solar Wireless Phone Charger can charge up to three cell phones — one wirelessly and two through USB ports. The 25,000 mAh capacity allows for charging a phone up to ten times, and the dual charging ports can be used for powering up any USB-enabled device, not just phones. There are others on the market, but this one simply feels more durable, charges quickly, and we like its ability to easily clip to a backpack.
Handy for more than just "surviving?" You bet. A godsend in an emergency? You bet your life.
Click/touch images to shop
We also love the Grenade Survival Kit for being compact yet still packed with essentials. We hadn't even considered fishing line or fishing hooks for survival until we found this item. Smart!
The full list includes:
(9) ft of 550 lb. Paracord and 14 pieces of survival gear stuffed INSIDE.
(1) Knife Blade: This blade is sharp enough to cut open a fish, or skin a small animal.
(1) Fire Starter: So you can build a fire without the need for matches.
(2) Lengths of Fishing Line: This translucent line will help you rustle up a dinner in a flash.
(2) Fishing Hooks: Pre-attached to fishing line to make your catch as easy as possible.
(2) Fishing Weights: To make sure your fish can find the hook.
(2) Bobbers: To ensure your hook catches the fish.
(2) Swivels: To keep fish on the line.
(1) Piece of Tin Foil: Used to cook dinner or to lure fish to your hook, or even to be used as a signal mirror.
(1) Tinder: Helps you get a fire going in no time.
Click/touch images to shop
Water (and wine)
We've been guilty of carrying around plastic water bottles on our hikes, and it started to bother us. We are not CamelBak people simply because we've never really found a hybrid water carrier backpack that works for our specific needs. A great sustainable alternative are collapsible water bottles. Easy to pack in, easy to pack out, reusable, lightweight and affordable — the perfect combination!
If going more rustic is your hiking friend's style (or they like to transport other beverages in a fashionable manner), check out a leather Spanish bota bag.
Click/touch images to shop
We have to admit that CamelBak does have some nice-looking options for hydration. We've included it here because a family member of ours swears by his.
Lastly, a LifeStraw is a good safety device to have handy. BONUS: Read the hilarious Amazon customer questions and answers about filtering pee. We couldn't stop laughing.
Click/touch images to shop
Best fitness watches for hiking
There are so many fitness watches on the market, it's enough to make your head spin. Let's keep this simple: For simple fitness tracking you can't go wrong with a Fitbit Charge for when you're out on the trail. You're welcome. The Fitbit app comes with the ability to record hiking routes with your phone's built-in GPS, which can then be exported and converted. We occasionally use this method to build some of the interactive maps on hikingillustrated.com.
On the other hand, if you want the actual watch device to do the GPS work, then a solid option is the Garmin Forerunner. Garmin has been at this game for a while, and the latest Forerunner is far less clunky than earlier versions that took up your whole wrist.
Click/touch images to shop
Of course, if you really aim to impress with the ultimate hiking gift, Garmin does make the incredible Tactix Charlie. That's a little out of our price range, but it looks amazing.
Somewhere in between the cheap and the overly expensive is the fantastic-looking and well-priced Garmin Instinct (see the red watch pictured below). This watch is our absolute favorite when it comes to pre-programming trail routes on our devices.
Click/touch images to shop
Best camera gear for hiking
We're going to level with you: Cameras and camera accessories are expensive, and GOOD cameras and accessories are even more expensive. With that unfortunate fact out of the way, Andrew has been a professional photographer for 20 years, and he swears by Nikon.
His current rig is a Nikon D500, which also doubles as a video camera that captures incredible 4k video. In fact, he likes this camera so much, he has two of them at work.
Andrew's absolute favorite workhorse lens for hiking photography is the Nikon AF-S Fisheye NIKKOR 8-15mm f/3.5-4.5E ED. Don't let the "Fisheye" part fool you too much. It's an ultra-wide zoom that also happens to zoom out VERY wide. It's his opinion that hikers are often shooting wide landscapes as opposed to tighter compositions. He carries other lenses, but many of the hiking trail report photos on this website are shot with the 8-15mm lens, including the image at the top of this post of me at The Narrows in the Wichita Mountains Wildlife Refuge.
If you're planning on buying this camera or lens for someone, you must love them very, very much. 🙂
Click/touch images to shop
If shooting video with a phone is more your friend's preferred method of capturing memories, give them a way to easily stabilize their footage with the Hohem 3-Axis Gimbal Stabilizer.
As far as drones go, there are a lot of these on the market as well. The DJI Mavic Pro has quickly become the weapon of choice for those who want to capture amazing photos and videos from an aerial perspective.
Click/touch images to shop
Other nifty hiking doodads
Go ahead — be the weird person who gifts someone crampons and gaiters. Your hiker friend will adore you for it. We learned the hard way that just because it's summer in the mountains, it doesn't mean the snow has melted. Crampons are a necessity in these conditions. EnergeticSky Crampons work great.
We also learned from hiking Indiana Dunes that gaiters aren't just great for snow, they also work incredibly well for keeping sand out of your boots. We each have a pair of the bargain-priced WINOMO hiking gaiters and found them super comfortable and very effective.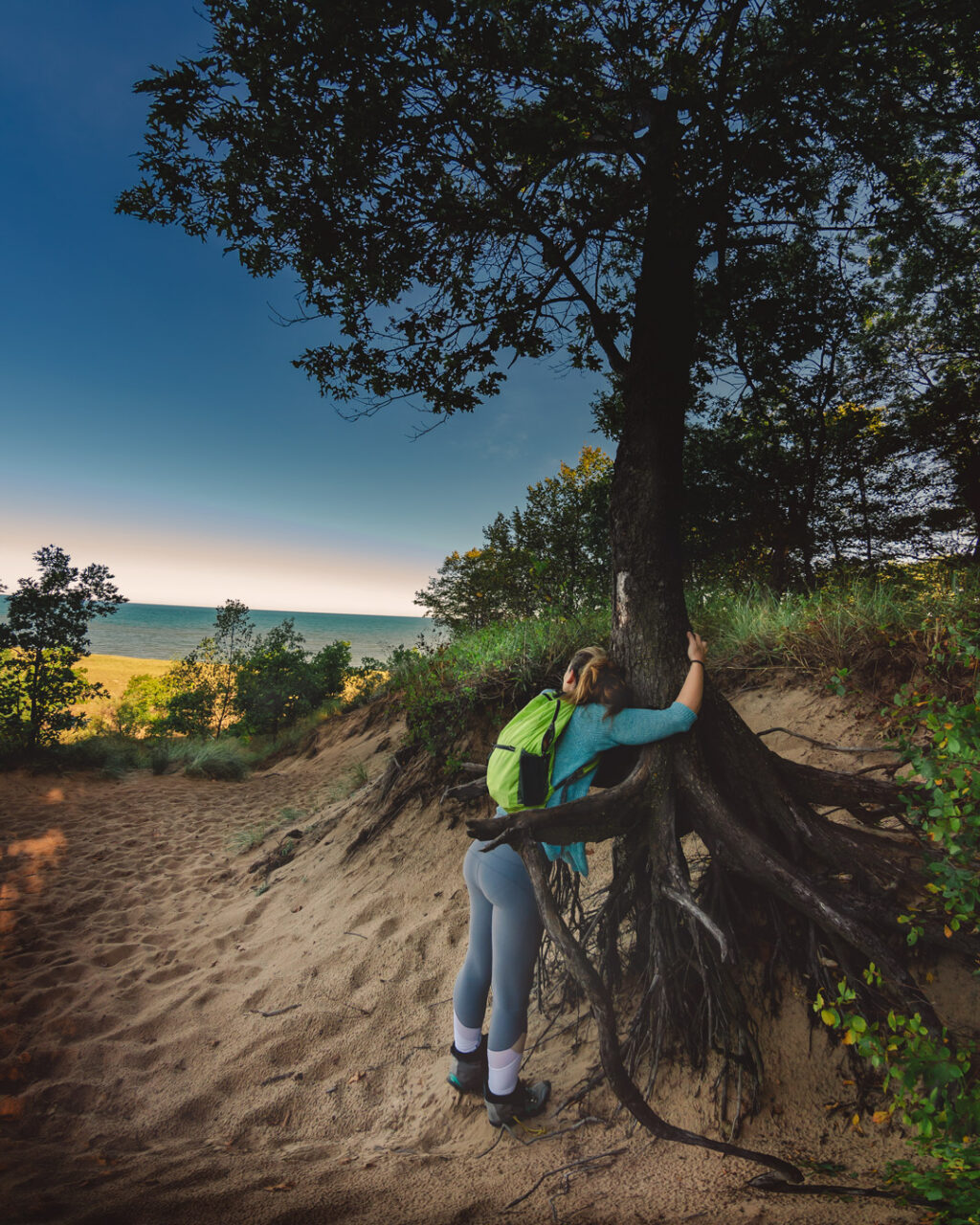 Click/touch images to shop
Or, how about something useful year-round like polarized wrap-around sunglasses (a must for hiking on windy days)? Or what about a backpacking hammock for your hiker to take a breather? Yeah, I'm starting to scrape the bottom of my barrel of ideas, but this is supposed to be a useful guide — not all encompassing, right? So give me a break, ha ha!
Click/touch images to shop
Best books for hiking and memories
Finally, surprise your hiking pal with a book of great hikes to try, or better yet, give them a way to preserve their memories from the trail with a hiking journal or an "Instagram printer" (which I have and totally love) and mini Polaroid album to store photo prints.
Click/touch images to shop
Best gift card for hikers when you're totally stumped
Still not sure what to buy your hiker friend who has everything? Hey, there's always the Jelly of the Month Club, but why not instead give them something they'd really love? The America the Beautiful National Parks Pass is the gift that keeps on giving the whole year 🙂
Click/touch images to shop
Before you chicken out, give it one last shot with our saved search on best hiking accessories.
We've also included an FAQ section below to help you brainstorm more ideas.
Gifts for Hikers FAQ
What should I buy for a hiker?
If you're in a hurry and unsure of clothing or shoe size, by far one of the most popular gifts you can give a hiker is an annual National Parks Pass. If they already have one, consider where they enjoy hiking. Is it usually hot, cold, or a mix where they hike? Not sure? Sweat-wicking fabric is good for all climates. If you're buying hiking shoes, err slightly on the larger side to account for thicker socks and swollen feet. You might also consider gifts relating to "The Ten Essentials" for hiking.
What are the Ten Essentials for hiking?
The Ten Essentials according to the book Mountaineering: The Freedom of the Hills (which also makes a great gift) are:
Navigation. Topographic map and assorted maps in waterproof container plus a magnetic compass, optional altimeter or GPS receiver.
Sun protection. Sunglasses, sunscreen for lips and skin, hat, clothing for sun protection.
Insulation. Jacket, hat, gloves, rain shell, and thermal underwear.
Illumination. Headlamp, flashlight, batteries. LED bulb is preferred to extend battery life.
First-aid supplies, plus insect repellent.
Fire. Butane lighter, matches in waterproof container.
Repair kit and tools. Knives, multi-tool, scissors, pliers, screwdriver, trowel/shovel, duct tape, cable ties.
Nutrition. Add extra food for one additional day (for emergency). Dry food is preferred to save weight and usually needs water.
Hydration. Add extra 2 liters of water for one additional day (for emergency).
Emergency shelter. Tarp, bivouac sack, space blanket, plastic tube tent, jumbo trash bags, insulated sleeping pad.
What are the best gifts for beginning hikers?
Every hiker and backpacker needs to begin with a sturdy but lightweight backpack. Hiking shoes come in all shapes and sizes, and some are certainly more comfortable than others. When shopping for a first pair of hiking boots, don't break the bank but also don't buy the cheapest boots. Make sure they are waterproof. All fabric should wick away moisture, so go for synthetic materials when it comes to clothing and socks.
Pin this post!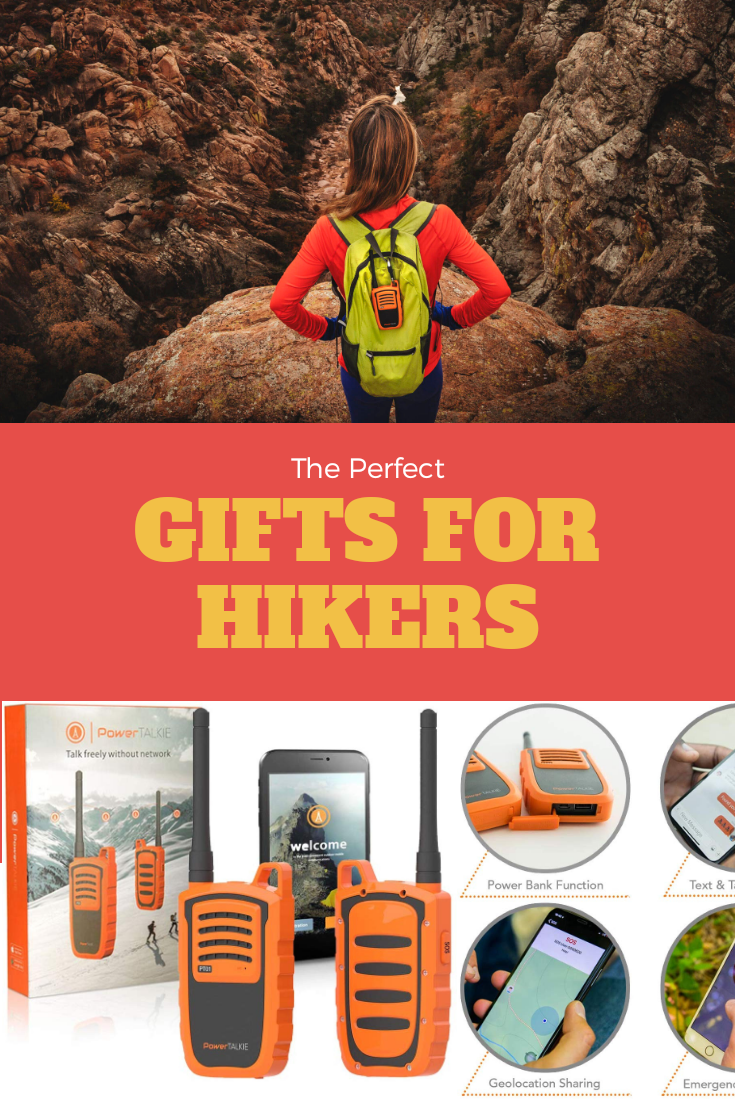 Related Posts