I'd seen so many hiking blog posts, comments and videos surrounding the difficulty of the Valley of Boulders portion of Charon's Garden Trail, by the time we'd reached the Wichita Mountains Wildlife Refuge in Oklahoma I'd almost completely psyched myself out.
On the other hand, I had also seen photos of children navigating parts of the boulder field with ease, so how hard could it be? We'd know for sure if we could cross it the moment the "Apple and Pear" rock formation on the west side of Elk Mountain came into view. I'd given us a 50/50 chance of making it through.
Charon's Garden Trail Interactive Hiking Map
You can use this interactive map at the trail! Here's how
Download map GPX file
HikingIllustrated.com user rating
Directions
Charon's Garden trailhead. From the Wichita Mountains Visitor Center, head west on OK-115 N/OK-49 E. At the T junction, go north (right) on OK-115 N/OK-49 E and continue for 6.3 miles. Turn left on Sunset Lake Road towards the Sunset Picnic Area. Proceed .4 miles to a parking lot. Charon's Garden trailhead is at the southwest corner of the lot near the restrooms.
---
Hiking Time
Approximately 6 hours
Dogs
Allowed on 10-foot leash
Exposure to sun
Partial tree cover
Flora/fauna
Rattlesnakes, copperheads, bison, longhorn cattle, ticks, poison ivy, cacti
Kid friendly
Mostly, but boulder field possibly too difficult
---
Hiking Charon's Garden Trail
It is a short hike to the Valley of Boulders from Sunset picnic area — about eight tenths of a mile. What had concerned me most was the Strava heatmap of Charon's Garden Trail.
For the most part it is a solid red and well-defined GPS heat signature from hikers who had previously forged through this wilderness.
However, the heatmap falls apart between the northern and southern entrances to the Valley of Boulders — a tell-tale sign that far fewer hikers make it past this granite graveyard than those who attempt to traverse it.
Obviously, I wasn't the first person to be intimidated by this trek.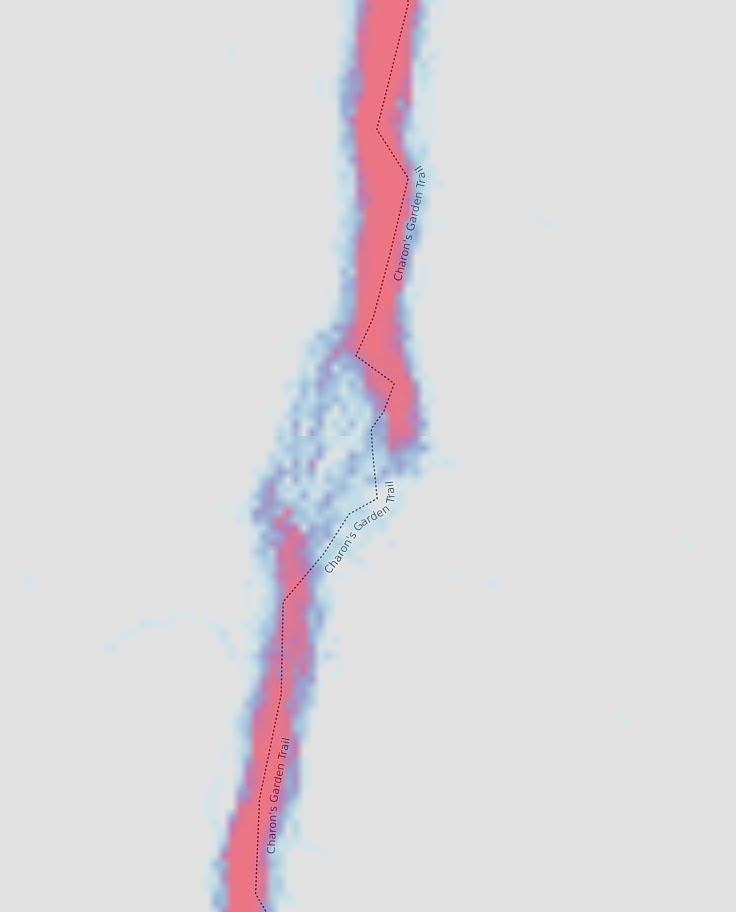 In Greek mythology, the newly-deceased were ferried across the river Styx by underworld dweller Charon (pronounced Karen). Passage was paid for by coins stuck in the mouths of the dead. Whoever named this region found it so challenging and rugged they believed it to be a suitable substitute for Hades itself.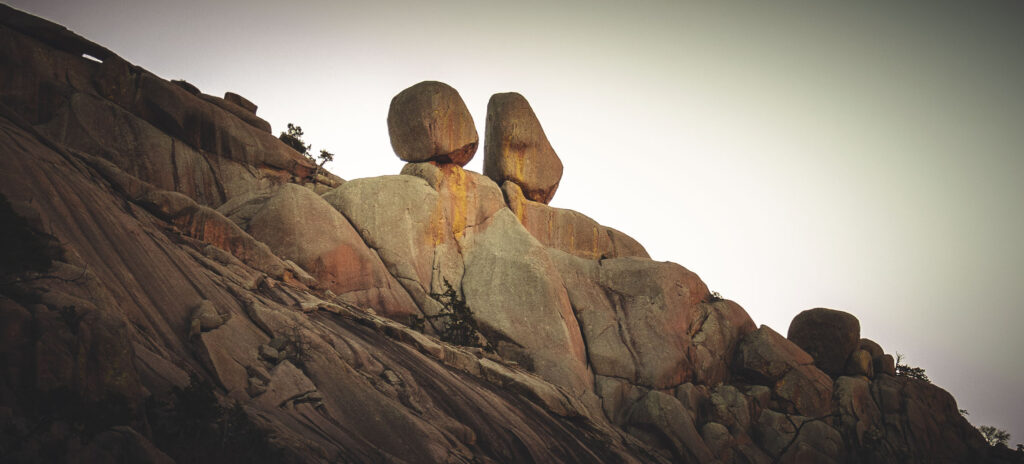 Our descent into the underworld
Hitting the Charon's Garden Trail early in the morning, we soon saw this beast for ourselves. When the trail opened up from a wooded canopy to a sprawling boulder field with rocks the size of school buses and small houses, we decided to sit at the edge for a few minutes and ponder our next moves.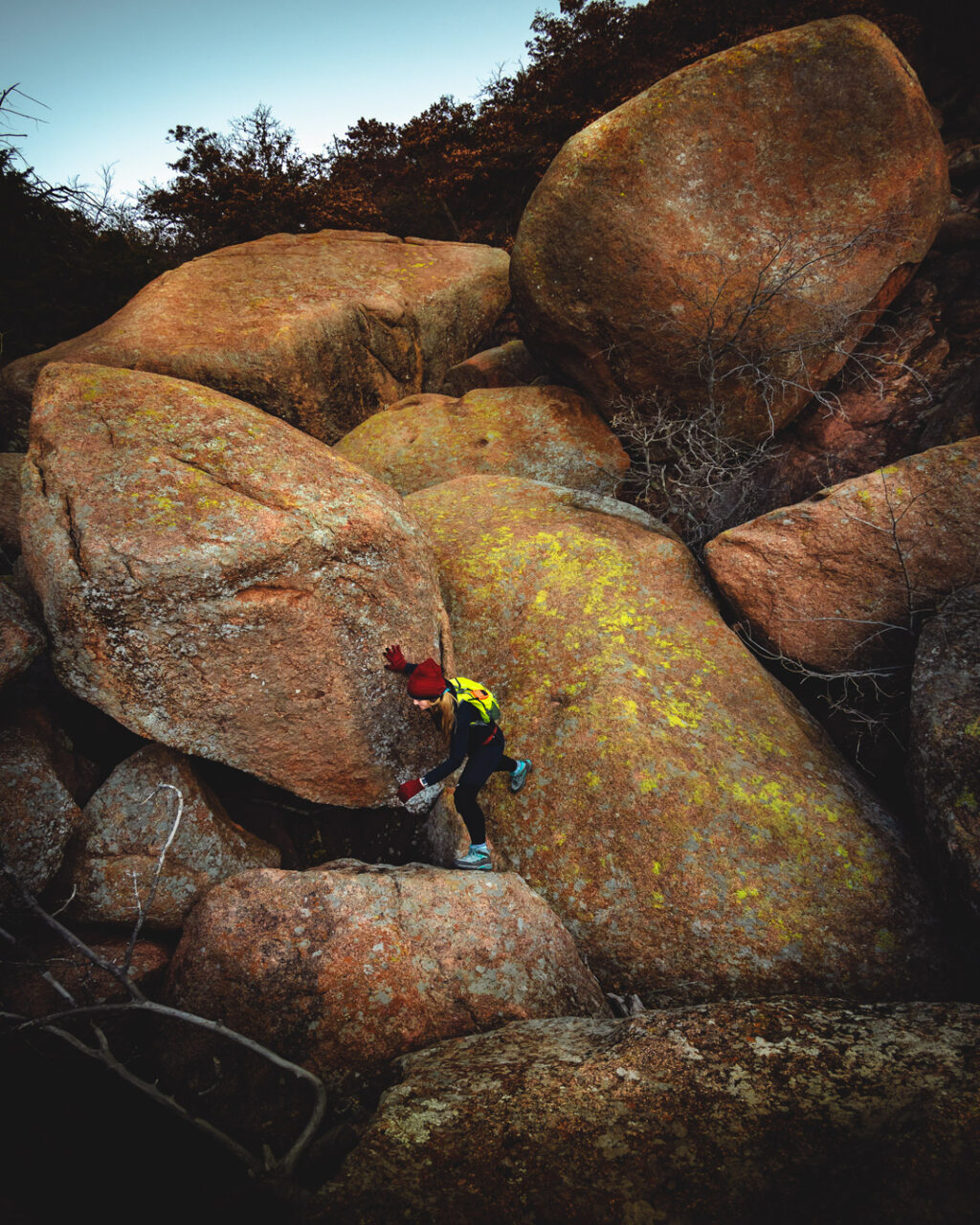 Facing south, it appeared the easiest route would be to begin on the eastern side of the entrance to the boulder field and work our ways diagonally to the western side. Although I don't believe there is one "official" way through the field, we'd read that the western side is easier. We soon discovered why — there is a trail along much of the western side of Valley of Boulders.
That would have been helpful to know ahead of time, but luckily we found it by accident.
There were definitely some sizable steps to navigate in this early portion of the canyon, but the rough granite made for excellent traction under our hiking boots. Once we had cleared this early rugged section and found where the trail picked up, we laughed at ourselves for having been so worried.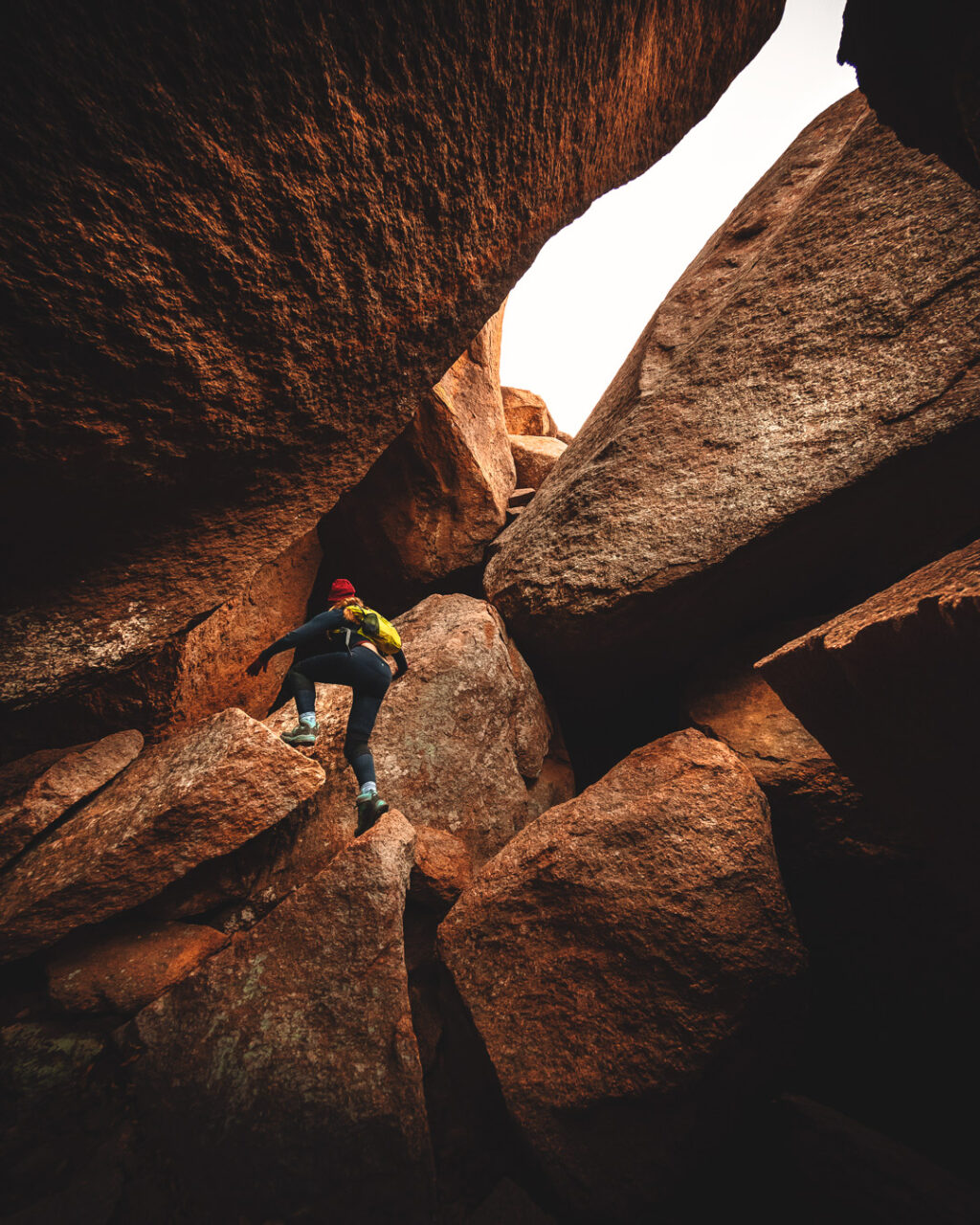 That said, some choose to take the eastern route through this area, which to us looked far more challenging. That's what great about this hike — it's easily customized to one's level of ability.
Confident that the worst (or maybe the best depending on your opinion of boulder fields) was behind us, we began to explore offshoots of the trail that led to a maze-like network of "rock rooms" — some of which took us under the range to the eastern side of the canyon.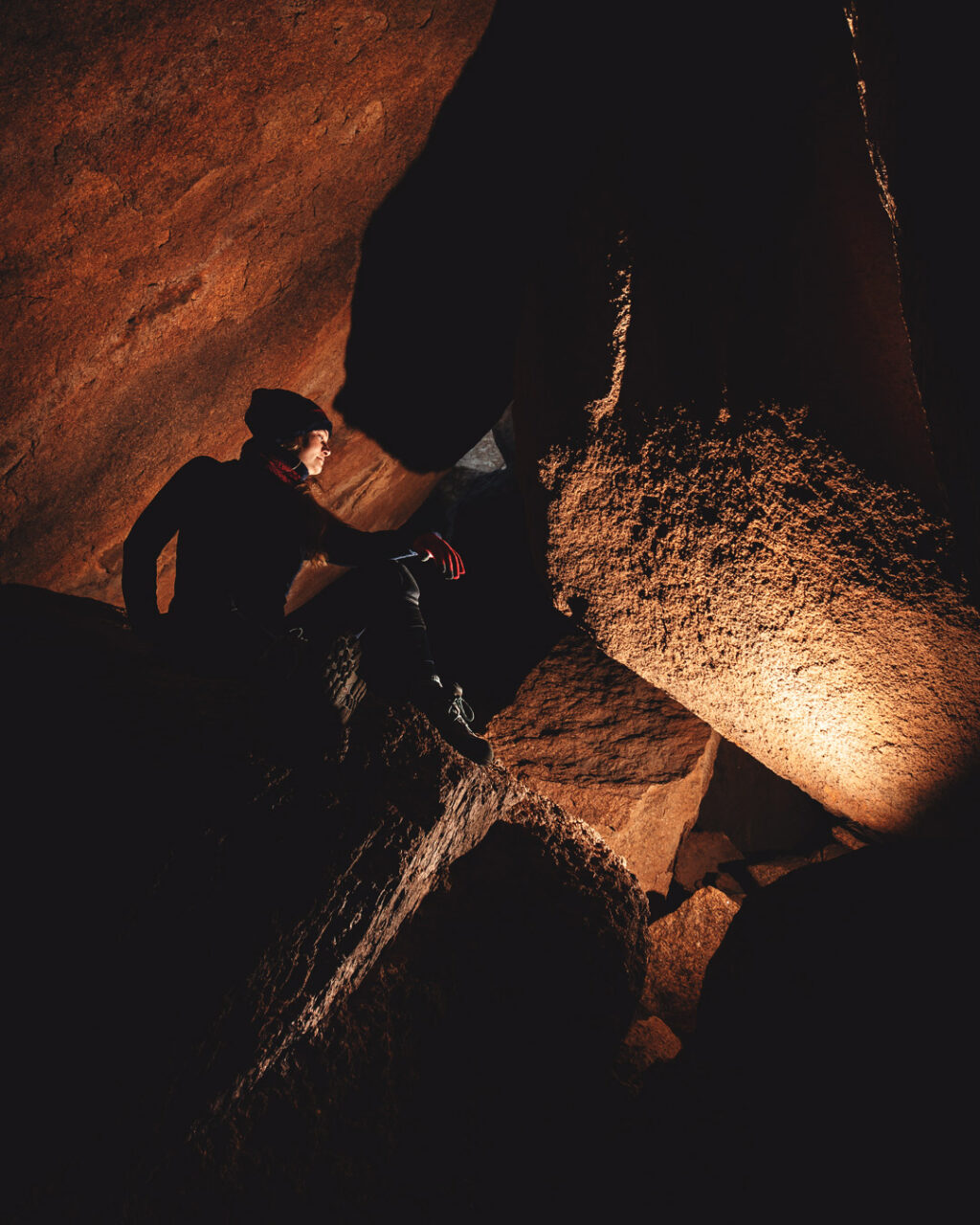 It is here under this jumble of granite giants that a new world opens, one that is magical and mysterious.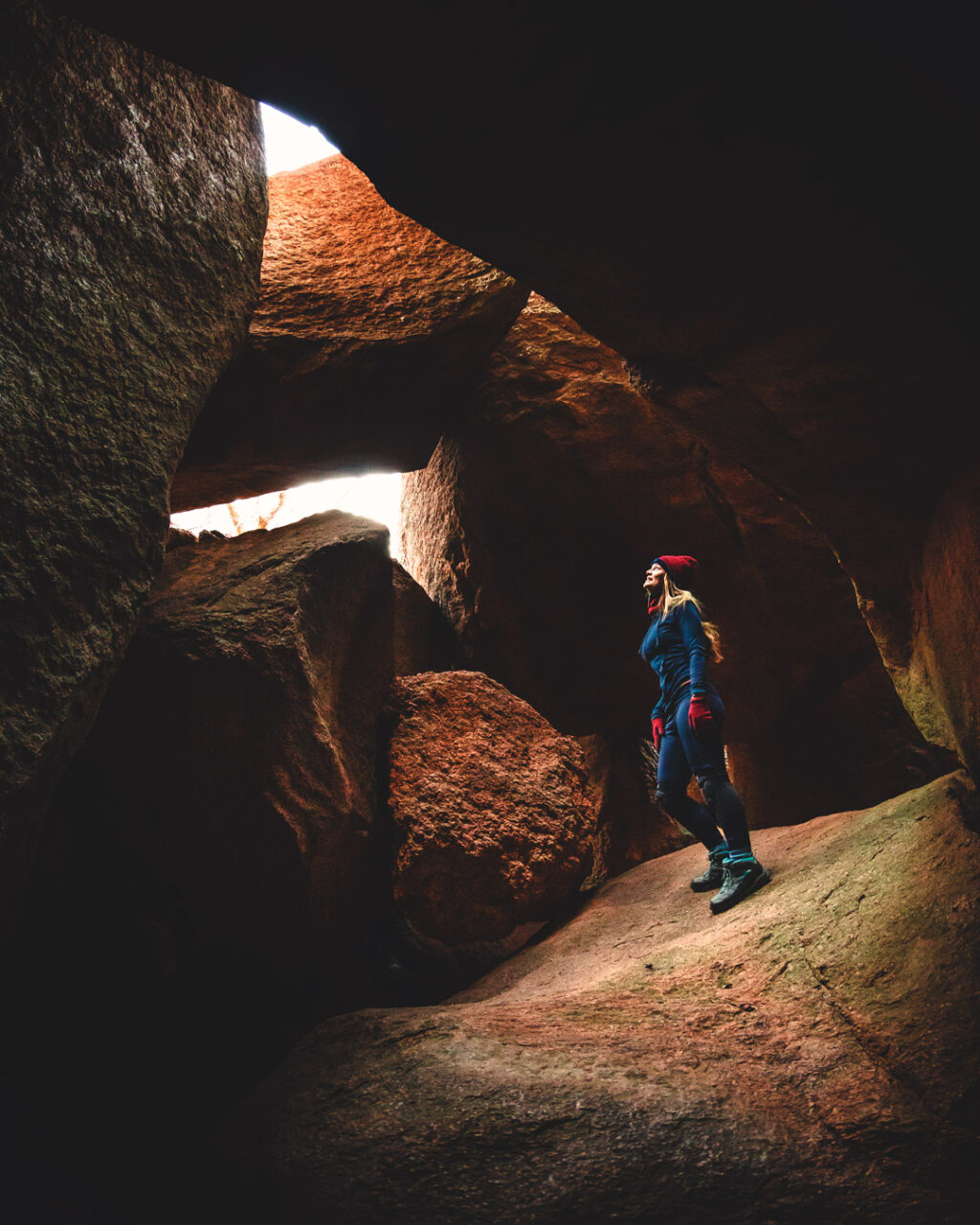 You'll want to give yourself plenty of time to explore this place as you will not be returning from whence you came (if you follow our route detailed in the map above). Charon's ferry only takes souls one way, after all.
Next stop: Post Oak Falls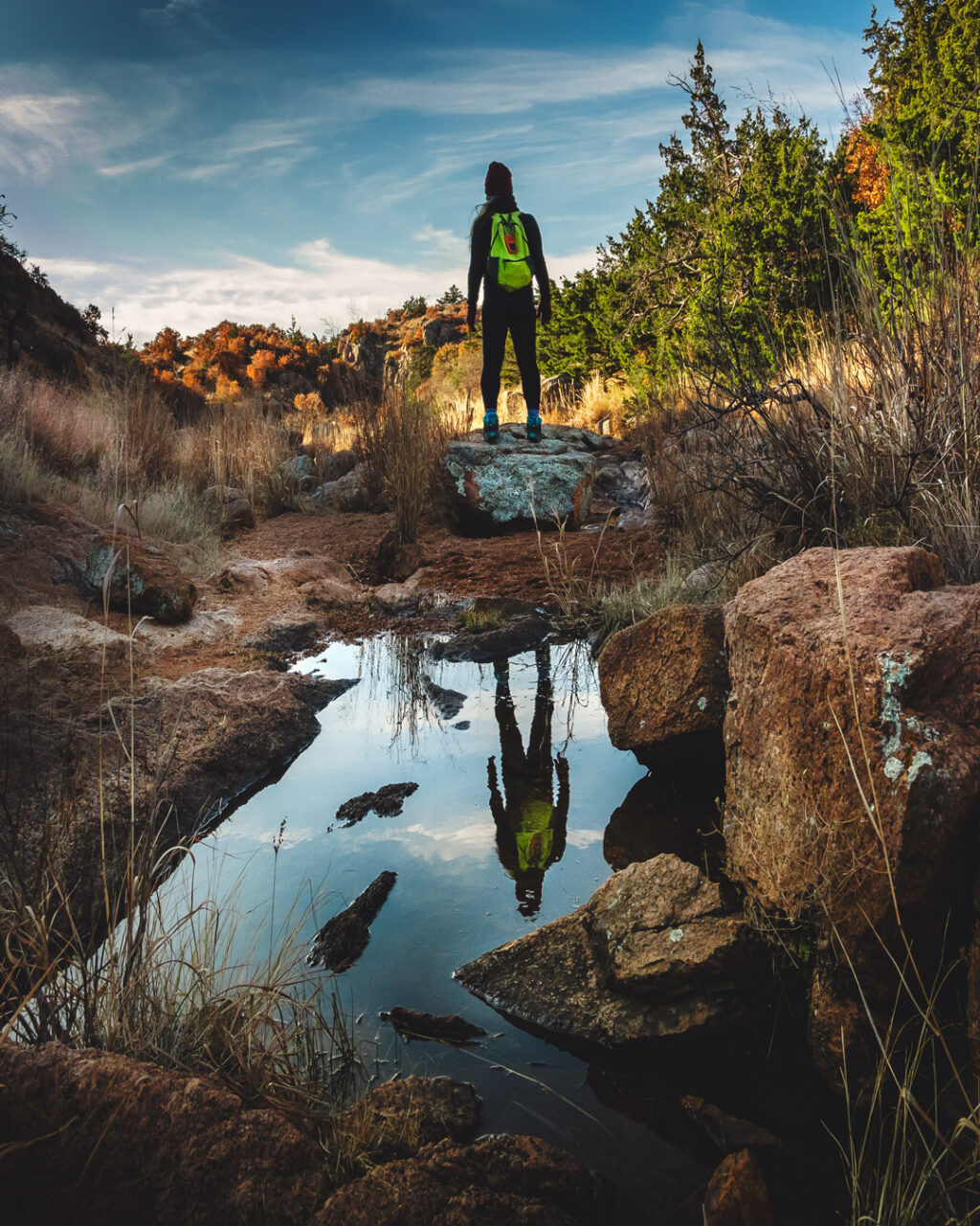 Hiking south from the Valley of Boulders, head to Post Oak Falls — the only waterfall of any significant height in the Wichita Mountains Wildlife Refuge. Depending on the time of year, the waterfall may be only a trickle. Nevertheless, the interesting rock formations surrounding this feature make the short detour worth the effort.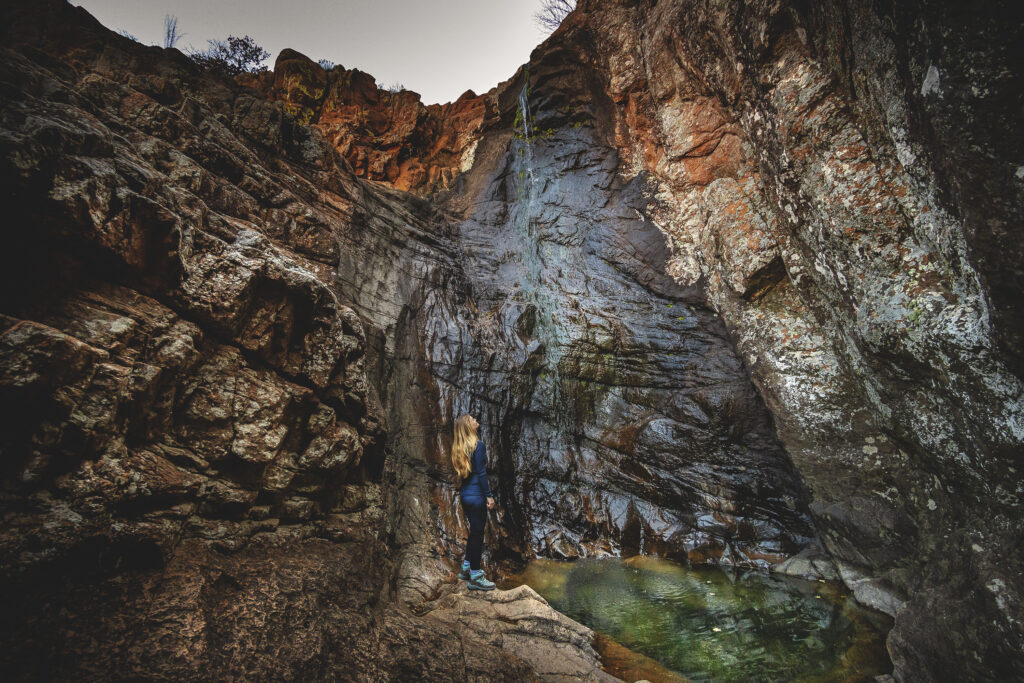 From here visitors can opt to turn back, however we suggest making the roughly three quarters of a mile hike to the southern trailhead of Charon's Garden Trail for gorgeous views of Post Oak Lake and Treasure Lake.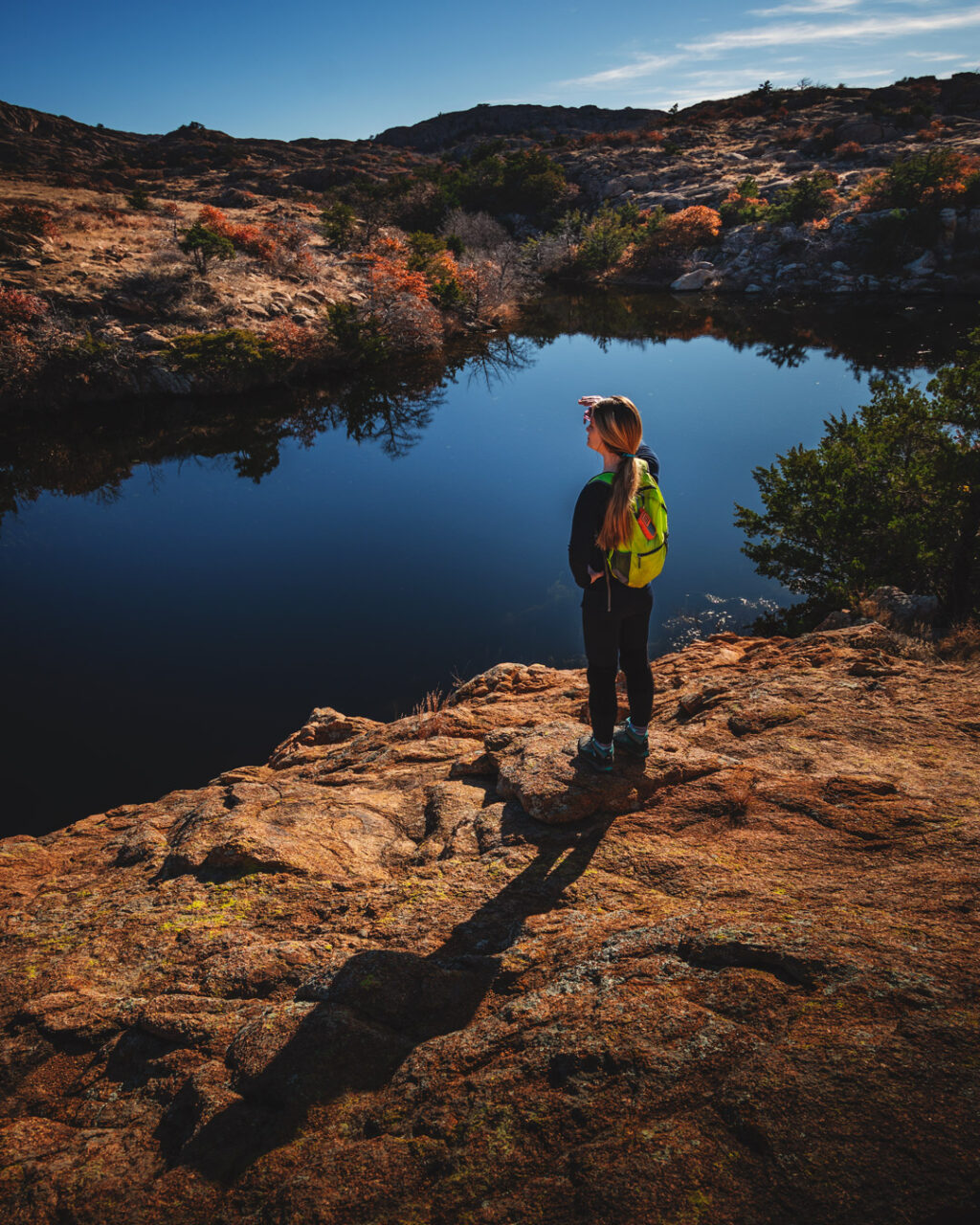 The "easy button" route
Turning northward, to avoid taking the "hard way" back through the Valley of Boulders, veer left at the mountain and follow Post Oak Creek for three quarters of a mile to Crab Eyes Trail. This trail is less defined in sections, but because you are in a creek valley the path forward is fairly obvious.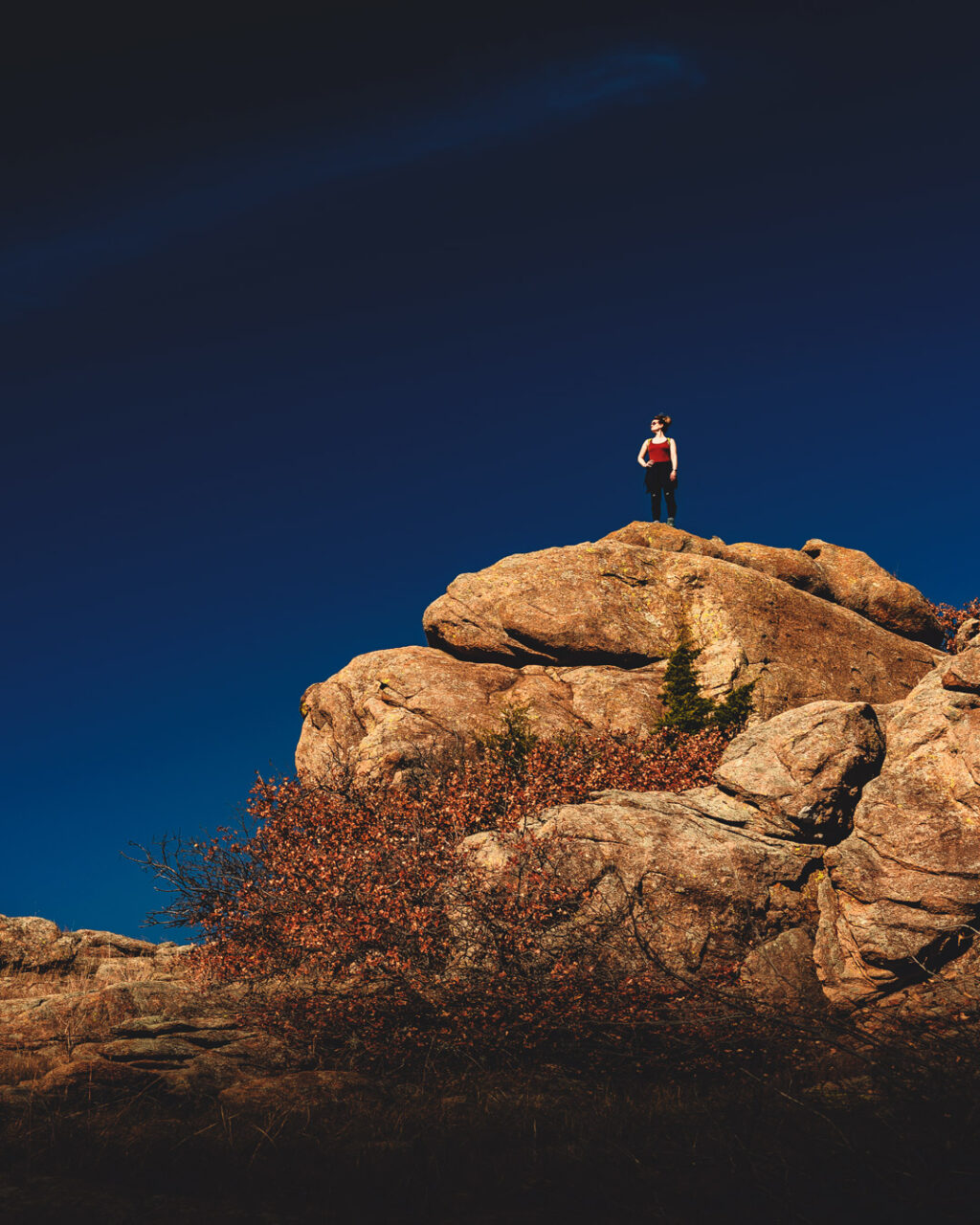 Just before this hike connects with Crab Eyes Trail, an easily-scaled rocky outcrop is a perfect perch for 360-degree views of the Charon's Garden Wilderness. From here the rock formation Crab Eyes is visible as well.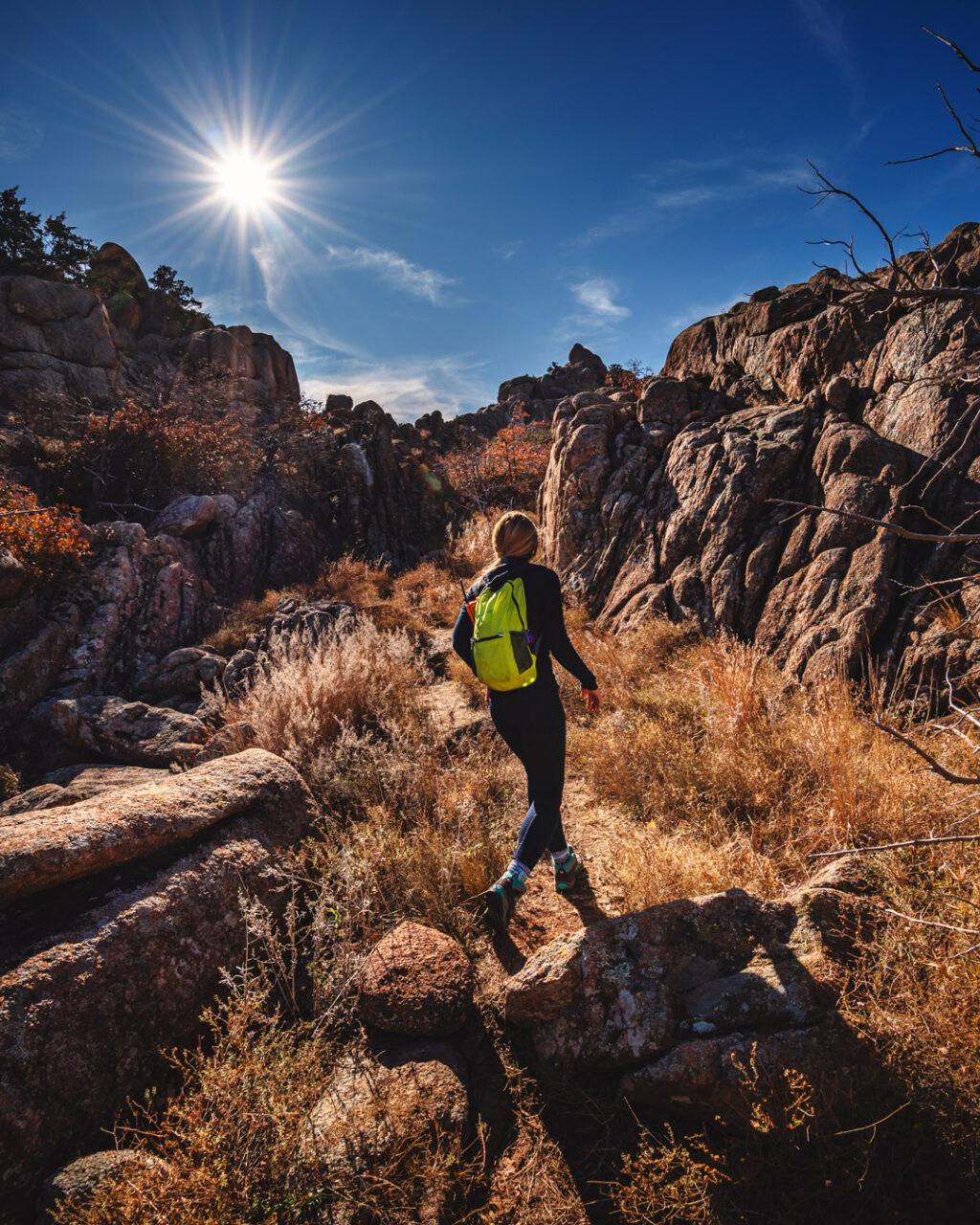 Crab Eyes
It is roughly another mile and an elevation gain of about 200 feet to Crab Eyes from the Post Oak Creek trail junction. The trail is a fairly easy hike until its final rocky ascent where most of the elevation is climbed.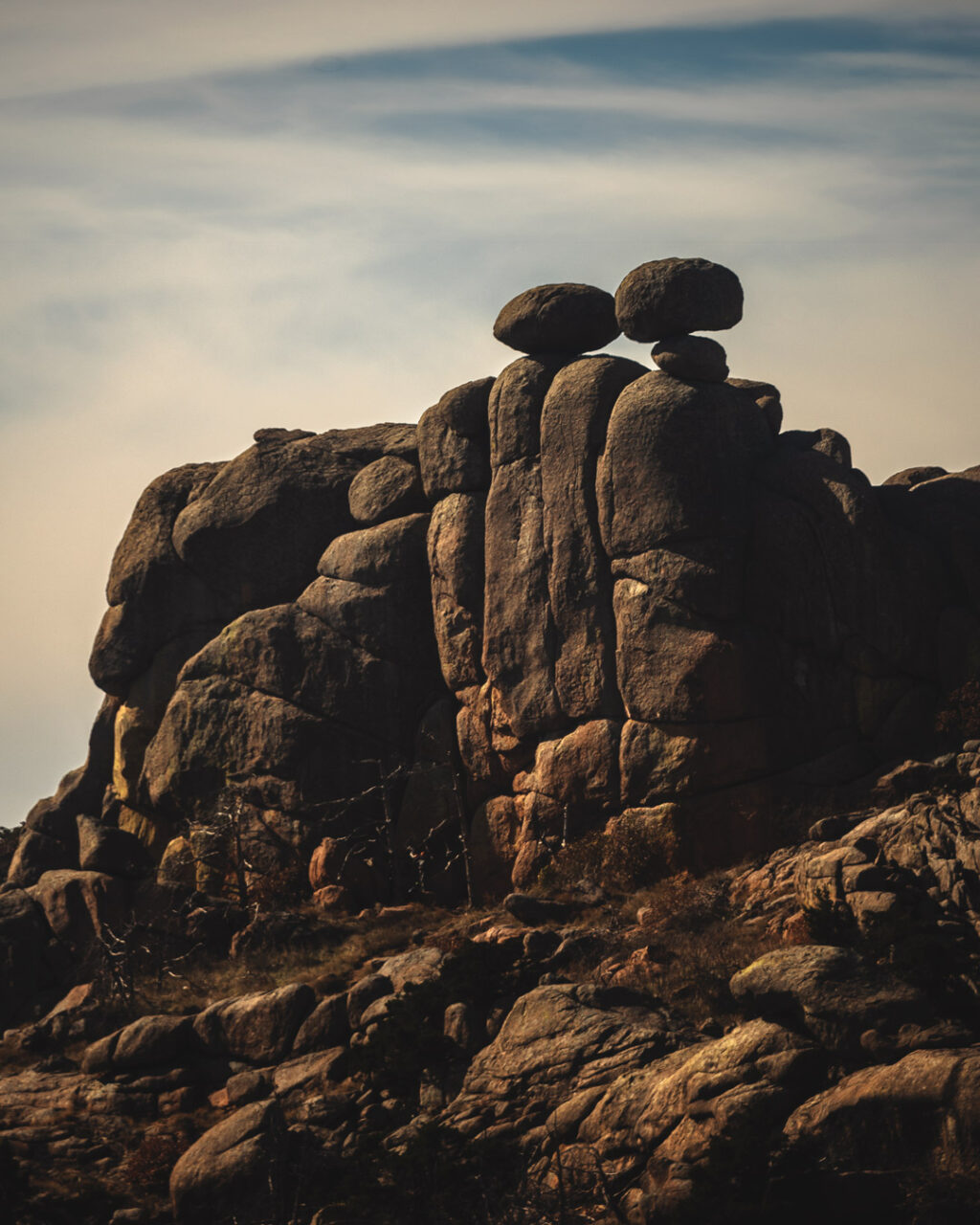 Although a series of "ramps" on the northeast side can be scaled to mount the absolute summit of Crab Eyes, this effort is not for the timid. We hiked about halfway up these ramps, but when we saw the final perilous scramble we knew it was our cue to turn back. We'll leave that crazy activity to the true climbers.
The mile and a half return hike to Sunset picnic area was easy and felt incredibly rewarding after our adventure. Having hit the trail at about 7:30 am, we were tired and ravenous by the time we reached our truck at 1:30 pm.
We ate lunch at the nearby Meers Store and Restaurant where we recounted our amazing morning between bites of a massive "Seismic" burger and delectable home-made peach cobbler.

Charon's Garden Trail FAQ
Are dogs allowed at Charon's Garden Trail?
Dogs are allowed here on a 10-foot leash, but it is probably not a good idea to take dogs through the Valley of Boulders portion of the trail unless your pooch is part ape. If you're taking your four-legged friend, starting from the southern trailhead might offer better opportunities.
Are there bathrooms?
Yes, there are permanent bathrooms at the north trailhead at Sunset Picnic Area.
What is the cost?
Entry into the Wichita Mountains Wildlife Refuge is free.
Should I take the northern or southern trailhead?
Although there is a southern trailhead, we believe it is easier to navigate the Valley of Boulders by entering from the north.
How long is the trail?
It is roughly 2.1 miles from the northern trailhead to the southern trailhead. If you follow the same out-and-back route as us (see our interactive map) and include Crab Eyes, the total distance is roughly 6.5 miles.
Are there snakes?
Yes. Although unlikely, encountering a rattlesnake is a possibility.
Do you need knee pads for the Valley of Boulders section of Charon's Garden?
We wore knee pads for our scramble across the Valley of Boulders. We may not have needed them for much of this area, but it gave us more confidence to explore.
Do you need headlamps or flashlights to explore the rock rooms?
We packed headlamps in anticipation of dark rock rooms, but we were surprised to find plenty of natural light under the boulder field. We might have used them had we explored deeper into the rock rooms. We like to keep them handy anyway for safety, but you'll probably be fine without.
How should I dress?
Be prepared by dressing in layers and packing plenty of water. Oklahoma weather is often unpredictable.
Use this map on your hike!
Load this web page on your phone while you still have service.
Then, tap the arrow icon on the map to show your current location and follow along.
Tap the layers icon to switch between topo, satellite and other helpful map layers.
To save battery life, put your device in airplane mode. GPS still works even without service!
Happy hiking!
Shop our gear
Want to use our favorite field-tested clothing and equipment? Click on the images below to visit our Amazon Associates store!
KAT (That's me)
ANDREW (Dude behind the camera. Also my husband.)
PLEASE HELP US OUT!
If you enjoyed this free article on hikingillustrated.com, please consider
purchasing anything on Amazon via our affiliate link at no extra cost to you.
Like us on Facebook!
Pin this post!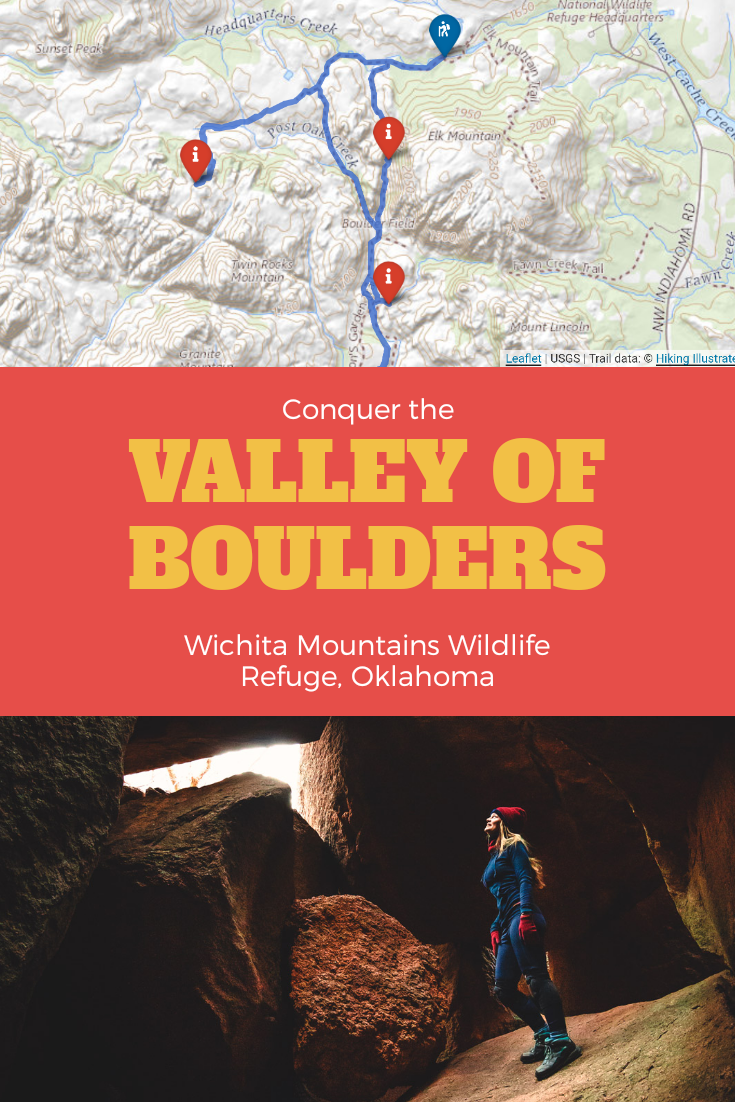 Related Posts