The Narrows is the true show-stopper of the Wichita Mountains Wildlife Refuge in Oklahoma, and you'd be remiss if you didn't include this incredible feature in your to-do list during your visit to Southwest Oklahoma.
RELATED: Hike Kite Trail to Forty Foot Hole
The Narrows Trail Interactive Hiking Map
You can use this interactive map at the trail! Here's how
Download map GPX file
The Narrows trail map GPX file
HikingIllustrated.com user rating
Directions
The Narrows trailhead. From the Wichita Mountains Visitor Center, head west on OK-115 N/OK-49 E. At the T junction, head north on OK-115 N/OK-49 E for 4 miles. Turn left on Boulder Turnoff Road towards Lost Lake. Proceed 2 miles and turn left into the Boulder Cabin parking lot. The Narrows trail begins at the southeast corner of the grounds where the wooded area begins.
---
Hiking Time
Approximately 2 hours
Dogs
Allowed on 10-foot leash
Exposure to sun
Partial tree cover
Flora/fauna
Rattlesnakes, copperheads, bison, longhorn cattle, ticks, poison ivy, cacti
Kid friendly
Yes, but use caution
---
Hiking The Narrows Trail
The Narrows Trail may be short, but the distance can be misleading. There are so many fantastic views to take in here, you are likely to hike at a snail's pace simply to take them all in.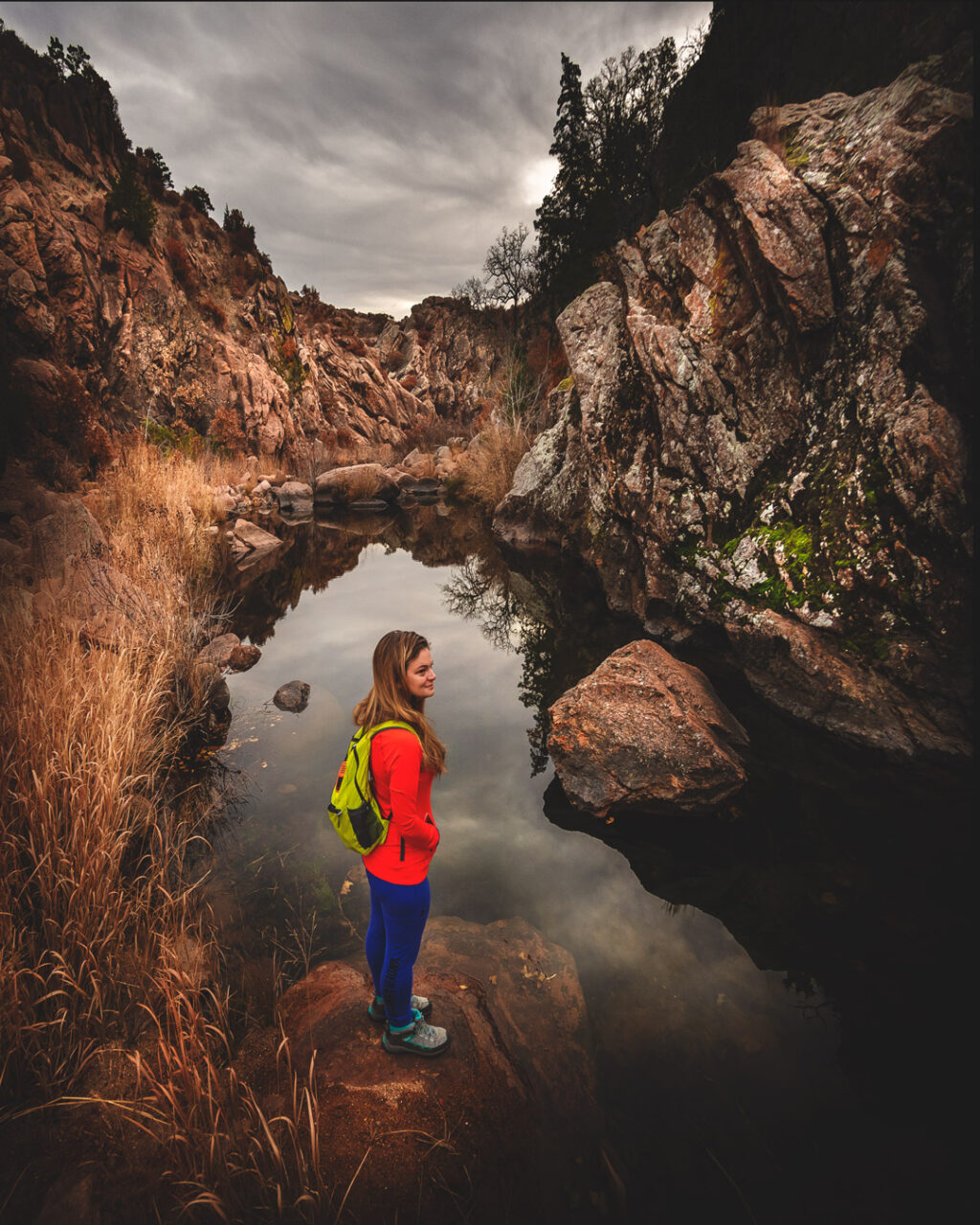 Edward Charles Ellenbrook sums it up best in his book Outdoor and Trail Guide to the Wichita Mountains:
"The Narrows can be described as if the hand of God sliced into solid granite masses to form a fracture in the earth, where jagged crags of granite jut out from lofty acclivities, with a stream of water coursing over creek bedrock, and where the scenery is most picturesque, grand and imposing. This is one of the most spectacular and beautiful spots in the Wichitas."
Simply put, if you're visiting the Wichita Mountains Wildlife Refuge, do not miss hiking The Narrows.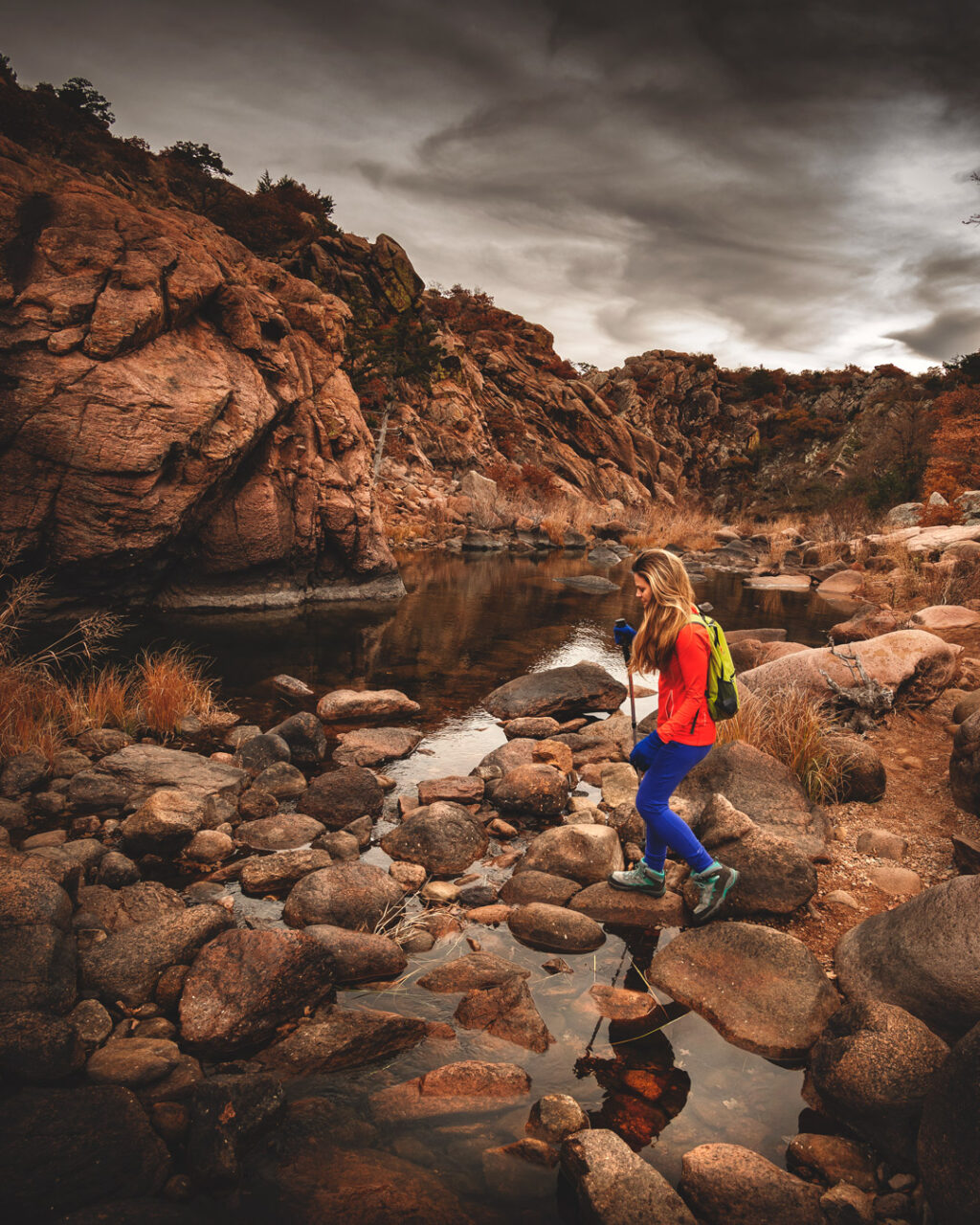 It is a quick quarter mile hike from the trailhead down to West Cache Creek, which you will need to cross to begin the ascent up the side of Eagle Mountain.
This climb, however, is very manageable, and at less than half a mile you will reach the first lookout point — a circular path with a few nice perches overlooking a picturesque bend in the creek and the interesting erosion pattern on the western face of Rattlesnake Island (which isn't an actual island, but how cool is that name?).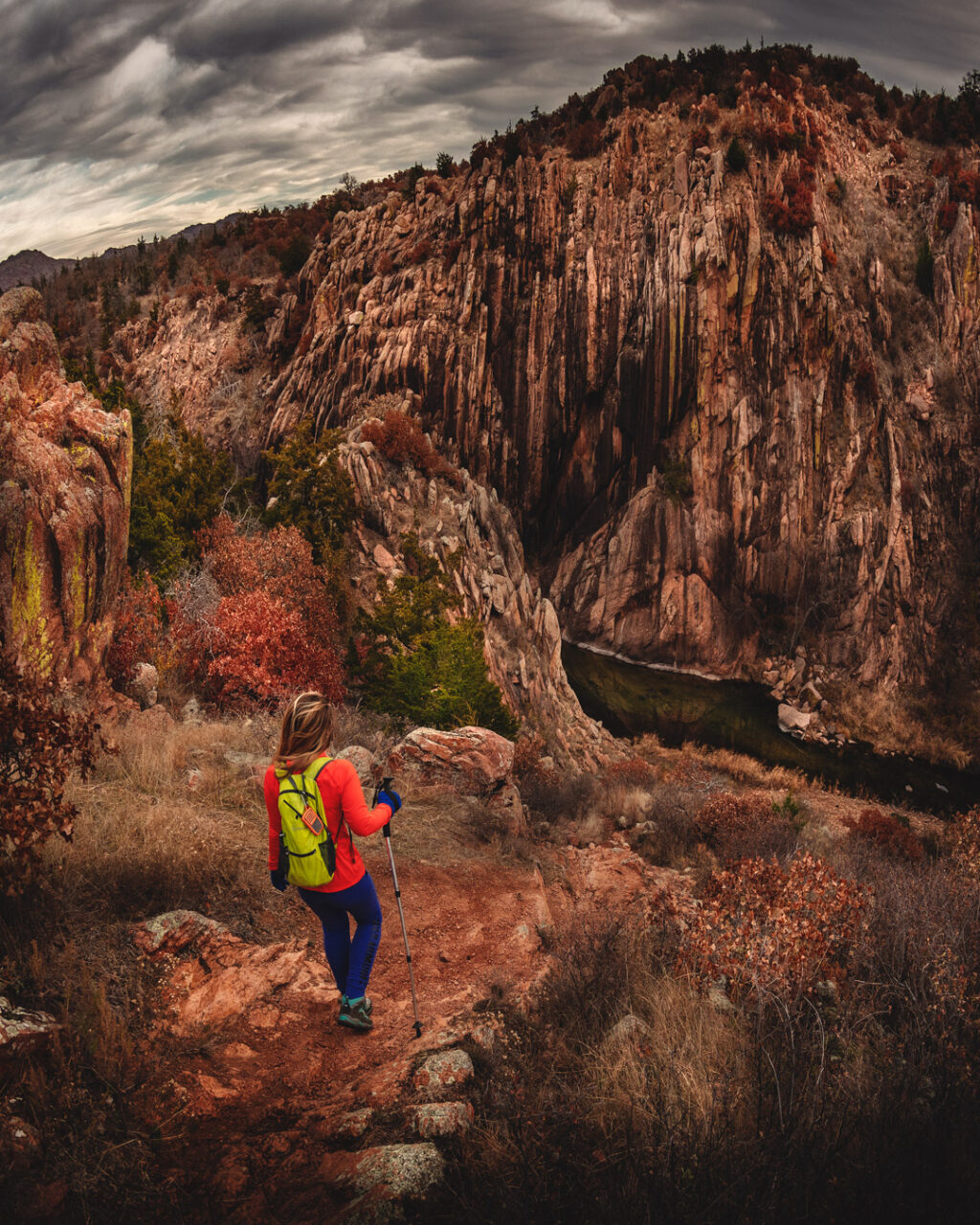 From this lookout are a couple of steep footpaths — or possibly wildlife trails — down to the creek. These are not part of the "official" trail, but the park allows hiking anywhere in the public use area provided you "tread lightly," so we didn't pass up the opportunity to explore.
The views from below are worth the inevitable climb back up to the top.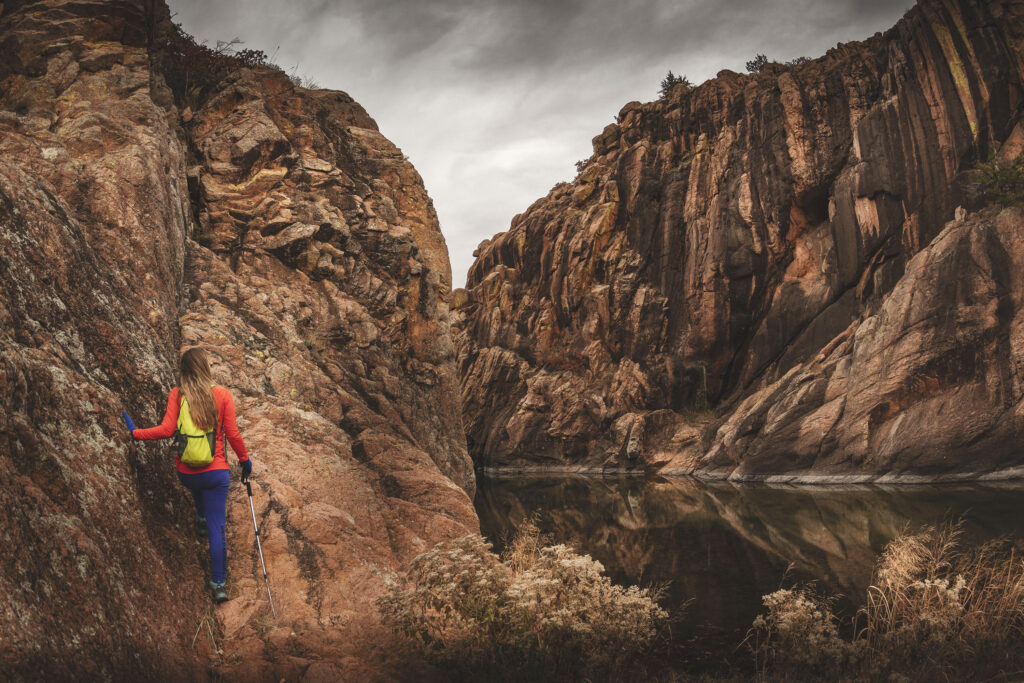 Once back on the Narrows Trail, heading southeast you will soon encounter a fork in the trail. The trail to the right leads to a scenic overlook (see the red marker on the interactive map), while the trail to left heads back down into the canyon.
Both options require a bit of effort, but we did not find these routes to be too strenuous.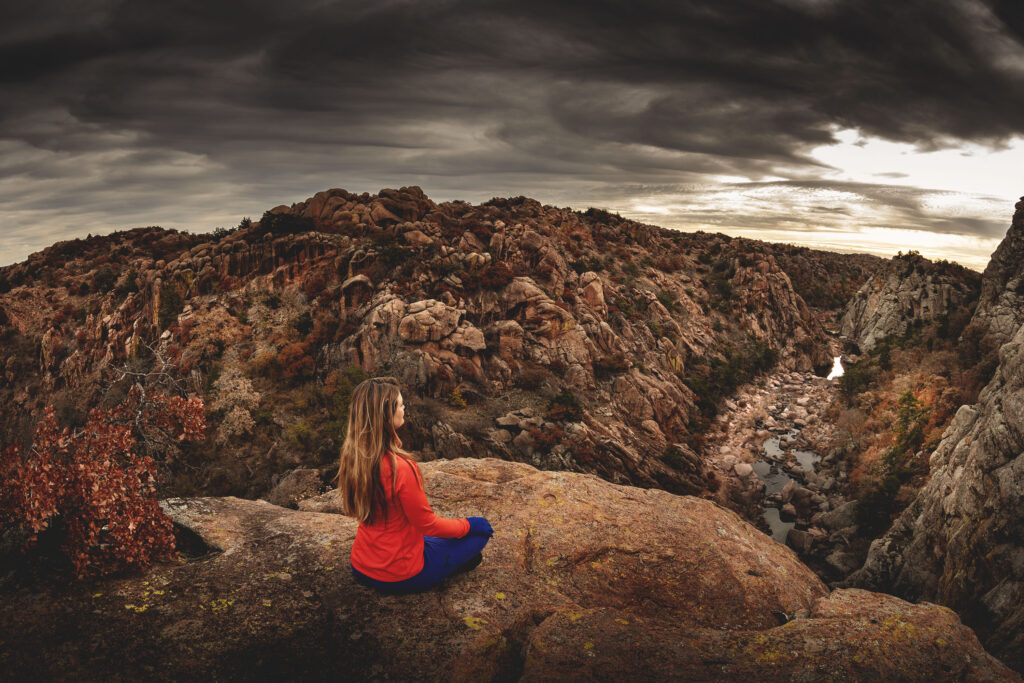 At its end, the Narrows Trail becomes not so much a trail but rather a rocky creek bed that is occasionally challenging to navigate.
The level of the creek will determine how far you can actually hike downstream, but a large pool flanked by cliff edges on both sides will ultimately force you to turn back.
If, however, you are able to somehow continue past this pool, continuing to follow the creek will lead you to Pennington Mine, which is only accessible otherwise from Burma Road.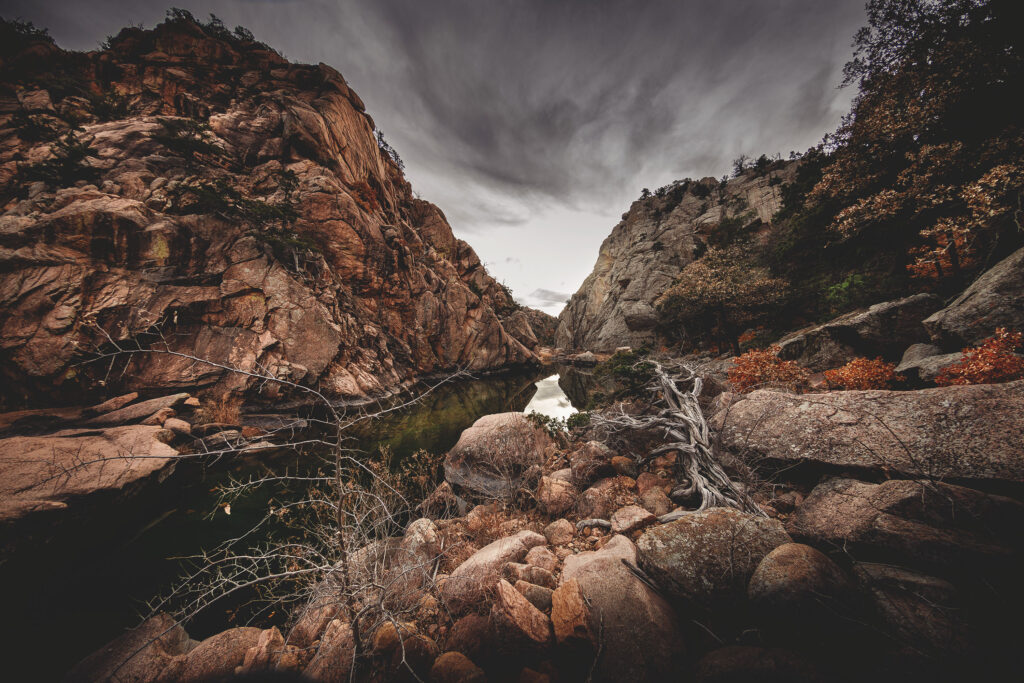 Part of what makes this trail so great is that it's such a hidden gem, you may very well find that you'll never see another soul in this canyon.
We hit the trail at dawn on a Tuesday, and although we spent upwards of three hours here we were completely alone. When we made it back to the parking lot, our truck was still the only one there.
Just the way we like it.
BONUS: You'd be crazy to be this close to Forty Foot Hole and not go see it. Check out Kite Trail to complete your awesome day in the Wichita Mountains Wildlife Refuge.
Use map for real-time navigation
Load this web page on your phone before heading to the trail. Once there, be sure to put your device in airplane mode in order to save battery life.
Simply tap the map marker icon on the map to show your current location and follow along.
Tap the layers icon to switch between topographic, satellite and other helpful map layers. Be sure to check out the Heatmap overlay to see where others have gone before you!
Happy hiking!
Shop our gear
Want to use our favorite field-tested clothing and equipment? Click on the images below to visit our Amazon Associates store!
KAT (That's me)
ANDREW (Dude behind the camera. Also my husband.)
The Narrows Wichita Mountains FAQ
How long does it take to hike The Narrows?
Give yourself at least two hours to hike The Narrows trail in the Wichita Mountains Wildlife Refuge. The trail itself is short, but there is much to explore.
Is the trail good for kids?
Absolutely! Be advised however that some portions are very steep and there are sheer dropoffs in places.
Are dogs allowed?
Yes, dogs are allowed on a 10-foot leash.
How much does it cost to enter the Wichita Mountains Wildlife Refuge?
Are there restrooms near the trailhead?
Yes, there are permanent facilities in the Boulder Cabin picnic area.
Can you hike to the top of Eagle Mountain?
There are no well-defined trails to the summit of Eagle Mountain (aka Boulder Mountain) — it's more of a choose your own adventure hike. Once at the summit, you'll understand why it's nicknamed Boulder Mountain. As always, tread lightly when going off-trail at the park.
Use this map on your hike!
Load this web page on your phone while you still have service.
Then, tap the arrow icon on the map to show your current location and follow along.
Tap the layers icon to switch between topo, satellite and other helpful map layers.
To save battery life, put your device in airplane mode. GPS still works even without service!
PLEASE HELP US OUT!
If you enjoyed this free article on hikingillustrated.com, please consider
purchasing anything on Amazon via our affiliate link at no extra cost to you.
Related Posts
Like us on Facebook!
Follow us on Instagram!
Pin this post!