Kite Trail, part of the Dog Run Hollow trail system in the Wichita Mountains Wildlife Refuge, offers the shortest route to the incredible yet underwhelmingly-named Forty Foot Hole.
RELATED: Hike the Narrows and Eagle Mountain
Kite Trail Interactive Hiking Map
You can use this interactive map at the trail! Here's how
Download map GPX file
HikingIllustrated.com user rating
Directions
Kite Trail trailhead. From the Wichita Mountains Visitor Center, head west on OK-115 N/OK-49 E. At the T junction, head north on OK-115 N/OK-49 E for 4 miles. Turn left on Boulder Turnoff Road towards Lost Lake. Proceed 2 miles until the road dead ends at Boulder Picnic Area parking lot. This is the fastest route to Forty Foot Hole (pictured above), however Kite Trail may be accessed from the Lost Lake Picnic Area as well.
---
Hiking Time
Approximately 2 hours
Total Distance
2.4 miles round trip
Dogs
Allowed on 10-foot leash
Flora/fauna
Rattlesnakes, copperheads, bison, longhorn cattle, ticks, poison ivy, cacti
Kid friendly
Yes, but use caution
---
Hiking Kite Trail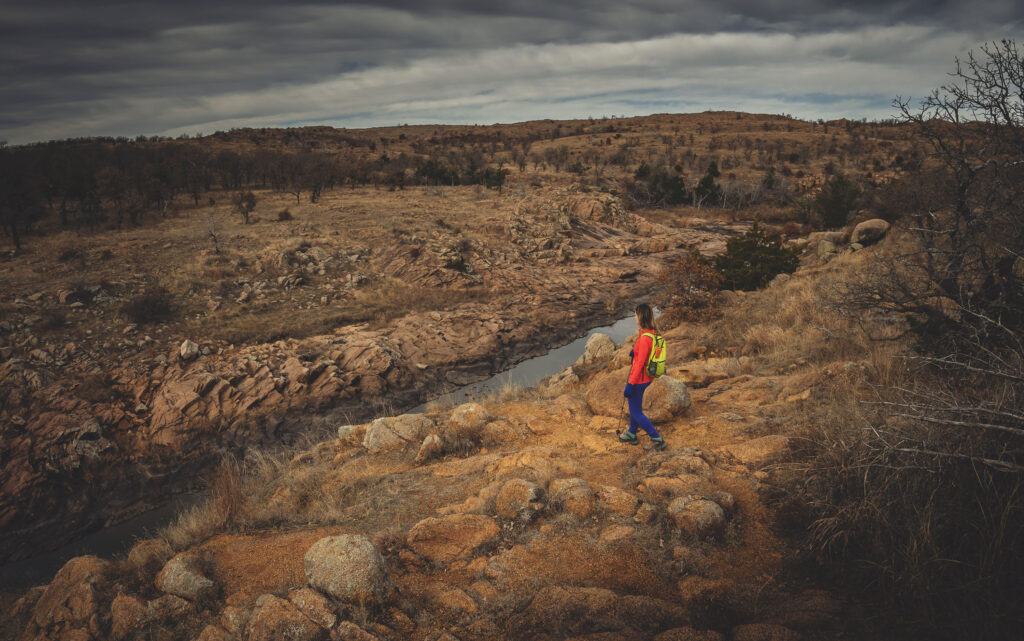 Kite Trail is your express ticket to Forty Foot Hole.
Although Bison Trail will also deliver you to this popular feature, the southern trailhead of Kite Trail will take you there in a fraction of the time and distance. For a truly spectacular day of hiking, we recommend combining Kite Trail with The Narrows.
Many visitors choose to hike to Forty Foot Hole via Bison Trail, and while we think it's a decent hike, it's also a 6-mile loop mostly through a decidedly less dramatic landscape in comparison to The Narrows and Kite Trail.
We also think the views of Forty Foot Hole are just a litle better from the Kite Trail side, so if your time at the refuge is limited, go for Kite Trail.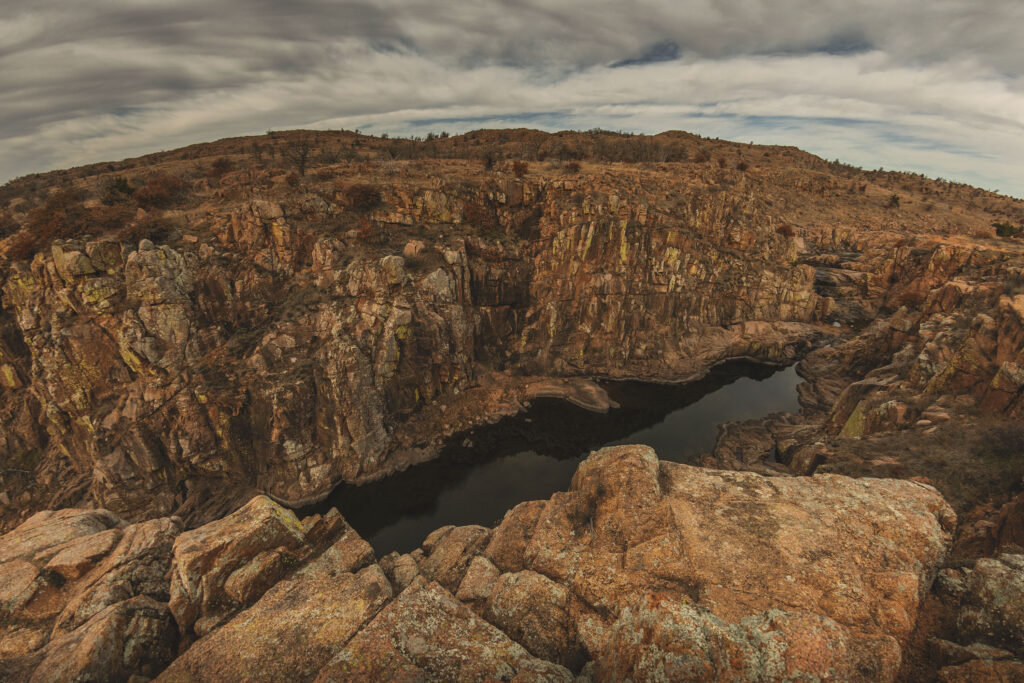 There are actually multiple ways to do this trail. On a map, the official Kite Trail is a bit farther inland from West Cache Creek, however you'll notice multiple offshoots of the trail that take you closer to the creek with some magnificent views.
You'll likely encounter some sections of this creek-side trail that dead end, so it's always a good idea to have the official trail map handy as a fallback (scroll to the end of this article to learn how to use our interactive map while on the trail). Just know that the trail follows West Cache Creek until it reaches the Lost Lake Picnic Area.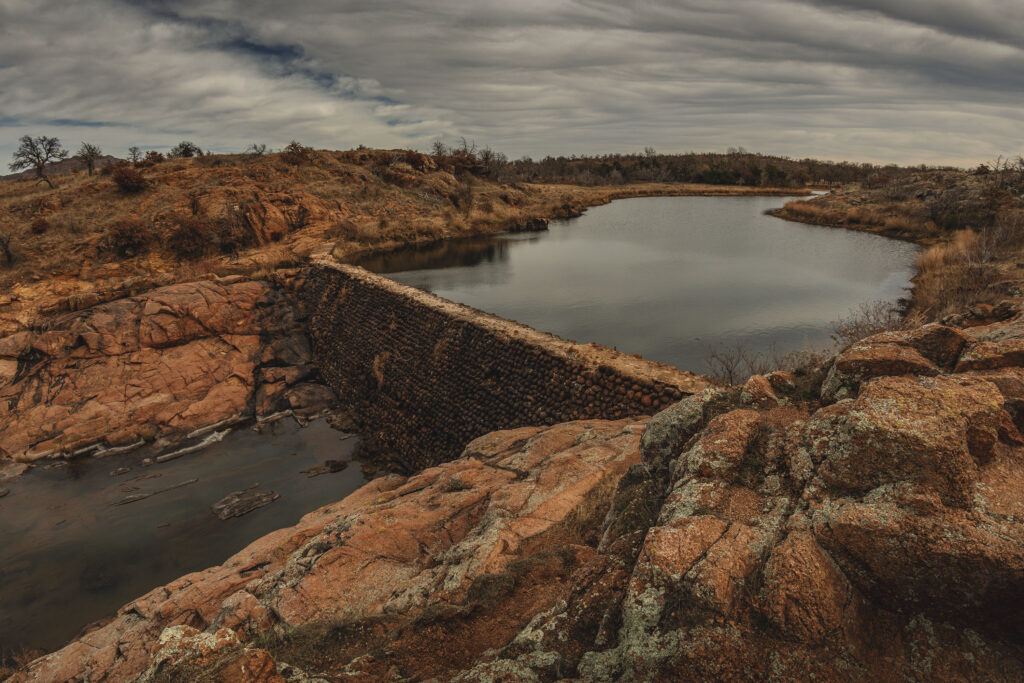 Crossing the dam at Lost Lake appears on a number of trail maps, and we've seen plenty of photos of people crossing it (and even a video of someone running across it!), but the sketchy nature of this effort is suspect. Cross at your own risk, but remember that help is hours away and air evacuations are regularly required in the Wichitas.
We later found the park's preferred crossing route in a low-water area west of the dam. Of course, the creek level isn't always passable depending on the water level, so don't count on the crossing always being open, and use good judgement if you do cross.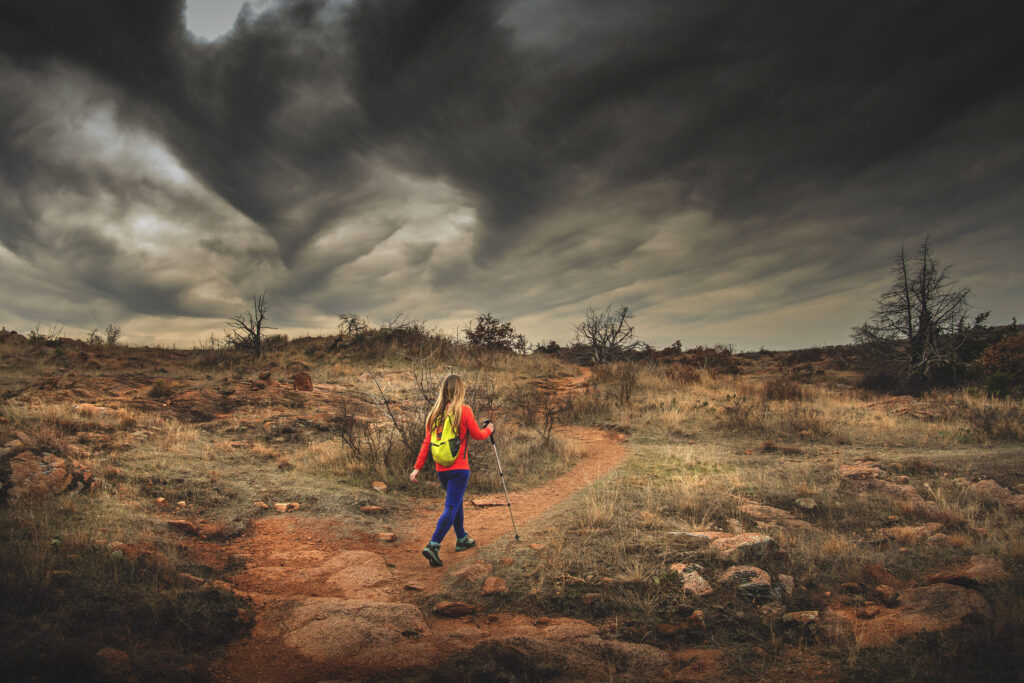 Use this map on your hike!
Load this web page on your phone while you still have service.
Then, tap the arrow icon on the map to show your current location and follow along.
Tap the layers icon to switch between topo, satellite and other helpful map layers.
To save battery life, put your device in airplane mode. GPS still works even without service!
Kite Trail Wichita Mountains FAQ
How long does it take to hike Kite Trail?
The trail is a relatively easy hike, but give yourself extra time to explore the incredible Forty Foot Hole area. Fast hikers can do this trail in two hours or less, but those who want to linger may take a few hours.
Can I swim in Forty Foot Hole?
Swimming is not permitted in Forty Foot Hole, nor is it allowed on the refuge. Wading is permitted when fishing.
What is Kite Trail named after?
Kite Trail in the Wichita Mountains Wildlife Refuge is named for the Mississippi Kite, a hawk-like bird of prey commonly found in the southwestern region of Oklahoma in warmer months. Careful: They've been known to swoop on people.
Is this trail good for kids and dogs?
Yes, but be aware that there are numerous unguarded cliff edges.
When is the best time of year to hike Kite Trail?
This trail is great for hiking year-round.
Is Bison Trail accessible from Kite Trail?
There is a designated crossing area in West Cache Creek west of the dam that can be crossed to access Bison Trail when the water level permits. It is not recommended to cross via the dam for safety reasons, but plenty of people do it.
Is there a climbing area in Forty Foot Hole?
Some maps place a "Narrows Climbing Area" pin in Forty Foot Hole, but this is not correct. The nearby Narrows is farther downstream West Cache Creek south of Boulder Cabin. Climbing is allowed, but sport rappelling is prohibited. More information can be found at Wichita Mountains Wildlife Refuge government page.
PLEASE HELP US OUT!
If you enjoyed this free article on hikingillustrated.com, please consider
purchasing anything on Amazon via our affiliate link at no extra cost to you.
Related Posts
Like us on Facebook!