The Road to Hana is a long, twisting and slow (and sometimes white-knuckle) drive along Maui's northern shore, but the experience is well worth it if you hit the pavement early and plan ahead. There are lots of interesting stops along the way, but there is one in particular that you shouldn't miss. Unfortunately, by the time most travelers get to this destination, it's time to head back.

Waianapanapa State Park near Hana is without a doubt one of the most beautiful sights not just along the Road to Hana, but in all of Maui. There is so much to explore, and the earlier you get there the better. There are a couple ways to go about planning your trip to this beautiful location.
Book a stay in Hana, take your time on the road and end mid-afternoon in Waianapanapa State Park: This is the option we took, but after weighing what we had seen along the Hana Highway and comparing it to the park, there was no comparison which one we liked better. Luckily, we had booked an Airbnb in Hana for a couple nights, so we were free to explore the park for as long as we liked and didn't have to worry about the long drive back later.
Skip everything on the Road to Hana and go directly to Wainapanapa: If you're planning on turning around and going back, you might want to simply bypass everything on the way there. There is plenty to see from the car, after all, and honestly nothing you will see will be worth delaying your visit to the park. See as much of the park as you can, and then if you're still curious about Hana Highway's other features, you can stop to see them on the return trip.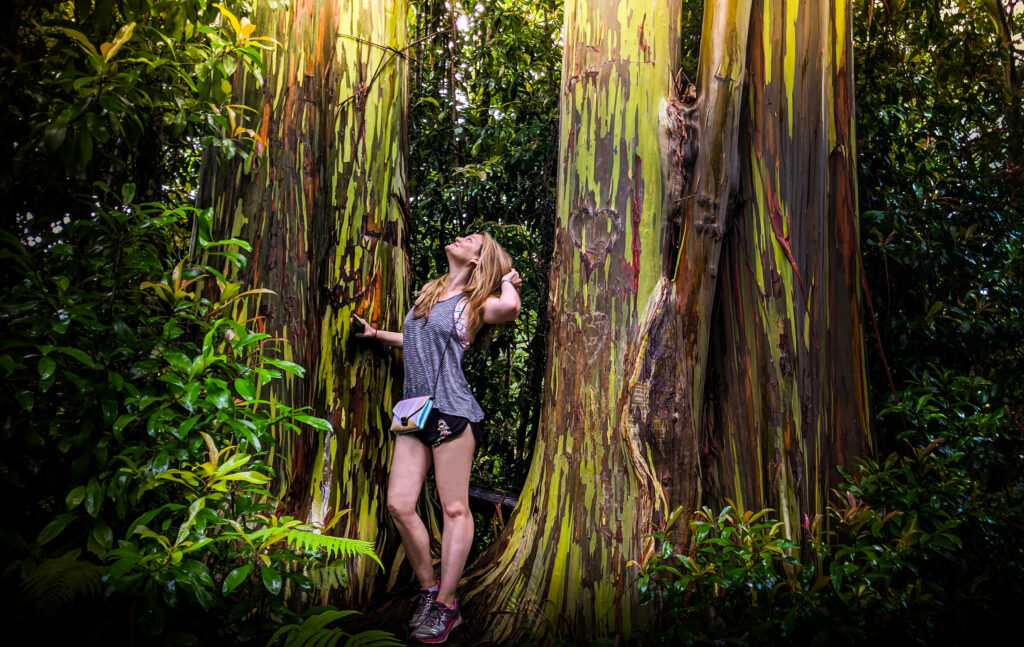 So which one should you do? If you're not booked at a resort for the duration of your stay, booking something in Hana is the preferred way to do this trip. The Road to Hana is easily a two-and-a-half hour drive without stopping. If you throw in a handful of tourist stops and consider that the drive back will be even slower due to traffic, you're in for one exhausting day. Don't do that – this is vacation after all!
If you're taking this advice with a grain of salt and really want to experience everything the Road to Hana has to offer, I highly recommend downloading a GPS-guided audio tour app on your smart phone. We were skeptical at first because the voice actor on the app we purchased seemed pretty animated, but we quickly came to enjoy his charm and the educational aspect, and at times it was oddly comforting. There is little cellular service on the north shore, but what many people don't realize is that modern smart phones have true GPS chips in them which work with satellite signals, not cell towers. Driving along the highway, we were amazed at how spot-on the audio cues were. It seemed accurate to the foot.
We also liked that the app would tell us whether we should skip a feature or not, and it would always give enough background to help with our decisions. We did make several stops.
Kat
Most of them were kind of neat, right?
Andrew
Yeah, it wasn't anything mind-blowing though. Not like what we would see later at Waianapanapa.
Kat
I liked the rainbow trees and Aunty Sandy's banana bread.
Andrew
Me too. I'd say those were the two things I'm glad we stopped for, but I still wish we'd have done them on the way back instead.
Kat
I had to get more banana bread on the way back too.
Andrew
I didn't get a bite.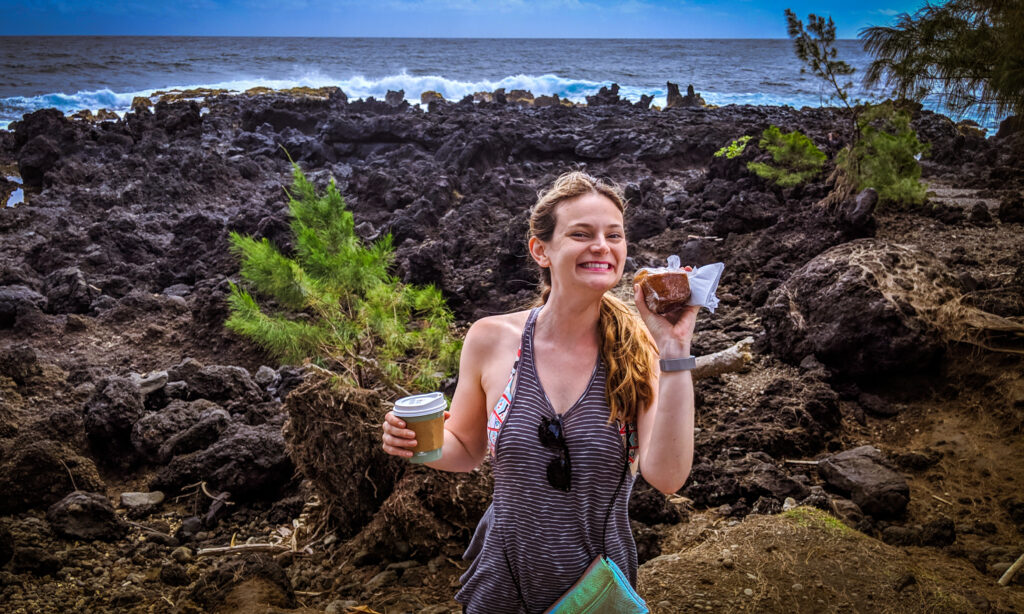 In the early afternoon we arrived at Wainapanapa State Park, and it wasn't hard to see what the fuss was all about. After searching for a parking spot for about ten minutes (the place was packed), we made the short walk to the shoreline. Down below was an amazing sight – a gorgeous black sand beach and the bluest water we'd ever seen.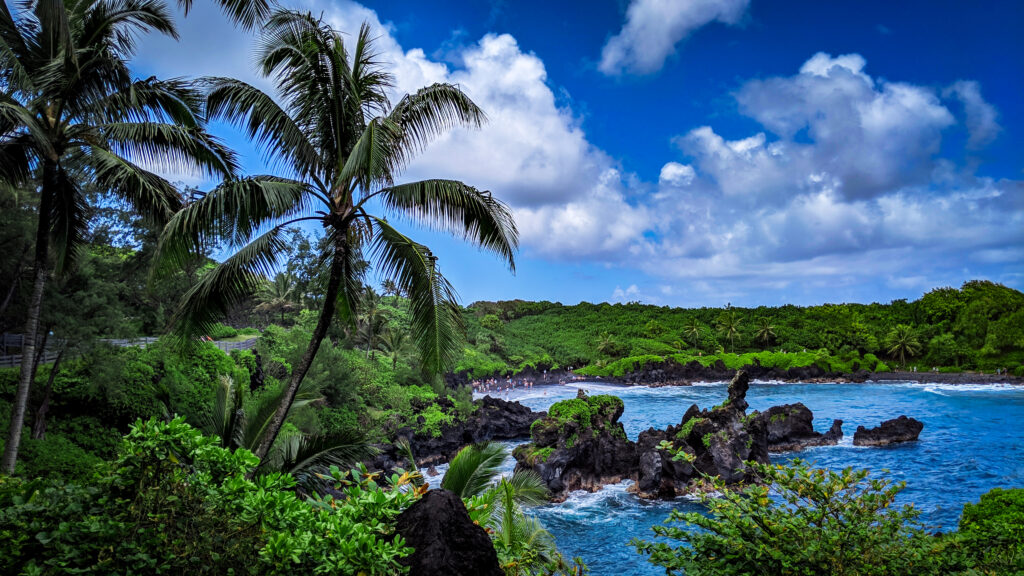 The small Honokalani Beach was busy, and we overheard a tour guide telling a group that swimming isn't recommended here due to a dangerous shoreline break. We kept that in mind as we took the stairs down to the beach. We had our swimsuits on, but we were interested in finding the coast path hiking trail first, so we sat and people watched for a little while as a few brave souls bobbed around in the rough water.
The hike
Immediately north of the beach is a trail with a steep climb uphill. With the swell of afternoon visitors, we had to wait for others coming down in a few spots. The path is well defined early on, but as you make your way across the barren lava fields, the trail becomes harder to find in places. What you also won't find after about a half mile is people. One other couple was about a hundred yards behind us, but they soon turned back and we had the whole place to ourselves. This is our kind of hiking. Peaceful, beautiful views and perfect weather. We couldn't believe our luck.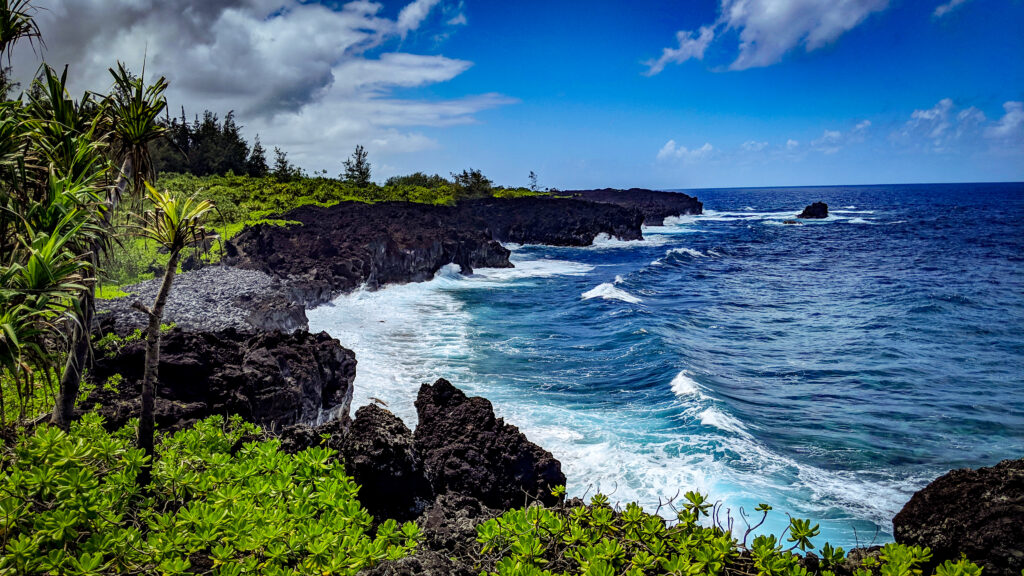 We had read on Hawaii's DNLR website that the Ke Ala Loa O Maui/Piilani Trail is less obvious in places, but we knew in general it followed the shoreline. If we ever lost the trail, we knew we could continue along until it became evident again. We stopped in several places just to sit and watch the gorgeous cerulean waves of the Pacific dance and crash into the bluffs below. This place is so beautiful it was hard to believe we were really there. Time escaped us as we enjoyed the quiet crunching of lava rocks under our feet. We explored a sea cave that seemed to invite us farther inside, but we were also afraid of it. Maybe another day, sea cave.
Soon, we had reached a boulder beach featuring a jagged black lava arch that looked as though it could have been formed by an eruption a few days ago if not for the massive smooth rocks surrounding it. This, we believe, is the end of the northern section of the trail, but it isn't clear. From satellite imagery we later learned we were a mere stone's throw from Hana Airport.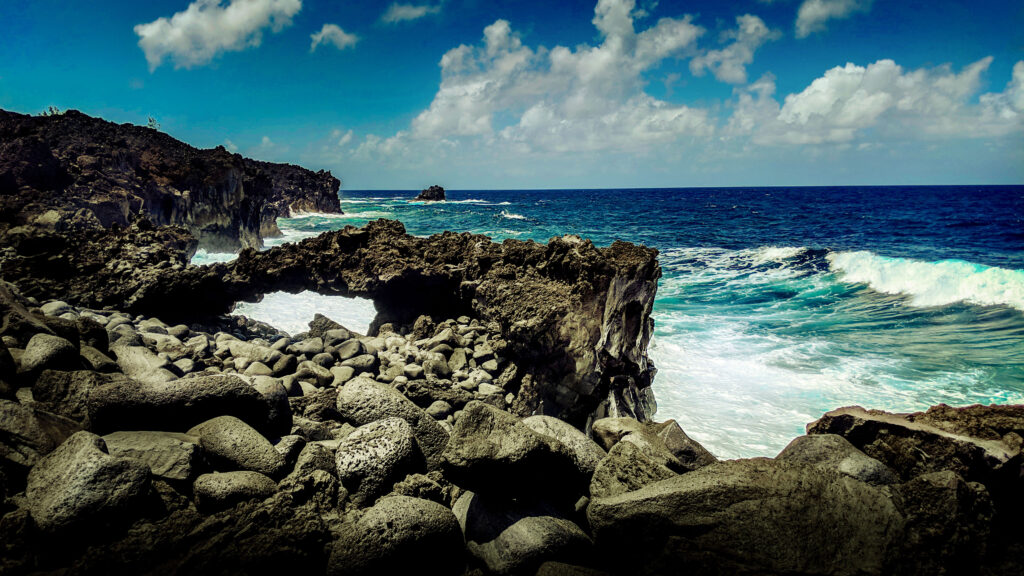 The trail may in fact continue for miles, but we were tired from our early start and the long Road to Hana, so we headed back to get settled in at our bed and breakfast in Hana town. But first we decided to cool off a little at Honokalani Beach.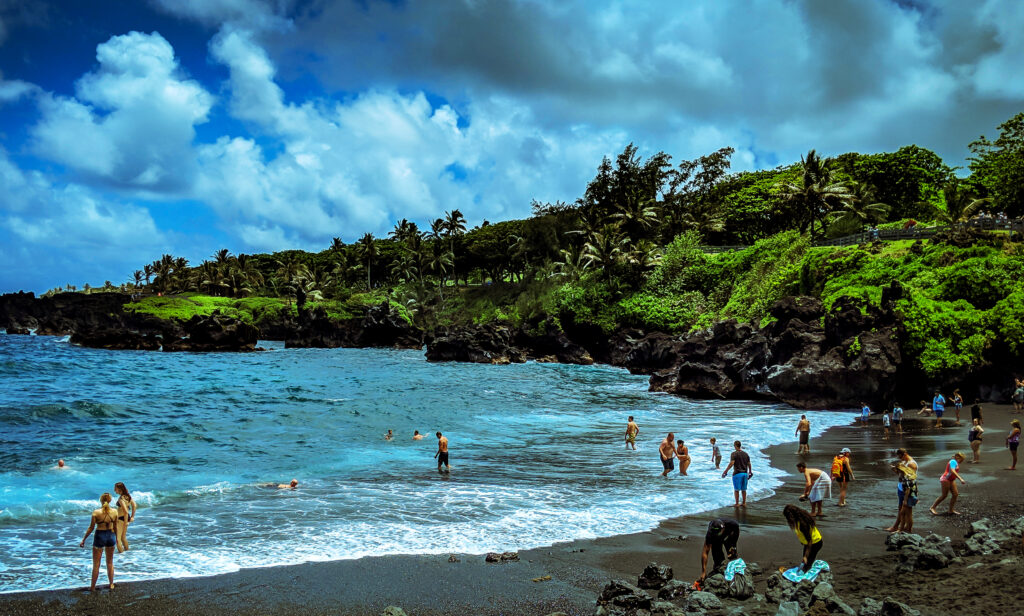 Kat
They weren't kidding about the strong shoreline break.
Kat
You got knocked on your butt.
Andrew
I had everything under control.
Kat
It threw you down like a little girl.
Andrew
I have very light bones and a high center of gravity.
The Waianapanapa State Park web page maintained by the State of Hawaii Department of Land and Natural Resources leaves something to be desired in terms of information about the trail. We also learned later that the trail extends at least a mile and a half southeast from the park and can be taken all the way to Hana Bay if desired. We wouldn't discover the majesty of Hana Bay until the next morning, however, which you can read more about in our post entitled The Perfect Day On Maui's East Coast: Hana to Kipahulu.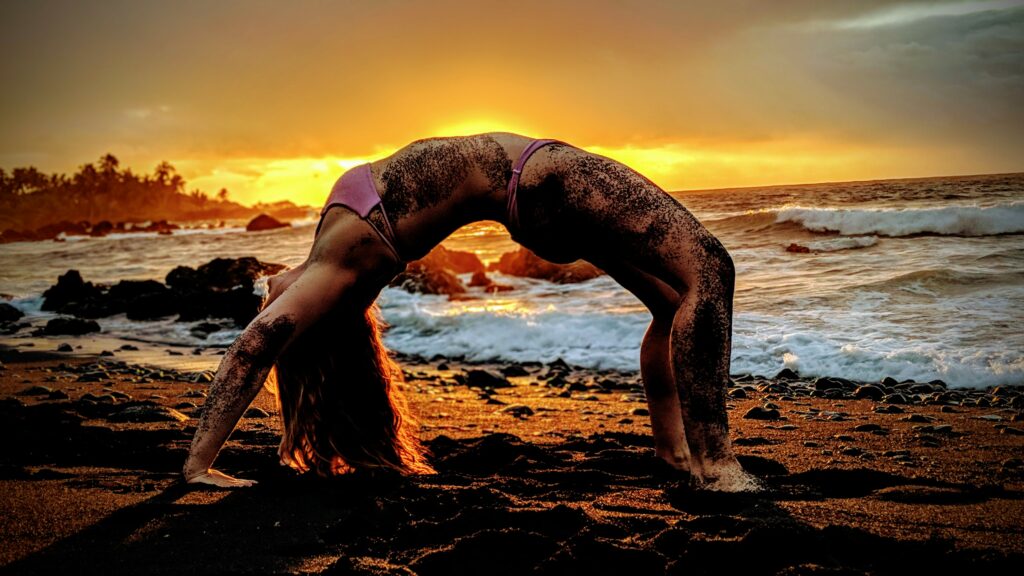 Andrew
I didn't think it could get better than this day, but Hana was an amazing little place.
Kat
Now I'm hungry for banana bread again.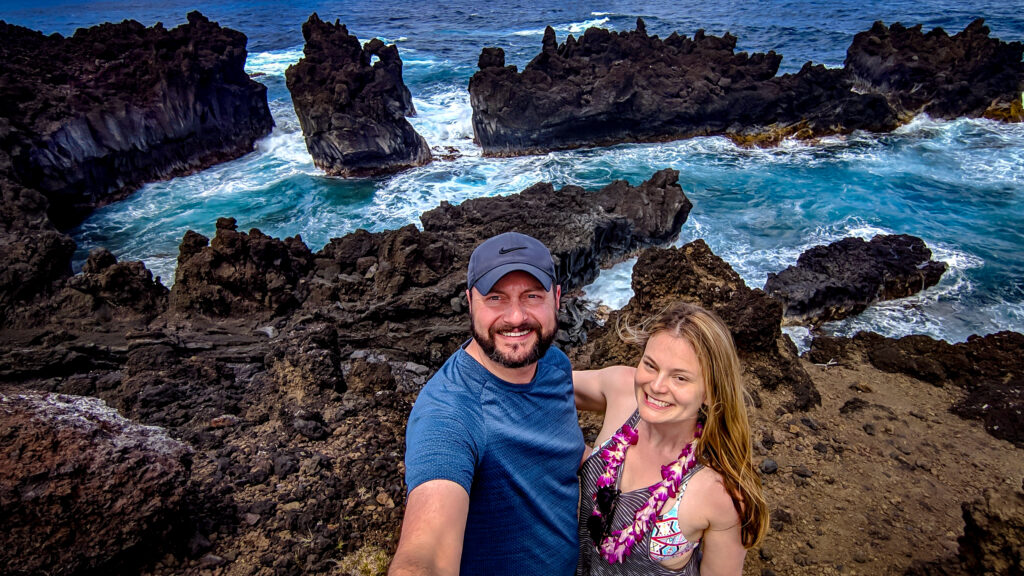 PLEASE HELP US OUT!
If you enjoyed this free article on hikingillustrated.com, please consider
purchasing anything on Amazon via our affiliate link at no extra cost to you.
Like us on Facebook!
Related Posts