Trail 4 at Brown County State Park in Indiana is a lesser-known trail that connects with popular Trail 7 (Ogle Lake) and ends at Trail 5 in the Ogle Hollow Nature Preserve. It begins at Rally Campground and winds through upland terrain to the headwaters of Ogle Lake before turning east to the Trail 5 junction.
RELATED: The Best Hiking Trails in Brown County State Park, with Maps and Rankings
Trail 4 Interactive Hiking Map
You can use this interactive map at the trail! Here's how
Download map GPX file
Trail 4 (Rally Campground) map GPX file
Directions
Trail 4 (Rally Campground) trailhead. Take Brown County State Park Road for 2 miles and continue onto Horseman Camp Road for another 1.5 miles. Continue straight onto Parkview Lane for .4 miles, then turn right onto Park Lane. Trail 4 begins across the road from the Rally Campground parking lot.
---
Cost
$7/vehicle (in-state), $9/vehicle (out-of-state)
Dogs
Allowed on 6-foot leash
Sun exposure
Dense tree canopy
Flora/fauna
Copperheads, timber rattlers, ticks
---
Hiking Trail 4 (Rally Campground)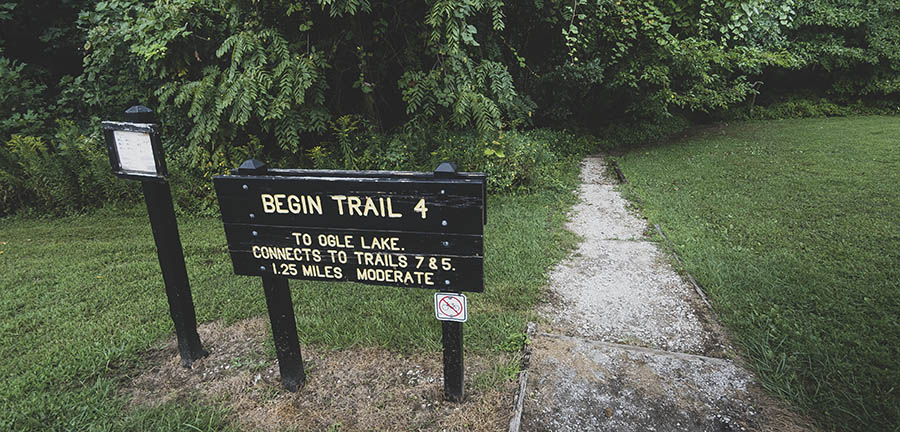 Trail 4 starts out across from the Rally Campground parking lot and travels three quarters of a mile down the knobstone escarpment, dropping some 250 feet to Ogle Lake.
Once at Ogle Lake, hikers have a few choices to extend their routes as Trail 7 connects with Trail 11, and Trail 8 begins just across the parking lot at the Ogle Lake dam.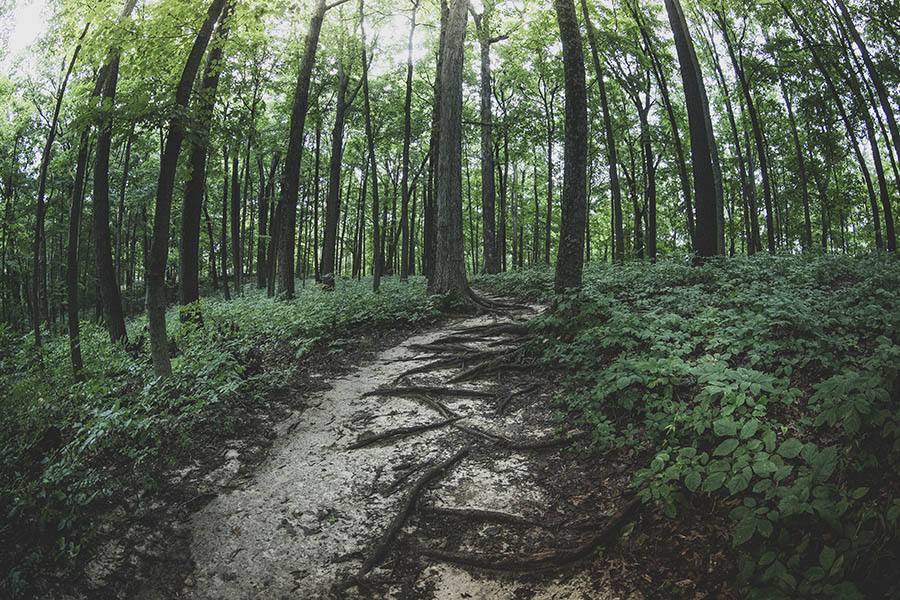 While Trail 4 itself is a no-frills affair, it's a perfect launching pad for a great day of hiking. Finish up at Trail 5, Ogle Hollow Nature Preserve, and loop back to the Rally Campground parking lot.
Use this map on your hike!
Load this web page on your phone while you still have service.
Then, tap the arrow icon on the map to show your current location and follow along.
Tap the layers icon to switch between topo, satellite and other helpful map layers.
To save battery life, put your device in airplane mode. GPS still works even without service!
PLEASE HELP US OUT!
If you enjoyed this free article on hikingillustrated.com, please consider
purchasing anything on Amazon via our affiliate link at no extra cost to you.
Related Posts